Khanh Hoa is a coastal province which has 200km-long. Offshore there are more than 200 islands of various sizes with the Truong Sa accounting for over 100 of them. The indented coastline creates an ideal area with many beautiful beaches, white sand, and clear blue seawater. Thanks to the incentives from nature and also ruins, tourist destinations in Khanh Hoa attract a large number of domestic and foreign tourists to visit and relax every year.
What is the best time to visit Khanh Hoa?
Khanh Hoa Province province enjoys a mild climate with an average annual temperature of 26.7 °C.
There are two distinct seasons: rainy and dry seasons. The rainy season is short, from mid-September to mid-December, focuses on October and November. Therefore, the best time to visit Khanh Hoa is from March to September.
Tourist attractions in Khanh Hoa
Vinpearl Land Nha Trang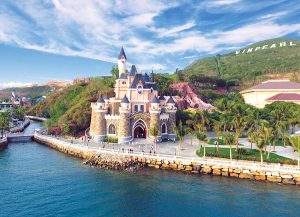 Vinpearl Land Nha Trang also known as Hon Ngoc Viet. This is a 5-star resort, located on Hon Tre Island – the largest island of the coastal city. With a total area of nearly 200,000 m2, this place converges luxury hotels, resorts, countless interesting indoor/outdoor games, and bustling dining and shopping.
Vinpearl Land Nha Trang was awarded by the Vietnam Tourism Association as the most attractive entertainment area in Vietnam.
Institute of Oceanography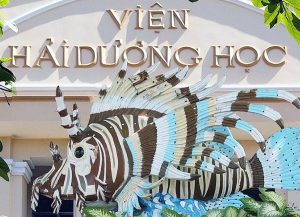 The Institute is the place to keep the most specimens in Vietnam. It was established in 1923, built by the French, 1952 it was handed over to Vietnam to manage.
Coming to the Institute of Oceanography, you will have a chance to visit the Marine Creature Museum, which shows more than 80,000 specimens as well as living creatures kept in glass tanks.
The Institute is divided into three separate zones, including Specimen display area, living area, and artificial reef.
It has an excellent location for tropical oceanographic research because it is close to the ocean, of course, in deep water.
Address: 01 Cau Da Street, Nha Trang city.
Po Nagar tower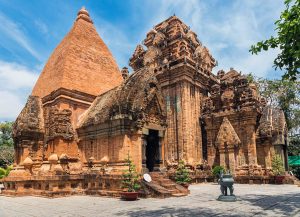 Ponagar Tower is located on top of a low marble mountain about 50 meters above sea level.
It was built from the 8th century to the end of the 13th century, in the Hindu period (Hinduism) also the peak period of the Champa kingdom. The name of the tower is named after Goddess Po Nagar – who taught people how to plant and produce rice. Her statue is placed in the largest tower which has 25 m high.
The other two towers are dedicated to Hindu gods Shiva with hour arms sitting on the back of a bull and Ganesha whose human body attached to an elephant head. The whole complex of Po Nagar tower is a special architectural artwork made of brick, which is a harmonious combination between architecture and sculpture of the typical Cham culture.
Every year, there is a took place from 21st – 23rd of March (lunar month) to introduce and honor the beauty of Cham Pa culture and is also ranked as one of 16 festivals of national stature.
The Tower was recognized as the National Monument of Architecture by the Ministry of Culture and Information in 1979, for its exceptional architectural and artistic values.
Address: 61 Hai Thang Tu Street, Vinh Phuoc, Nha Trang city. 
Long Son Pagoda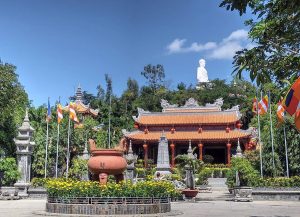 This is one of the largest temples in Nha Trang and is was founded in the late 19th century and renovated in 1940.
The pagoda is also known as Dang Long Tu or Phat Trang (White Buddha) pagoda, famous for its statue which has been recognized by the Guinness Book of Records as the largest statue in Vietnam up to now. The figure of the Buddha is 14 m while the lotus blossom comprises 7 m. Around the statue are statues of seven arahants. In front of the statue are a pair of dragons, which are 7.20 m long. From here, there is a panoramic view of the city.
Long Son Pagoda is located at no 22, 23/10 Street, Phuong Son Ward, and sits at the foot of Trai Thuy mountain, in the city of Nha Trang, just 400 m west of the railway station.
The most famous islands in Khanh Hoa
Tri Nguyen Aquarium is situated on Bong Nguyen Island, also called Hon Mieu Island, Nha Trang Bay; a half an hour from Cau Da Port, Nha Trang City. The aquarium looks like a fossil ship that is covered by moss for a long time. There are many fish ponds divided into 3 main categories: edible fish, carnivorous fish, and ornamental fish. Walking through a specially designed ship, you can witness a thousand colorful see fish that live in the clear blue water. The island also has Bai San Beach, one of the beaches that are attractive to many visitors.

Hon Mun (Mun Island)

: 

Called Hon Mun because the southeastern part of the island has raised cliffs, rugged cliffs form caves, especially the stones are as black as ebony which could be rarely be found in other areas. 

Hon Mun has located 10 km from Cau Da port (about 45 minutes by boat). Not only attractive by white sand, blue sea, wild bird nests on cliffs … this place is also famous as one of the "richest and most beautiful" aquariums of the Southeast Asian sea. It is also famous for many marine services and exploring the sea by glass-bottom boat and diving services.

Hon Tam (Tam Island)

 is an island of more than 110 hectares located in Nha Trang Bay, 10 minutes from the wharf. The island is well-known as "a small paradise" thanks to its pristine and pure beauty, plus its charming location in a peaceful sea blessed with warm sunshine and melodic breezes all year round. Hon Tam Island becomes the ideal place for those who love ecotourism. It also offers many kinds of sea sports such as jetskiiing, wind suffering, adventure diving, boating, …Other than that, you can enjoy campfire nights on the fascinating Island. 

Hon Lao (Lao Island)

 is also know as Monkey Island because there are thousands of monkeys living in the wild forest. Visiting the Monkey Island, tourists will have the opportunity to learn about the different species of monkey raised on the island, like yellow feathers, red face, long tail, penguin, lions …This is the ideal destination for visitors to witness the daily activities of the monkeys. Furthermore, you can enjoy entertainment activities such as bathing, boat racing, fishing…

Hon Tre (Tre Island)

 is located in Nha Trang Bay, 3.5km from Cau Da Wharf. This is the largest island in Nha Trang Bay with an area of up to 32.5 km2. With a relatively isolated location, Hon Tre has the most beautiful natural beaches in the world. 

Hon Tre Island is known as Hon Ngoc Viet, exploited and built many resorts for a long time. This is a pristine island with a temperate tropical climate, less windy, so it attracts many construction projects such as the golf courses, resort – Vinpearl hotel, the most entertainment area of Vinpearl Land, Hon Tre cultural park, Se Tre tourist resort, Dam Bay eco-tourism area.
The best beaches and bays in Khanh Hoa
Nha Trang Bay is about 500km2 wide, formed between two crescent-shaped beaches with smooth white sand stretching for 6.7 km. In the heart of the city is Nha Trang Beach which been famous and knows as the best beach city for a long time. 

Talking about Nha Trang Bay, you should not forget to try some recreational activities such as parasailing, water motorbike, and especially scuba diving to immerse colorful sea creatures under the clear blue waters of this beautiful bay. Besides the favored nature, Nha Trang Beach is also attracted by the enthusiastic atmosphere with a wide array of dining and accommodation options.

Doc Let Beach is located in Ninh Hoa Ward, around 50 kilometers to the North of Nha Trang City. Due to the remote location, Doc Let Beach still retains its natural beauty and incredibly calm waves. The sea level here is quite shallow and being embraced by many offshore idyllic islands which turn out to be an ideal place for you to get away from the bustling city. This is an ideal place for team-building activities including playing tug of war, playing volleyball in the sea, and camping.

Bai Dai Beach

is located 25 – 30 kilometers from Nha Trang City and around 10 kilometers from the Cam Ranh Airport.

True to its name – Bai Dai (long wide beach), the beach here has white sand stretching for kilometers. And due to the remote location, this area also has fresh and airy atmosphere, very suitable for outdoor tours, outdoor entertainment, team building …

Dai Lanh beach is located in Dai Lanh commune, Van Ninh district, Khanh Hoa province, about 30 km south of Tuy Hoa city and about 80 km north of Nha Trang city. The beach is quite shallow, you can comfortably enjoy an immense yourself in water. Stretching from a large fishing village at the north to the pristine sandy beach at the south, Dai Lanh.
Attractive dishes in Khanh Hoa
Famous as a vibrant sea tourism city with hundreds of beautiful scenes, Khanh Hoa also lures travelers by its diverse culinary sources. This information of travel guide will be very useful for the food lovers who want to explore the  in the places where they step through.
Ninh Hoa Grilled Sausage: rice papers to roll the grilled sausage with herbs, accompanied with carrot pickle, grilled rice paper…

Bun Cha Sua: rice vermicelli, jellyfish, and steamed sailfish fillet in a sweet and savory fish broth.

Banh Cuon (Rolled Cake)

Banh Can (Rice Cake with Quail Eggs)

Seafood: supplied by local fishing villages, it quite easy for you to find and enjoy the fresh seafood in many ways.
Vietdreamtravel offers visa to Vietnam; daily and package tours and car/bus rental services to visit Khanh Hoa. Do not hesitage to contact us for any questions.  
---