Located right next to the fertile Mekong River, nature has endowed An Giang with many favorable conditions not only for agricultural development but also promoting ecotourism. Coming here, visitors will enjoy a peaceful vacation with the fresh air, experience the rustic life of the people of the water. An Giang strongly impresses visitors by the idyllic beauty of the Mekong Delta river region, where there is a mixture and convergence of many unique cultures of the Kinh, Khmer, Cham, and Chinese communities. . Not only visiting ecotourism areas but also enjoying rich and rustic cuisine in An Giang – promises to bring you interesting experiences.
Where should you visit in An Giang?
1. Temple of Lady Chua Xu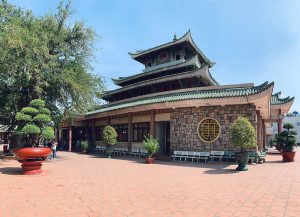 The temple of Lady Chua Xu is perhaps the most famous landmark of An Giang. This is a famous sacred temple that attracts millions of people from all over the world to visit every year. The temply of Lady Chua Xu is located at the foot of Sam mountain in Nui Sam ward, Chau Doc city, An Giang province. The temple has many mystical legends which are passed down from generation to generation. But according to the French archaeologist Malleret researched in 1941, the statue of Lady Chua Xu belongs to the type of god Vishnu (male god), carved of a thoughtful, noble man with high artistic value. The statue was artistically carved of grey stone in the late 6th century. In 2009, the Lady Chua Xu statue was inscribed in the An Giang Book of Records as the oldest sandstone statue that has worshiped robe.
The main festival takes place on April 25 of the lunar calendar, it is called the "Hoi Via Ba". Thousands of people come to the festival to attend the washing of the statue, to burn joss sticks, offer followers, foods…to pray to Lady Chua Xu.
On December 19, 2014, the Lady Chua Xu Festival was included in the list of national intangible cultural heritage by the Ministry of Culture – Sports and Tourism.
2. Tomb of Thoai Ngoc Hau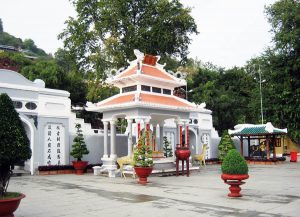 The Thoai Ngoc Hau tomb, also known as Son Lang, is located on a high platform, leaning against Sam mountain, opposite Lady Chua Xu Temple. This is a resting place of Thoai Ngoc Hau, a mandarin of the Nguyen Dynasty, and his wives. He was a famous mandarin who directed the digging the Vinh Te and Thoai Ha cannals and contributed greatly to the reclamation of the lands south-west of Vietnam.
The tomb area has a harmonius architecture style of Nguyen dynasty. He buried his second wife Truong Thi Miet there in 1821 and his first wife Chau Thi Te in 1826. He also reserved a portion for himself between the two tombs of his wives.
Its charm and magnificence is well preserved. It's an architecural construction of great historical significance.
With its precious values, Thoai Ngoc Hau tomb was recognized as a National Historical and Cultural Monument in 1997, which is now one of key destinations in the Sam Mountain Cultural and Historical Site,
3. Sam mountain tourist area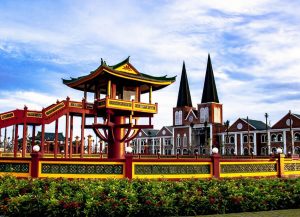 Sam mountain has another name, Vinh Te Son or Ngoc Lanh Son, 284 m high with a circumference of 5,200 m. It was formerly in Vinh Te commune, now in Nui Sam ward, Chau Doc city, An Giang province, Vietnam.
On the Sam mountain, there are many temples and shrines, the most famous of which are Ba Chua Xu Temple, Tay An Temple, Thoai Ngoc Hau tomb, Phuoc Dien Pagoda (also known as Hang Pagoda) are the items in the historic site. Sam mountain has been recognized by the Ministry of Culture, Sports and Tourism of Vietnam as a national monument.
4. Cam (Forbidden) Mountain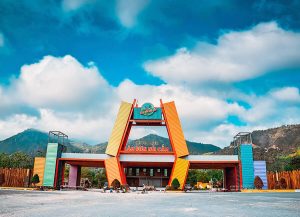 This is the highest mountain in the Bay Nui (7 mountains) region, with an altitude of 700m above sea level, conquering Cam mountain by trecking is a great experience. From the top of the mountain, you can enjoy a panoramic view of vast rice fields stretching to the Ha Tien sea and the southwestern border. Cam Mountain is a tourist attraction in An Giang province attract visitors not only by a majestic appearance but also cool and fresh with lush green trees, especially in the spring. It is also famous for many peaks of different heights with different name, such as Bo Hong, Ong Buom, Thien Tue, Dau and Ba. Each of them is associated with a legend and has difference meaning. This mountain also has many temples, and shrines. The most notably is Van Linh pagoda, Phat Lon, Phat Nho and Trung Son Thien Tu Pagodas. In addition, along the trails from the foot to the top of the mountain, there are many attractions such as Thanh Long stream, Tien stream, Cay Que Temples, Thuy Liem cave, The cave, Tiger cave…. A must-see attraction is the 33.60m-high statue of Mitreya, the highest Mitreya statue in Southeast Asia. It is placed in a 20ha area of green trees, facing the Phat Lon and Van Linh Pagodas.
Today, you can visit Cam mountain by cable car which has been completed and put into service to tourists from February 14, 2015.
5. Tra Su Melaleuca Forest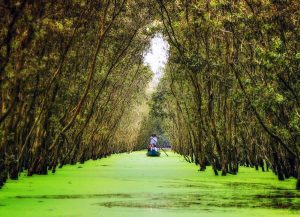 Tra Su Melaleuca forest is located in Tinh Bien district, about 20km from Chau Doc, 100km from Long Xuyen. This is an ideal destination for a weekend break. Tra Su Melaleuca forest is the most famous mangrove forest in Mekong Delta river, which is considered a unique tourist landscape when referring to An Giang land. In addition to the natural scenery of the mangrove forest, it is also home to many valuable fauna and flora species. There are more than 70 species of birds, storks, of which two species are named in the "Red Book of Vietnam", the painted stork and oriental darter.
Another interesting to do in this forest is experiencing the trip on a canoe and dropping into nature. Also, the best time to visit Tra Su forest is from September to November, this is the season when the level of water is raising up covers the mangroves creates a stunning scenes.
6. Sap moutain tourist area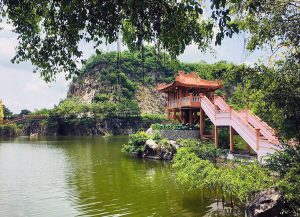 Sap Mountain is also known as Thoai Son and this is the largest mountain in the mountain cluster including: Sap mountain, Nho mountain, Ba mountain and Cau mountain. The mountain is 85m above sea level and has a circumference of about 3,800 m. The landscape embellished by human hands in harmony with nature. It is a home of vast, green rice fields surrounded by majestic mountains and clear blue water at the foot of the mountain. In the past, Sap Mountain had no lake, only when people exploited rocks and accidentally created a deep hole and an artificial lake at the foot of the mountain. Today, it is a tourist complex consisting of 2 clusters of Thoai Son picnic area and Thoai Ngoc Hau temple.
7. Oc Eo relic area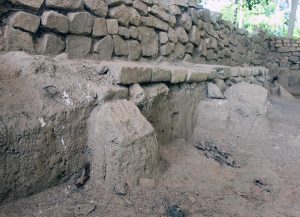 One of the most famous ancient relics in Mekong delta. Oc Eo relic site located in Oc Eo Town, Thoai Son district. This region has been identified as a rather bustling port town where the trade between Funan kingdom and neighboring countries such as Persia, China, India … Currently, this is not only a place for archaeologists to study Oc Eo culture but also an attractive tourist destination for domestic and foreign tourists to visit. At Oc Eo relic area, visitors can see a lot of relics, precious relics, stone statues, bronze tools – stones, seals, glass-ceramic, lead, gold, vase, jar, sculptured reliefs, tiles … The Oc Eo relic area is a historical and cultural relics. And in 1998, it was recognized as a national monument.
8. Cham cultural village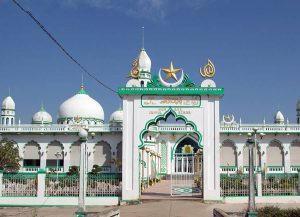 The Cham cultural village also know as Chau Giang Cham Village is situated on Phu Tan district, An Giang province where meeting place of the two branches of the Tien river, the Hau river flows into Vietnam. This is one of the most famous Cham villages for their customs which follow Islam with many the stricts of the official Islamic, created the identity of Cham culture in the Mekong Delta.
A typical architecture of the Cham is their wooden stilt house located on the rows of woods at the height of 2 or 3 meters completely use precious monolithic woods, roofed with palm leaves or tiles. Below the house is the room for loom storage or for common living. Each house usually has four rooms and a separate kitchen. The two front rooms are for receiving male guests while the two rear rooms are used for sleeping and receiving female guests. Between each room is a partition with a door and an intricately-embroidered curtain. At the Cham villages, you can buy many specialties from enjoy on the spot to take away, including fish noodle soup, Cambodian tea, banana cake and river fish. You can also admire the locals wear colorful sarongs and wrap their heads with big scarves.
9. Floating Village in Chau Doc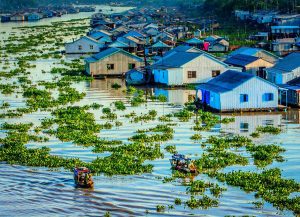 Situated 3 kilometers to the west of Chau Doc city centerm, many floating houses with fish rafts nestled close together to form "villages", stretching for several kilometers. This floating village is a freshwater fish farming village that was formed in the 60s of the last century. At first, there were only a few floating cages to raise fish in the natural way, without feeding because of good water. However, from the 70s onwards, due to high economic benefits, the number of fish cages has increased significantly and gradually became a key economic point of An Giang. Most of the fish cultured in the floating cages of the regions are catfish mainly for export to Western Europe and North America. Chau Doc Floating Village is not only for people to live by fish farming but also an interesting destination that visitors come to learn and experience the rustic life of the people here. Manually feeding hundreds of fish below the floor of a house is a popular activity among visitors.
10. Long Xuyen Floating Market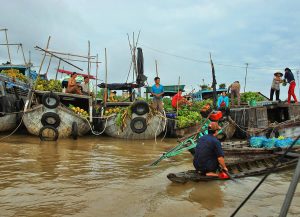 Located on the Hau River area, near the center of Long Xuyen city, Long Xuyen floating market becomes a must-visit destination not to be missed when traveling to the Mekong Delta. The best time to visit Long Xuyen Floating Market is from 5 am. Not as busy as the Cai Rang or Cai Be floating market, the Long Xuyen floating market in An Giang province is considered one of the floating markets that still retain the most idyllic and primitive features. They wholesale agricultural products and fruits on board. Small traders will take small boats to buy and transport to wholesale and retail markets on the mainland. Similar to other floating markets, there are also a few boats serving breakfast, coffee, teas… You can try drinking coffee that is always boiled or enjoy local foods such as hearty crab soup noodle, stir-fried vermicelli right on floating boat.
11. Ong Ho (Tiger) Islet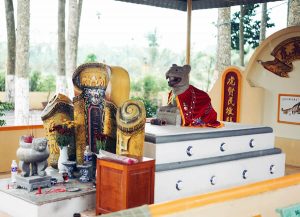 Ong Ho Islet, located in My Hoa Hung commune, Long Xuyen city, An Giang province. There is a memorial area for President Ton Duc Thang (Uncle Ton's hometown), one of 23 Vietnamese monuments classified as a special national monument.
The local people of this island explain that in the past this was a region of rushes and reeds. There were two old peasant husband and wife living on the island (today it is My Hoa Hung commune). One day, they rowed in canoes to collect firewood; on the way returned, they found a tiger cub was both hungry and cold, and brought it home to take care of it. When growing up, the tiger was very gentle. When they died, the tiger also went to the forest. Every year, on the anniversary of their grandparents' death, tigers brought in a wild boar and placed beside the grave and leave. The villagers were touched so they named the island: Ong Ho.
Coming to Ong Ho islet, in addition to visiting the monuments, you can enjoy the taste of life in the Mekong region, and can also experience life with the people here. You can stay with the local people, experience farming, fishing on canals; experience the craft of forging, carpentry, and mat weaving; cycling to visit the island, take a boat on the canals, visit the fish raft, and enjoy the taste of various fruits, specialty meals and listen to artists songs, and music.
Speciality foods of An Giang
Coming to An Giang, travelers not only have a chance to enjoy the sights, learn more about the lifestyle, but also taste a wide range of specialty foods such as:
Kho ran An Phu (An Phu Dried snake)

Tung Lo Mo An Giang (beef sausages)

Bo cap Bay Nui (Bay Nui Scorpion)

Chao Bo Tri Ton (Tri ton beef porridge)

 

Banh Canh Vung Trung (Vung Trung Soup cake)

Bo Ray Bay Nui (Bay Nui fried beetle)

 

Bo leo nui Tan Chau (Tan Chau Climbing mountain cow)

Banh bo Thot Not (Cow cake with palm sugar)
Vietdreamtravel also provides package tours and car/bus rental services to visit tourist attractions in An Giang. Do not hesitage to contact us for any requirements.
---