Lam Dong is one of the five provinces in the Central Highlands and is also the 7th largest province in Vietnam. With a relatively cool climate and a system of waterfalls, lakes, and vast forests…Lam Dong has a lot of potentials to develop diverse and different types of tourism. Despite the great potential, many tourist destinations in Lam Dong are not known by travelers, mostly only know Da Lat. Let takes a look at this travel guide for more details.
What is the most ideal time to visit Lam Dong?
Lam Dong's climate is divided into two distinct seasons, rainy season and dry season. The rainy season takes place between May and November, while the dry season from December to April next year. Many tourists prefer to come here from December to the end of March to witness the bloom season of many types of flowers. Furthermore, the temperatures at this time of the year are the best ideal for outdoor activities such as trekking, swimming, wandering…enjoy pleasant weather, beautiful and romantic landscapes.
However, the peak season in Lam Dong takes place from May until September as it's the hot season of many other areas in Vietnam. So the province is considered an escape place for many people. 
Where should you visit in Lam Dong?
Famous Waterfalls
Lam Dong is home of the most charming waterfalls in the Central Highlands. The waterfalls associated with beautiful legends, along with the wild and majestic look, promise to give visitors an enjoyable experience. Below are some of the most famous waterfalls in Lam Dong.
Dambri waterfall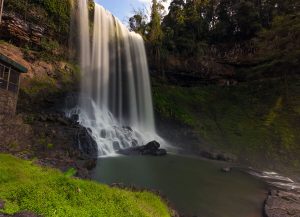 Dambri waterfall is one of the highest and the most magnificent waterfall in Vietnam, located about 20km from Bao Loc city. This is an impressive waterfall with clear, cold water runs off the mountains and spills over a rocky escarpment, falling 70 metres into a large pool before continuing to pour down the valley. Furthermore, surrounding the waterfall is a primeval forest with hundred kinds of plants, Dambri waterfall, Dasara fall, Daton fall, a fossil plant cave, an animal zoo. 
Tourists can visit these tourist spots by horse, tramcar, elevator, and roller coaster. Location: Village 14, Drambi Ward, Bao Loc city, Lam Dong. 
Pongour waterfall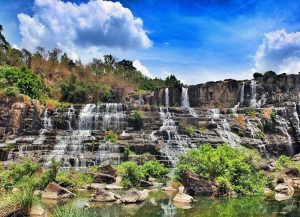 Located in Tan Nghia town, Duc Trong district, 50km from Da Lat city, also known as Thien Thai waterfall. Pongour has a 7-story waterfall with the huge rocky chasm, wide, terraced falls and surrounded by a primeval forest with an area of about 2.5 hectares with diverse and rich vegetation, animals living.
The waterfall is a popular picnic spot in the late afternoons, so if you want to experience the falls without too many tourists, try to visit during the middle of the day.
Cam Ly waterfall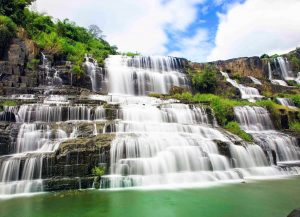 Cam Ly waterfall is the closest waterfall to the center of Da Lat city. The entrance is located between 57 – 59 Hoang Van Thu Street.
The stream of the waterfall is about 10m high, although not high, but the water flow is strong and not less gentle, especially during the rainy season. The waterfall flows gently through boulders and it looks like the hairstyle of a girl. The waterfall is surrounded by green pine forest, many kinds of flowers and trees that always green all year round. 
Beside Xuan Huong lake or Langbiang mountain, the waterfall has become the indispensable symbols of Da Lat city and has been mentioning in many poems and songs.
Dalanta waterfall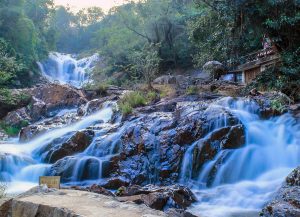 Situated in the middle of the Prenn mountain pass, approximately 5 km from Da Lat. This is the most touristy and developed of all the falls in Lam Dong. It has an excellent pathways, through lush foliage, leading down through many 'levels' of the falls. The cascading waterfalls to the ground before disappearing through layers of marble scattered in the small stream.
In addition to admiring the majestic beauty of the waterfall, there are also some adventure activities for visitors trying such as climb the cliff, discover the forest, a roller-coaster, cable car and go along the stream to come to Prenn bridge.
Prenn waterfall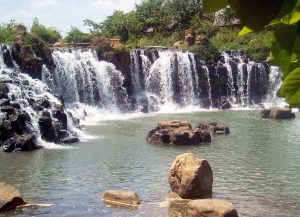 Prenn waterfall is located at the foot of Prenn Pass which is 10 km far from Da Lat city. It is also the gateway of Da Lat. From its 9m of height, the water flows down over a cliff of basalt rock creating a majestic natural beauty. The tourist area is also a pine forest and primitive trees that make up 90% of the area. The tourist site has been equipped with the cable – car, suspension bridge, stilt – house, showroom, souvenir shop, restaurant. Futhermore, tourist can participate many folk games and interesting activities including elephant and ostrich rides.
There is also a small zoo – a home of elephants, tigers, bears, deer, monkeys, python, peafowl, etc. In 2000, Prenn waterfall has been recognized by The Ministry of Culture, Sports and Tourism and granted a national historic and cultural relic.
Elephant Waterfall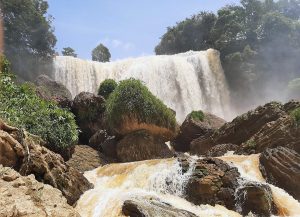 The waterfall is also known as Lieng Rowoa waterfall, located approximately 25 km southwest of Da Lat with a height of about 30 meters and a width of 15 meters. Elephant waterfall is the most dramatic in the province. Unlike most of Lam Dong's other waterfalls, Elephant waterfall does still keep it nature without any manmade.
Over the years, the water has eroded the escarpment to create a cave-like overhang, from where you can get up close, literally, under the falls, while staying (relatively) dry. Behind the waterfall, there are mysterious caves such as Hang Doi (Bat cave), Hang Gio (Wind cave) always create a highlight for visitors who want to explore.
Jraiblian Waterfall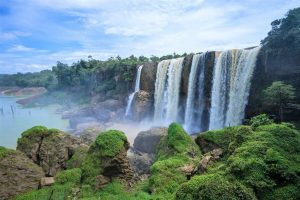 Hidden in the serene mountains of Ta In forests is a majestic Jraiblian Waterfall. The waterfall is located in Ta In commune of Duc Trong district, outskirt of Dalat city. It was also called Bao Dai, Vietnam's last emperor (1913-1997), waterfall as it was the resting place of numerous hunting trips of the emperor. At around 80 metres high and over 100 metres wide, this is also the biggest and most spectacular fall in Lam Dong. The massive volume of water straight from the top of the vertical wall of volcanic rock to the bottom stream, making it a raw scene and quite overwhelming sensation of nature. Jraiblian waterfall is definitely an ideal destination for those who want to enjoy pure nature. 
Famous Lakes
Besides waterfalls, there are also famous lakes that have been attracting a lot of tourist such as:
Xuan Huong Lake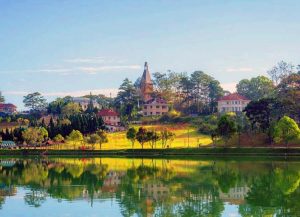 Xuan Huong lake is a symbol of Da Lat located in the city center which has a crescent shape. This is an artificial lake with approximately 5 km2 circumference, and 25 ha wide. The lake has long been famous for immerse pine forests, green lawns, wonderful flower gardens. The surface of the lake is smooth and crystal, reflecting the charming scenery of Dalat city with pine forest. With the romantic views, Xuan Huong Lake has been reputed to be a romantic place, a dreaming tourist attraction and a dating rendezvous of loving couples as well. It is also a favorite rendezvous for tourists who love walking,using stagecoach, double bikes, duck riding… to visit and explore the lake and surrounding area.
Da Nhim Lake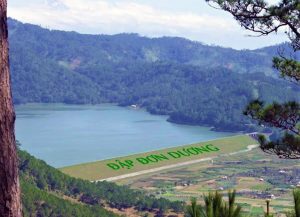 Da Nhim lake also known as Don Duong Lake, located in the town of Dran, Don Duong district, Lam Dong province. It is 36 km far from Dalat city to the South – East. All view Da Nhim lake is the great combination of mountain, lake and cloud which create a great scenery for the province, attract many tourists.
Coming to visit natural beauty of Da Nhim lake, tourist also have the opportunity to learn about the Da Nhim hydropower plant was built right on the lake, built from 1962 to 1964.
Nearby is another tourist attraction: the Ngoan Muc Pass – one of the largest passes in Vietnam. Tourists can go hiking, horseback riding, jeep driving along the red dirt road lead to the Valley of Love. It's also an ideal place for camping with your family members and friends.
Tuyen Lam Lake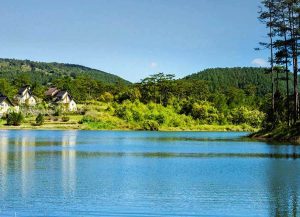 Tuyen Lam Lake is known as a tourist resort with the most resorts. It is surrounded by primeval pine forests and green-shaded oases scattered throughout the lake. This is the largest freshwater lake in Lam Dong with an area of 350 hectares.
Tuyen Lam is an ideal spot for picnic or camping by the lake to enjoy the cold air nearby Da Lat. Besides enjoying the nature scenery around the lake, tourist can participate in recreational activities such as boat ride, spiritual travel at Truc Lam Zen Monastery, climbing, fishing and especially is boating to enjoy the lake view.
Dankia Lake – Suoi Vang Lake (Golden Stream Lake)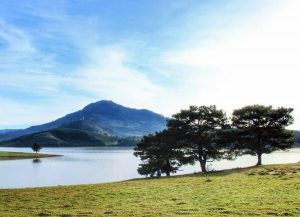 Situated about 20km from Da Lat city center to the northwest, Dankia Lake is one of the largest freshwater lakes with the capacity of about 20 million cubic of water. The lake has long been supplying fresh water and electricity to Da Lat city, particularly through Ankoret plant, the first hydroelectric plant built in Vietnam (1943).
The Dankia lake impresses tourist with marvelous scenery of high mountains, pine forests and pure water flows bending around romantic hills, creating a wonderful painting before the eyes of visitors. Coming to Dankia- Suoi Vang area, visitors will be attracted by the natural beauty of Golden Valley, Ankroet waterfall and Suoi Vang Dam. In addition, the ethnic minorities of Lat Village, inhabiting in the area, still maintains their traditional customs – This is also an ideal site for ethnological tourism.
Than Tho Lake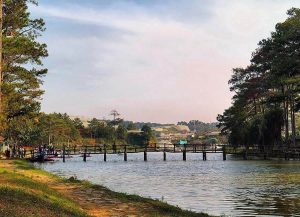 The lake is situated on a high hill in the middle of a tranquil pine forest, creating the quiet peaceful feelings, which attracts numerous tourists who love to explore romantic natural landscapes.
Along with the folk unfinished love stories such as story of Mai Huong – Hoang Tung in the 18th century, story of the pine hill with 2 graves…, the harmonious characteristics of Than Tho Lake have increasingly attracted tourists as a fascinating venue. Tourist can walk on the green lawns, watch the pine silhouettes down the lake surface or ride a horse around the lake like a true nomad.
Tourist Attractions Spots in Lam Dong
Da Lat railway station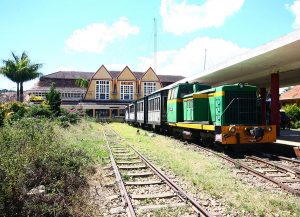 It is an attractive tourist attraction, containing many cultural values ​​of Lam Dong in general and the local people in particular. The railway station was designed in 1932 by the French and opened in 1938. Largely unused during Vietnam War, the line was gradually dismantled after the North Vietnamese victory in 1975. However, it was returned to a limited level of service in the 1990s. Up to now, a 7 km section of the line between Da Lat Railway Station and the nearby village of Trai Mat was restored and returned to active use as a tourist attraction. 
Address: 01 Quang Trung Street, Ward 10, Da Lat city.
Da Lat Flower Gardens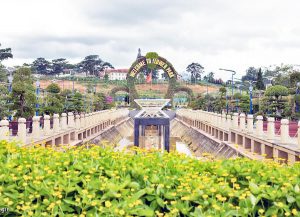 The gardens has an entire area of 7000 square meters and is divided into many different areas including a flower exhibition area, nursery area, greenhouse area, statue garden, entertainment area. Visitors can explore a variety of different gardens, including a giant cactus garden, Bonsai garden, fields of orchids, and rose, hydrangea displays. Besides the local flowers, there are also other kinds of flowers that have been brought to this garden such as daffodils, lilies, lavender, mimosa… Totally, with more than 300 different flowers grown to serve the needs of visitors, this is the most ideal check-in point.
Address: Tran Quoc Toan, Ward 8, Da Lat, Lam Dong
Valley of Love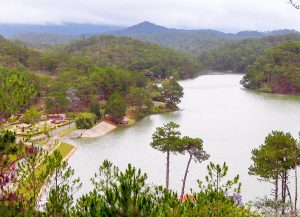 Located 5km from the center of Da Lat city, with an area of ​​up to 140ha, Vally of Love is  one of the most romantic tourist spot attracting tourists, especially newly-married couples, come to visit in Lam Dong.   The scenic green hills surrounding the lake are covered in gorgeous pine forests, create a romantic view, especially when you standing from the tracks lead to Vong Canh Hill. It is an ideal place to organize outdoor activities such camping, barbecue party… and enjoys many other interesting games such as horse riding, duck riding, jeep, paint gun, tandem biking…
Address: 3 – 5 – 7 Mai Anh Dao Street, Ward 8, Da Lat. 
Mountain Langbiang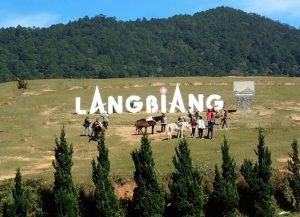 The mountain is listed as "the roof of Da Lat". The mountain is 2,169m above sea level. At the foot of Langbiang Mountain is a tourist area with beautiful rustic architecture and full amenities for the leisure of tourists. The Langbiang is attracting visitors by exciting adventure: climbing, and conquering the peak. It takes around 4 hours to reach the top of the mountain.
Another way to reach the top is by renting a jeep car. Standing on the top of the mountain you can enjoy a panoramic view of the foggy city in the distance.
The address of the Langbiang mountain tourist area is: No. 305 Langbiang Road, Lac Duong town, Lac Duong District, Lam Dong Province.
Bao Dai Summer Palace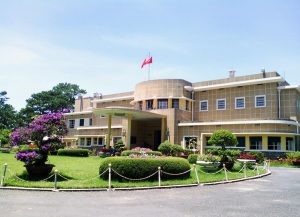 This is the Third Mansion of Bao Dai Emperor that served as the summer palace for him. Bao Dai Palace is a two-story mansion situated on a hill in the Love Forest. It has front and back flower gardens. It was built from 1933 to 1938. The ground floor was reserved as the Emperor's working space, while the upstairs was the living space of the whole royal family. The latter comprises a library, entertainment room, and large dining room.
In addition, the palace also contains valuable and well-preserved artifacts that were left behind, including Hue royal antiquities, a large white bust of Bao Dai himself, and an engraved glass map of Vietnam.
Address: 01 Trieu Viet Vuong Street, Ward 4, Da Lat city.
Truc Lam Zen Monastery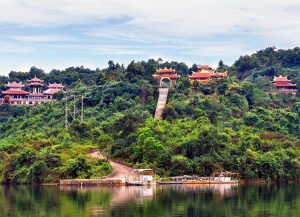 The Monastery located on Phung Hoang Mountain, next to Tuyen Lam Lake, about 7 km from Da Lat. The monastery has an area of ​​24 hectares founded on April 8,1993, and completed on February 8, 1994. This is considered to be the largest monastery in the country both in terms of space and the size of the gathering. In the main hall only worship Buddha Shakyamuni holding lotus branches. Right outside is a majestic tower inside hanging a large bell 1.98 m high and weighs 1.1 tons above engraved with poems by "Truc Lam Dau Da". Truc Lam Zen Monastery does not only has an ancient and magnificent beauty like other temples but also hides many mysteries of the spiritual world.
Domaine de Marie, Da Lat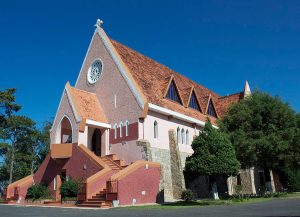 The Domaine de Marie Church, also known as Vinh Son church, is an architectural cluster consisting of a chapel and two rows of Bac Ai Thanh Vinh Son monastery with a total area of ​​12 hectares. The church is located atop a hill in Da Lat. It is built in a style reminiscent of 17th Century French architecture. However, this church has it special and different from the classical churches of Europe. The roofs of the church have their origin from the design of Nha Rong – a typical style of stilt house in Central Highlands of Vietnam. Another example of the interaction is the 3m-high-statue of Mary, created by a French architect, but resembles the image of a Vietnamese woman. In general, the two competing styles has creates an absolutely creative and intrigue complex.
Address: 01 Ngo Quyen, District 6, Da Lat city.
St. Nicholas Cathedral, Da Lat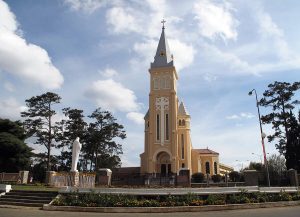 The St. Nicola Cathedral, also known as the familiar name of Con Ga (Chicken) Church, is an ancient Catholic church in Lam Dong. There are five masses every Sunday. It was designed in the style of Roman Catholic churches with a European direction with an overall cross-shape 65m long, 14m wide and reaching the top of the bell tower is 47m hight. To create a highlight for the church, the architect installed 70 Medieval-style stained glass panels on the wall to illuminate the cathedral's interior and create an unique aesthetic decoration.
Address: 15 Tran Phu Street, Ward 3, Da Lat city, Lam Dong.
Linh Phuoc Pagoda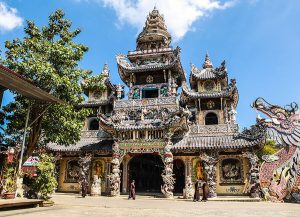 Linh Phuoc Pagoda is located in Trai Mat, Da Lat city, 8 km from the center of Da Lat city, on Highway 20. Completed in 1952, Linh Phuoc pagoda is also know as Ve Chai Pagoda as the 49-metre-long dragon's head at the entrance gate was meticulously pieced together from 12,000 broken glass bottles. In front of Hoa Long Vien is a 36-meter-high tower, hanging the heaviest bell in Vietnam – 8,500 kg in weight. Beside the bell tower stands an 18-metre-high golden statue of Bodhisattva, which is decorated with over 600,000 flowers. In addition, this place also has a display house for gems, ancient porcelain and fine art wood.
Lam Dong specialities
Fruits: famous with strawberries, avocado, persimmons, banana, peach, jackfruit…

 

Da lat wine: Dalat wine (also called Vang Dalat) is one of Dalat's specialities.

 

Vegetables: spinach, salad, rose potato, cauliflower green and white, white cabbage

Dalat Flower tea

Jams that were processed from strawberry, persimmon, plum and patata.

Flowers

Artichoke
Vietdreamtravel provides daily and package tours, car/bus rental services to Da Lat and other cities in Lam Dong. Do not hesitage to contact us for any support.
---