Vung Tau is around 100km from Ho Chi Minh city with a coastline stretching 100km, Vung Tau is one of the favorite destinations of tourists in the South. The city has long been considered an attractive tourist destination, because of its natural beauty. Wherever you go in your Vung Tau trip, visitors will be fascinated by the scenery of this place.
The climate of Vung Tau
Vung Tau belongs to the tropical monsoon climate, with two distinct seasons a year. The rainy season starts from May to October, and the dry season from November to April next year. The average annual temperature is 27 ° C, the lowest month is about 24.8 ° C, the highest month is about 28.6 ° C. Due to this harmonious temperature, it makes the city become a perfect place to explore mountains, the sea or simply relax on the beach.
What to see in Vung Tau
Vung Tau has many interesting tourist spots for you to explore. Some of them are mention as below:
1. Sakyamuni Pagoda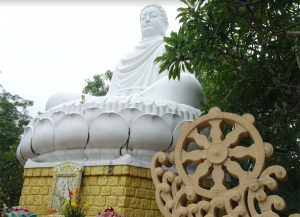 This is a pagoda located on the Large Mountain of Vung Tau City. The beauty of the pagoda cleverly combines religious architecture and natural landscape.
The most noteworthy is the 19m- Bat Giac tower (Octagonal Tower) and the Shakyamuni statue meditating on a lotus building, halfway up to the mountain slope.
Location: 608 Tran Phu street, Vung Tau. The pagoda opens from 6 am to 18 pm every day.
2. Christ of Vung Tau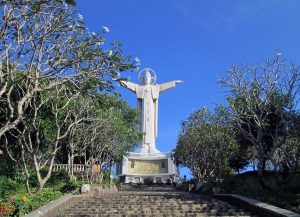 The statue of Christ outstretched arms on top of Nho Mountain, built-in 1971. This statue is 28 m high, 18.3 m long arm span above 170 m overlooking the sea. Inside the status, there is a spiral staircase of 133 steps up to 2 hands of the statue.
Each one is able to accommodate up to 6 people which offers a panoramic of the surrounding landscape. The statue can be seen as a similar version of the Christ with arms open in the city of Rio de Janeiro in Brazil.
Location: 01, Ba Ria – Vung Tau. Openning hour from 5:30 am until 17pm.
3. Bach Dinh (White Villa)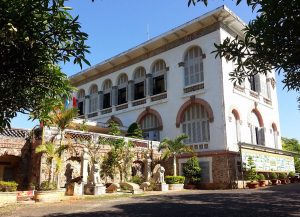 In 1898, Governor-General of Indochina Paul Doumer built Bach Dinh (Villa Blanche) on the foundation of Phuoc Thang fortress, which had fired on French warships nearly 50 years ago.
Bach Dinh has European architecture in the late 19th century, overlooking Front Beach, surrounded by a small forest with many types of trees, especially porcelain.
Currently, Bach Dinh is used as a museum, displaying topics such as pottery of the Kangxi Emperor period recovered from the wreck of an ancient shipwreck in the area of Hon Cau – Con Dao, cannons, and many valuable artifacts. other found through archaeological excavations in Ba Ria – Vung Tau … to Bach Dinh, visitors can enjoy the fresh air of the sea, the beautiful beauty of Bach Dinh mixed in nature, plants, and trees. and enjoy first-hand typical and rare antiques.
Location: No. 6 Tran Phu street, Vung Tau city.
4. Niet Ban Tinh Xa Pagoda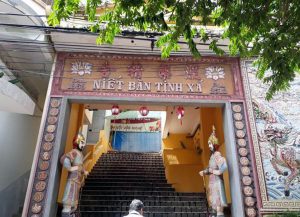 This is one of the most beautiful pagodas in Vung Tau with modern architectural lines. The pagoda is also known as "reclining Buddha" was built on the slope of the Small mountain, facing the sea.
The pagoda was built in 1969 and inaugurated in 1974 with money donated by fellow Buddhists. Niet Ban Tinh Xa is famous for its 5 tons of bronze bell with the image of Four Holy Beasts: Vietnamese dragon, the Qilin, the Turtle, and the Phoenix. This is the result of more than two years of hard work of art by a craftsman in Ben Tre province and donated to the temple in 1971.
Located: Ward 2, Vung Tau. 
5. Quan The Am Bo Tat Temple (Avalokitesvara Temple)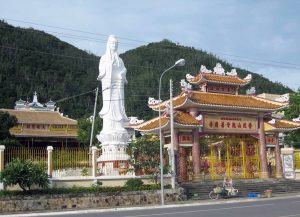 This is a small temple featuring a 16m-high white statue of Avalokitesvara, standing on a lotus tower platform. Her virtuous face is looking toward the sea and holding holy water in the hands. The architecture of the temple is simple with Chinese style. Behind the temple is Large Mountain with lush trees, peaceful and quiet scenery, completely separate from the bustling life of a tourist city. 
There are many people come to visit and pray at the temple, especially on June 6th, July 15th, September 6th (Lunar Calendar). 
Quan The Am Bo Tat Pagoda is located on the roundabout of Large Mountain, 500m from Bai Dau (Mulberry beach), at No 178 Tran Phu, Vung Tau.
6. Linh Son Co Tu (Linh Son Pagoda)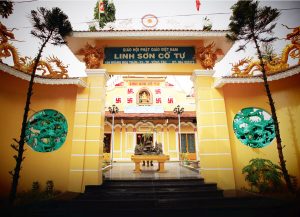 Although not massive and large, Linh Son Co Tu is the oldest pagoda in Vung Tau. In the main hall, there is statues a 1.2m high Buddha statue made of gilded stone which is skillfully sculpted to create a compassionate and lively look on the face of the Buddha. There is a legend about this Buddha statues as it was found under ground on the mountainside near Dau beach by group of fishman from the central region come to fish in Front Beach.
Location: 108 Hoang Hoa Tham, Vung Tau.
7. Vung Tau lighthouse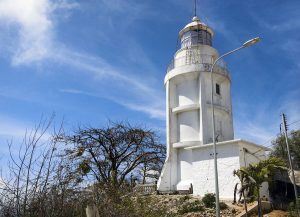 Vung Tau lighthouse was built by the French in 1862 for the purpose of navigating and signaling ships passing by, located at an altitude of 149m above sea level. By 1913, the French rebuilt this lighthouse, moving the lighthouse's height from 149m up to 170m altitude. Vung Tau lighthouse is one of the oldest lighthouses in Vietnam and Southeast Asia.
Vung Tau lighthouse is considered as a symbol of Vung Tau city. The lighthouse architecture is a cylindrical tower 18 m high, 3 m in diameter and painted in white. Inside the lighthouse there are stairs leading to near the top of the lighthouse and a balcony for sightseeing as well as Can Gio Port and Ba Ria beach. 
Location: Located on the top of the Small mountain, Vung Tau city
8. Worldwide Arms Museum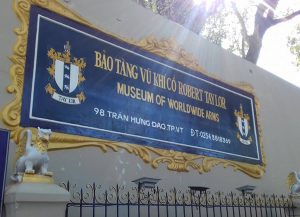 The Worldwide Arms Museum was founded by Mr. Robert Taylor (British nationality) and his wife Nguyen Thi Bong. According to the visitors, this is one of the most worth seeing museums in Vietnam. Opened in early 2012, the museum displays 500 life-size dummies, wearing beautiful military uniforms, representing warriors from all over the world in many periods; more than 1,200 guns, 1,000 ancient swords with history, and other interesting stories.
Coming to the museum, you will discover the historical values ​​of each period from ancient to modern. Visiting the ancient area, you will be amazed at the collection filled with weapons from the Roman Empire, Genghis Khan or Samurai such as swords, spears, bayonets, along with the costumes, armor, helmet.
Location: No. 98 Tran Hung Dao, Vung Tau city. Opening time to welcome visitors from 08:00 to 17:00 daily.
9. Hon Ba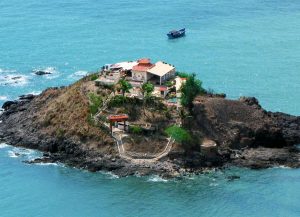 Hon Ba is a unique rocky island, located near the Nghinh Phong cape, Back Beach of the city, with an area of about 5,000m2.
At the end of the eighteenth century (1781), on the island built a small temple to worship Mau Thoai – a god who regulating the climate so that the fishermen could safely go fishing and lucky on their trip. Therefore, the temple is called Ba Temple, also known as Hon Ba Temple. On the full moon of January, April, July, October (lunar calendar) local people usually go to this island to burn incense and pray for luck. When the tide is low, it is possible to follow an overlapping rock path to the island as well.
The main beaches of Vung Tau 
1. Back Beach (Thuy Van Beach or Bai Sau)
Vung Tau Back Beach is famous for its beautiful coastline and few big waves, concentrating a lot of hotels and dining areas. Therefore, the majority of tourists traveling to Vung Tau like to stay in Back Beach. The back beach also has a quite famous Thuy Van street similar to Tran Phu street in Nha Trang, there are quite a few hotels from popular to high-end located on this street.
2. Front Beach – (Tam Duong – Bai Truoc)
The Front Beach is located in the city center of Vung Tau, where stand many high-rise buildings and busy shopping areas. Tourists often choose the beach in the Back Beach due to the density of population and crowded tourists. However, Front Beach is an ideal place for you to enjoy the sunset or go for a walk.
3. Bai Dua (Pineapple Beach)
The Bai Dua is located between the Back Beach and Front Beach, near The Small Mountain and Nghinh Ong Cape. There used to be numerous wild pineapple that grew in here that why the beach is called Pineapple Beach (Bai Dua).
4. Long Hai
Located 40km northeast of Vung Tau city, this is a favorite place for many tourists who want to find a quite beach. It has a beautiful beach with clean water, long golden sand, and cherry orchards along the coast. In particular, Long Hai beach has many fresh and delicious seafood at quite cheap prices. It will soon become a vacation resort offering many activities on the beach.
5. Ho Tram
The beache ais located in the Xuyen Moc district, attracting tourists because of their rare pristine features.
They are not popular, vibrant, but also charmed by the clear blue water and white sand, creating a gentle and wild beauty.
6. Suoi O Beach
Suoi O beach is located in Binh Chau commune, Xuyen Moc district, about 3km from Binh Chau market, on the way towards Binh Chau hot spring. Suoi O Beach has both a freshwater stream and a smooth white sand beach with immense blue sea water. This is one of the rare beaches in Vietnam with both fresh water and saltwater.
7. Con Dao
Con Dao is famous for its clear beaches, green coconut trees and white sand that can captivate any visitor. It is easy to understand why Con Dao attracts so many domestic and foreign tourists to enjoy. With its wild beauty and not much impacted by the tourism industry, Con Dao today is indeed a rare tourist paradise in Vietnam.
Vietdreamtravel also provides package tours and car/bus rental service to visit Vung Tau. Don't hesitage to contact with us for your booking.
---