Christ of Vung Tau or Christ of the King is a statue of Jesus, located on Nho Mountain. This is indispensable in your itinerary when traveling to Vung Tau, because of the exciting sense of conquest in this vibrant coastal city.
Address: Located in Thuy Van, Ward 2, Vung Tau City, Ba Ria – Vung Tau
Architectural statue of Christ of Vung Tau
Standing on the top of Mount with 176m high, to reach the Jesus Statue, visitors must cross over 800 stone steps. You don't need to worry about health problems, as along the way to the mountain there are a lot of places for you to take a break drink water, and take some photos as a memory of the sea and surrounding areas below. Furthermore, there are thousands of types of trees and flowers decorated the path along the route.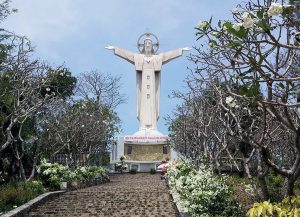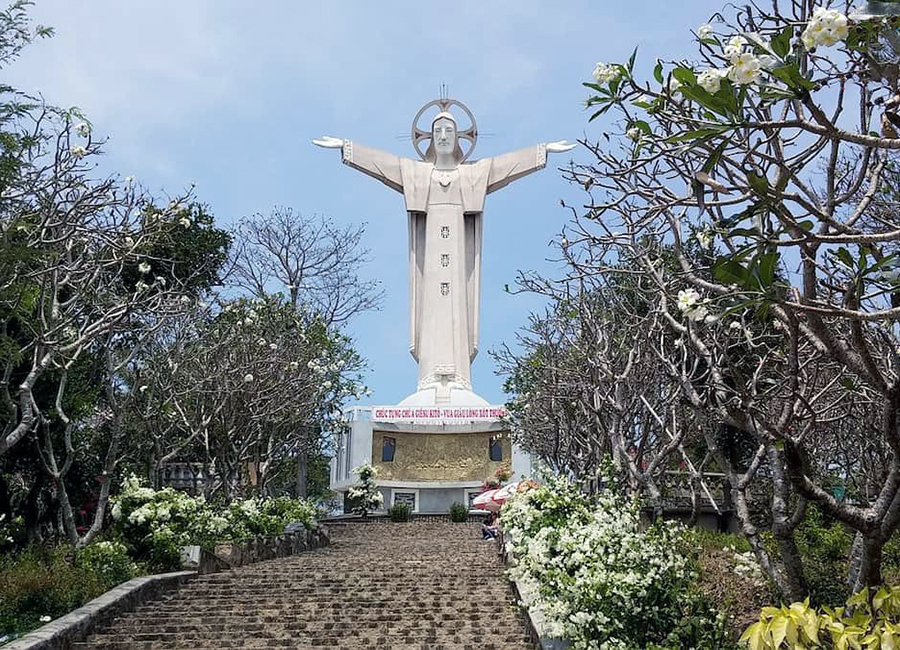 Christ of Vung Tau was built in 1974. The statue has a height of 32m, an arm span of 18.3m standing on a height of 170m.
You have to climb the 133-step staircase inside up to reach the 2 hands of the statue. Standing here, visitors can admire a panorama view of the city and the surrounding sea.
The statue is the largest Christian statue across Asia since 2012 and has been a major pilgrim destination for Christians not only in Vietnam but also abroad.
What is the best time to visit the Statue of Jesus in Vung Tau?
Located in the tropical monsoon climate, Vung Tau possesses a typical two-season climate: with the rainy season starting from October to October and the dry season starting from November to April. And of course, trekking during the dry season will not only the best time but also you can admire the sea view from this statue.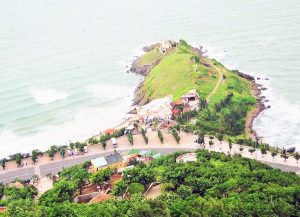 Furthermore, according to Vietdream's experience, when you visit the statue of Jesus in the early morning, you will be less tired and climbing will be smoother.
It should be noted that the visiting hours from 7:00 am to 17:00 pm every day. Therefore, you should arrange your schedule to avoid going too late. Especially, on the weekends, this place will be crowded as tourists and pilgrims coming here.
Some notes before coming to visit
The aura around the statue's head was built as a lightning rod, so do not touch it arbitrarily.

There is no entrance fee but you can donate money in order to fix or preserve its structure.

The fare for motorbike parking at the foot of the mountain is arbitrary, the amount of money for parking is included in the monument repair fund.

Visitors should wear appropriate clothing; short skirts, revealing clothes …won't be allowed to climb up the statue.

Make sure you have proper shoes before trekking.
Vietdream travel also provides private/package tours or car/bus rental services for you to explore Christ of Vung Tau. Do not hesitate to contact us for any booking.
Best regards,
Vietdream team
---