An Binh islet includes 4 communes: An Binh, Hoa Ninh, Dong Phu and Binh Hoa Phuoc in Long Ho district, Vinh Long province. With a terrain of land dunes surrounded by Co Chien and Ham Luong rivers, the islet has become an attractive tourist destination, giving visitors unforgettable experiences of a river region characterized by the Southwest.
Coming to An Binh islet, visitors can row sampans through the canals to admire the charming river scenery along riverside. The cool breeze and the singing on the bow of the boat will bring you unforgettable impressions.
General information of An Binh islet
To get to An Binh Islet, you just need to choose transportation to Vinh Long city. From here, you ask for directions to An Binh wharf and then take a ferry or rent a motorboat to the islet. If you go in a large group, the best way to get here is booking a private car with driver, then rent a canoe to save money to follow the Tien River, explore the landscape on the islet.
The best time time to visit the islet starts from July to August to enjoy the sweet flavors as ripe fruit season. However, the climate in the Mekong Delta River in general and Vinh Long in particular is relatively mild and stable all year round, so to conveniently visit, you should check the weather forecast in advance to choose a sunny, dry day.
Do you want to join with our group tour to visit An Binh Islet for 1 day from Ho Chi Minh city?
Things to do in An Binh islet
Thanks to the lush and fertile land, it attracted a large number of people come to live, to open villages, grow fruit gardens, create a green oasis and develop garden eco-tourism. So it would not be boring when coming to visit the islet, instead, you can:
Explore fruit orchards
Visiting the gardens, visitors can freely enjoy seasonal fruits, almost all year round. Some of the most famous fruit gardens such as Mr. Chin Hoan's rambutan garden, Mr. Chin Can's rambutan garden, 6 Tan fruit garden, Be Sau fruit garden, Mr. Tam Ho's longan pepper garden, and so on. The entrance ticket cost from 50,000 VND – 100,000 VND/1 person, then you can fill full of your stomach with ripe fruits, right in the orchards.
Not only can visitors enjoy many delicious fruits, but they can also experience many interesting things such as visiting ancient houses, visiting craft villages imbued with river culture; experience digging ditches to catch fish, fishing, enjoy folk music show…
Tien Chau Pagoda
A famous spiritual tourist destination of Cu Lao An Binh is Tien Chau Pagoda located on Tien beach on the left bank of Co Chien river. The pagoda was formed in the years 1740 – 1750, is an ancient pagoda not only famous in Vinh Long but also famous in the entire Southwest region associated with the legend of the fairy's beach. In addition, the pagoda also preserves many artifacts of traditional national culture.
On December 12, 1994, Tien Chau Pagoda was recognized as a National Traditional Cultural and Historical Monument.
Cai Cuong ancient house
Cai Cuong ancient house is famous as an architectural work with European appearance mixed with ancient Asian features. Located in Binh Hoa Phuoc commune, on the banks of Cai Muoi canal crowded with boats, this is a place that attracts a large number of tourists to visit.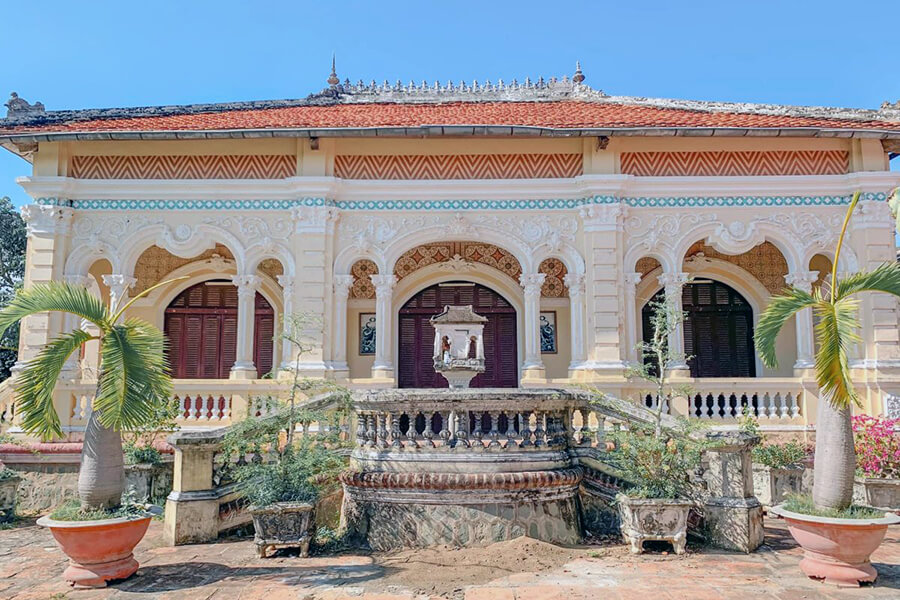 The most attractive feature of the house is the set of wooden panels that bind all three rooms, with delicate carvings of dragons, phoenixes, birds, trees… all painted in gilded vermilion, very eye-catching.
Vinh Sang Tourist area
Vinh Sang tourist area is built along the banks of Co Chien river, about 3km from An Binh ferry port. The total area of the tourist area is about 2.2 hectares, including fruit gardens and ecological conservation areas.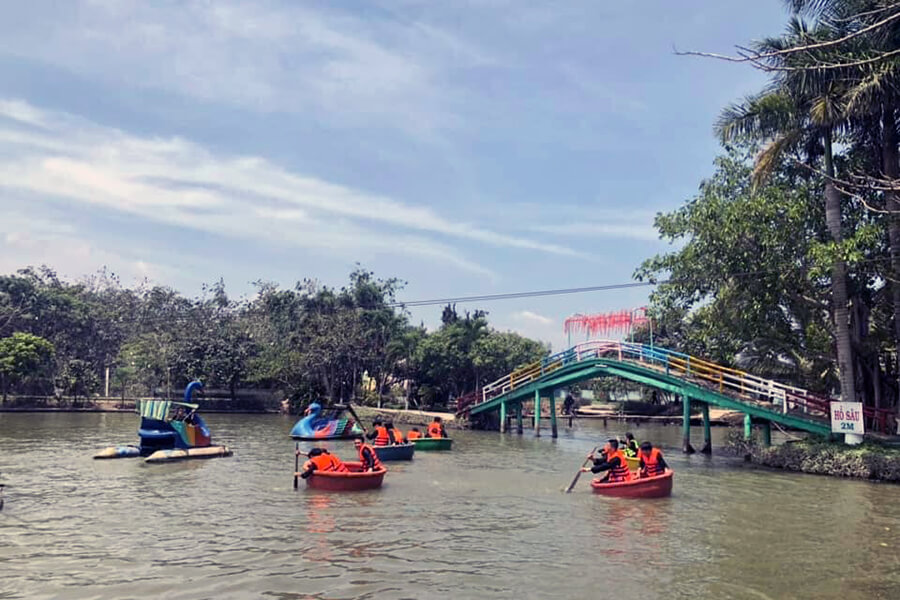 Coming here, you will be able to visit the peaceful and quiet nature, explore a diverse bird garden and many other interesting activities such as ride ostriches running freely on the sand, fish for crocodiles, learn to walk on monkey bridges, play grass sleds, and ride bicycles around the village roads , rowing sampans along the canals, spreading nets, fishing or digging into ditches to catch fish…
Phuoc Dinh Golden Apricot Village
An Binh Island also has traditional craft villages such as Phuoc Dinh Golden Apricot Village.
This is a traditional craft village, specializing in growing yellow apricot as ornamental flowers.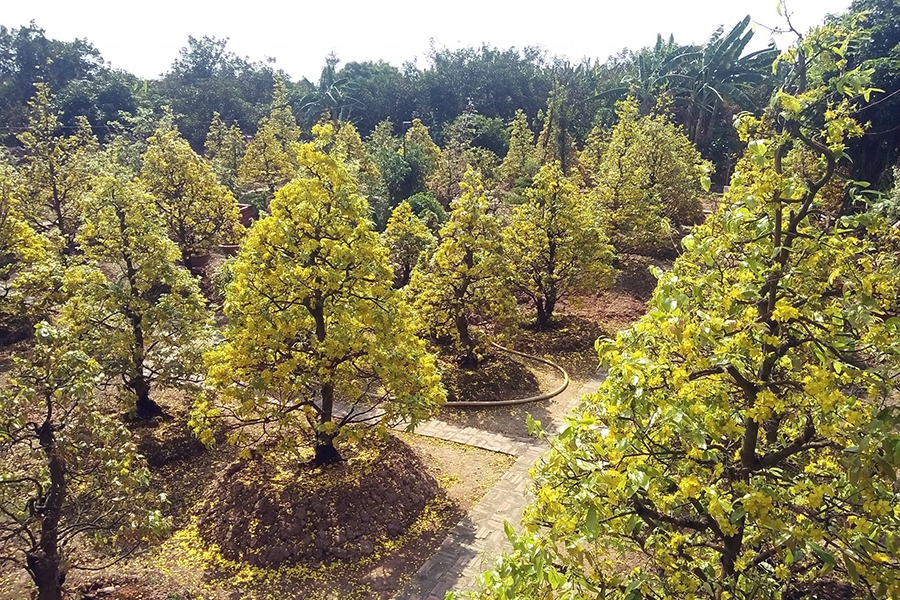 Coming here, visitors will be able to admire ancient apricot trees hundreds of years old and enjoy the village's atmosphere of yellow apricot flowers blooming during the
Lunar New Year.
Enjoy special of local food
After a day of walking, visitors can spend the evening at garden houses in the form of homestay tourism, eating and living with local people.

Enjoy typical dishes of the river region such as fried giant fish, crispy fried spring rolls, grilled snakehead fish, pancakes, fruit wine…

 Mr. Muoi Day's wooden stilt house located on Ninh Hoa canal, or Mr. Hai Hoang's old house with French-style architecture,

 t

hese are all resting places for tourists wishing to stay overnight.
The most special thing about An Binh island that impresses many tourists is that the lives and activities of the residents are still imbued with a rustic and simple garden culture.
It is the gentle and simple farmers who have created an islet rich in Southwest identity.
---