Phuoc Hau Pagoda located in Dong Hau hamlet, Ngai Tu commune, Tam Binh district has long been a spiritual tourist destination not to be missed when coming to Vinh Long. This is an ancient Buddhist pagoda of the Lam The sect, and is also famous for its unique stone-sutra garden which can not find in another place when traveling to Mekong Delta.
General information about Phuoc Hau Pagoda
Initially, Phuoc Hau Pagoda was just a thatched hut. In 1894, Mr. Le Van Gong, who was very religious, mobilized the local villagers to build a pagoda with wooden ribs, yin-yang tile roof, and brick floor. This pagoda is a type of village pagoda so it is named Dong Hau pagoda. In 1910, Mr. Gong died, his daughter Le Thi Huynh and local Buddhists invited Venerable Hoang Chinh from Thien An Pagoda (Quang Ngai) to become abbot and change the name of Dong Hau Pagoda to Phuoc Hau.
During the period of national liberation struggle, Phuoc Hau Pagoda was also a home of revolutionary cadres. Therefore, the pagoda was recognized as a national revolutionary historical relic in 1994. This is a relic of special importance to the history of Vietnamese Buddhism in the 20th century as well as the Revolutionary history of Vinh Long province and the Southwestern region during the war.
Discover the architectural of Phuoc Hau Pagoda
After many times of restoration and new construction, Phuoc Hau Pagoda currently includes many works such as the main hall, middle hall, rear temple, sutra hall, stupa system… Except for the main hall, which was newly built in 1962 with modern materials according to the East-West architectural model, the other buildings are parts of the old pagoda, dating from 1894.
The front of the pagoda is built in the style of an ancient building, with a model of a towering seven-storey tower in the middle.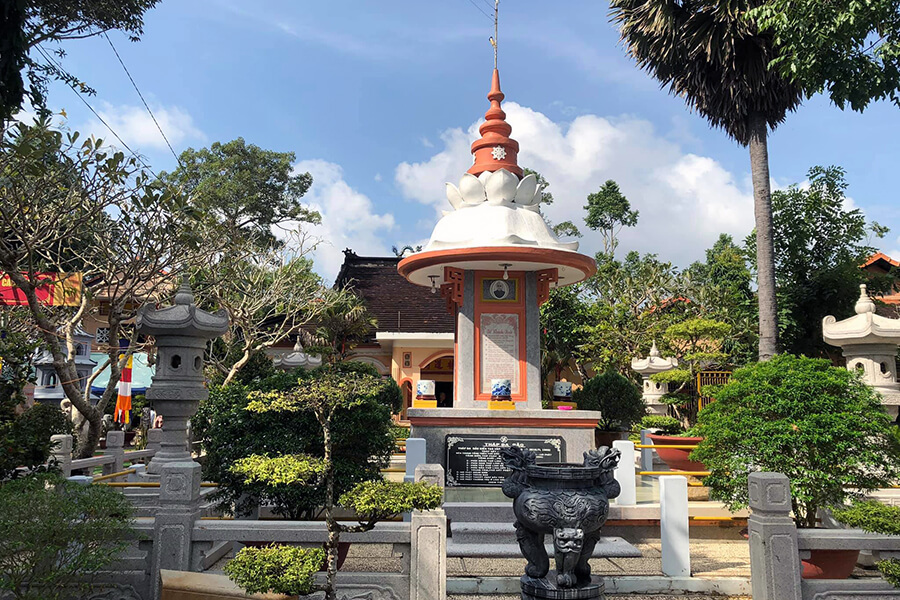 The inner hall is quite large, the middle altar holds a statue of Shakyamuni Buddha in meditating form along with a statue of newborn Prince Siddhartha and the Three Venerables (Avalokitesvara, Amitabha, and Mahasthamaprapta). On both left and right sides there are two altars. In here, there are a group of very precious statues from the ancient Dong Hau pagoda that are still kept, such as statues of Ksitigarbha, Dharmapala, a set of Arhat statues… all made of wood or ceramic.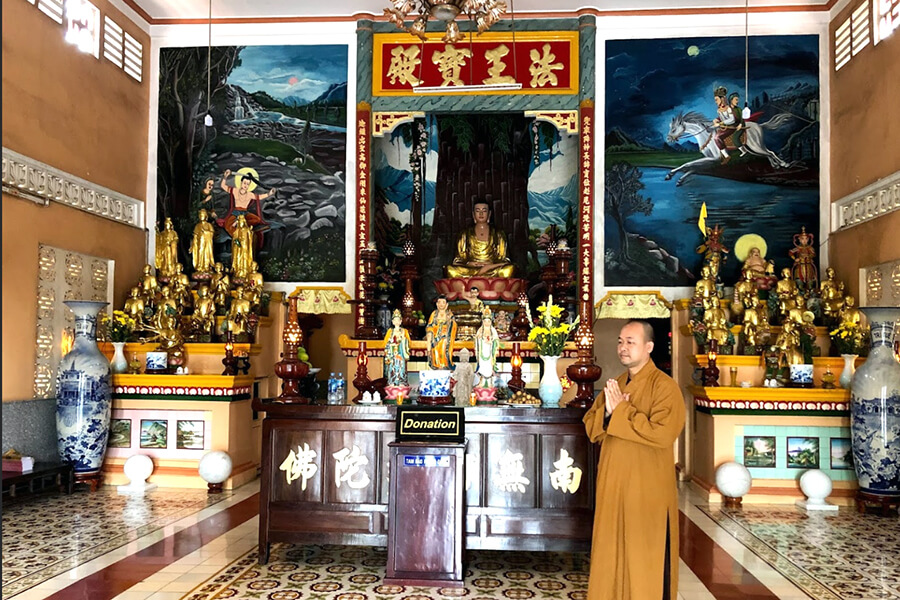 The ground of the pagoda is spacious with many rare and old trees, always create a feeling of sacred majesty mixed with the purity.
Unique of stone sutra garden in Phuoc Hau Pagoda
However, the most impressive thing for many visitors is the elaborately carved sutras on stone, harmoniously arranged by the pagoda into a garden according to different themes.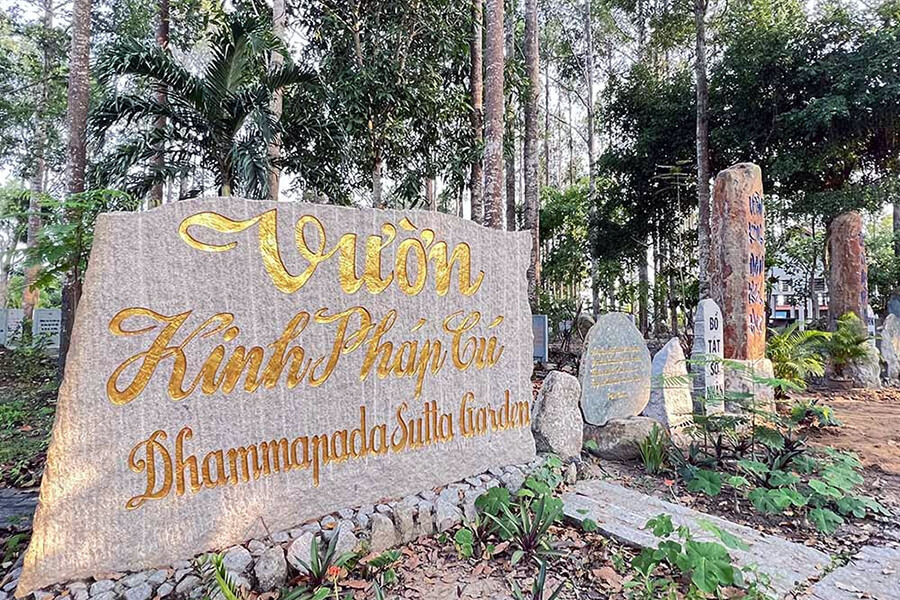 To have this unique stone sutra garden, according to Venerable Thich Phuoc Can (Abbot of Phuoc Hau Pagoda), in 2014, during a trip to Myanmar, he saw some pagodas there with very beautiful carvings of sutras on stone, so he determined to study them and find a way to engrave sutras in Vietnamese on stone slabs.
However, it is extremely difficult, from choosing stone materials, to decorate, to choosing what type of sutra to translate into Vietnamese. Then he decided to garden the Dhammapada Sutra, the quintessence of Buddhism, translated from Pali into Vietnamese by the late Venerable Thich Minh Chau, President of Vietnam Buddhist University.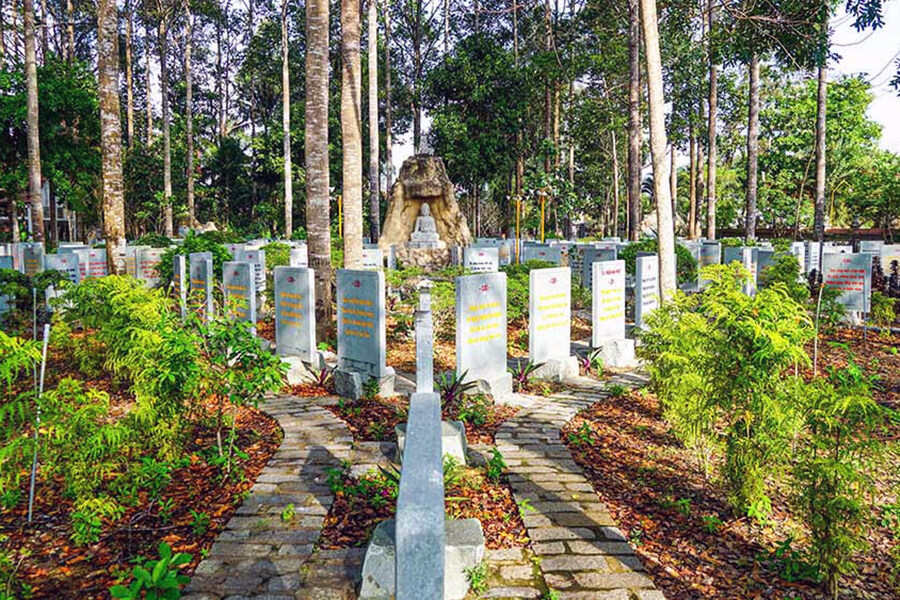 The Dhammapada Sutra Garden consists of 213 blue stone slabs measuring 0.4×0.6m, engraved with 423 sutras on both sides, in addition there is a poem about the general idea of the Dhammapada, 1 poem about the merits of the Dhammapada Sutra, the conduct of monks and Buddhists and a stone slab engraved with the image of Venerable Thich Minh Chau. The center of the garden is an eminence with four Shakyamuni Buddha statues.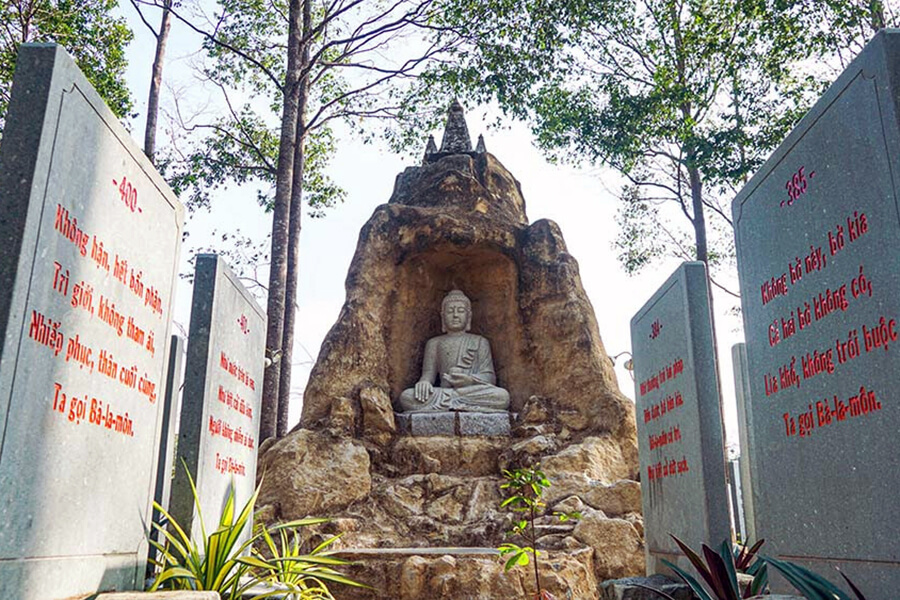 After the success of the Dhammapada Sutra Garden, Venerable Phuoc Can carried out the next projects – the Amitabha Sutra Garden. The garden has 31 stone slabs arranged in a row of small S-shaped lotus ponds, symbolizing Vietnam.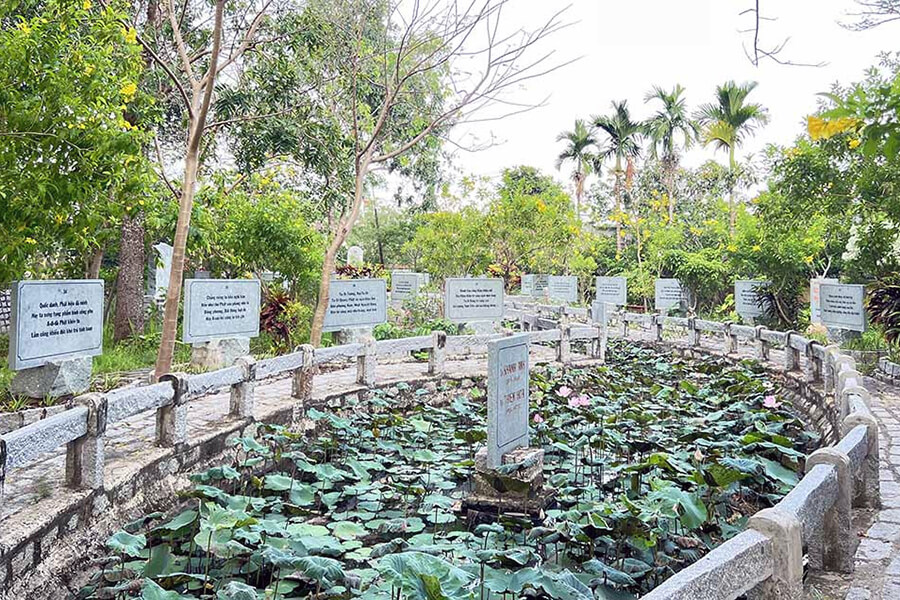 Each region has a stone slab placed in the middle of the lake inscribed with a symbolic pagoda, plus symbolic pseudo-mountains such as Yen Tu mountain, That Son… The sutras in this garden are translated in six-eight verse form.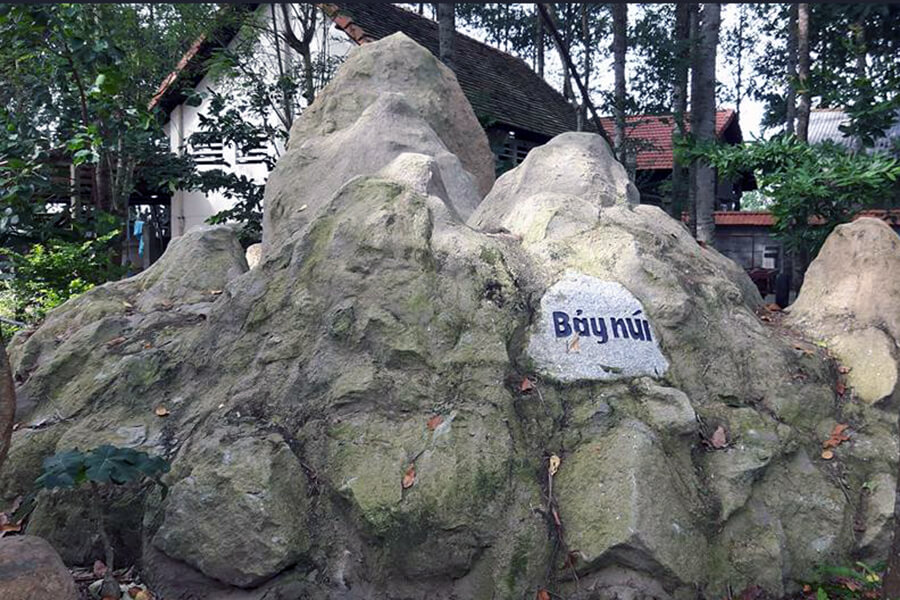 There are also a number of stone slabs engraved with English next to Vietnamese so that foreign tourists can understand when visiting and many stone slabs engraved with the words heart, patience, and Buddhist teachings are very unique…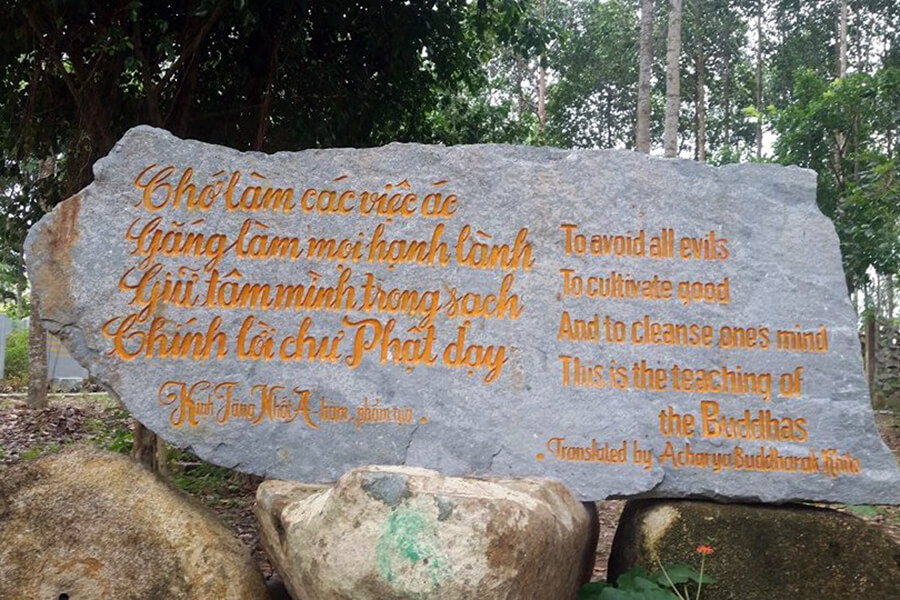 Now every time they have the opportunity to travel to Vinh Long to visit Phuoc Hau Pagoda, visitors from all over not only visit, enjoy, and breathe fresh air to help calm their hearts, but also admire the unique stone gardens.
Useful information about Phuoc Hau Pagoda
---