Those who have ever set foot to Vinh Long probably know that this place has an extremely unique ancient house ecological area. Not only can you visit, explore and admire the beautiful scenery, when you come to the ancient house, you can also participate in many experiences in Vinh Long such as taking a boat down Ong Me canal, enjoying Mekong Delta specialties or visiting fruit gardens… To know more about the Vinh Long ancient house ecological area, Vietdream will reveal to you all the interesting things about this destination through the article below.
General information about Vinh Long Ancient House Ecological Area
The ancient house ecological area is located next to Ong Me canal, in Phuoc Nguon A hamlet, Phuoc Hau commune, Long Ho district, about more than 2 and a half hour of driving from Ho Chi Minh City. This place is an extremely ideal destination for those who love eco-tourism, especially young people in urban areas who are used to high-rise buildings and want to experience the peaceful countryside atmosphere.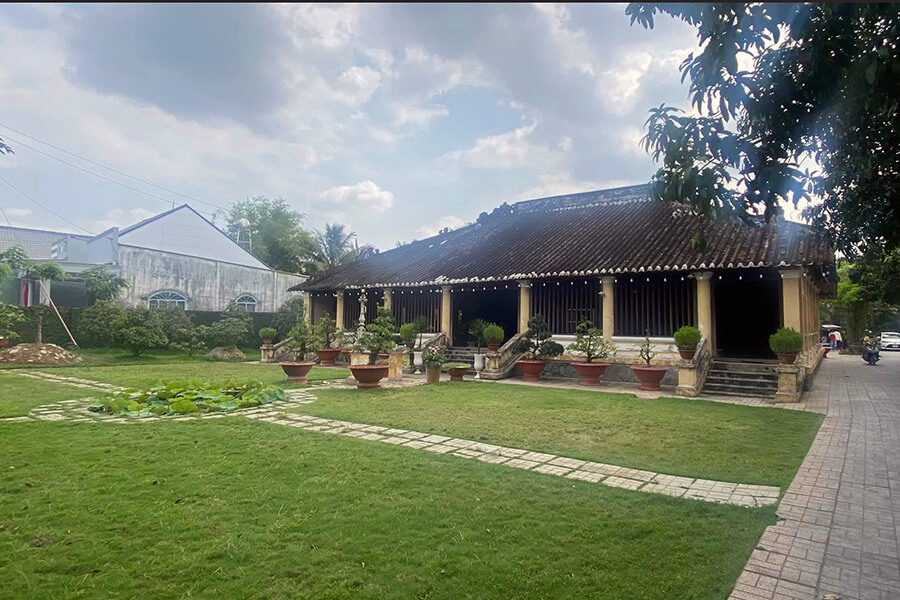 At Vinh Long ancient house ecological area, you will have the opportunity to immerse yourself in the fresh, airy air of nature, admire the ancient architecture of the most ancient house in the Mekong Delta. Although not too large or possessing many attractive entertainment games, Vinh Long ancient house ecological area still has a unique charm that makes anyone who comes here feel excited.
What is the best time to visit the house?
Currently, Vinh Long old house ecological area is gradually becoming one of the tourist destinations that cannot be missed for during your trip to Mekong Delta. With the climate in Vinh Long is quite mild and pleasant, you can come here at any time of the year. However, according to the experience of many traveling enthusiasts, you should visit Vinh Long ancient house ecological area in the summer (from May to September) for more convenience in moving and sightseeing. This is also fruit harvest season, for sure, it would be a great chance to explore orchards and enjoy ripe fruit at the local.
However, if you don't want the crowded noise, avoid the big holidays of the year such as April 30 or September 2.
What is attractive about Vinh Long ancient house ecological area?
The ecological area has only one ancient house built in the middle of a lush green campus landscape with trees, flowers and a lotus pond right in the yard. Looking from the outside, perhaps everyone will feel that the old house ecological area has nothing interesting to explore. However, when entering the campus, strolling around and admiring the unique architecture of this long-standing wooden house, you will know why Vinh Long ancient house ecological area possesses such fascinating appeal.
The main attraction is an ancient wooden house built in the familiar three-compartment, two-wing architecture of the past. The area of the old house is about 450 square meters, with 3 spaces of 2 facades made entirely of precious woods, located in the middle of a campus full of green trees and flowers. Those who have visited the old house cannot help but be surprised because most of the wooden details in the house are sculpted and carved very elaborately and meticulously. Having gone through many ups and downs, it still retains its impressive architectural lines.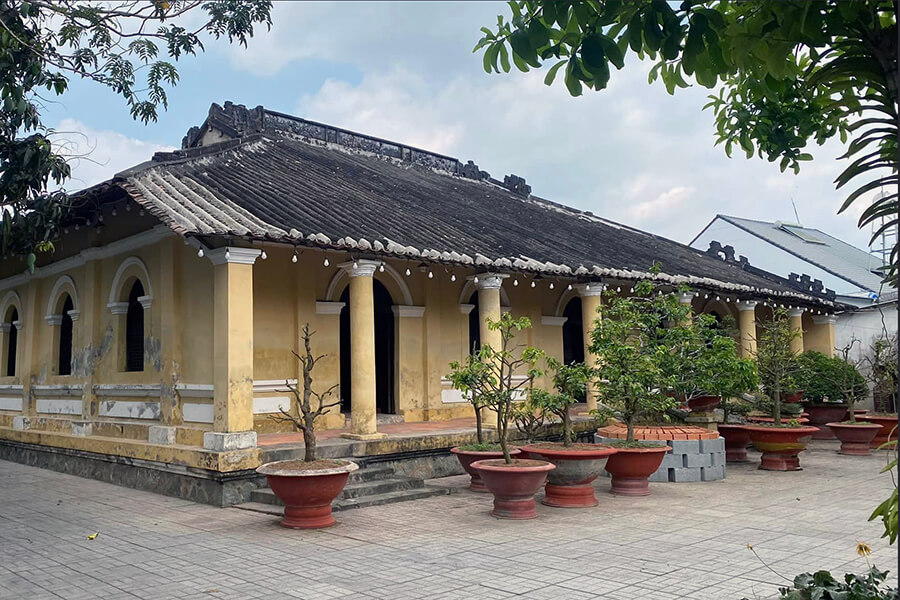 While visiting the campus of Vinh Long old house ecological area, you can also enjoy the cool and fresh air in the peaceful countryside. That is something that those who have lived in urban areas for many years cannot have. In addition, the ancient house architecture along with the campus landscape here is also the perfect background for you to enjoy taking beautiful photos with extremely impressive retro colors.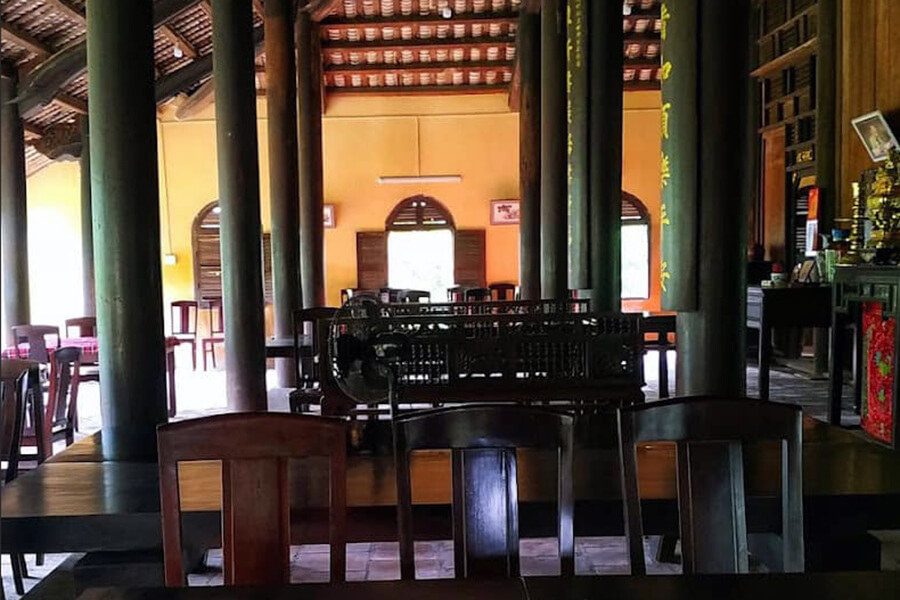 Furthermore, you will also experience many other attractive activities such as exploring Ong Me canal by sampan, enjoying famous Western specialties at shop around or visit the fruit garden near the old house.
What should you eat when traveling to Vinh Long ancient house ecological area?
When visiting Vinh Long old house ecological area, don't forget to enjoy garden specialties at the leaf huts of the local people. Some of the food suggestions include: 
Cuong Dung Chicken rice: 30 Hung Dao Vuong Street, Vinh Long city. Rating from 25,000 VND – 50,000 VND.

Hotpot: Tran Dai Nghia street, Vinh Long city, specializing in serving hot pot dishes and fresh seafood with prices: VND 30,000 – VND 200,000.

Phuong Nam fish sauce hotpot: 52A Dinh Tien Hoang, Vinh Long city – considered to be rich in typical Western flavors, guaranteed to make you fall in love, with a price around 200,000 VND.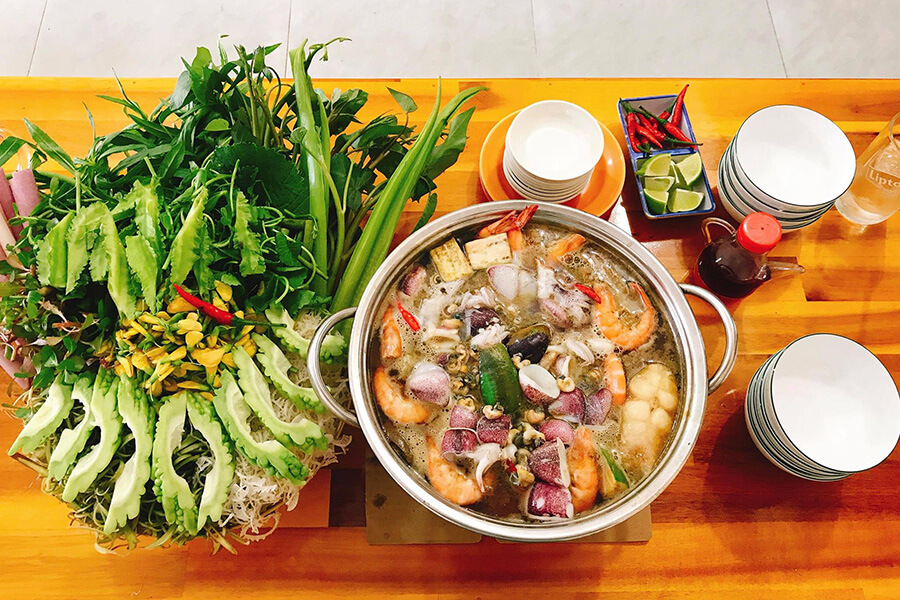 Vinh Long ancient house ecological area is one of the attractive tourist spot for those who love the old beauty of the rustic in Mekong Delta. With unique ancient house architecture and lush natural landscape, this place promises to bring you unforgettable experiences when traveling to Vinh Long.
Useful information about Vinh Long ancient house ecological area
Source: collected
---