Mekong Delta is the region in southwestern Vietnam where the Mekong River approaches and empties into the sea through a network of distributaries. With most of the land covered and divided by wetlands and water, creating a unique way of life and culture, it's is home to myriad attractive destinations. 
However, too many tourists can not spend a long time exploring this region. Therefore, this guide will show you some of the best places in the delta.
What to see and do in Mekong Delta?
Tourist destinations in Mekong Delta are quite diverse with so many interesting things. Life in the area revolves around water, from the famous floating markets to the vast jungle; a variety of agriculture products, fruits, flowers, and livestock grow in the region.
Below are attractive destinations in the Western tourist map helping you answer the question "What to do and see in this region?".
Cần Thơ
Cần Thơ is one of the busiest urban areas of the river region. It takes approximately four hours to get to Cần Thơ from Ho Chi Minh City by bus or car. Along with the rustic and generosity of locals, the city is famous for its beautiful natural scenery, many interesting attractions such as: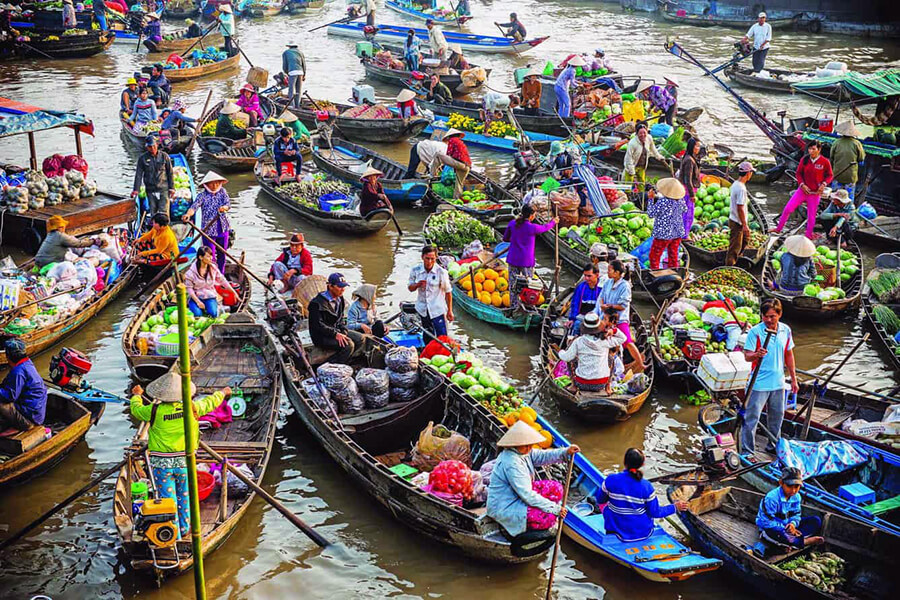 Cái Răng floating market. This is a busy trading place on the river, hundreds of boats packed with a variety of agriculture products, bearing the typical culture of the Southwest region.
Bình Thủy Ancient house is one of the three oldest houses in the Southwest region. The perfect combination of French architecture and Vietnamese traditional style gives tourists the feeling of "overwhelming" about this house.
Phong Điền Fruit Garden: famous for its attractive eco-tourism areas and countless family gardens that are always ready to welcome visitors coming to enjoy the fresh air and attractive homegrown specialties.
An Giang
An Giang is famous for its rustic natural scenery. In particular, if you visit this land from September to November every year, do not forget to follow the boat through the canals to enjoy the peaceful and poetic scenery of the river region. In addition, the area is known for its religious and ethnic diversity, which includes Khmer, Hoa, Chăm, and Kinh people.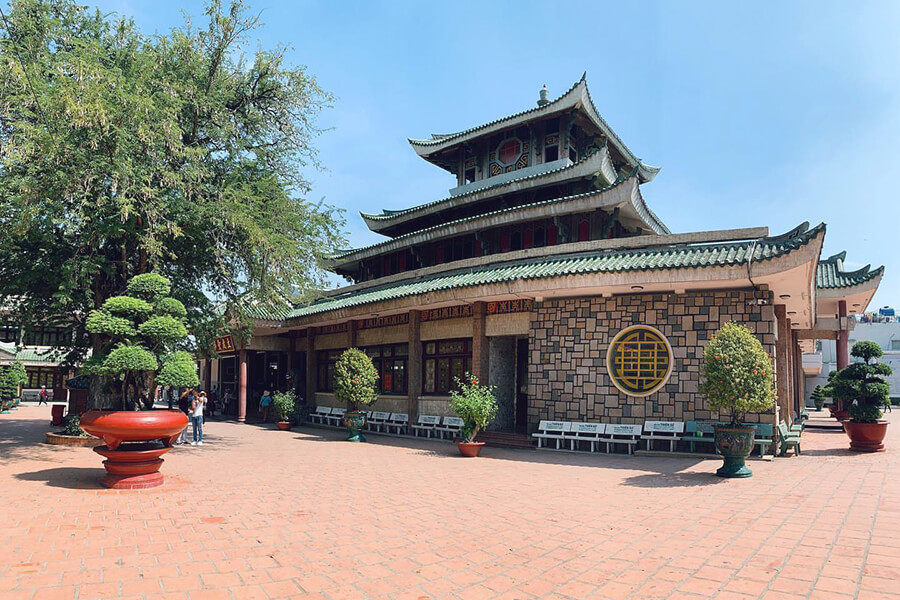 Some impressive tourist destinations that you should not miss are:
Trà Sư Melaleuca forest is a symbol of the beauty of An Giang tourism during the floating season. The experience of sailing in the middle of the vast green carpet of duckweed, enjoying the cool and fresh climate, explore the habitat of birds here.
Bà Chúa Xứ Temple is a famous sacred Chau Doc tourist destination often mentioned when talking about An Giang, welcoming thousands of tourists to visit and worship each year. The temple is also proud to be one of the largest religious works in the West.
Cấm Mountain is located in the center of Thất Sơn (Seven Mountains) region. Standing from Bồ Hong peak on this mountain brings you a panoramic view of vast rice fields stretching to the Ha Tien sea and the southwestern border.
Floating village in Châu Đốc is a freshwater fish farming village formed in the 60s of the last century. This is home to the largest number of raft houses in the Mekong Delta region. In addition to developing traditional fish farming, the village is also known as a unique and interesting tourist spot attracting many tourists.
Tiền Giang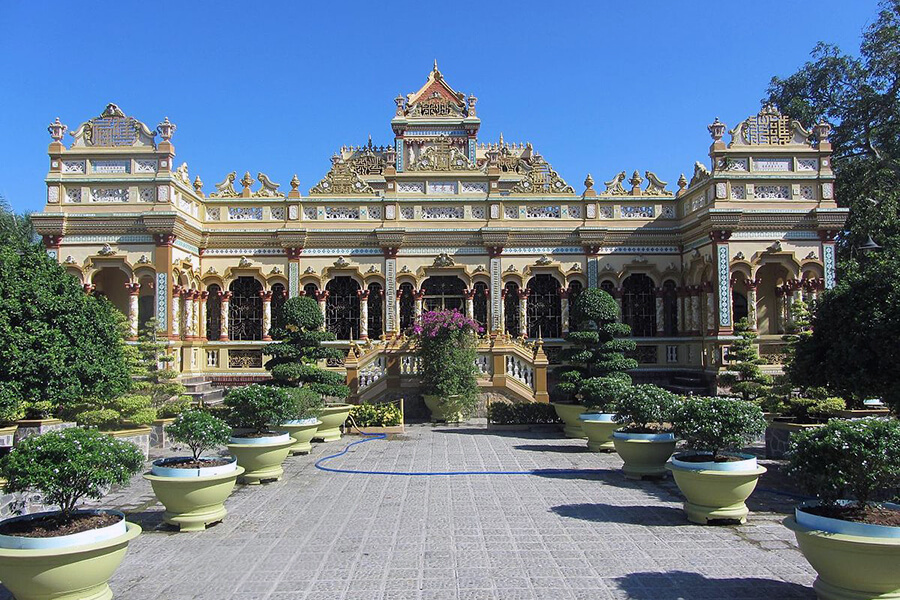 Located along the poetic Tiền River, Tiền Giang is a land with the most obvious characteristics of river culture. Although the area is not too large, this place is still considered a miniature West with charming scenery. Coming to Tiền Giang, visitors will experience many interesting activities such as: 
Cái Bè floating market is one of the largest wholesale markets in the Southwest region along with Cái Răng floating market. Cái Bè floating market still retains the typical cultural activities of the market in the Mekong Delta. You will see boats full of fruits and specialties of the West such as pineapple, mango, dragon fruit, lentil, durian, mangosteen, green-skinned pomelo, star apple, mandarin… Cai Be floating is bustling in the early morning and gradually dispersed at noon, but it is still active throughout the day.
Thới Sơn islet also known as Unicorn is considered the first choice for those who love the cool village space and unique experiences of river life. Coming to Thới Sơn islet, you will experience the typical form of tourism of the river region, which is rowing boats along winding canals between two rows of dense nipa palm trees.
Cái Bè fruit garden is one of the famous gardens on the Western tourist map where visitors can come, all year round, to relax, enjoy many types of fruits such as rambutan, mango, pomelo, longan, durian, guava, apple, mandarin. Besides, you can also walk along winding paths, pass through luxuriant orchards, rest in the cool air.
Tân Phong islet emerges in the middle of the Tiền River like a boat full of sweet fruits. Especially in the season of ripe rambutan, the whole island is "dyed" in red color. Visitors to Tân Phong will experience the pleasure of cycling around the village admiring the orchard, sampan boat rowing visit the lives of people in the garden along the creeks, listen to folk music.
Đồng Tâm snake farm is one of the country's largest snake-raising centers where venom is produced for local use and export, with its collection of over 50 species of snake, and also other animals such as crocodiles, bears, turtles, sheep, and ostriches as that long been an interesting tourist site for domestic and foreign visitors.
Vĩnh Tràng Pagoda is the biggest pagoda in Tiền Giang surrounded by gardens of ornamental trees, ancient trees, and bonsai, creating a peaceful atmosphere. If you are interested in religion and truly want to enjoy the unique experience, you should not miss Vĩnh Tràng pagoda, ancient architecture in the province.
Đồng Tháp

 
Đồng Tháp is famous with vast lotus fields, peaceful countryside scenery, and attractive eco-tourism areas. It is so fantastic so that you can visit any season all year round, but for gourmets who wish to enjoy as many local delicacies as possible, the floating season from the 8th to the 11th lunar month is the best time.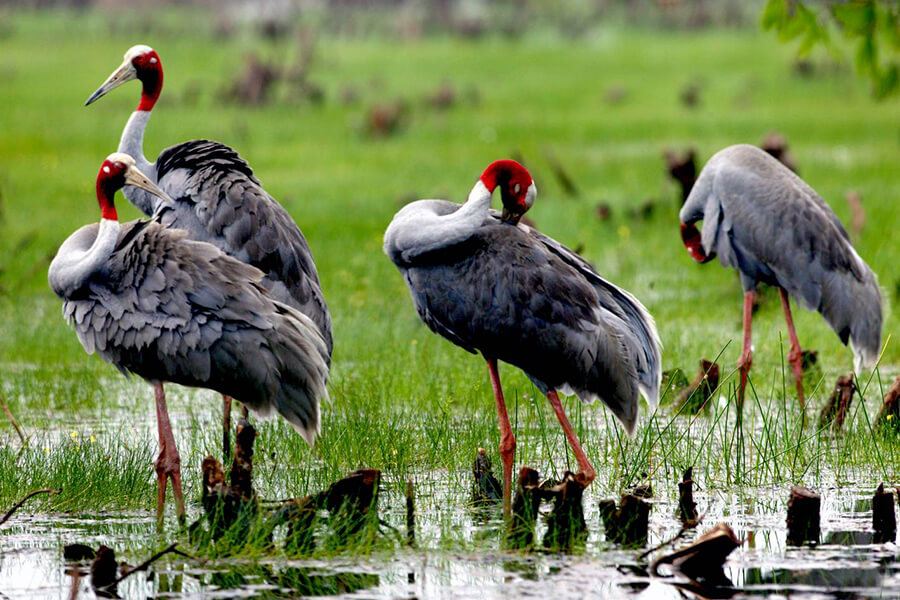 Tràm Chim National Park is a national park in the Plain of Reeds in the Mekong Delta region of Vietnam. The park was created to restore a degraded wetland, in order to protect several rare birds, especially the Grus Antigone sharpii -a 

species listed on the IUCN Red List. It is also a designated wetland of international importance under the Ramsar Convention.

Gáo Giồng Eco-tourism area is the habitat of more than 15 species of water birds such as the red-spotted herds, gongs, teal, wild ducks, egrets, egrets, etc. It is considered one of the largest stork gardens in the Plain of Reeds today. Coming here, visitors will admire and explore the life of birds. When the rainy season comes, fields in Gáo Giồng are filled with storks, creating very beautiful scenery.
Xẻo Qúyt tourist area combined with historical relics will give visitors the feeling of getting lost in a forest with wild natural scenery. It's covered by 20 hectares of primary Melaleuca forest. Many big old Melaleuca trees with a lifespan of more than 30 years rise majestically, along with the green vines system around them, forming huge cone-shaped blocks. Besides that, Xẻo Quýt was the Revolutionary Base (from 1960-1975) in the war against American.
Kiên Giang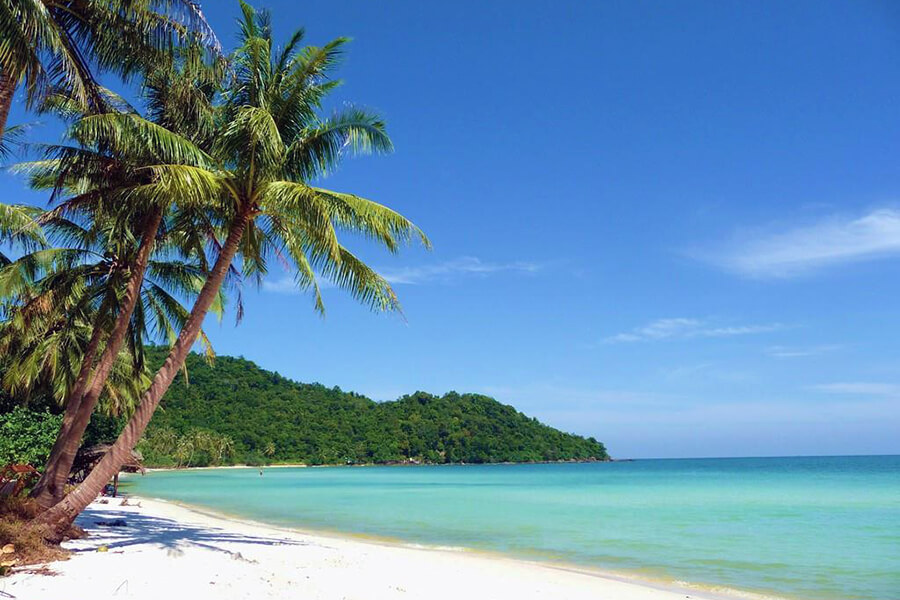 Kiên Giang is one of the largest provinces in the Southwest region, fully converging from plains, primeval forests, mountains, rivers, seas, and islands. Tourists coming here can visit famous scenic spots such as:
Phú Quốc island, in particular, referring to Kiên Giang, it is impossible not to mention this island. It is famous for its pleasant climate all year round, beautiful beaches with long white sand, clear blue sea… Therefore, Phú Quốc not only attracts domestic tourists but also many foreign tourists come here to visit and relax.
Hà Tiên – located to the West – North of Kiên Giang province, is endowed with many beautiful landscapes by nature. One of the outstanding landscapes is Mũi Nai beach, located in the southwest of the country, where you will be able to watch the beautiful sunset and relax on the beach.
U Minh Thượng Forest covers vast melaleuca forests and animals that can only be seen on television. The moment of sunset on the immense lagoon is also the reason to attract tens of thousands of visitors to the "golden forest" in Kiên Giang.
Bến Tre
Located between the four corners of the Mekong River, Bến Tre has many canals and coconut groves. In addition to coconuts, Bến Tre also has many orchards scattered in many districts that have been attracting many visitors coming.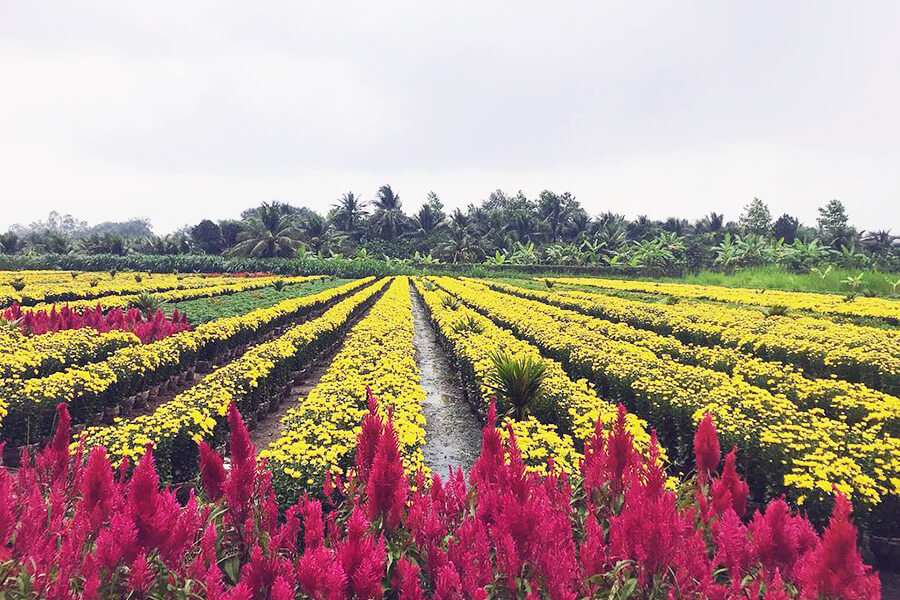 Some of the places we should not miss:
Phụng islet tourist resort has preserved the status of original architectural the site of Coconut Religion Holy Land. There is also a handicraft village that produces furniture with materials taken from the coconut tree. As well as there are families who raise that make honey from the longan flower.
Quy islet is one of the most famous destinations when referring to Bến Tre by the charming river atmosphere and the melody of the sweet Southern actor. You will live in a peaceful space, enjoy delicious fruit right in a garden… to drink a cup of honey smoke rose lightly, and enjoy the melody of amateurs who have been UNESCO Recognized as the intangible cultural heritage of mankind.
Cái Mơn flower and ornamental plants garden is famous for its tradition of growing flowers and shaping ornamental plants of various kinds from the locals, the North and Thailand. Cái Mơn is also home to many artisans, the philosophic varieties that make up the bonsai and deer, deer, dragons, phoenix… very nice.
Vàm Hồ Bird Sanctuary is home to nearly 500,000 storks and herons and other wild birds. The storks make their nests on thorny date trees while perching on mangroves after bathing. At 16 – 17 pm every day, an interesting event takes place. Thousand of storks coming home nearly whitening all of the treetops. Meanwhile, the heron begins their night searching for food. Creating various shapes and sounds.
Warmest Greetings To All from Viet Dream Travel! We offer Vietnam tours (daily and package tours), visa services, and transfer services to explore Mekong Delta. Let us have a chance to show you this region to the fullest. If you have any questions about Vietnam tourism, do not hesitate to contact us at:
Office number: (028) 3838 8322 – Hotline/SMS/Whatsapp/Viber/Zalo: (+84) 918 709 338
---