Kien Giang is a coastal province in the Mekong Delta, with the second-largest area in the southwestern region. It's a beautiful land with many famous landscapes in Vietnam from plains, mountains, primeval forests, rivers to the border, islands … all converge here.
What is the best time to visit Kien Giang?
A great feature of this province is that you can travel here at any time of the year. With two distinct rainy and sunny seasons, moreover, it is rarely affected by storms. The dry season starts from December to April with the highest temperature reach about 31 degrees Celsius. And the rainy season lasts from May to November, if you do not like cool, rainy weather, you should not come on this period.
Tourist attractions in Kien Giang
1. Rach Gia city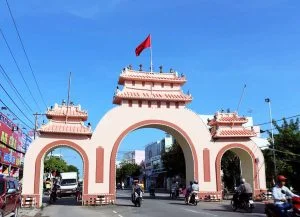 Rach Gia city is the administrative center of Kien Giang province. This is the only city in the West that has coastal line. This bustling coastal city has a beautiful natural landscape with many valuable cultural and historical relics, unique architectural works harmoniously combining the three ethnic groups of Kinh, Chinese and Khmer.
Some impressive Rach Gia tourist attractions that you can overcome such as: Rach Gia pier, Nguyen Trung Truc temple, Tam Bao pagoda, Tam Quan gate, An Hoa cultural park, Rach Gia market…
2. Phu Quoc Island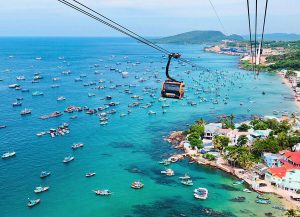 Referring to Kien Giang, people immediately think of Phu Quoc. This is the largest island in Vietnam, famous for its beautiful beaches, primeval forests, and precious historical relics. Phu Quoc is blessed with a harmonious landscape, a pleasant climate all year round, and fresh seafood. Therefore, it not only attracts a large number of domestic tourists but also foreigners.
Phu Quoc has many beautiful beaches stretching from the North to the South such as Bai Truong, Bai Sao, Bai Khem, Bai Dai … In the North, you can visit Mong Tay islet, Doi Moi island, Ban island, Thay Boi island … In the South, there are 12 islands belonging to An Thoi archipelago … There are many interesting entertainment activities for Phu Quoc tourists such as fishing, diving to see coral…. Phu Quoc not only has the sea but also is a place to learn about historical and cultural relics, customs, habits of islanders, traditional craft villages … or explore the joyful life in the fishing village of local people.
3. Nam Du Islands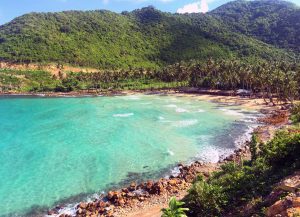 The Nam Du island is located in the Southeast of Phu Quoc Island in Kien Hai district, Kien Giang province. Nam Du Archipelago consists of 21 islands, large and small, creating a wonderful landscape in the middle of the Gulf of Thailand. The picturesque beauty together with the clear blue water, the peaceful and dreamy scenery here has made many people fall in love with every opportunity to travel to Kien Giang.
The first thing that travelers think about this island is immersed in the crystal clear blue water. There are many beautiful and famous beaches here such as Me beach, Dat Do beach…in Hon Lon island with curved coconut trees shading on the white sand and clear seawater. In addition to the wonderful beauty of nature, Nam Du Island also possesses many types of local products, along with very cheap and fresh seafood.
Coming to Nam Du, tourists enjoy the quiet space, enjoy diving and swim, learn about fishing in cages on the sea and experience the life of a true fisherman in this archipelago with many amazing things.
4. Hon Son (Son Island)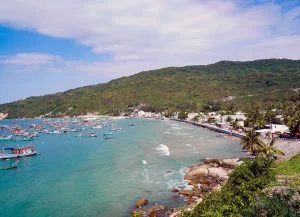 Hon Son is located in Lai Son commune, Kien Hai district, Kien Giang province, located between Nam Du Island and Hon Tre Island. This island is considered one of the most pristine and charming islands in the Kien Giang sea. The Hon Son has another name – Hon Son Rai because in the past, this island had many otters.
Covered by immense coconut palms running along the coast with a wild look, there is no trace of discovery. Traveling to Hon Son, in addition, to relax at the beaches: Bang beach, Nha beach, Thien Tue beach, and Bac beach on Hon Son. You can also snorkel on the coral reef between Da Bang and Doc Ba Tang. With romantic scenery, this island is ideal for those who like to get up early to watch the sunrise or admire the sunset in the late afternoon. Hon Son also has Than Lai Son communal house, Ba Chu temple, Cao Dai shrine, Hai Son pagoda, Pho Tinh pagoda, … are all located in Bai Nha, which is quite convenient for sightseeing taking pictures.
5. Ha Tien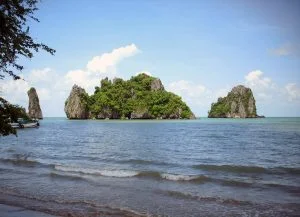 Ha Tien is a town located in the Northwest of Kien Giang province. The North borders Cambodia with a border of 13.7 km, the East and South borders Kien Luong district, the West borders the Gulf of Thailand with a coastline of 22 km. Although Ha Tien is just a small city in Kien Giang, it is favored by nature with countless beautiful scenes.
Traveling to Ha Tien, in addition to having fun swimming in Mui Nai, you can also discover caves, erect rocky mountains, Mac Cuu mausoleum, Dong Ho lagoon, Tam Bao Pagoda, Xa Xia pagoda, and enjoy specialties dishes at the night market near Giang Thanh River.
6. Hai Tac Island (Pirate Island).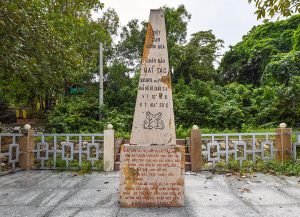 Hai Tac archipelago belongs to Tien Hai commune, Ha Tien city, located nearly 28 km outside of the mainland. At the end of the 17th century – early 18th century, the Ha Tien archipelago was located on an important trade route of many countries. With the dangerous terrain, this area became an ideal place for pirates to hide, ambush and attack passing merchant ships.
Although not as famous as Phu Quoc and Nam Du but Hai Tac Island is loved by tourists for its wild scenery and experiences of fishing village life. Hai Tac Island does not have many wide beaches, smooth white sand like Phu Quoc, but the beach here is very clean and pristine. Bai Dua in Hai Tac Island is the most famous beach, a destination loved by locals and tourists. You can comfortably swim, roam or rent sea glasses to go snorkeling, catch crabs, snails around the cliffs.
7. Hon Phu Tu (Father and Child Island)
Hon Phu Tu scenic area in Kien Luong district, Kien Giang province has poetic scenery and is an attractive destination for tourists everywhere. Located on the west coast, more than 35km from Ha Tien city and 70km from Rach Gia city, Hon Phu Tu is a natural complex including caves, rocky mountains, and beaches like Ha Long Bay in South Vietnam.
Tourists visit this tourist destination not only because of its charming young beauty but also want their children or themselves to have a few minutes to reflect on the noble and beautiful father-son love through the legend of Hon Phu Tu. Before "crossing" to the sea to visit Hon Phu Tu, a tourist destination that cannot be missed is Hang Pagoda. This particular temple is located mostly in a mountain cave, has a narrow entrance, must be inserted through the cliff to enter. When going deep inside, visitors are attracted to the jelly blocks, ribbed rock, unique shapes …
8. Ba Lua archipelago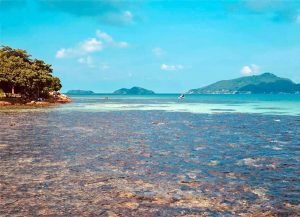 Located in the waters of Kien Giang, which owns many beautiful and famous islands, beaches, but the Ba Lua archipelago (in Kien Luong district) makes visitors fascinated by its rustic, simple, and interesting features amazed.
When traveling to Ba Lua Island, the most frequent visitors come to Hon Lon (Large Island), Duong island, and Gieng island, forming the famous Ba Hon Dam cluster. The sea here is shallow and gentle, so visitors can walk from one island to another when the water level is low, to explore the scenery as well as the sincere life of the fishermen. This is an interesting experience, both creating a sense of curiosity but also mixed with an interesting thrill that visitors may not have experienced in any other tourist destination. Under the immense sea, visitors can relax, have fun with friends, soak in cool water or experience the pleasure of hunting seafood with clams, snails … like fishermen exactly.
9. Hon Tre (Bamboo Island)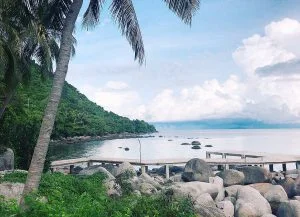 Compared to other popular islands, Hon Tre is somewhat inferior in popularity, but that does not mean the island is not beautiful. On the contrary, those who like to admire the beautiful, unspoiled scenery, admire many vertical rocks, extremely clear blue sea water … must come to this island at least once.
Hon Tre commune is the administrative center of Kien Hai district, located closest to the shore compared to Nam Du and Hon Son. With a relatively modest total area of ​​less than 500km2, but possessing a variety of beauty, including forests, mountains, sea islands, … and many kinds of fresh seafood will keep visitors when coming to the island. The coast around the island has a winding shape with many stretches of natural rock … Especially the fruits grown here are much better than the mainland.
10. U Minh Thuong National Park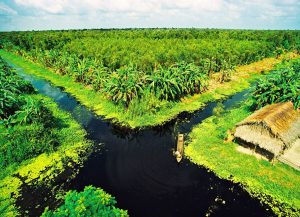 U Minh Thuong National Park is located in U Minh Thuong district, Kien Giang province, about 65km southwest of Rach Gia city. Formed and concentrated in the western part of the Ca Mau peninsula, bordered by mangrove forests along the Gulf of Thailand. U Minh Thuong is a typical type of wetland forest in South Vietnam. And even recognized on the list of unique and rare forests in the world.
After weaving among the small canals by motorboat, visitors will have the opportunity to explore the bird sanctuary, visit Mang Doi through the high view from the watchtower.
11. Tho Chu Island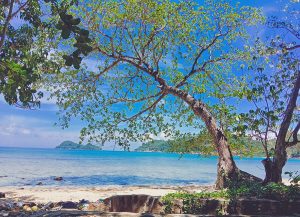 Tho Chau Archipelago is a frontier island border on the southwest sea of ​​the country in Phu Quoc district, Kien Giang province where not everyone knows it. But because of little attention, this island still retains the wild features of nature.
Tho Chau Island, also known as Tho Chu Island, is 100km from Phu Quoc and 220km southwest of Rach Gia city, so coming to Tho Chu Island is quite difficult. Tho Chau Island is a place that plays an important role in the military, so it is strictly managed by the border forces, it is necessary to comply with the regulations when visiting.
The beautiful scenery of the Tho Chu archipelago is really untouchable: white sandy beaches, clear blue water, charming coconut trees, colorful coral reefs, rich seafood … Although the journey to Tho Chau is still quite hard, but surely the island will bring many surprises.
12. An Thoi archipelago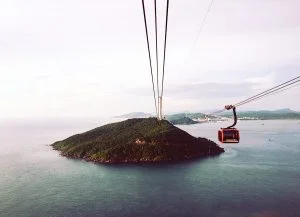 An Thoi is an archipelago located in the south of Phu Quoc pearl island, located in the Gulf of Thailand. It is about 38 km from the central town, includes 15 islands that make up a population In which only 3 islands are inhabited. They are Hon Thom, Hon Ray and Hon May Rut. However, the residents here are not too crowded either. Thanks to that, the Thoi An archipelago of Phu Quoc still retains its rare and wild beauty.
This archipelago contains a chain of small islands lying adjacent to each other. Because there is not too much influence from human hands, it still has a very natural and beautiful landscape. With the turquoise-like blue sea, the long white sand glittering in the sunlight, creating a poetic, lyrical, and extremely peaceful scene.
Can be compared here the green pearls of Phu Quoc, Thoi An archipelago Phu Quoc becomes an irresistible destination for tourists from near and far.
Not only known as a paradise on earth. Visitors coming will experience many new entertainment activities and entertainment. For example, you can experience services such as scuba diving, watching coral, visiting cable cars, squid fishing at night, …
13. Thach Dong Thon Van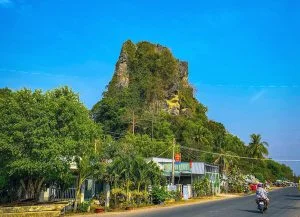 Thach Dong Thon Van, also known as Van Son, belongs to My Duc commune, Ha Tien town, Kien Giang province. It is a giant remnant of Pecmi limestone, standing tall with an altitude of about 90 meters above sea level and a foot diameter of only about 45 meters.
It is called Thach Dong Thon Van because every early morning, white clouds that fly over the top of the mountain are trapped in front of the cave and slowly fly in like a cave swallowing clouds. Located on Highway 80, about 3.5 km from Ha Tien town, on the way from Ha Tien to Xa Xia border gate, this small mountain has the shape of a hat of geological heritage. virtual inside the stone tower with many stalactites with fancy shapes.
14. Da Dung Mountain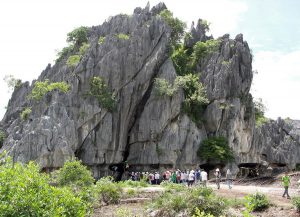 Those who have ever researched and read about Ha Tien must have heard of Mount Rock, a beautiful, majestic, and magnificent symbol of Ha Tien. The erect rocky mountain is located near the Vietnam-Cambodia border, also known as Chau Nham mountain. The erect rocky mountain is about 100m high, shaped like a trapezoid. From a distance, Da Dung Mountain has a square shape as if it was carved by a skillful hand, covered with immense green trees creating giant and beautiful vegetation. Inside the moutain, there are 14 small and large caves. Each cave has its own unique beauty: Hang Doi (Bat Cave) has gourd-shaped stalactite; Than Kim Quy cave has a blue and flat rock like a magic turtle; Bong Lai (Elysium) cave conquered by the fresh air like a fanciful scene; Kho Qua (bitter melon) Cave owns stalactites in shape of giant bitter melons … all making it an attractive place for you to explore.
Vietdreamtravel also provides package and private tour, transportation ticket, car/bus rental service for you to come and explore Kien Giang. Do not hessitage to contact us for any booking.
---