Lan Vuong tourist area is the most popular tourist attraction, entertainment, and entertainment destination in Ben Tre today. Built in a Mekong Delta River style, Lan Vuong is famous for its beautiful natural river scenery, specialty dishes and many interesting experiential activities. In addition, this area is also a prefect destination for team building trips.
General information about Lan Vuong tourist area
Lan Vuong tourist area is an attractive entertainment destination, located in Phu Nhuan commune, Ben Tre city about 5 km from the city center. It takes around 2 hours of driving from Ho Chi Minh City to get here, therefore, the best way to visit Lan Vuong is booking a private car with a driver. A few years ago, this place was just pristine fields, which the province explored and invested in to become a cultural, sports and river tourist destination. 
Coming to Lan Vuong tourist area, visitors can not only enjoy Ben Tre's specialties but also immerse themselves in the nature and participate many entertainment activities. Besides, visitors will be immersed in a green, peaceful Southern countryside scene, with a fruitful fruit garden, this is also an ideal place to organize team building activities, camping and weekend picnics.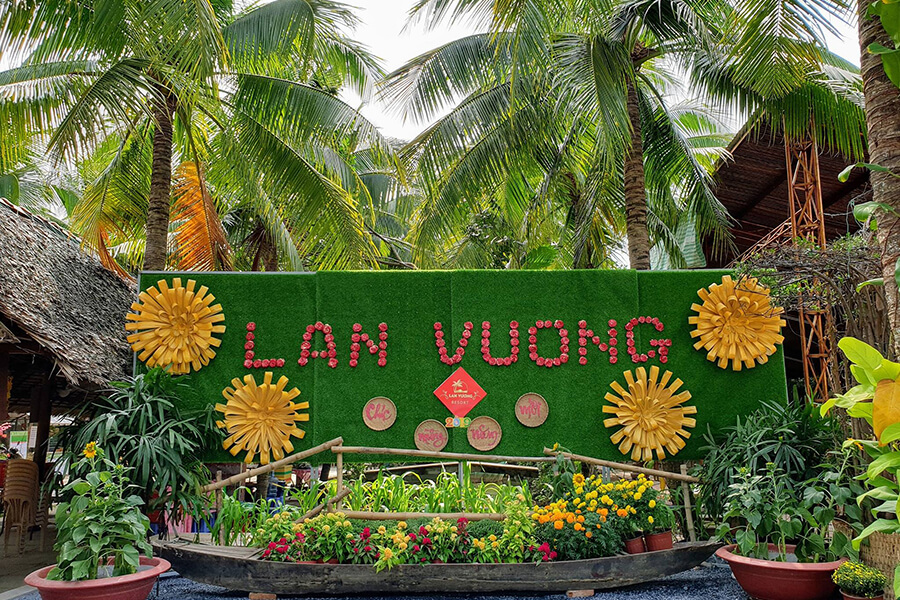 Lan Vuong tourist area will offer free tickets to visitors on weekdays. During holidays such as Lunar New Year, Hung King's Death Anniversary, April 30 and May 1, visitors have to pay 30,000 VND/entrance ticket.
Also there are some games, services require you to pay for a ticket, such as rental of Ba Ba clothes: 30,000 VND/set (deposit 120,000 VND/set); water bike game: 10,000 VND/ticket/3 runs; rowing boat: 50,000 VND/ boat/ 4 people/ 1.5 hours, game of slapping ditches to catch fish: 800,000 VND/ ditch/ 10 snakehead fish, blindfold duck catching game: 300,000 VND/ bucket of 3 ducks…Camping and campfire fees (per group of 30 guests), the ticket price will be calculated based on the number of players.
Exciting experiences in Lan Vuong
As one of the most popular tourist areas in Ben Tre, Lan Vuong has no shortage of fascinating experiences waiting for you to explore such as:
Visit the fruitful orchard and cattle farm
Lan Vuong tourist area is built in the style of Mekong Delta gardens. Therefore, the fruitful fruit gardens have become the "trademark" of this tourist area. Coming here, you will visit the garden and enjoy typical Southern fruits such as green-skinned grapefruit, longan, rambutan, plum, mango, gooseberry… Fruits here ripen according to the season, there are dozens of other types but the most delicious are durian and star apple.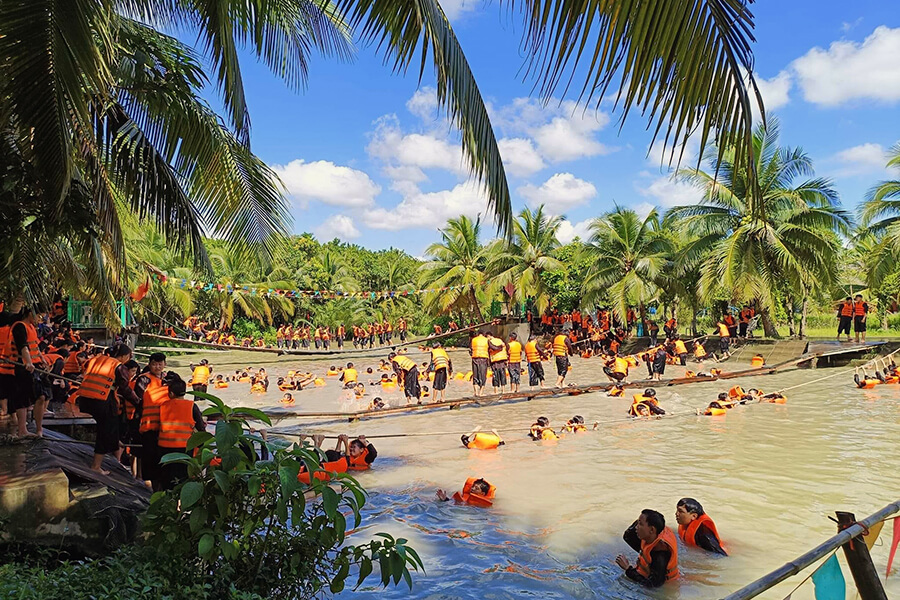 Say goodbye to the orchard, you will come to the area of lakes and cattle farms of local people. The common types of livestock raised here are goats and wild boar. Visitors can stop by to feed them or take souvenir photos. In addition, in the tourist area there are also frog and fish farms, pig farm, goat farm.
Row sampan to explore the river side
Lan Vuong Ben Tre tourist area is famous for its large space, fresh, airy atmosphere and intricate canal system. These are all typical features of the Southern countryside, urging tourists to explore and experience. To fully enjoy the scenery here, you must float on small boats, slowly crossing each section of the canal. If traveling in a large group, visitors can rent an entire self-driving boat.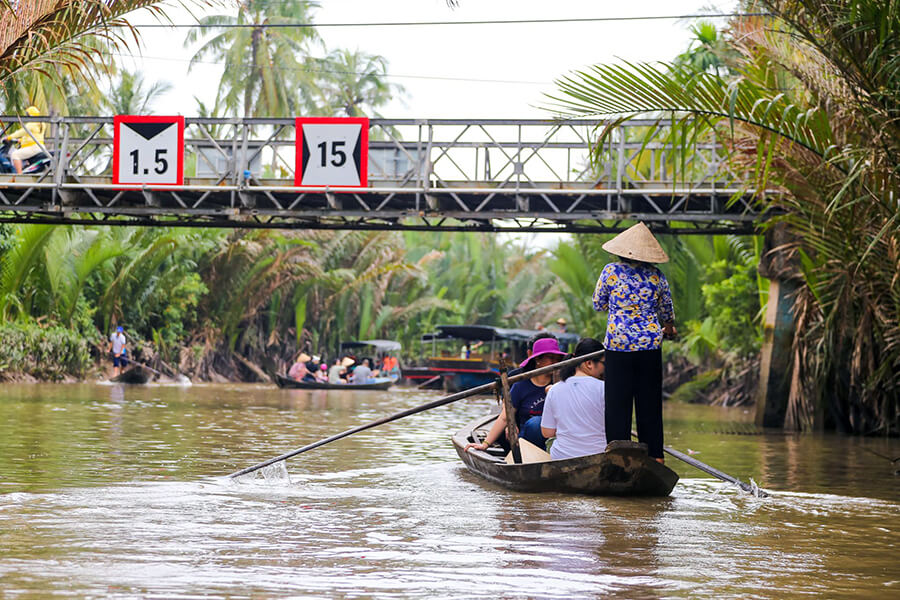 The most popular activity here is racing rowing boat. Small boats compete to glide on the canal. Everyone wants to reach the finish line first, so they row as fast as they can. During the race, there will be a tour guide closely following you so you can feel secure and "duel". Because it is the activity that attracts most tourists, the canal is always bustling with laughter and cheers.
Experience unique games of local
Folk games are considered a highlight in the journey to explore Lan Vuong tourist area. The game system here is extremely diverse, from crossing "monkey bridge", catching fish, crabs, and snails in fields and ditches by hand, cycling across monkey bridge to blindfolded catching ducks.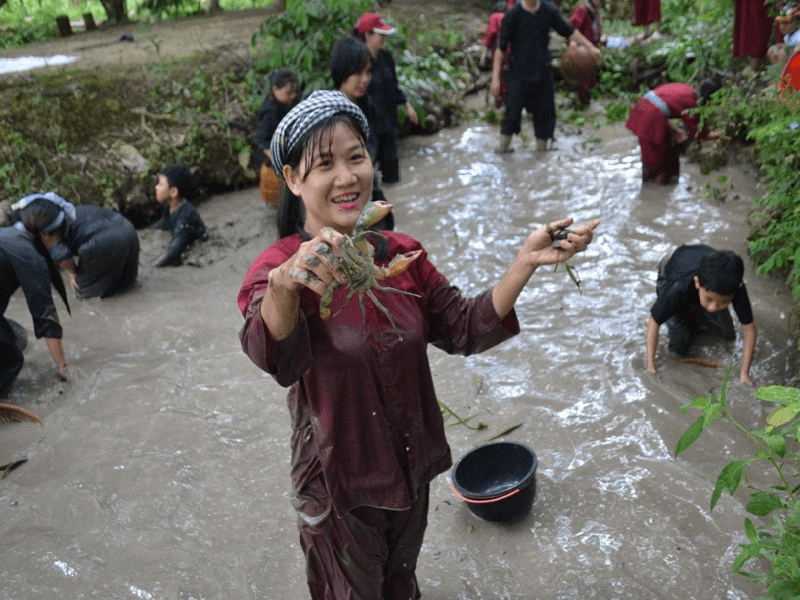 Players will wear Ba Ba – a famous traditional cloth in Mekong region, looking for snails and catching fish. In particular, the fish and snails you catch will be processed for you to enjoy directly. After a day of diving in the canal, you will enjoy your achievements. Everything takes place in a green space filled with trees and a cool atmosphere. At first glance, the games seem simple, but they require a certain amount of ingenuity from the player.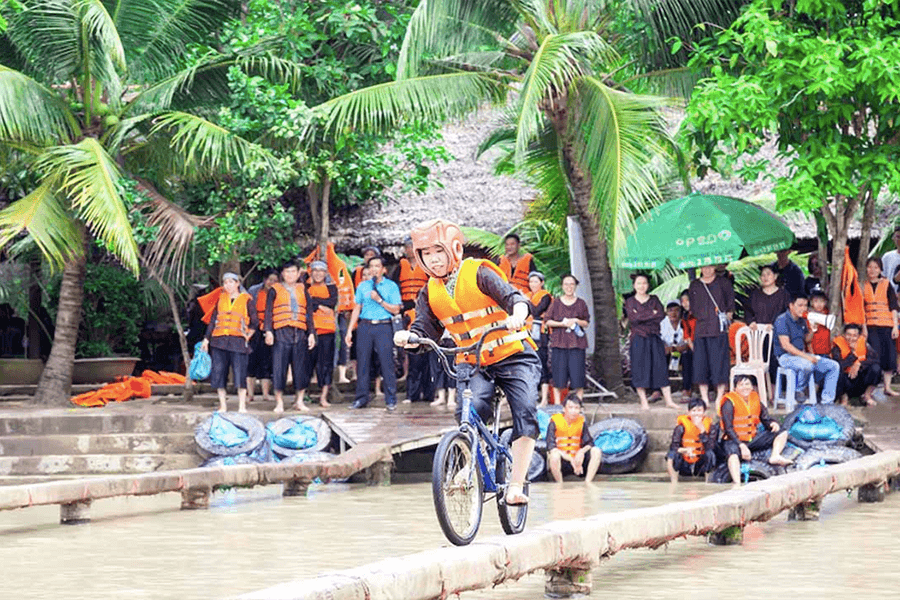 This is also the reason why the game area is always full of visitors. What could be better than experiencing new games while relaxing and relieving stress, right?
What to eat when coming to Lan Vuong Ben Tre tourist area?
Referring to the Mekong Delta region is mentioning the rich and diverse cuisine with rustic dishes and impressive flavors. Coming to Lan Vuong tourist area, you will have the opportunity to enjoy dishes with local culinary flavors. Ingredients are grown completely naturally, some of dishes that you should not forget to try when coming here are fish sauce hotpot, grilled snakehead fish, shrimp with coconut water, banh xeo, grilled chicken.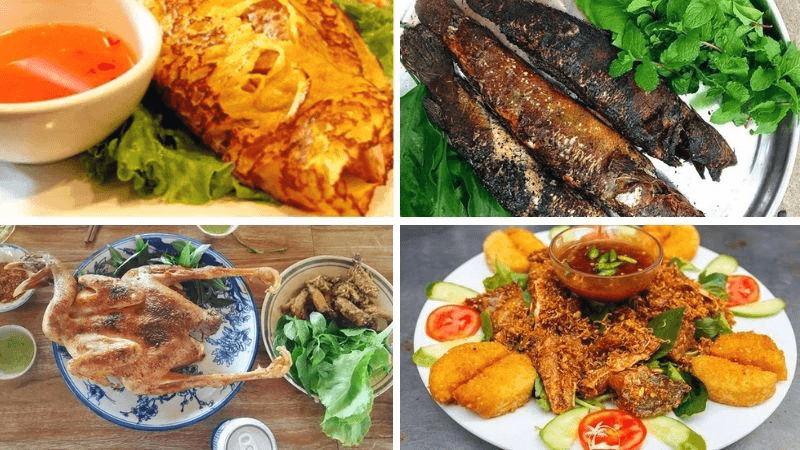 There are also delicious and golden pancakes, and grilled snakehead fish that stimulates your taste buds with the sweet flavor of grilled fish and chicken. There are also some dishes such as shrimp boiled in coconut water, coconut tofu salad with shrimp and meat, fried giant fish, fish hotpot of all kinds… The dishes are not too complicated to prepare but the flavor will make you happy.
Things to note when coming to Lan Vuong tourist area
You should book in advance if the group has a large number of members or goes during the peak tourist season.

You should not bring phones and jewelry when participating in folk games.

You should wear sandals and prepare a change of clothes.
Lan Vuong tourist area is a destination not to be missed on Ben Tre tours. Spend your weekend experiencing the river space and interesting activities here!
---