The currency of Vietnam is the Đồng (VND). It is represented by the symbol "₫" or "đ". Notes are available in paper denominations of 500,000; 100,000; 50,000; 10,000; 5,000; 2,000; 1,000; 500; 200; 100 VND. However, the last four notes are rarely used since the value is too small. 
There's no denying that Vietnamese Đồng is confusing. Counting 0's is tough on your eyes and the color of some notes can be similar. Here is some information before these zeros.  
Vietnamese Đồng
The best way to ensure you don't overpay is counting back again, again and again. It also helps you get accustomed to the look and feel of different notes. Keeping their imageries and color in mind will be helpful. Thankfully, the backside of each denomination is unique. And colors are also key to note. They're presented as bellow:
Currently, the 500,000; 200,000; 100;000 and 50,000đ are placing with plastic polymer.
The 500,000đ note is the biggest note in Vietnam. The main color is cyan-purple and decorated the birthplace of former President. Ho Chi Minh in Kim Liên, Nghệ An Province on the back. You can live extremely comfortably on a budget of 500,000đ a day and with just two of these, you are a millionaire!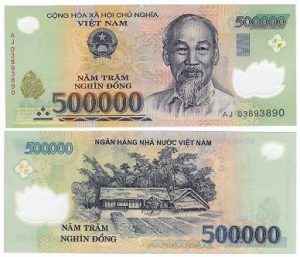 The 200,000đ note has a sort of brownish-red color. And on the back is a picture of Hạ Long Bay, the National Relics and Landscapes publication must-visit in Vietnam.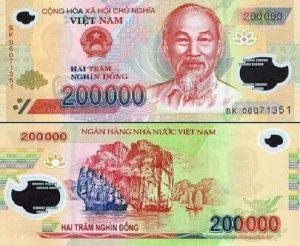 With a 100,000đ note has Yellowish green color with the picture of the Temple of Literature in Hanoi, one of the most beautiful structures in the country, on the back.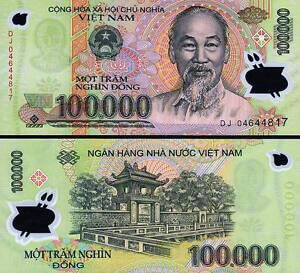 The 50,000đ note is a recognizable pink color. On the back of this note is a picture of Phu Văn Lâu, a pavilion located on the main axis of the Imperial Citadel in Huế.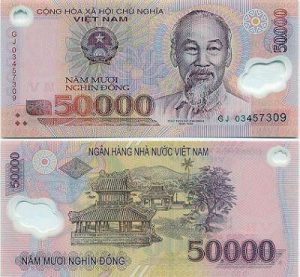 The 20,000đ note has a blue color and has a picture of the Japanese Covered Bridge in Hội An, an emblematic symbol of the city symbolizing the fusion of diverse cultures in Vietnam. It's also awfully similar to the 500,000đ note, which means mix-ups happen all the time. They are both blue, and the way you can distinguish is by the number, the image at the back or the size. the 500,000đ is slightly larger, 152 × 65 mm, 20,000đ is only 136 × 65 mm.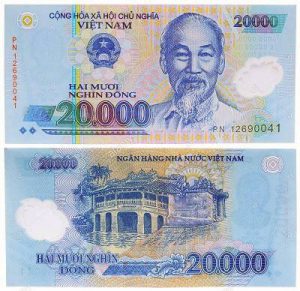 The 10,000đ note has a dark brown on greenish-yellow color to it and has the smallest value of all-polymer notes. The picture on the back depicts oil production on the seashore of Vietnam, as minerals still represent a considerable proportion of the GDP.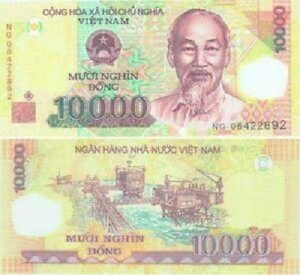 The 5,000đ; 2,000đ, 1,000đ, 500đ, 200đ are placing in cotton notes.
The 5,000đ note has a blue color and shows Trị An hydropower plant on the back.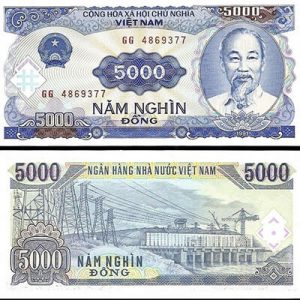 The 2,000đ note has a multicolor and shows a textile factory in Nam Định, once used to the biggest one in Indochina, on the back.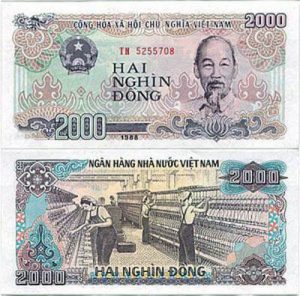 The 1,000đ note has Multicolor on the lime background and shows Lumber productions in Central Highlands of Vietnam.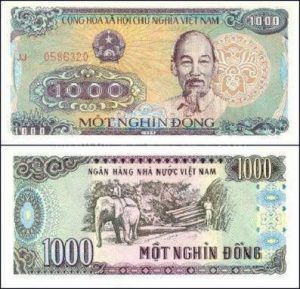 The 500đ note has a pink color and shows seaport in Hải Phòng Province.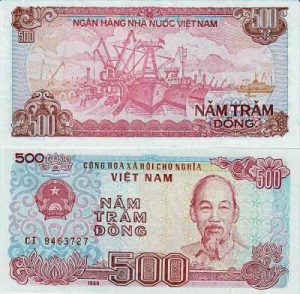 And the 200đ notes have an orange color and show agricultural production on the back.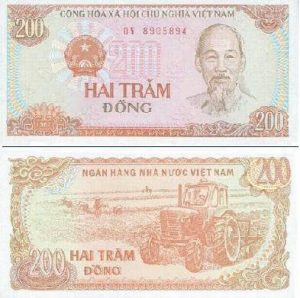 The 100đ notes have a green color and Phổ Minh temple in Nam Định on it's back.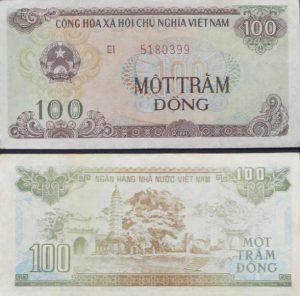 Where to Change Your Money in Vietnam
Major currencies can be exchanged practically anywhere throughout Vietnam, but not all exchange places are created equal. Banks and airport moneychangers can change your money at a high cost relative to a gold and jewelry shop, so it pays to ask around before trading dollars for dong.
Banks: you'll be charged a commission rate of between 0.5 to 2 percent when exchange money at the banks. There are many banks in Vietnam where you change foreign currency and checks such as Vietcombank, Eximbank, Vietinbank, Agribank, BIDV, Eximbank, ACB… Always bring new notes; any damaged, dirty or old notes will be charged an additional

 

2% of the note's value.
Airports: you will find some currency exchange stalls on arrival at Vietnam international airport. However, the exchange rate is not really good here. Therefore, it's best to change a small amount to cover your taxi fare and head to the center for a better rate.
Hotels: you can offer competitive rates with banks at the big hotel, but at smaller hotels may charge an additional fee for the service.
Gold and jewelry shops: These are the best places to exchange your money especially for USD, EUR, JPY, GBP, AUD, CAD, CNY, SGD, THB…with no fees.
You also can check the exchange rate on these page: xe.com, Vietcombank, google exchange…
Credit cards
Debit and credit cards like Visa and MasterCard are widely accepted major cities, especially in hotels or shopping malls, but probably not suitable for roadside stalls. You may be charged around a 3% commission.
Can USD or EUR be use?
Throughout the country, American dollars (USD) are widely accepted. However, the bills must be relatively new with no markings or tears. Also, several big cities such as Ho Chi Minh, Ha Noi, Hue, Nha Trang, Can Tho…, are used Euro currency (EUR). However, it is not recommended to pay with USD or EUR, because they will be converted at a lower exchange rate and you will end up paying more.
How much can you withdraw cash at ATMs in Vietnam?
ATMs are available in major cities and tourist areas of Vietnam, but it quite hard to find one in smaller towns. That's not guaranteed, though, so it still makes more sense to withdraw in the cities before making your way to rural areas. ATMs only provide VND. When you withdraw from ATMs, all foreign currencies will be automatically changed to VND based on the bank rate at that time. Generally the maximum amount is from VND 2,000,000 to 5,000,000; VND 8,000,000 to 10,000,000 for a few global banks. Charging fees also vary from bank to bank. Most banks charge from VND 40,000 to 100,000 each time. ANZ and Citibank are recommended as they charge the lowest transaction fee.  As millions of dong can add up to a thick wad of cash, be careful when withdrawing large amounts from an ATM.
How much money do I need in Vietnam?
To keep costs down, eat street food for every meal; it's not just good money sense, it's an experience you shouldn't miss when in Vietnam.
Accommodation: Usually, the price of budget hotels, from 2 – 3 stars, is 500,000đ – 1,200,000đ per night; if you choose to stay at more modest accommodations like a guesthouse, the price is around 200,000 – 400,000đ per night. Or at the luxury hotel room cost from 2,000,000đ per night.
Food & Drink: a simple food dish in Vietnam cost from 30,000đ – 60,000đ. A meal in a restaurant cost from 500,000đ – 800,000đ. A cup of coffee at local shop cost from 10,000đ – 20,000đ and a glass of Bia hơi ( drought beer) cost from 8,000 đ
Transportation: for a short distant, taxi or grab cost around 20,000đ per km. With long-distance, trains and bus tickets are the cheapest ones. Domestic airfare depends on the season, the booking fees are extremely high during public holiday periods.
Tours: the booking fees are various as it depends on the type of tour (daily group tour, private tour, size of your group, special requirement.)… The cheapest one is a daily group tour which costs from 200,000 – 600,000đ. Therefore, 1,000,000đ per day or less is enough for backpackers.

 
Here are some tips for using Vietnamese Dong
Tipping is not expected in Vietnam, but it's much appreciated. A tip of a few dollars per day, for cleaners staff, porter, driver, waiter or waitress…, is reasonable if you think they have really done a good job of making your trip memorable.

More tips for changing and using money in Vietnam

Don't change money on the black market as it is probably just the lead-up to a scam.

Do not change too much money at one time, or you probably need a suitcase to carry your Vietnamese Dong around.

Don't accept any damaged, lost color notes, as it will be hard for you to use them again.

The new polymer notes easily stick to each other, especially when it's wet, so count your money carefully and try not to pay more money than you need.

Double check rates so as to not get scammed.

Avoid using high-denomination notes, especially with 500,000đ, for street vendors, taxi drivers, and small family shops even small markets. Many times people don't have enough change to break big notes. so make sure you're carrying smaller bills when going shopping.

Divided up your notes and make a wallet into two part. One part is keeping a big notes like 500,000đ, 200,000đ, 100,000đ; 50,000đ. Another parts is keeping other note such as 10,000đ, 5,000đ, 2,000đ…. This greatly helps reduce any mix-ups in transactions.
If you have any question about the Vietnamese Đồng or want to get some professional travel tips when travel to Vietnam, feel free to contact our team to obtain more suggestions. 
---