Vietnam's climate strongly influenced by the East Sea has a monsoon-influenced tropical climate typical of that of mainland Southeast Asia. But in March, it offers the perfect weather to travel with no rain throughout the country. Let takes a quick look at the best places to visit Vietnam in March, cross 4 regions from the north to the south, from the high mountain to the beach, it would give you the idea where to go.
Vietnam weather in March
In the north and central highlands, the weather is still little cold making a good time for trekking and adventure activities. Meanwhile, it's hot and warm in the middle and south of Vietnam. With this weather, it creates a perfect time to enjoy on the beach. Thus, March is amongst the best time to visit Vietnam.
1. Mekong Delta
This area which is criss-crossed by a dense network of canals, is fertile and exellent for cultivation of rice and growing fruit trees. There are also immense fruit orchards the most impressive of which are located on the islands in the river.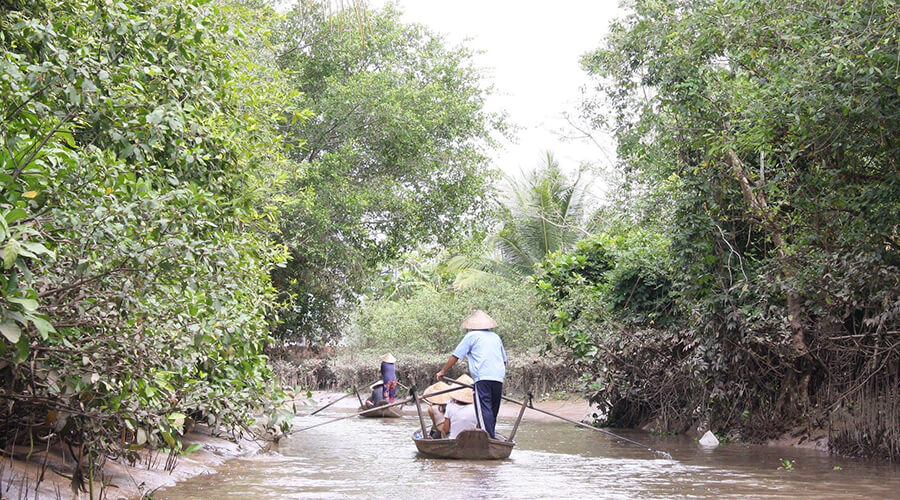 On March, the levels of water are high enough for many people using boats to trade and sail, a stunning chance to watch the busiest river life.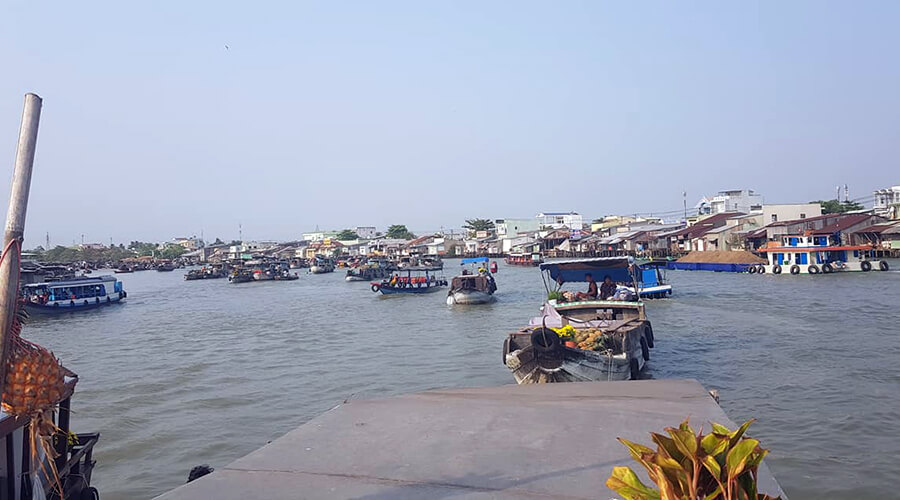 2. Phu Quoc Island
Located in the Gulf of Thailand, the island is a star destination in Vietnam with sandy beaches, diverse coral reefs and marine life, many dive sites in the surrounding clear waters. The island also is an evergreen island. View from above, Phu Quoc covers green colors, a variety of resplendent green color that mix altogether, creating a splendid landscape. hence, it's considered as a "Pearl of Southern sea area".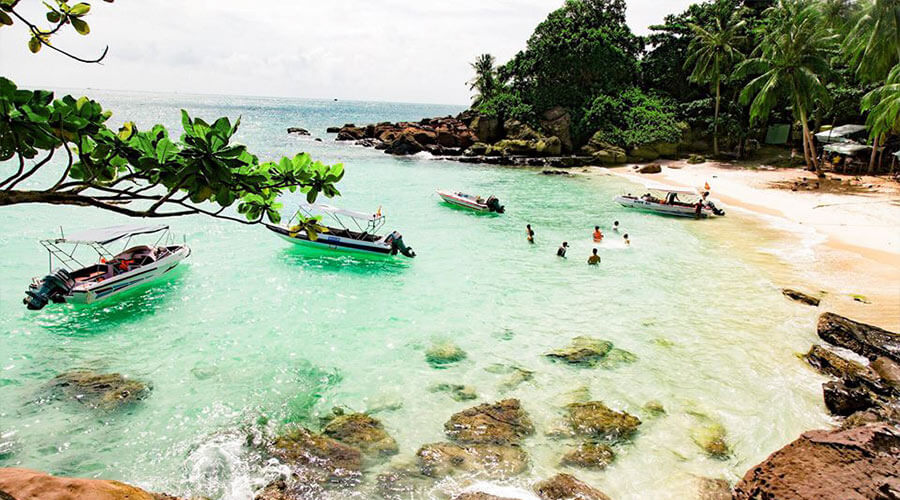 March is a good month for diving and swimming on Phu Quoc island, with clear waters and visibility averaging 20-30 metres.
3. Mui Ne
Mui Ne is endowed with sweeping sand dunes and beautiful rows of palm trees. The beautiful sand dunes of Doi Cat have been a creative subject of photographs, painting and game sports.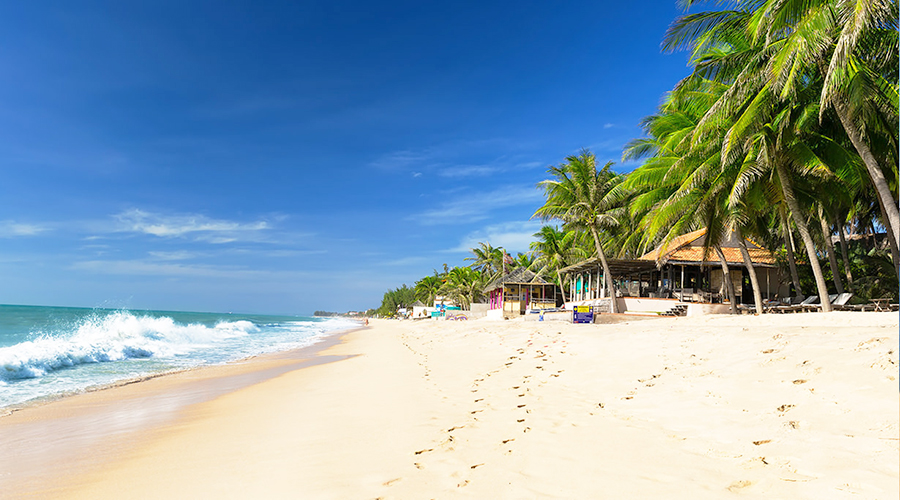 There are unspoiled and pristine beaches and imposing landscapes that have not experience human exploitation, the water is really clean and blue. Mui Ne in March offers very nice weather with clear blue skies with low humidity and the average temperatures at 30.0°C. This weather is a great ideal for a wide range of beach activities.
4. Da Lat
In March, the air in Da Lat is always fresh and crisp. The mountains provide consistent cool temperatures and pleasant breeze, making it a great spot to escape the heat of the big cities. Temperature is generally consistent below of 20 degrees in March create a good time for relaxing.
5. Nha Trang
This is the coastal city which has pleasant temperature, with cooling sea breezes. Although it will be a lots of sun and hot days in March. There are a lot of popular beaches in Nha Trang such as Tran Phu, Hon Chong, Bai Tru, Bai Dai, Nhu Tien, Doc Let…offer you a lot of choice about accommodation and tourism activities. Never the less, some islands in Nha Trang are allowed you to visit, make it become stunning combination of beaches, cities and beautiful islands.
6. Hoi An and Da Nang
March is an excellent time to see Hội An ancient town when the fields, gardens and streets are awash in bright blossom. Only 30 minutes by taxi from Hoi An, Da Nang is another tourist attraction area. After discovering the city, you can easily explore the very picturesque sites surrounding Da Nang, such as Ba Na hill and Marble or enjoy the magnificent beaches laying on tens of kilometres.
7. Sapa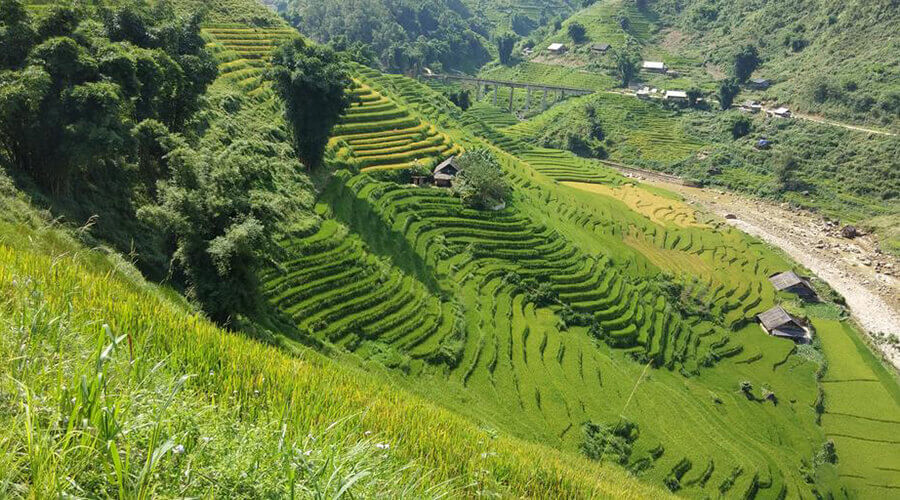 Sapa is a beautiful and romantic town. At the height of 1,600 above sea level, the average temperature of the area is 15 – 18C in March.
Fresh and cool air in Sapa is an ideal climate condition for growing temperate vegetables and fruit trees on this time. Therefore, it would be the best to trekk to explore the nature and discover the unique customs of the local resident. Also, conquering the Hoang Lien Son Mountain Range with 3,143 meter-high, Mount Fan Si Pan is another thing you should not miss.
8. Ninh Binh
The region of Ninh Binh has been favourered by nature, as the Day River, the Van Sang River, the Non Nuoc and Canh Dieu mountains…are all located in the region. The harmonious mingling of the mountains, plains, rivers and reserved park in Cuc Phuong National Park have created strangely attractive landscapes. And with the the perfect climate on March, it's the best time to visit this area.
After all, we have listed some of the most suitable destinations on March. Don't hesitage to share with us your experienced. We willing to check and show it on our page to guide other people, especially first-time travellers.
---