Tiền Giang is a province with strengths in eco-tourism in the Mekong Delta. In particular, Thoi Son islet (Vietnamese: cù lao Thới Sơn, cù lao means islet) with typical ecosystems of the Mekong Delta river region is a tourist destination in Tiền Giang that should not be ignored.
General information about Thoi Son islet
Thoi Son islet, also known as Lan islet (Unicorn islet), belongs to Thới Hòa hamlet, Thới Sơn commune, Mỹ Tho city, Tiền Giang province, is likened to the precious jewels of the Tiền River. Covering the entire islet is an immense green, with a system of interlaced canals, fertile soil, luxuriant fruit trees in four seasons, becoming an ideal Western tourist destination.
Thoi Son islet is the largest of the four islets on this river, with an area of ​​​​about 1,200 hectares. Although located on the same river, Thoi Son and Long (Dragon) islets belong to Mỹ Tho city, Tiền Giang province. Meanwhile, Quy (Tortoise) and Phụng (Phoenix) islets are in Châu Thành District, Bến Tre province.
How to get there from Ho Chi Minh city?
To go to Thới Sơn islet, from Ho Chi Minh City to My Tho, it takes about 70km. There are various ways for you to choose, such as motorbikes, private cars/buses, and even local buses. After arriving My Tho, you have to buy a ticket at My Tho Tourist Wharf – No 6 Ba Mươi Tháng Tư Road, Ward 1, My Tho city.
Sitting on the boat helps you see the life of the people raising fish and watching the beauty of Rach Mieu bridge, enjoying the charming landscape with zigzag canals, flanked by cool water coconut trees. One piece of advice given is that you should buy a tour of Thoi Sơn islet to have a local guide you and experience all of the above services.
Things to do in Thoi Son Islet
At first, the local people mainly lived by fishing and aquaculture, along with growing fruit trees such as longan, sapote, orange, tangerine, grapefruit, durian, bananas, jackfruit, mango… Later, they have been further developing beekeeping, some households also make rice paper, coconut candy, jam, handicrafts… to serve visitors. It is really interesting when laying in a hammock in lush green gardens and enjoying the cool breeze and juicy fruits here.
On the islet, there are also many ancient houses with typical Southern architecture, three compartments and two wings, roofs with Yin – Yang tiles, and rows of precious wooden columns. The house of Mr. Tâm's is a famous attraction on this island. His house is a typical model of southwestern houses. The house is furnished with ancient styles of the pearl-carved altar, delicate tables, and couches, a pair of gilded couplets. In front of the house, there is a garden planted with elaborately manicured ornamental plants, surrounded by a green garden. Stroll around the islet on a bicycle or horse-drawn carriage, reminiscing about some old memories… then stroll along the countryside paths, visit orchards, and visit traditional craft villages: workplaces. candy, rice paper, wine making, beekeeping.
Traveling to Thoi Son islet, visitors will have the opportunity to explore winding small creeks and watch the rows of nipa palm trees growing close together by sampan.
In particular, at Thới Sơn islet, visitors also have the opportunity to become "real farmers", wearing typical clothes of the Western region, slap a ditch to catch fish. You can also participate in a folk game: swinging, catching ducks in the pond, cockfighting, fish fighting, boat racing…
What to eat in Thoi Son?
After having fun, visitors can enjoy the garden-style dishes at Thoi Sơn islet such as: 
Grilled snakehead fish
Grilled snakehead fish is sold a lot in the city today, but most of it is grilled with charcoal. In the Mekong Delta, people grill snakehead fish with straw, so this dish is called grilled snakehead fish. The snakehead fish are cleaned and grilled with straw until they exude a delicious aroma.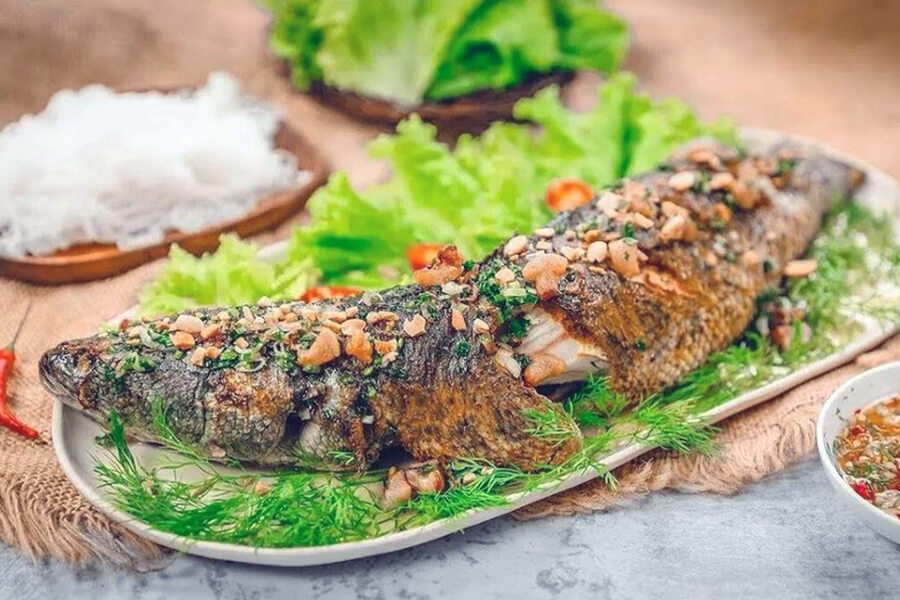 Grilled snakehead fish dish is rolled with rice paper and all kinds of raw vegetables, dipped in sweet and sour fish sauce and peanuts. This delicious taste makes visitors remember forever and cannot be found anywhere outside the West.
Fried Giant Ear Fish
Another delicious fish dish of Thoi Son island tourist area is fried giant fish, crispy and greasy. On the island, people grow many types of fish, so this place has a diverse cuisine of fish dishes that anyone who comes here cannot resist.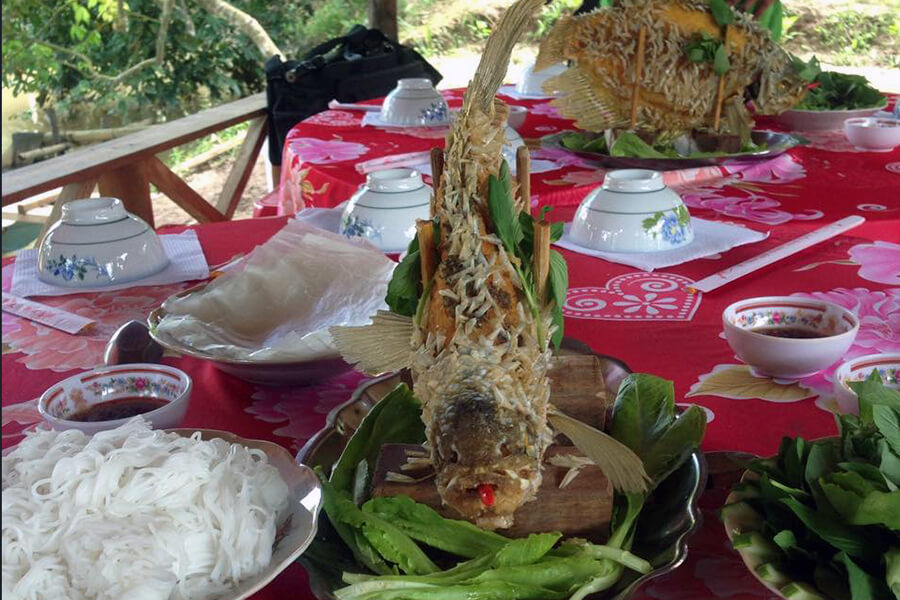 The giant fish is caught and processed immediately so it still has a fresh flavor. There's nothing better than a piece of deep-fried giant fish dipped in sweet and sour fish sauce! Fried giant fish is also served with sweet and sour mango salad, which is extremely stimulating to the taste buds.
Pancakes
Bánh xèo (pancakes) is available everywhere and has become very familiar to us. But each region has a different characteristic in terms of processing and ingredients.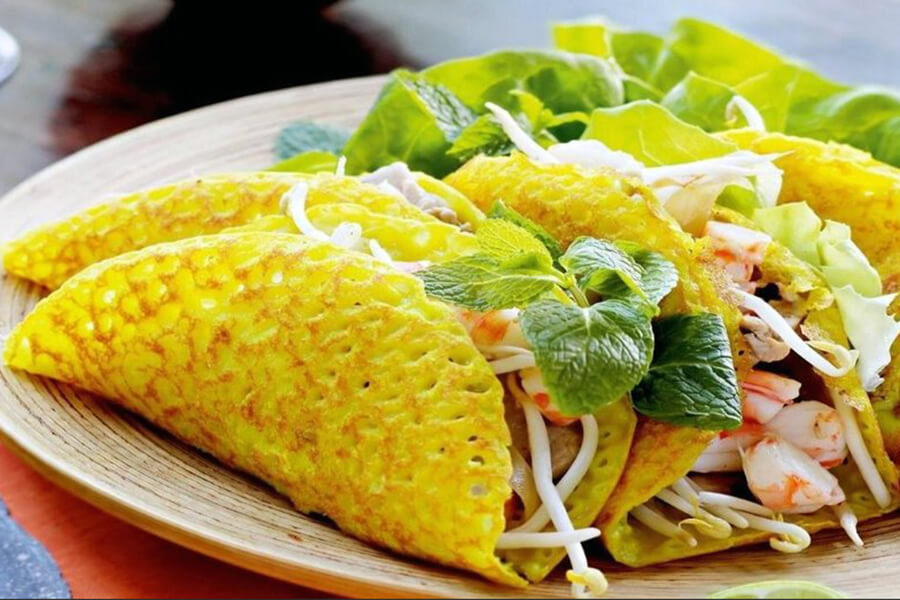 Coming to Thoi Son island, in addition to the familiar banh xeo, you can also enjoy the strange rice snail pancake. The rice snails here have a fragrant, sweet, greasy taste, are soaked clean, boiled and then poured into bánh xèo.
Vietdreamtravel is running daily group tour and private tour to visit My Tho 1 day. And it's our pleasure to provide you all of the tour details.
---