Tiền Giang is a coastal province in the Mekong Delta. This land stands out with a dense system of rivers, rich fruit gardens, long-standing traditional craft villages, and sincere rural people. Currently, Tiền Giang is constantly developing and becoming the leading destination in the Western Region.
The best time to travel to Tiền Giang
The provinces in the West are favoured by nature, so there are only two distinct seasons: the dry season and the rainy season. So you can come to explore Tiền Giang in all seasons of the year. However, Tien Giang is known for many famous fruit orchards, so the summertime from June to September will be the most appropriate to be able to enjoy and admire many kinds of fruits in the region. In the harvest season, Tiền Giang also becomes more bustling and exciting than ever.
How To Get There From Ho Chi Minh City?
Tiền Giang is around 60 km from Ho Chi Minh City. If you want to get here from the city, then there are various ways for you to choose, such as motorbikes, private cars/buses, and even local buses. For more detailed materials, check out the information below to select your favourite way.
– Motorbikes
You can follow one in two directions: first, go from the Phú Lâm roundabout, the second is to follow the Trung Lương highway. Therefore, based on the starting position, you should choose for yourself the most suitable direction.
– Private car/bus
If you travelling with your family members or with a big group, this is the best way to visit Tiền Giang. The booking of a private car/bus can pick you up from anywhere in Ho Chi Minh City and then drop you off at your selected location. Also, you can use the car/bus to travel during your trip here.
– Local buses:
You buy a bus ticket to Tien Giang at the Western bus station or from travel agencies around the backpacker area in District 1.
Top things to do in Tiền Giang
Thới Sơn Islet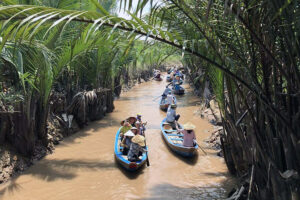 Thới Sơn Islet also known as Lân Islet (Unicon Islet), is located on the Tien river in Thới Sơn commune, Mỹ Tho city. This tourist area has become one of the famous places in Tiền Giang attracting many tourists to visit every year.
Coming here, you will enjoy boating through the nipa groves on both sides, enjoy many garden fruits, listen to folk music, enjoy honey tea or ride a horse-drawn carriage on the village road.
Location: Thới Sơn, Mỹ Tho, Tiền Giang Province.
Vĩnh Tràng Pagoda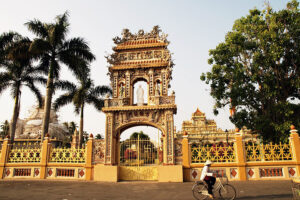 Vĩnh Tràng Pagoda is one of the oldest and most famous architectural temples in Tiền Giang. The splendid but simple features of this Buddhist construction are the results of the combination of Eastern and Western architectural styles. The pagoda is surrounded by gardens of ornamental trees, and bonsai, creating a peaceful atmosphere. At the pagoda,
there are 60 statues of Buddha carved and cast from wood, bronze, and cement and all are covered in bright yellow. These statues were cast in the late 19th century or the early 20th century, and represent the pinnacle of sculpture in the Mekong Delta.
Vĩnh Tràng Pagoda is locatied Mỹ An, Mỹ Phong, Mỹ Tho, Tiền Giang Province.
Cái Bè floating market.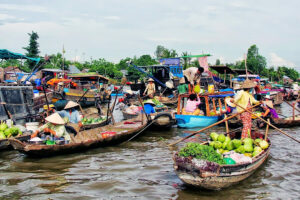 The market was formed by local people who cultivated and settled down the delta during the XVII – XVIII centuries. During its heyday, Cái Bè floating market was known as the unsleeping market. Every day, lots of boats and rafts gathered here from 3.00 – 5.00 am until late in the afternoon. They have been sold from fabrics, and seafood to appliances, and drinks…but the most outstanding was fruits. Currently, agricultural products and foods are being offered to tourists and local people in this market. Although the market is often open all day, the busiest time is at sunrise.
Location: Cái Bè, Cái Bè District, Tiền Giang.
Tân Phong Islet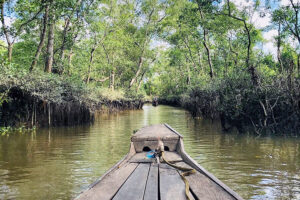 Tân Phong is an island located on the Tiền River, next to the Cái Bè floating market. The islet is famous for its growing large and succulent rambutans. Coming to the islet, you can enjoy the fresh air, experience "bathing in the islet", canoeing in a beautiful small canal.
Besides, there are many speciality dishes as well as fresh fruits from Western Region.
Location: Tân Phong, Cái Lậy District, Tiền Giang.
Đồng Tâm snake farm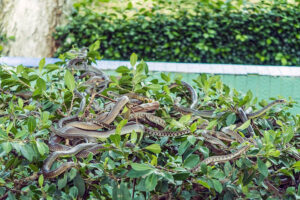 The Đồng Tâm snake farm is the centre for breeding snakes producing venom for local and exportation.
The farm has an area of ​​up to 12 hectares, which includes many services, such as eco-tourism, snake reservation, snake museum, traditional house, restaurant, and herbal garden…Here, visitors can observe the life of more than 40 species of snakes, animals, and some specimens of snakes, including more than 200 king cobras.
Address: Bình Đức, Châu Thành, Tiền Giang
Vĩnh Kim Fruit garden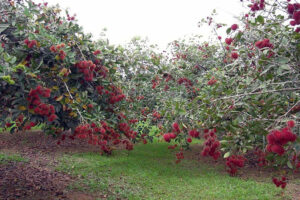 Vĩnh Kim fruit garden is one of the most attractive places to visit in Tiền Giang. Because this region not only has a lot of delicious and attractive fruits but is also a famous tourist destination with cool, fresh air and many delicious dishes. Summer is also the time when many tourists come to Vĩnh Kim orchard to try the most famous specialities of Mỹ Tho such as Lò Rèn star apple, Ngũ Hiệp durian, orange, … along with many fruits have long been familiar to the daily menu of Mekong Delta such as rambutan, longan, tangerine, guava, mango…
Location: Vĩnh Kim, Châu Thành, Tiền Giang
Sắc Tứ Linh Thứu Pagoda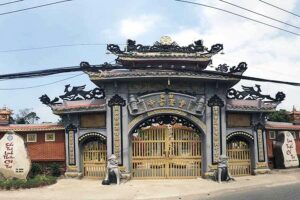 The Sức Tứ Linh Thứu Pagoda was built around the 18th century, usually called Linh Thứu Pagoda. Although it has been restored many times, the pagoda still retains its distinct ancient architectural features.
The main hall of the pagoda is decorated very dignifiedly. It is also a preserve of many ancient statues, giant bells, and many couplets. There is also a cluster of stone statues telling about the life of Shakyamuni Buddha from his birth date until his awakening. Listed as an ancient pagoda in Tiền Giang, Linh Thứu Pagoda is a famous pilgrimage site that attracts a large number of Buddhists to come to worship every day.
Location: Chợ hamlet, Châu Thành, Tiền Giang.
What Are Tiền Giang's Specialities?
– Hủ tiếu Mỹ Tho (Mỹ Tho clear rice noodle soup): a mix of broth, tender rice noodles, toppings, fresh vegetables, herbs… The food is usually topped with seasoned ground pork, the small intestine of the pig, toasted ground dried shrimp, pork liver, coriander, green onion, and char siu pork…depending on the preferences of visitors.
– Bánh Bèo (Bloating fern-shaped cakes) in Hàng Bông market: this food comprises three different parts: the plain cake made from rice flour, the filling made from mung bean, shrimp, deep-fried onion, pork skin, and the sauce made from fish sauce, garlic, sugar, and chilli pepper.
– Cá lóc nướng trui (Grilled snakehead): the main ingredients forming "cá lóc nướng trui" is a snakehead that should be wild, large, and fresh. The snakehead will be grilled on the rice straws then will be served with raw vegetables and tamarind sauce, sweet and sour…
– Tân Phong rice snail: a hot boild snail usually used with a mix of chilli-lime fish sauce and ginger.
There are also other ways to process these snails such as snails steamed with coconut water, snails fried with garlic and chilli, rice snails rolled with rice paper, etc. Every dish is delicious and full of flavour.
Warmest Greetings To All from Viet Dream Travel! We offer Vietnam tours (daily and package tours), visa services, and transfer services throughout the country. Let us have a chance to show you Vietnam to the fullest. If you have any questions about Vietnam tourism, do not hesitate to contact us at:
Office number: (028) 3838 8322 – Hotline/SMS/Whatsapp/Viber/Zalo (+84) 918 709 338
---