About 3 km from Cai Be town, hidden in a compound of trees and lakes just as traditional landscapes of Mekong Delta, there is an ancient house of Mr. Le Quang Xoat. This nearly 200-year-old house has unique artistic architecture in the style of Hue's house but with bold Southern nuances.
Built in the first half of the 19th century, it took more than 3 years (1818 – 1821) for the house to be completed. The couple Mr. Le Van Ky and Ms. Pham Thi Lau brought workers from Hue to build. 
The ancient house has 3 rooms and 2 double wings made of precious wood, yin and yang tiled roof on an orchard area more than 9000 m2.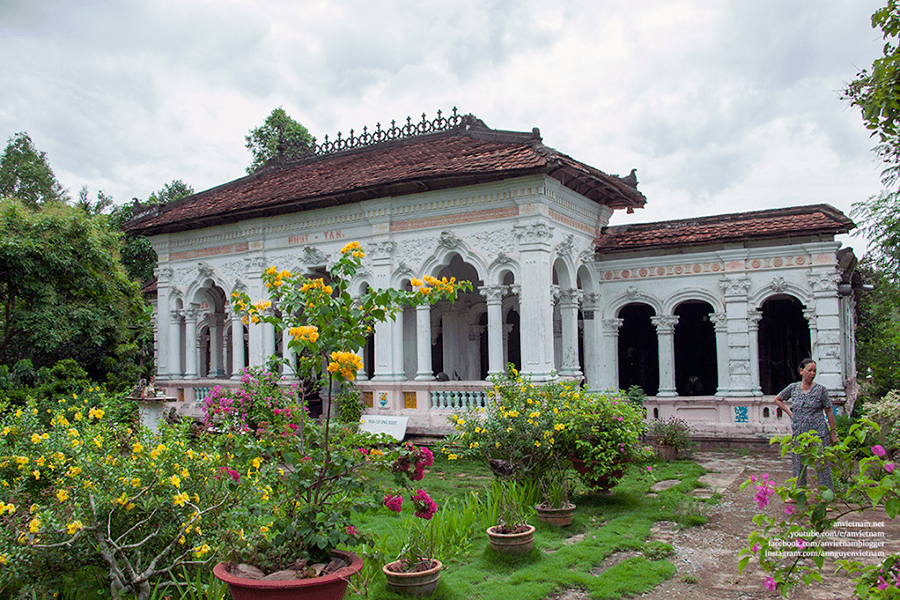 Until now, although there have been a number of repairs and renovations, the ancient house outside looks like it has the appearance of "exotic exterior and traditional interior", with combination of novel Western elements but the rustic feeling of Vietnamese wooden interior.
The front part is a facade built of bricks with an area of 80 m2 in French architectural style; base bundle of hexagonal green stone. The floor is lined with encaustic tiles; square and round columns; arched door. The tops of the doors and columns are built in Gothic architecture decorated with patterns of leaves and roses.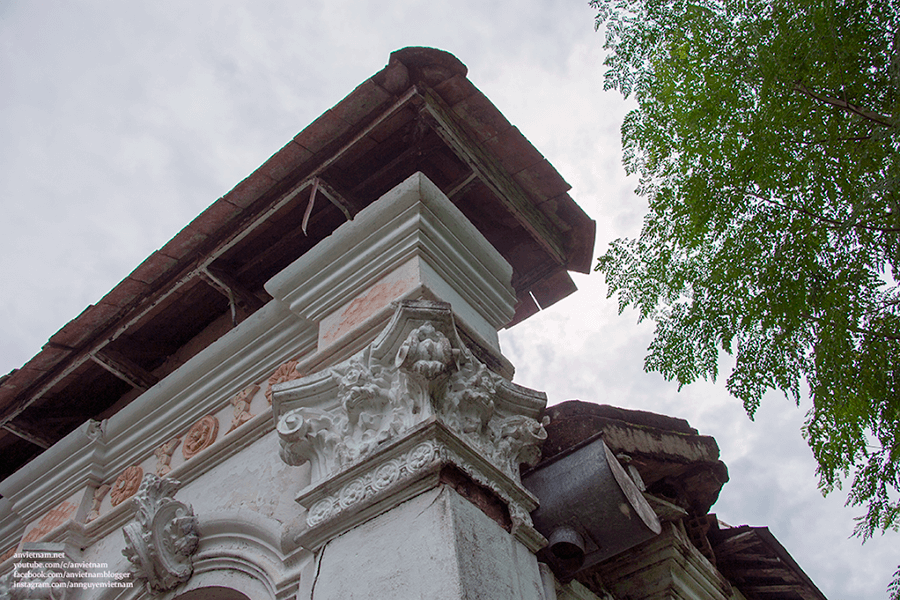 In the middle there are two words "Nhut Tan" with a connected coin pattern. The roof is covered with fish scale tiles.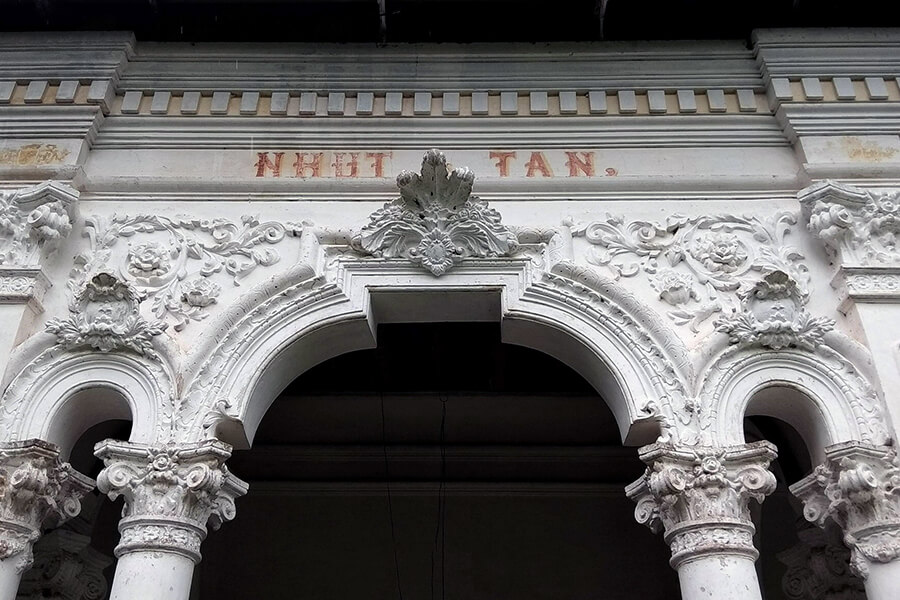 Inside the façade is a bridge that serves as a place to welcome guests and work. The frame includes 14 large wooden pillars, placed on a green stone burial ground with a ceramic tile floor.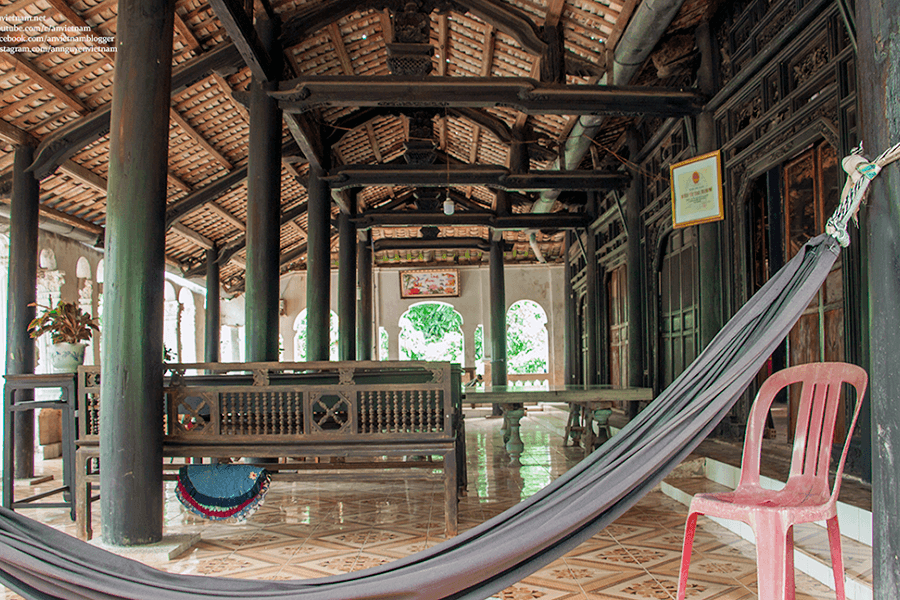 The 3 main spaces are created by 4 beams connected to the 4 columns of the three main houses, the rafters are skillfully and meticulously carved such as: dragon head,  joy letters, phoenix bird, fruit, leaf strings…
The main house supporting the roof with 24 tall round wooden columns. The door frames are decorated with many skillfully carved, embossed, and engraved molds with bold Vietnamese-style themes: plum, bird, pine, bud, chrysanthemum, lotus, leaf vine… symbols of happiness, prosperity and longevity.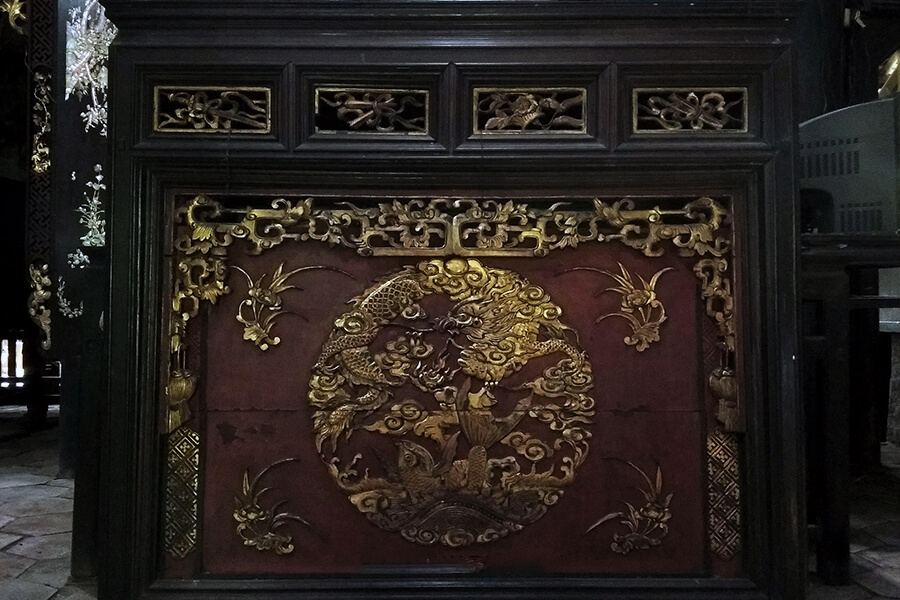 In the middle is a very solemn set of altar paintings 2 side rooms, covered with dragons carved with stylized flowers and leaves, letter scrolls, money-holding boxes, custard apples, star fruit, flower baskets… Below is an ancestral altar carved with fish transformed into dragons.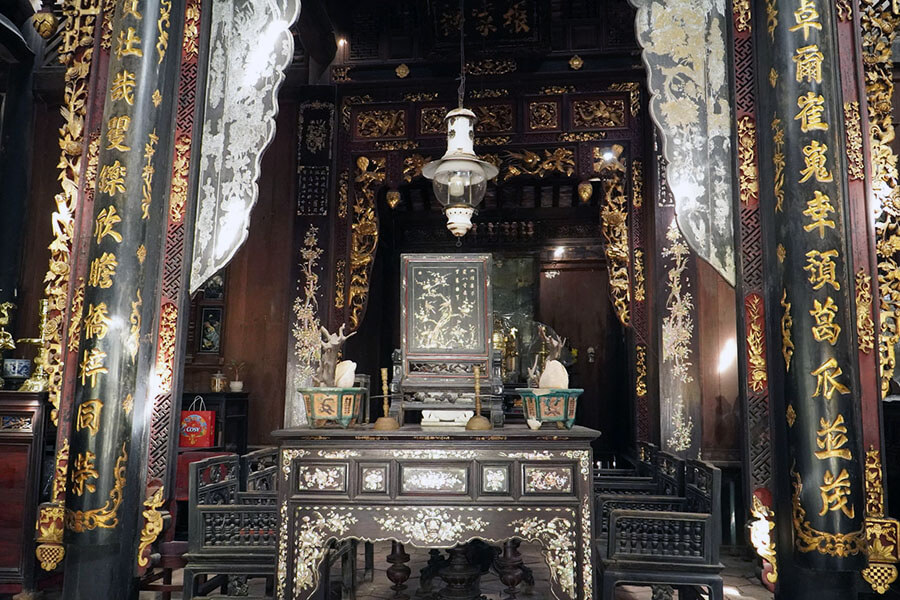 Not only does the house have a unique architectural style, but inside the house it also preserves many precious antiques: 6 altars, 2 sets of sofas, 4 sets of mulches, altar sets, tables and chairs…, all of them skillfully and delicately carved with dragons, phoenixes, scrolls, apricot blossoms, and fruits, or carved with mother-of-pearl and painted with gold, demonstrating the ingenuity of talented artisans at that time. In particular, there is still a set of white veined marble long tables with legs 1.59 m long, 0.82 m wide, 0.82 m high and 1 set of marble boards (2 boards) 2.20 m long. 1.60 m wide, 15 cm thick.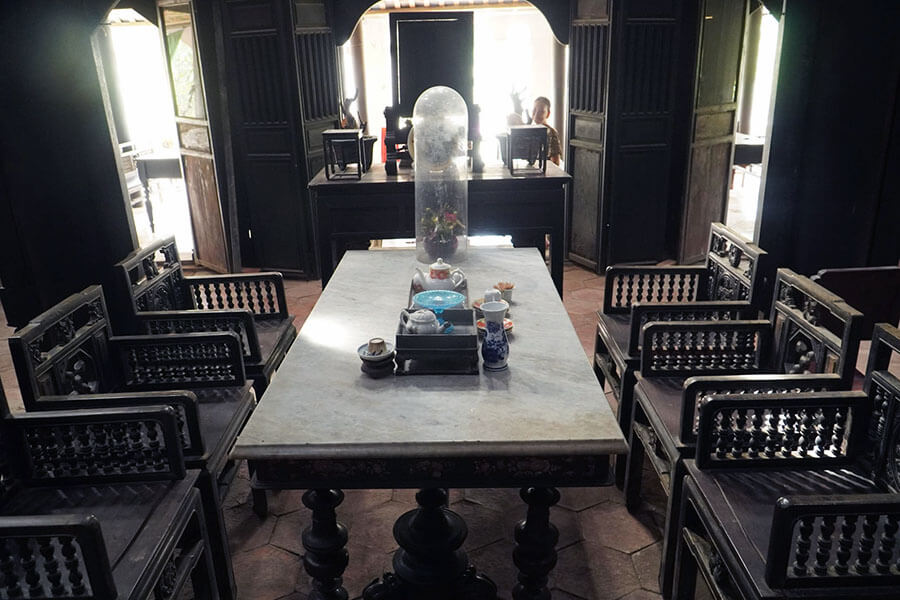 With an unique decorative and architecture heritages, in Dong Hoa Hiep village, Cai Be district of Tien Giang province, the ancient house is sometimes credited as Dong Hoa Hiep ancient village.
---