Vinh Long is a province located in the Mekong Delta of southern Vietnam. Its rich, fertile soil makes the province an ideal location for the growing of many delicious fruits and making pottery. Also with the extensive network of waterways, these fruits, and many other items can be purchased via big boats. Therefore, traveling by boats is a common practice here and now let us disclose things to do, what to eat when you want to explore Vinh Long – where you can find comfortable lodging with great food but at very reasonable prices.
What is the best time to visit Vinh Long?
Vinh Long also has the typical climate of the Mekong Delta region. This place is also divided into two distinct rainy and sunny seasons. The dry season extends from the beginning of December to April next year, while the rainy season spans from May to November. If you prefer to enjoy clear blue skies and avoid raining, the ideal time to plan your visit to Vinh Long is during the dry season months. However, from May to October is fruit harvest season, you can freely enjoy fresh fruit right in the garden. At the same time, the climate in Vinh Long is cool, you can visit more craft village areas. So don't forget to bring an umbrella or raincoat during your visit on this time.
How to get there?
Vinh Long, situated approximately 120 kilometers from Ho Chi Minh City, visitors can travel by private car, or buy a bus ticket, travel time is about 2 hours 30 minutes. 
Most of the busese can transport you directly to your accommodation. If you happen to be staying in the countryside, you can easily cover the final stretch of your journey by taking a taxi or a motor bike guy (xe ôm).
Tourist attractions in Vinh Long
Vinh Long is not only blessed by nature with products such as abundant fruit trees and abundant fish and shrimp, but it also has beautiful scenes that captivate people. Don't forget to visit at least one of them when you coming here.
1. An Binh and Binh Hoa Phuoc Islets
You will be delighted by the gardens of An Binh Islet, both famous for their succulent fruit. The islets of An Binh and Binh Hoa Phuoc emerge from the middle of Tien River, just opposite Vinh Long city. There are fertile rich soil, freshwater, and many fruit trees.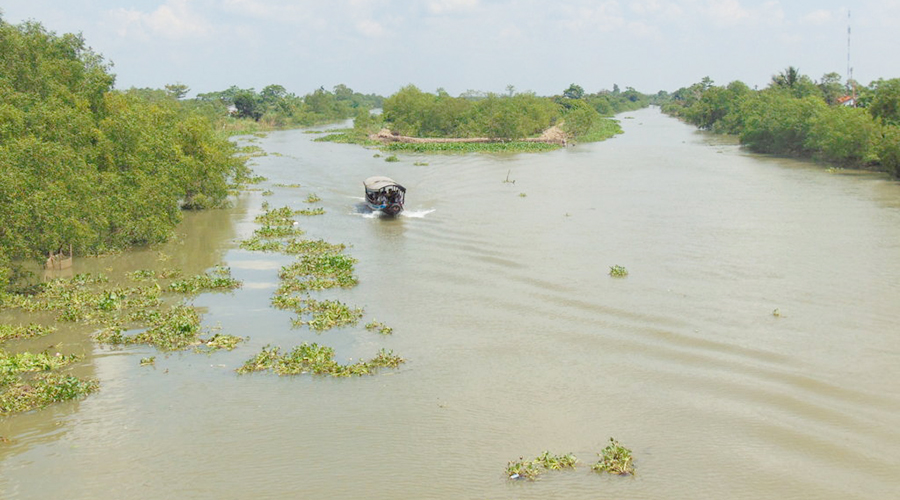 Several fruit-orchards are opened to the public. Visitors can walk among the trees, relax in hammocks, try all kinds of delicious tropical fruits, catch fish by hand, listen to amateur music, row sampan long canals sometimes ones have a meal or stay overnight at local homestay.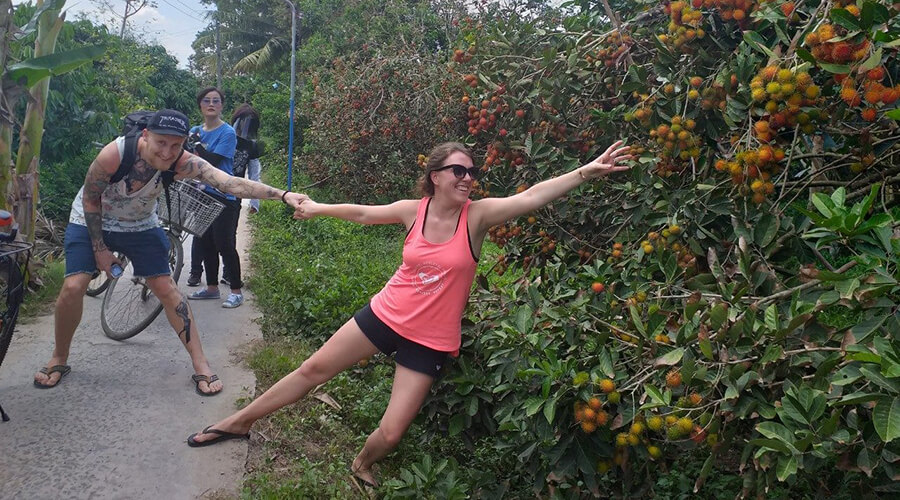 Do you want to visit Cai Rang market and fruit-orchards in An Binh islet in 1 day?
2. Tien Chau Pagoda
Tien Chau Pagoda is one of the beautiful destinations in Vinh Long, recognized as a national historical-cultural relic. This beautiful pagoda located among lush green fruit gardens. To get here, from Vinh Long city, you cross the An Binh ferry, go ashore for a short distance to reach Tien Chau pagoda.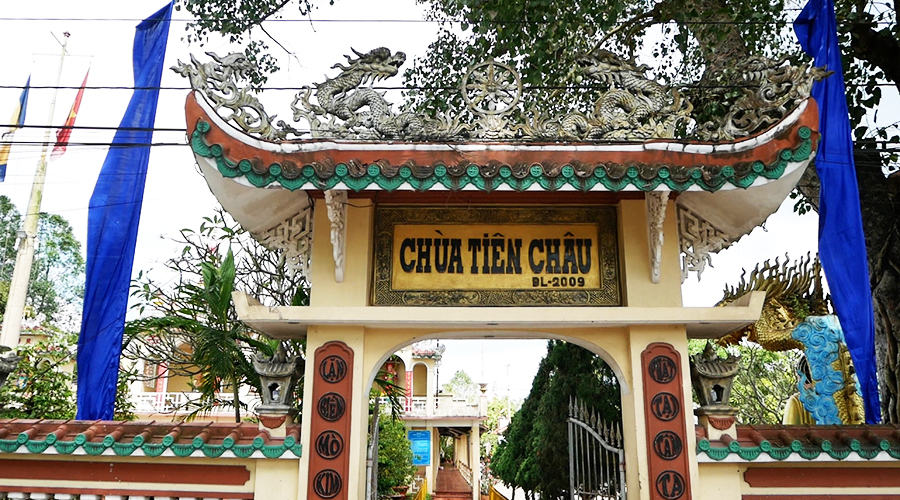 The pagoda was built in 1750 in the shape of a triangle, with a total of 96 round wooden columns, the rafters, cross sections… all of  are all skillfully carved by the sophisticated hands of artisans from the capital Hue. All construction wood is made from famous wood rafted here from Phnom Penh, Cambodia.
The pagoda reserves many clay statues red lacquered and trimmed with gold as Amida Buddha, Shakyamuni Buddha, Maitreya Buddha ect, and artifacts with high culture-art value such as the altar door carved the images of 18 Arhats, pictures and parallel sentences sophisticatedly sculptured in the 19th century.
Location: Binh Luong, Long Ho, Vinh Long.
3. Van Thanh Temple
Located about 2km from the center of Vinh Long city, on a large plot of land on the banks of Long Ho river in ward 4, Vinh Long city. For a long time, local people have considered Van Thanh Mieu a source of pride because this place symbolizes the thousand-year-old tradition of "respecting teachers and religion" of the local people. Therefore, Vinh Long's authority has tried its best to protect and restore Van Thanh Mieu to become a sightseeing and tourist destination for tourists who want to explore Vinh Long.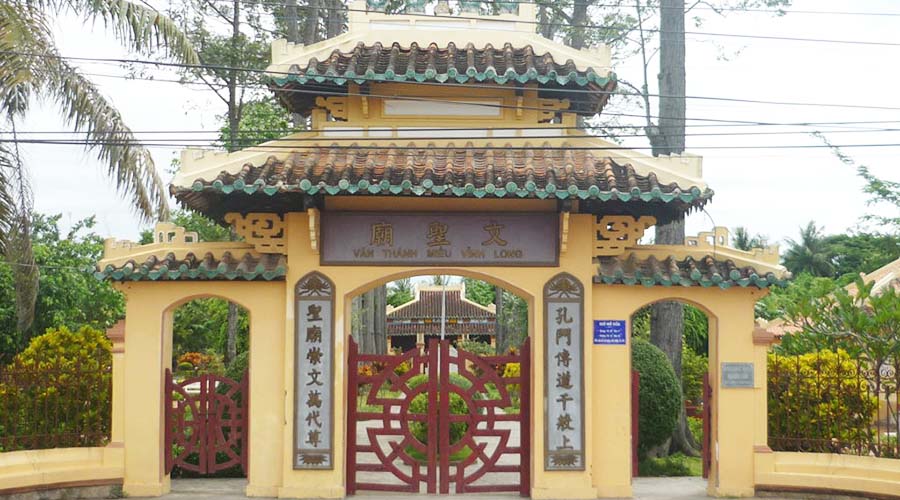 Not only do the houses, ancient architecture or the imprints left behind in the "Temple of Literature" make people move, but the shady, tree-shaded campus here also makes anyone's heart flutter. The garden here is very large, with many ancient trees, lush foliage shading each house in Van Thanh Mieu from the sun, rain and storms.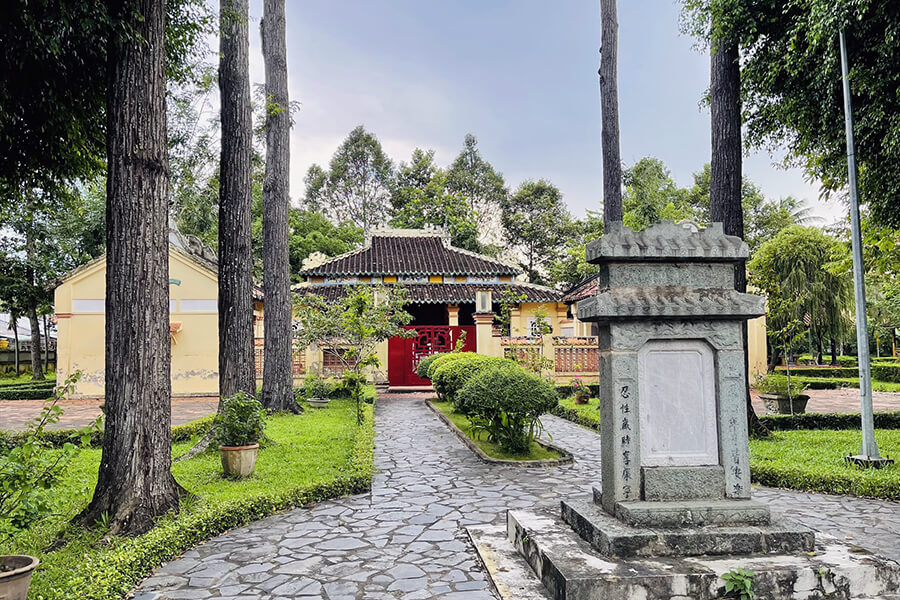 The temple was built in 1864. Two highlight constructions in Van Thanh Temple consist of Dai Thanh Temple and Van Xuong Pavilion. The front hall honors high-ranking Mandarin Viceroy Phan Thanh Gian and other officials who have the merit of developing Vietnamese education.
Location: Tran Phu Street, Ward 4, Vinh Long.
4. Vinh Long Ceramic Brick
The Vinh Long ceramic brick village was formed in the 1980's and based on the brick craft which has existed for over 100 years.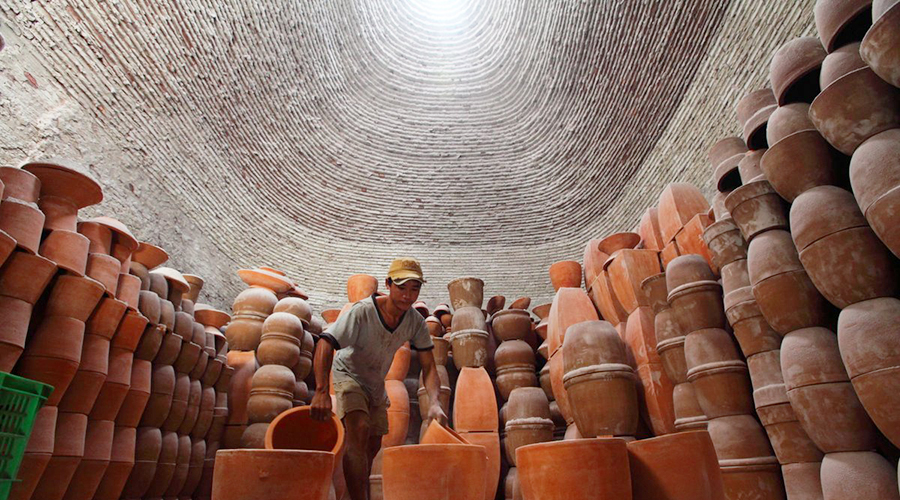 Vinh Long pottery is the un-enamel pottery with red color naturally mixed with white veins to create its own feature. Therefore, Vinh Long is also known as the name "Kingdom of red pottery". Vinh Long pottery isn't made according to the traditional method of kneading but cast with prefabricated moulds. Then, the products are baked in a kiln for 7 days at the temperature rising gradually to 900 Celsius.
The process of making potteries is considered the most interesting thing for every visitor to enhance their knowledge.
5. Tra On Floating Market
Tra On floating market is the last floating market located on the Hau River – a branch of the Mekong River before flowing into the East Sea. Floating markets have long become a very typical cultural feature of people in the Southwest region and Tra On floating market is no exception to that feature.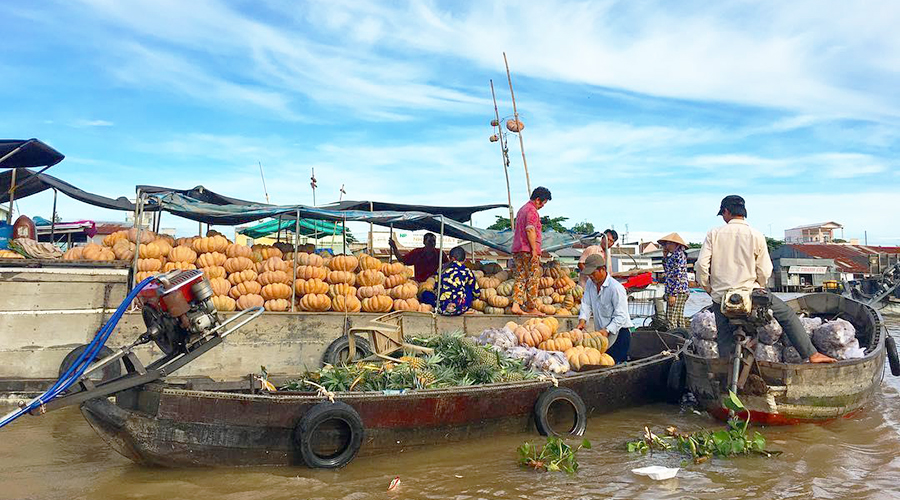 For a long time, the floating market of Tra On in people's minds has become a long-standing floating market and associated with many cultural activities of people in the area. When you visit the floating market, you will witness the local daily activities, floating stores, floating houses, floating goods, etc. everything goes float.
6. Vinh Sang Eco-tourism Area
If you ask about a place for team building in Vinh Long, many people will probably recommend you to Vinh Sang eco-tourism area. Vinh Sang has a triangular shape with a prime point being one side located along the bank of Co Chien river, opposite Vinh Long city. Vinh Sang Tourist Area has an area of about 35 hectares with ponds, green forests and interesting entertainment activities.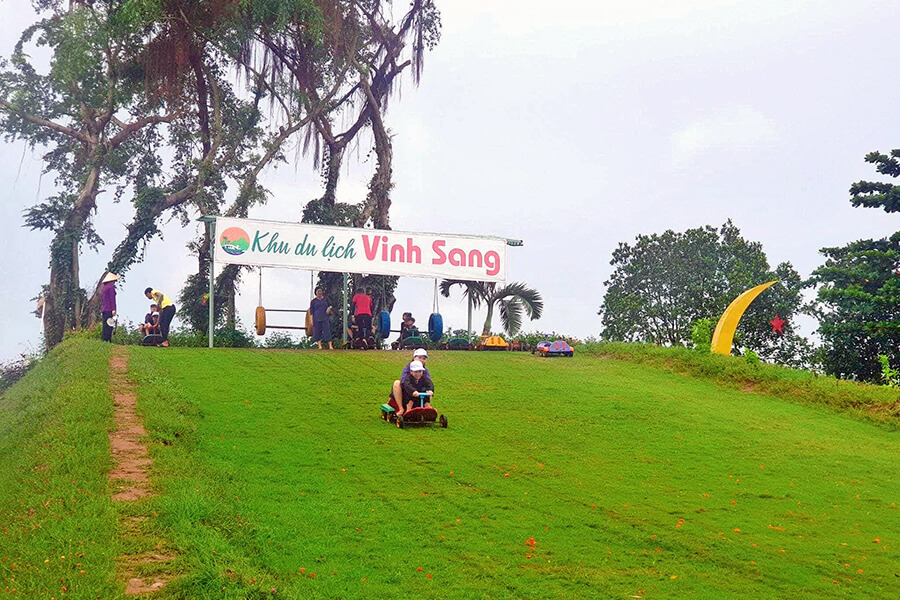 Possessing a large natural garden with a system of interwoven canals and a variety of specialty fruit trees. This typical space of the Mekong Delta river garden not only owns an entertainment area with countless attractive folk and modern games, but also is a place to preserve many rare species of birds and animals and is an attractive entertainment area with a series of folk and modern games.
Location: An Thuan Hamlet, An Binh Ward, Long Ho District.
7. Vinh Long ancient house ecological area
Vinh Long ancient house ecological area is a extremely unique destination for tourists, especially urban residents who are familiar with bunk houses. The house is located next to Ong Me canal in Long Phuoc, Long Ho district with a usable area of 450 square meters and was built entirely of precious wood in the style of a 3-compartment, 2-wing house.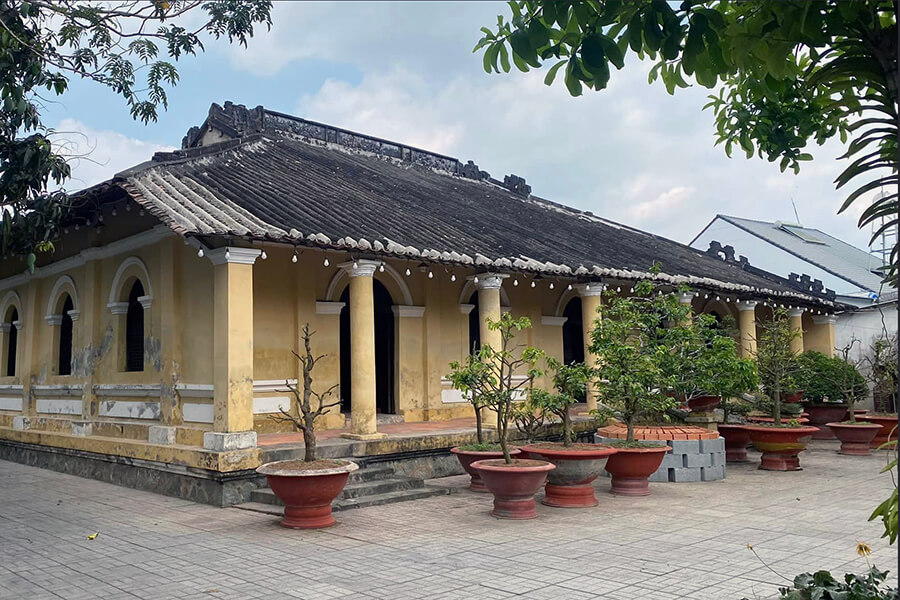 Stepping inside the house, you will be surprised by the beauty of the house from the arch of the door carved with flowers, leaves, birds and animals in a very harmonious way… along with a series of other delicate sculptures throughout the house. Furthermore, you can also admire the green fruit garden and enjoy Vinh Long specialties. Visitors to Vinh Long ancient house ecological area can eat at local people's leaf huts and buy hometown gifts such as oranges, Thanh Tra, Nam Roi grapefruit…
8. Phuoc Hau Pagoda 
Phuoc Hau pagoda is famous with an unique sutra stone garden. The garden is over 4,000 square meters, initiated by Venerable Thich Phuoc Can, abbot of Phuoc Hau pagoda. This garden has 500 pages of sutra carved on 250 stone slabs.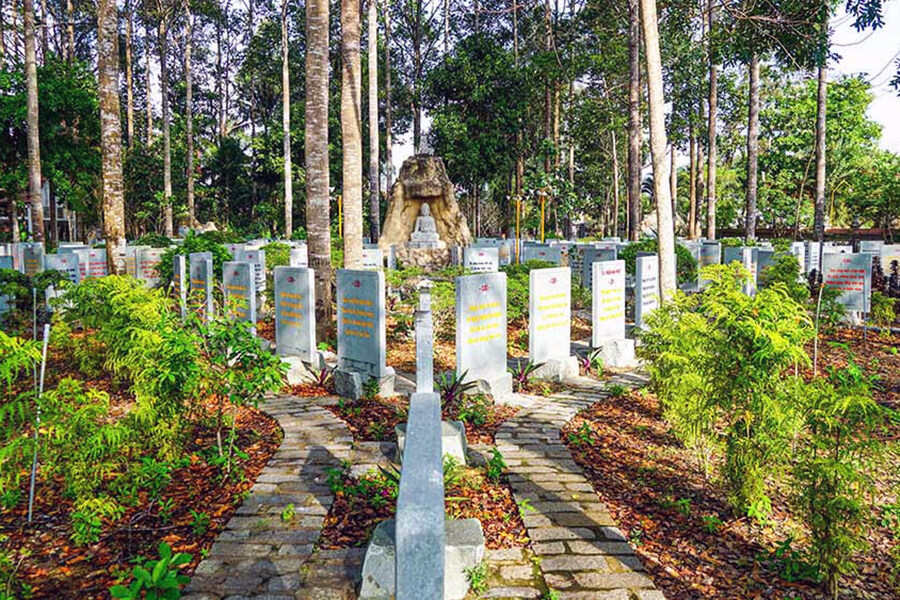 The stone slabs are arranged to simulate Bodhi leaves spreading out in eight directions, symbolizing the Eightfold Path. The center of the garden is a mountain with four Shakyamuni Buddha statues. There are also a number of stone slabs engraved with English next to Vietnamese so that foreign tourists can understand when visiting.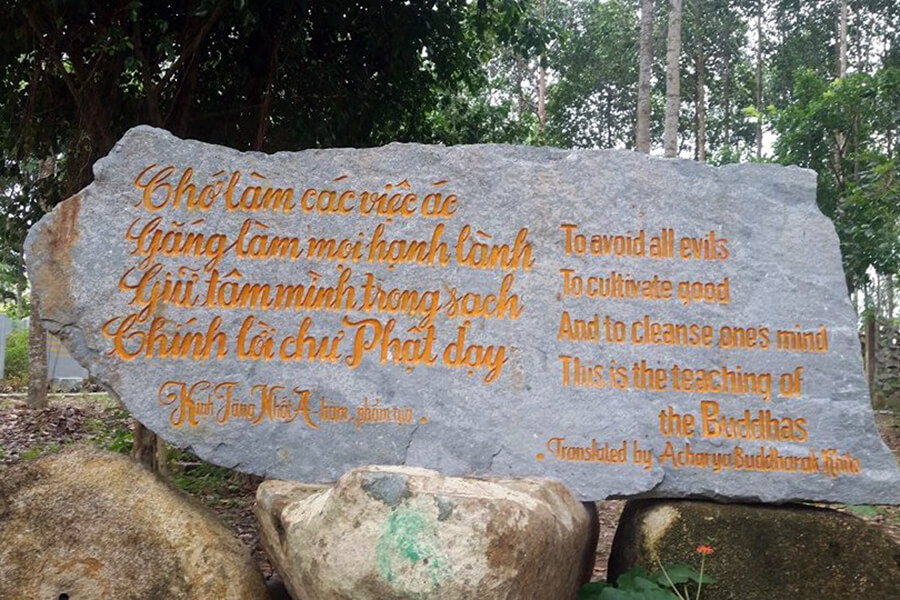 Many tourists and Buddhists who come here are very excited when the garden is decorated with beautiful rocks. According to many people, the sutra stone garden is a very meaningful and highly aesthetic Buddhist work, attract many tourists to worship, visit and explore.
Address: Ngai Tu Ward, Tam Binh District, Vinh Long. 
9. That Phu Temple – Ong Temple 
Along with the above locations, Ong Pagoda, also known as Phuc Kien Assembly Hall, That Phu Temple or Vinh An Palace, is also a destination that we does not want you to miss on this trip to explore Vinh Long. Ong temple is an architectural work built from 1892-1909 by a group of talented workers of ten people from Fujian.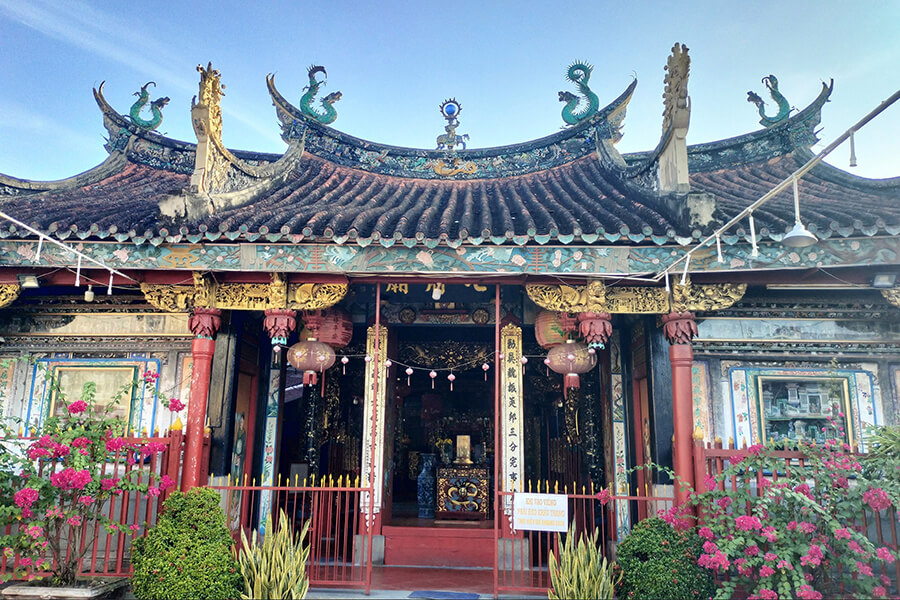 The worship statues here are mostly made of wood, some are made of bronze and ceramic. The columns, rafters, panels, couplets, and diaphragms are delicately and elaborately carved with Chinese architectural features. In recent years, the ancient temple has become a favorite destination for many people with the desire to both pray for peace and "hunt" many beautiful photos.
Address: 22 Nguyen Chi Thanh, Vinh Long.
10. Phat Ngoc Xa Loi Pagoda
Located at 287A, Vinh Hoa hamlet, Tan Ngai commune, the Phat Ngoc Xa Loi is one of the most sacred and ancient pagodas in the Mekong Delta. The pagoda has sophisticated and harmonious artistic architecture, both imbued with inherent spirituality and traditional Vietnamese architecture.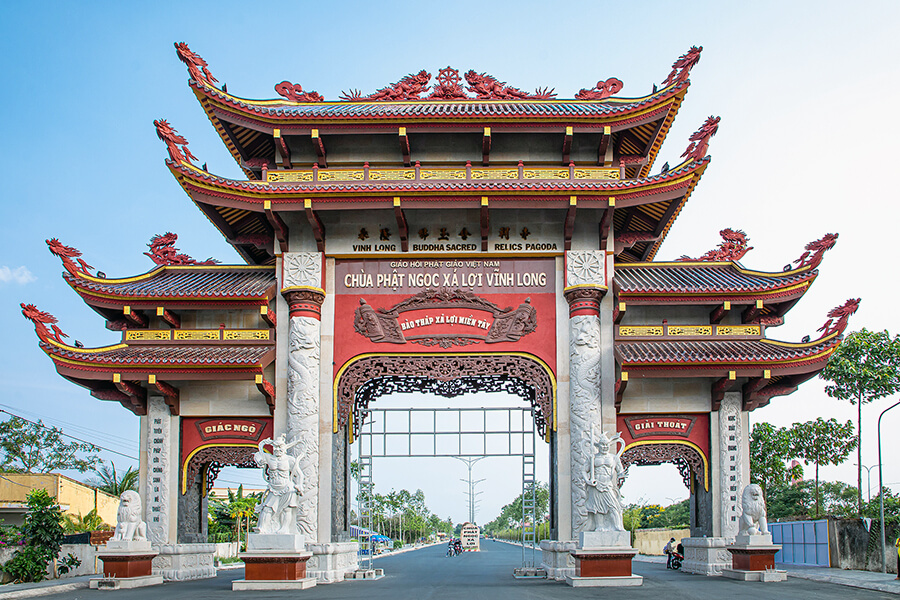 Prominent in the middle of the pagoda is the statue of Avalokiteshvara with a height of 32m and the magnificent and majestic 45m high of Stupa. With a history of more than 1,000 years, Phat Ngoc Xa Loi Pagoda always contains a unique beauty mixed with many thrilling anecdotes that have been inviting tourists to learn and explore. Standing on a square tens of meters high with airy, visitors will have the opportunity to admire the bustling city of Vinh Long day and night; watch My Thuan Bridge busy with vehicles passing by; looking at the vast Tien River… for sure, it makes your heart feel strangely peaceful.
11. May Islet
One of the famous tourist destinations in Vinh Long is Cu Lao May. This is a large island located on the Hau River in the two communes of Phu Thanh and Luc Si Thanh, inheriting the fresh water and silt of the Hau Giang River, therefore, May Islet has lush fruit gardens all year round. It also has been becoming a horticultural tourist destination. The islet is suitable for day trips and weekends. Stopping at Cu Lao May, tourists will experience the standard garden life, with many interesting activities and extremely rustic dishes at affordable prices.
You will be able to visit and pick specialty fruits: rambutan, longan, grapefruit… enjoy Western country dishes such as garden chicken porridge, chicken stewed with lemongrass, pangasius hotpot, grilled snakehead fish… Not only that, visitors also have the opportunity to explore about the simple life of local people, immerse yourself in the cool and very fresh air, so it is ideal for relaxing after hard working days.
What to eat when traveling to Vinh Long?
Grilled field-mouse: surely you will be extremely surprised and shocked when you hear this dish? However, just enjoy it, you will be conquered by the taste of rat meat.
The meat used for processing is field-mouse meat. When farmers in Vinh Long harvest rice, they will catch a lot of field-mouse. After that, local people bring it home, clean it, marinate it with spices and then grill it until golden brown. The flavor of meat blends with delicious, greasy spices.
Cu Lao Luc Si spring roll rice paper – a specialty of the rice paper making village in Luc Si Thanh commune of Vinh Long. This craft village is more than 70 years old. When enjoying, you can have sweet rice paper or chili rice paper, etc.
You can choose many different flavors of rice paper such as tamarind rice paper, chili rice paper, sweet rice paper, etc. Each type of rice paper has its own flavor, combined with meat, vegetables and sour tamarind dipping sauce sweet. Just thinking about it makes me crave it.
Grilled snakehead fish with straw: experience grilling snakehead fish with straw and sipping them to see the sweetness in each piece of meat. Grilled snakehead fish with straw is a typical rustic dish for the southwestern countryside of Vietnam, with a unique flavor and very simple preparation but it brings an impressive dish to travelers.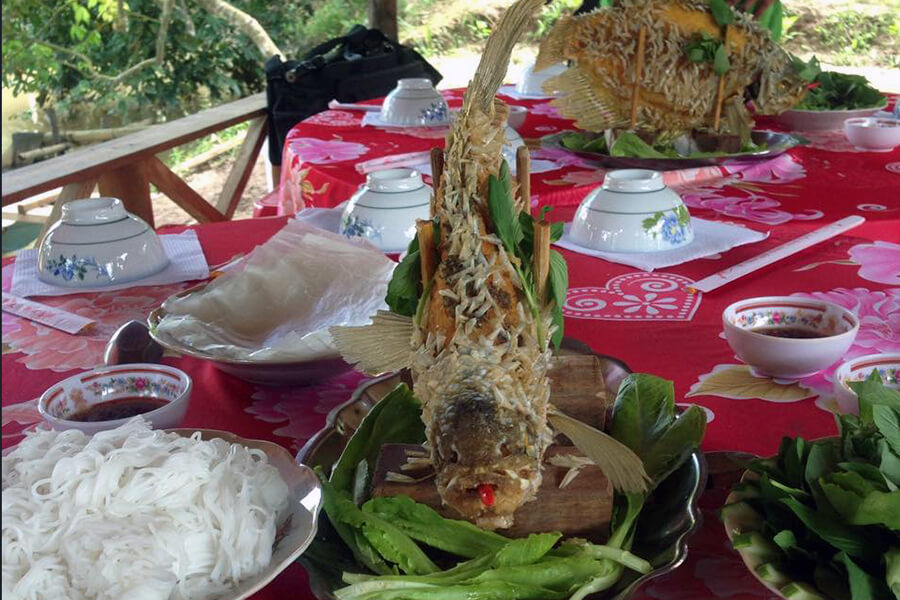 Fried Elephant Ear Fish (giant gourami) is one of the dishes considered a specialty of Vinh Long, served with vegetables, bananas and mixed fish sauce. All of them create a very unique flavor.
Fruit famous for its heavy fruit gardens. It would be a pity when having the opportunity to come here but you do not enjoy local fresh fruits or buy some to bring home as gifts for their relatives and friends.
Accommodation in Vinh Long
While there are many choice of accommodations available within the town of Vinh Long, for those who seeking a more authentic experience, it is advisable to explore options outside of the town, in the picturesque countryside.
The lodges and resorts present as the most comfortable and luxurious choices, ensuring a pleasant stay with top-notch amenities. Meanwhile, if you wish to immerse yourself in the local ambiance, homestay offer a more authentic and culturally enriched experience. For a unique stay, you may also consider accommodations on An Binh islet, with a particular emphasis on the availability of homestay, allowing you to connect closely with the local way of life.
After all, Viet Dream travel is providing daily group tours, package tour and car/bus for rent with driver to explore Vinh Long, please contact with us for a booking or let us know if you have any request.
Best regard,
Viet Dream team
---