Can Tho (Vietnamese: Cần Thơ) is famous for its gentle river and water beauty, lush green orchards, and the cheerful and hospitable temperament of local citizens in the Mekong Delta that have captivated tourists. Can Tho tourist itinerary discovers the land known as "the capital of the West" with a cool fresh climate, bold landscapes of the South, immense fields, tangled canals, ancient houses, and many rustic delicacies only available in the South West.
Vietdreamtravel would like to share some travel experiences, and useful information selected over the years to help you have a meaningful trip to this city.
When is the best time to explore Can Tho?
Can Tho is located in a tropical climate with warm and sunny all year round. The weather is pleasant, less stormy, hot and humid all year round, with no wintertime, the annual average temperature is about 28ºC, so when travelling to this city you should bring sunscreen, sunglasses, a hat, anti-cream sun, insect repellent …
Also the same with other areas, Can Tho has 2 seasons: rainy season and dry season. The dry season is from December to April next year. The rainy season lasts from May to November, you should bring an umbrella or a raincoat. Each season has its own interesting things such as below:
Fruit season: Can Tho has fertile alluvial soils, so fruit trees all year round. But the months in June, July, and August are the times with the ripest fruits. So if you are a fan of fruit, you should go in the summer.
Floating water season: From September to November, coming on this season, you will see water flooding the whole field. It's also a good chance to take a boat to explore the fields, sail along a floating market or explore countless creeks in the province.
Blooming season: From December to January, February of the solar calendar is the time near the Tết holiday. Come to Can Tho on this occasion to immerse yourself in the colourful flowers, specialities, and cultural activities.
Tourist attractions in Can Tho
Can Tho tourist destinations are famous for their idyllic beauty; friendliness and hospitality of the local people attached to the river all year round. Below are famous Can Tho tourist destinations that you must definitely visit when you come here.
Ninh Kieu Wharf and Pedestrian Bridge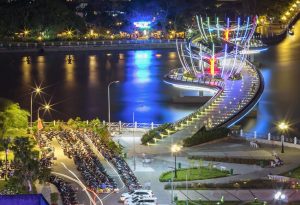 Referring to the famous tourist destinations in Can Tho, it is impossible not to mention Ninh Kieu Wharf. Located in the heart of the city, the poetic Ninh Kieu wharf, the charming river is considered the symbol of the province and is a typical destination of any tourists coming to this city. Especially, this place has the first tourist pedestrian bridge of the Mekong Delta connecting Ninh Kieu Wharf and Cai Khe islet. The pedestrian bridge is attracted by colourful and colourful lights. Here, visitors can enjoy the cool breeze blowing in from the Hậu River, and admire the shimmering landscape of Can Tho city at night.
Can Tho Market
The market was built in 1915 at the same time as Ben Thanh market and Binh Tay market in Saigon. This is one of the major markets in the western region of South Vietnam. The market is located on a rectangular campus with a total area of ​​1,723 m², with curved ceilings, and roof tiles in the yin-yang style. In addition to sightseeing, shopping, and admiring the architecture, what makes many people excited when coming here is discovering the delicious culinary delights of Europe and Asia, especially at night time. In 2009, Can Tho began implementing a project to build a walking street, food court, night market and souvenir sales at Ninh Kieu Wharf and Hang Duong Market in Can Tho. This area operates from about 18:00 p.m the previous day until 4:00 a.m the next day, to create the best conditions for people to shop, visit or have fun.
Thanks to that, we can also walk around the market and enjoy delicious dishes and drinking in the cool breeze blowing from the Hau River. 
Location: Hai Ba Trung Street, Ninh Kieu District.
Ong temple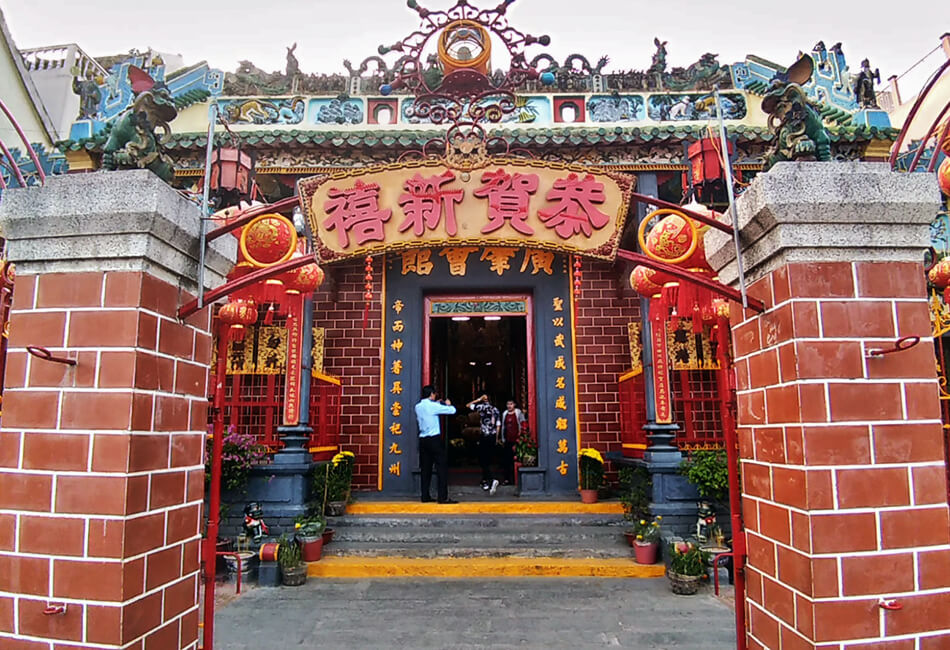 Ong temple is one of the ancient pagodas in Can Tho with its delicate architecture and unique patterns bearing Chinese culture. The temple also plays an important role in the spiritual lives of the Hoa community (Chinese people living in Vietnam) in the Southwest region. During the war, the Ong Temple was a place to support the revolutionary forces fighting against the American troops and its alliance, which contributed to the success of the unification of the country.
The temple is also a place where the cultural and religious activities of the Hoa people living in Can Tho are held. The beauty of the temple still endures over time and was listed as a National Heritage Site in 1993.
Address: 32 Hai Ba Trung Street, Tan An Ward, near the Ninh Kieu Wharf.
Cai Rang floating market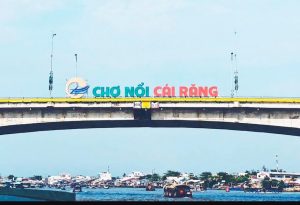 Cai Rang Floating Market is one of the three largest floating markets in the Mekong Delta region. The simple beauty, everyday life, and village activities have created a unique image of this area.
Activities in the floating market start quite early, from around 4 or 5 am, many boats come to the market for trading so this is the ideal time for you to visit. In the market, each boat will sell a different item, from fresh and delicious fruits to the household appliances needed for daily life. The owners of the boats will hang the items they sell on a pole so that the buyers can easily recognize them from far away. This form of "selling goods" is a unique trade culture that only floating markets have – a way of advertising products that are not noisy, and hasty but bring interesting things to tourists as well as customers.
Binh Thuy Temple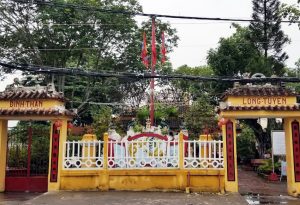 Among all the remaining ancient temples in the southwestern region, it can be said that Binh Thuy temple in Can Tho is the most majestic and beautiful superstructure. The temple is located at 46/11A Le Hong Phong District, Binh Thuy Ward, Can Tho.
This is a very unique project, signifying the strong vitality of the village community in the South from the reclamation period, the spirit of respect, ancestor worship, and people with meritorious services to the country … It also shows the skilful hands of local people.
Binh Thuy Communal House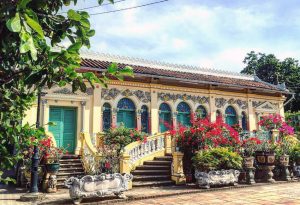 The Binh Thuy communal house is one of the most beautiful old houses in Can Tho, over 100 years old. Located at No. 142/144 Bui Huu Nghia, Binh Thuy, the house has become an attractive destination as it harmonious architecture. The living room is decorated in European style, but one of the most important places – a worshipping area decorated with the traditional style of the locals in the Mekong Delta river. In addition, the house also has been preserving many valuable antiques for centuries. 
With its unique ancient beauty, the communal house of Binh Thuy has become the famous studio of many Vietnamese films and one of them you may know is called L'Amant (the Lover), created by director Jean Jacques Annaud. 
Fruit Gardens in Phong Dien
Can Tho is not only known as one of the largest cities in the Mekong Delta but also a famous garden tourism city with many large and small fruit gardens to serve the needs of ecotourism and deliver fresh fruit to many markets. Phong Dien is about 15km from the centre of Can Tho city, which is famous for lush fruit gardens, and intertwined canals create a fresh environment. In the fruit season, visitors will enjoy all kinds of sweet fruit trees, garden space, and the daily life of the sincere Phong Dien people. Below is a list of the most famous orchards in Phong Dien district, Can Tho for you to explore.
Son Islet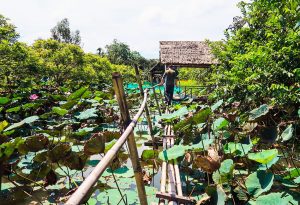 Son islet is the ideal place for tourists to find a peaceful, away from the noisy and bustling city, and find the most comfortable feeling in the countryside. This is a small floating land on the Hậu River with an area of ​​about 70 hectares, located in Bui Huu Nghia ward, Binh Thuy District, nearly 1km from the mainland and about 6km from Ninh Kieu wharf. Traveling to Son islet, visitors can only ride bicycles, walk on small village roads or paddle among the immense fruit trees. The life of the people has a bold style of the southwestern region, which is a very unique feature for Son Islet to attract and hold tourists.
Tan Loc Islet
This islet is located in Tan Loc ward, Thot Not district, more than 40km from the centre of Can Tho city with about 15 minutes via ferry. This place not only attracts tourists by the charming scenery and the fruit orchards but also impressed with the ancient houses and cultural symbol of the southwestern land.
With the rustic beauty of a village, Tan Loc islet is very suitable for developing ecotourism in various forms such as excursions, fishing, sightseeing, enjoying specialities, and learning about cultural features of the delta river region.
Truc Lam Phuong Nam Monastery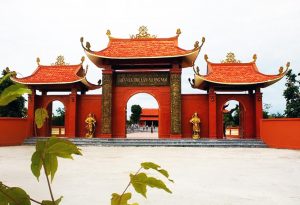 Truc Lam Phuong Nam Monastery is located in My Nhon Hamlet, My Khanh Commune, Phong Dien District. It is a unique artwork built in the style of Lý – Trần dynasty and is a famous spiritual tourist destination. The monastery followed the Truc Lam Yen Tu sect of Emperor Trần Nhân Tông who led the Vietnamese against the Mongol invasions. When the country was at peace again, the emperor ceded the throne to his son and went to Yen Tu mountain to practice on his own. He founded the Truc Lam Yen Tu sect, showing influence from Confucian and Taoist philosophy
The peaceful and serene beauty of Truc Lam Phuong Nam Monastery attracts numerous followers and visitors coming. After admiring the monastery you can combine visiting the nearby Phong Dien orchards which are only about 1km away. 
My Khanh tourist village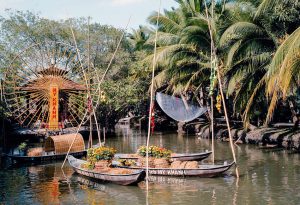 My Khanh tourist village is considered a miniature Mekong Delta – this is a famous ecotourism destination in Can Tho, with a green, comfortable space, and many interesting activities for tourists to participate in. Located about 20km from the city center, My Khanh tourist area is a large ecological garden, including unique architectural works, diverse entertainment activities and unique experiences. Come here, enjoy all kinds of fruits in the garden and specialities, visit traditional craft villages and listen to folk songs of the South.
At the same time, do not miss folk games such as tree climbing, sack jumping, pig racing, …very suitable for team-building and family trips.
Address: 335 Lo Vong Cung, My Khanh, Phong Dien.
Bang Lang stork garden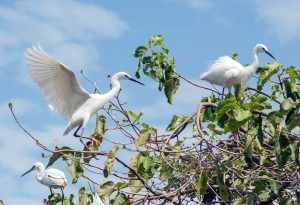 Located about 60km from Can Tho city, follow Highway 91, cross O Mon district, go to Thot Not district to Bang Lang bridge, cross the bridge, turn left, you will reach Bang Lang stork garden. Tickets to Vietnamese tourists are 10,000 VND / per person, foreign visitors are 20,000 VND / person. There are many types of storks such as cattle egret, Chinese pond heron, Bubulcus ibis, striated heron, scarlet ibis …The stork garden is "busies" in each breeding season, from August (lunar month) until January (lunar month) next year. Only the Chinese pond heron species is from February to April (lunar calendar). You can climb up to the 8m-high observatory to enjoy the panoramic view of the stork garden. Every day from 6 am to 7 am, thousands of storks fly to search for food and return at around 5 pm – 6 pm, creating a peaceful scene in the rural area of the Mekong Delta River.  
Traditional craft village of making "hủ tiếu" (rice noodle)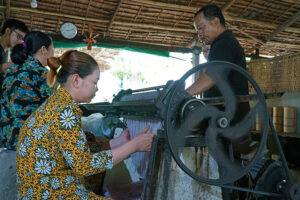 The traditional village is located in An Binh ward, Ninh Kieu district near the Rau Ram bridge. Boats are the main transportation which often carries rice to the local businesses for making noodles and then bring dry noodles to their customers. It's also the best way for tourists to visit this area after exploring Cai Rang floating market. 
Setting foot into the traditional craft village of making rice noodle  in the morning, tourists can witness the whole procedure of making fresh hủ tiếu, from mixing, coating, drying, cutting noodles, packing…all done by hand. Each workshop has its own technique for making the noodles stand out from the others. However, the most important step is the source of quality raw materials, mainly chosen from Sa Déc or Dong Nai. Then rice will be soaked before grounding and mixing with other materials. The powder phase step is usually done the night before. The next day, it will be coated to become cakes. After that, the cakes need to be put on bamboo frames to air out for a couple of hours before being cut into regular noodles. Visitors can join and participate in the stage of coating and cutting. Of course, the final stage is still packed and delivered to buyers. Some outstanding noodle shops in Can Tho include:
Can Tho Museum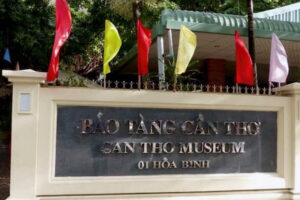 If you are a history and culture lover, you cannot miss Can Tho Museum on your trip. This is a unique destination to learn about the history and culture of this city, along with wonderful collections of art and antiques from hundreds of years ago.
Can Tho Museum was built in 1976, located at 1 Hoa Binh Revenue, Ninh Kieu District. The museum includes many galleries with collections on the history, culture, art and antiques of Can Tho and the Mekong Delta.
The history gallery introduces the development and heritage of Can Tho city, from prehistoric times to the present day. Art galleries display works by Can Tho's contemporary artists, including paintings and sculptures. The museum's collections of antiques are also very diverse and rich, from household items, jewelry, religious objects, to ancient calligraphy, ancient books, and paper money and coins.
Not only does it have wonderful collections, Can Tho Museum is also designed delicately and beautifully, with common areas, green grounds and lakes, providing a quiet and comfortable space for tourists.
This is an interesting destination for those who love art and history, and is also a great place to learn about the country and people of Vietnam.
Ninh Kieu night market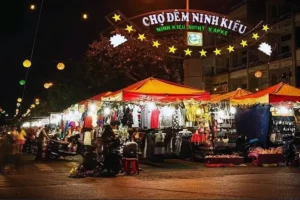 If you are planning to visit Can Tho city during your trip, you definitely cannot miss Ninh Kieu Night Market – one of the most interesting and vibrant destinations of this city.
Ninh Kieu Night Market is open after 17:00 p.m. This is a home to many small traders and street vendors selling food, clothing, accessories, household appliances, handicrafts and many other products at reasonable prices. At Ninh Kieu night market, you can enjoy Can Tho specialties such as pancake, noodles, bread, grilled spring rolls and other street foods.
In addition, Ninh Kieu night market is also a great place to experience the local culture of Can Tho people, with many activities with amateur music and folk games. You can also find unique art products of local people at stalls at the night market. With a joyful and vibrant atmosphere, this will be a great place to experience the typical culture and cuisine of this city. We encourage you to visit Ninh Kieu night market during your trip, and enjoy wonderful experiences here.
Location: Phan Chu Trinh, Tan An, Ninh Kieu District.
Phat Hoc Pagoda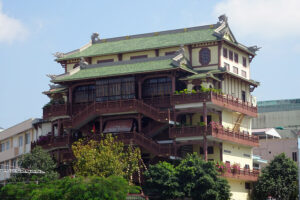 As a place with many spiritual sites and many beautiful ancient pagodas and temples, when coming to explore Can Tho, do not forget to visit Phat Hoc Pagoda – a familiar place for Buddhist followers and and a spiritual tourist destination that attracts many tourists.
It is a famous place, located in the center of Can Tho city with busy traffic, but inside the pagoda space still retains its purity and majesty.
The pagoda has a long history, built in 1951 with a relatively simple architecture, and was previously the headquarters of the Nam Viet Buddhist Association of Can Tho province. The pagoda has a spiritual and pure beauty. Outstanding with 5 floors of authority, worshiping 3 famous Buddhas: Amitabha Buddha, Shakyamuni Buddha, and Medicine Buddha.
Address: No. 11 Hoa Binh Avenue, Ninh Kieu District.
PothiSomron Pagoda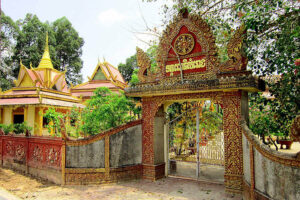 Another Can Tho tourist destination with spiritual features that cannot be missed when explore Can Tho is Pothi Somron Pagoda. The space and architecture here will definitely be an ideal place for Buddhists and those who love Buddhism.
This pagoda has ancient Khmer architecture, has existed for 3 centuries and was built in 1735 on a land area of 8,600 square meters. The temple space has a quiet, contemplative atmosphere. Ancient architecture, airy campus, many old trees. Currently, the pagoda still retains the 200-year-old ancient tower.
Address: 1144, QL91, Chau Van Liem Ward, O Mon District.
Munir Ansay Pagoda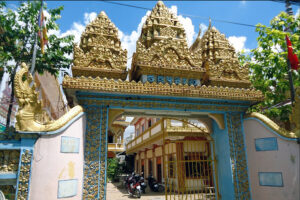 If you love the architecture of Khmer culture, you cannot miss the extremely famous Munir Ansay Pagoda when coming to Can Tho. This is not only a beautiful spiritual address but also helps visitors understand the culture and customs of the Khmer people.
It is a pagoda of the Khmer people, built with unique Angkor architecture. From the main gate to the inner campus, everything is intricately carved, imbued with cultural features. The pagoda is divided into many areas: main hall, monks' row, kitchen, hall, ash tower, relic tower, main gate area…
Address: No. 36 Hoa Binh Avenue, Ninh Kieu District
Gian Gua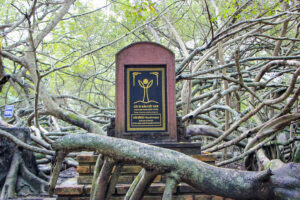 Gian Gua is a famous historical relic site in Can Tho associated with the country's two resistance wars against the French and the Americans. With a large natural space, covered with bamboo trees, it forms a solid forest. Coming to this Can Tho tourist destination, visitors will experience the historical marks and remaining war ruins that are still very clear in this relic area.
You will be overwhelmed by a solid primeval tree stand, with many trees and branches interwoven and tightly intertwined like a giant net, so sometimes you may don't know which is the root and which is the branch.
There are branches that still bear traces of war with cuts and spots caused by bombs and bullets. However, with strong vitality, those branches still sprout, sprout and spread their shade.
Location: Nhon Nghia Ward, Phong Dien District.
Kham Lon Historical Site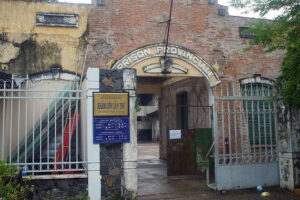 Kham Lon historical site is located at No. 8, Ngo Gia Tu Street, Tan An Ward, Ninh Kieu District. Kham Lon was built by the French colonialists in the years 1878-1886 as a governing tool of the colonial government at that time. During the anti-American period, Kham Lon continued to be reinforced and expanded in space. With 21 large and small cells, divided into two rows of female prisoners and male prisoners, cell columns, there are rooms used for solitary confinement of dangerous prisoners. On all four sides, there are walls about 3 to 5 meters high, with barbed wire on top. Observation towers on all four sides are built about 6 meters high, with a wide viewing range, so that soldiers can take turns guarding the prison rows. At night, there are bright headlights to easily control prisoners.
Besides some old buildings that still exist, this place also preserves a number of torture tools, artifacts made by prisoners, and some precious pictures and documents…
On June 28, 1996, the Ministry of Culture and Information signed Decision No. 1460/QD-VH classifying that prison area as a national historical-cultural relic.
What specialities from Can Tho?
Besides the top tourist destinations, Can Tho also attracts visitors through local cuisines. Here is a list of some of the most lovely food you should try:
Hotpot with fish sauce

Grilled snail with pepper

Fried rolls, Stuffed pancakes in Cái Răng

Grilled Snakehead Fish with chilli & citronella

Crab with tamarind

Hot sour fish soup

Grilled duck in fermented bean curd

Pancakes with the core of a coconut tree
Above is a combination of travel guides to explore Can Tho. Vietdreamtravel is also running daily tours; package tours; car/bus rental services and Vietnam visa services to explore this lovely destination. Don't hesitate to contact us at (+84)28 3838 8322 +(84)918 709 338 for more details.
---