For many years, Ho Chi Minh city or Saison was praised as the "Pearl of the Far East". The city's resources and accommodations are attractive to many visitors. Also, the annual average temperature is 27 Celsius, almost no winter, it particularly favorable for tourism all year around. But it always better when you have a plan before coming to visit any place. And that is also a reason to write this post – Ho Chi Minh city tours.
Where should you visit?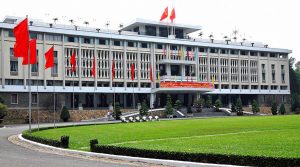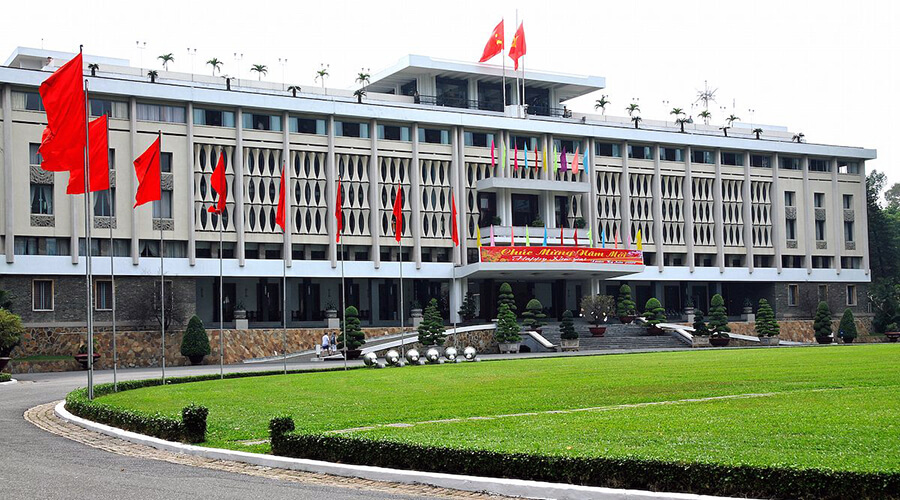 The Independence Palace is located right in the city center. The palace was built on an area of 120,000m2 with a surface area of 4,500m2. It included a basement, 3 main floors, 2 mezzanines, one terrace, and one upper float. There are a total of 95 rooms in the palace, each decorated according to its function. The palace also features two exhibition rooms, a 33-room guest house, and numerous entertainment services such as tennis courts and octagonal houses.
The Independence Palace opens every day, from 7:30 am – 12.00 pm and 13.30 pm – 17.00 pm, including the weekend and Vietnam public holidays.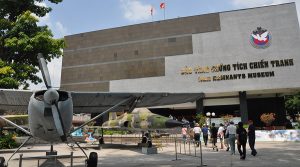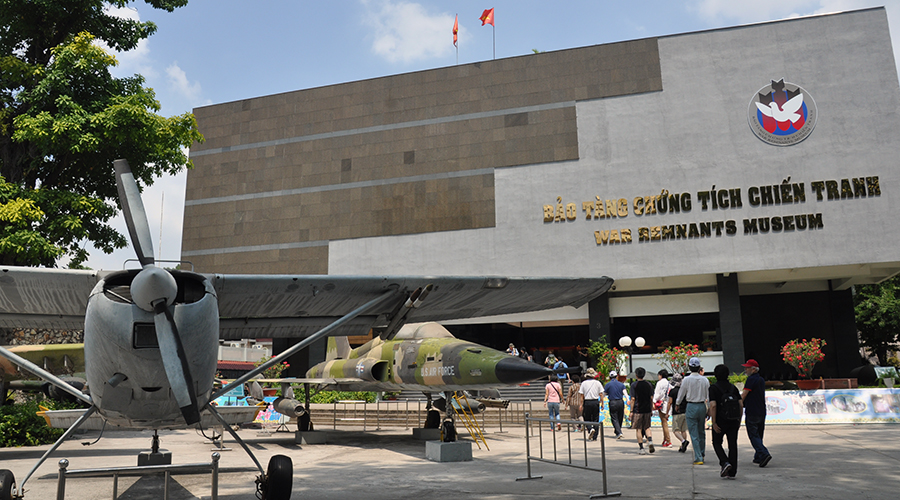 Located just beside the Independence Palace, the War Remnants Museum is another historical place to visit. It displays shocking evidence of atrocity committed by the foreign aggressors during Vietnam's two national liberation wars. There is a collection of US weapons and more impressive are a French guillotine, a model of the notorious tiger cages for keeping Vietnamese revolutionaries.
Same as the Independence Palace, the War Remnants Museum opens every day, from 7:30 am – 12.00 pm and 13.30 pm – 17.00 pm, include the weekend and Vietnam public holidays.
Thao Cam Vien (Saigon Zoo and Botanical Garden)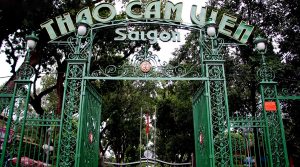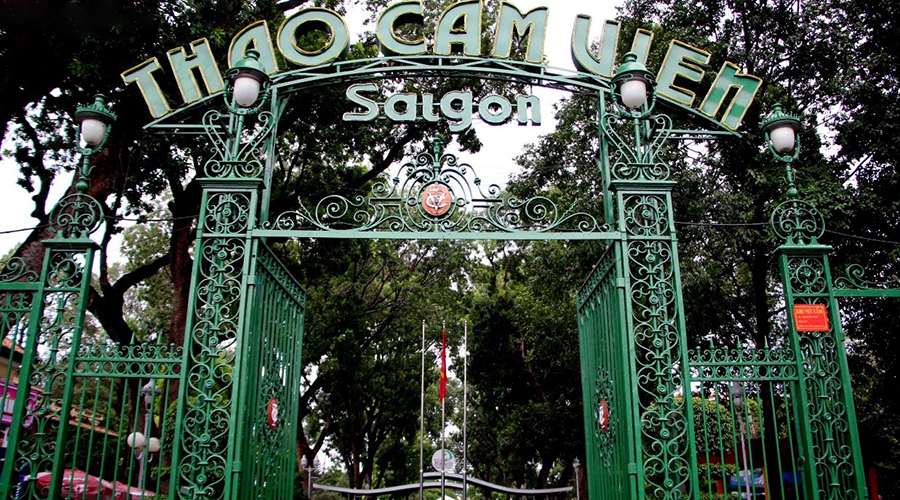 The Zoo and Botanical garden consist of separate sections where one can see many species of mammals, reptiles, and birds. Another section consists of many valuable trees, from different parts of the country, as well as India, Laos, Cambodia, Thailand and other countries. There are 02 gates to the zoo, the main entrance gate is on Nguyen Binh Khiem Road. And the or other gate is on Nguyen Thi Minh Khai street near the bridge over the Thi Nghe Channel.
Opening time: 7.00 am – 18.30 pm daily.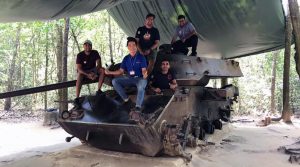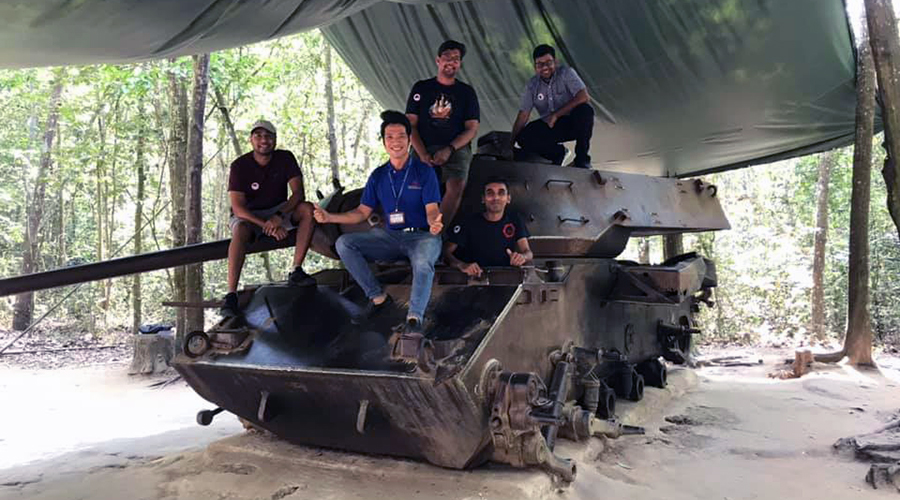 The tunnel is one of the most famous historical vestiges of Vietnam's national liberation war from 1945 – 1975. It's located in Cu Chi District, approximately 70km from Ho Chi Minh city center.
The network consists of approximately 250km of tunnels connected with one another like a cobweb. Inside the tunnels are food and ammunition storage caches, medic care chamber, meeting chambers, commanding chambers, kitchens, bedrooms, etc.
Cu Chi tunnel opens from 7.00 am to 17.00 pm daily.
Notre Dame Cathedral Basilica of Saigon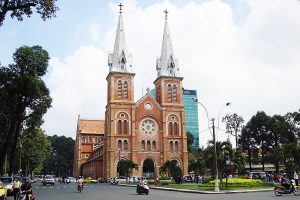 Notre Dame Cathedral Basilica of Saigon, officially known as Cathedral Basilica of Our Lady of the Immaculate Conception, is a magnificent building situated at the Paris Square in the heart of the city. It was built between 1863 and 1880 by French colonists with imported materials from France. It has two bell towers, reaching a height of 57.6 meters. In front of the cathedral is a statue of the Virgin Mary. Many tourists to Ho Chi Minh City head straight to Notre Dame Cathedral as their first stopping point of interest, and with good reason. 
Opening hours from 6.00 am to 20.00 pm daily.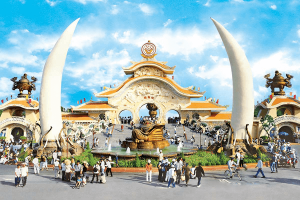 Another interesting tourist attraction worth exploring, especially during the hot season, in Ho Chi Minh City is Suoi Tien.
This is an amusement park located in District 9, Ho Chi Minh City, which opened since 1995. It's no wonder that Vietnamese history and folklore are the main themes of Suoi Tien entertainment. The park is famous for its Oriental architecture, with the concept based on oriental beliefs. This concept is shown by all the statues, buildings, and games in the park.
Beside many entertainment areas, suite for all ages, visitors can witness cultural festivals held within the site, during the Vietnamese traditional public holidays, such as in the occasions of Lunar New Year, Mid-Autumn Festival, and Hung King Anniversary…. Suoi Tien is also known as the first water park devoted to Buddhism, specifically the Southeast Asian animistic form of Buddhism.
Opening hours from 7.30 am to 17.00 pm daily.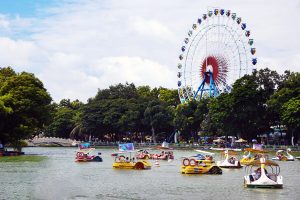 Dam Den Park is composed of various areas. There is an area of entertainment, including a central flower garden, water fountains, pine tree hills, a rose garden, a prehistoric valley, a funhouse, a ball game center, electronic games, and a big aquarium.
There is also an area from camping and a lake offering many aquatic activities. A pavilion for dancing and water puppetry is located near the lake.
The park is an ideal place to relax, especially at weekends.
Opening hours from 7.30 am to 18.00 pm daily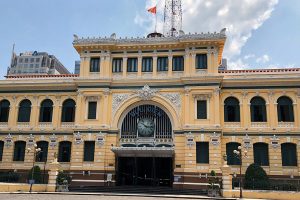 The Ho Chi Minh City Post Office or the Saigon Central Post Office is a preserved remnant of French Indochina since the late 19th century.
It's located next to Notre Dame Cathedral, offers visitors a great chance to explore the two architectural structures.
Inside the building, there are two painted maps. The first one located on the left side is a map of the South of Vietnam and Cambodia. The second is a map of Saigon and its surroundings. While all the windows on both sides of the office are arched, windows in the middle hall are rectangular.
The post office still opens until today. We encourage everyone to send a letter or postcard from this place as it's also a great chance of living history where the old fashioned glue stamp is still being used to letters.
Opening hours from 7.00 am to 19.00 pm from Monday to Friday; 8.00 am to 18.00 pm.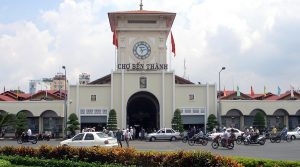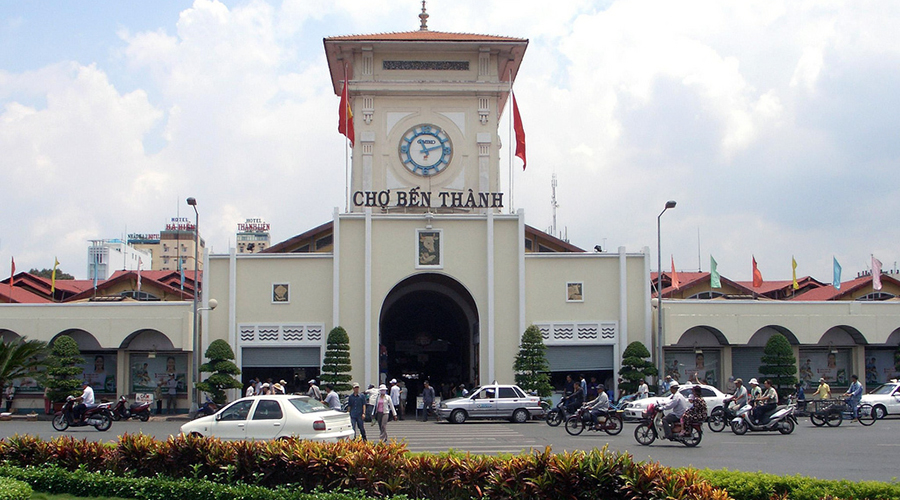 Being a bustling market in the daytime and nighttime, Ben Thanh Market is absolutely a must-see tourist spot of the most dynamic city.
The goods in the market are abundant, including almost domestic products, especially those from the Mekong Delta and modern industrial products from other countries.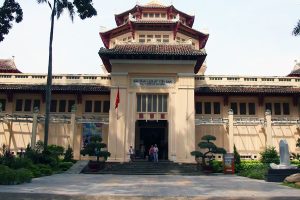 Located at in Thao Cam Vien Park, 2 Nguyen Binh Khiem Street, Ben Nghe Ward, District 1, the Vietnam History History is an ideal destination for those who love to learn about Vietnamese history. It was divided into 2 parts. The first one exhibits the history of Vietnam from ancient times up to the 1930s when the Vietnamese Communist Party was born. The second one displaying characteristics of southern Vietnam such as the Champa arts, Oc-Eo culture, ethnic minorities, and ancient pottery of many Asian countries. 08:00–11:30, 13:30–17:00
Opening hours from 08:00–11:30, 13:30–17:00 daily.
Temples and Pagodas
For those who would like to visit a temple or pagoda in Ho Chi Minh, here are some of the most famous one:
Vinh Nghiem Pagoda: 339 Nam Ky Khoi Nghia street, District 3.
Van Hanh Monastery: 750 Nguyen Kiem street, Go Vap District.
Giac Lam Pagoda: 565 Lac Long Quan street, Tan Binh District.
Xa Loi Pagoda: 89B Ba Huyen Thanh Quan street, District 3.
Where to shop in Saigon?
Due to its favorable geographical location, the city rapidly became a converging point for traders from all over the world. That's why the city became a "shopping paradise" for visitors. It is quite easy to find products of all kinds, from popular to luxurious, from other parts of the country as well as modern products from many other countries. And the most popular markets, to buy these products, in this city are Ben Thanh market and Cho Lon market. Furthermore, these markets are the best places for those who want to enjoy the best of local foods.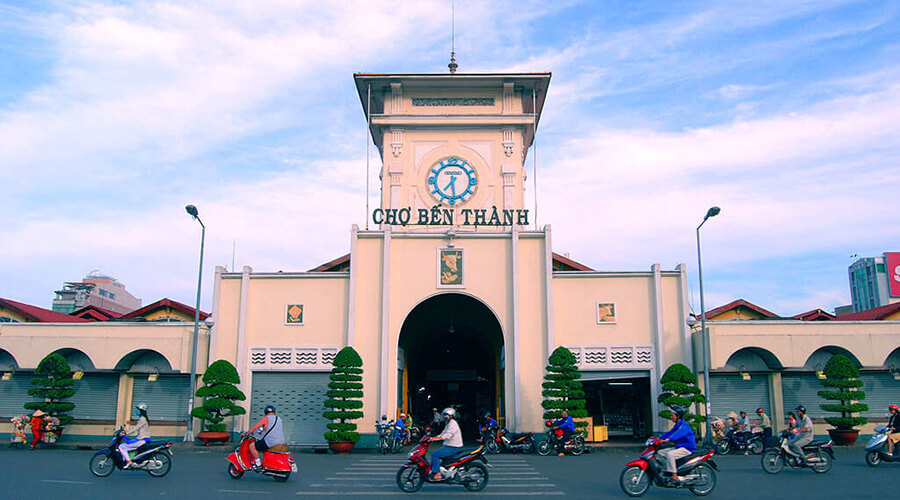 Another place for people who love flowers is the Ho Thi Ky flower market. This is the only market where you can find many different types of flowers being sold at a reasonable price.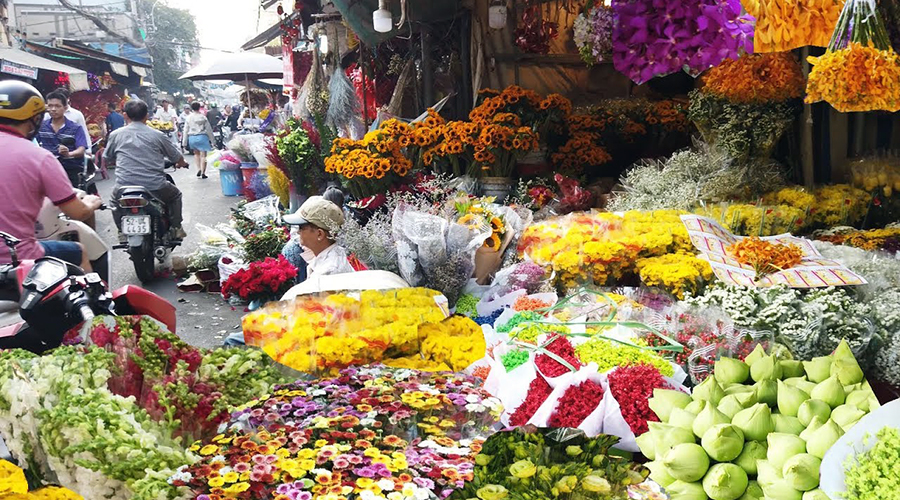 Visitors who want to buy clothing, shoes, handbags, popular and middle-class goods, in the building with cool and fresh air, can come to Saigon Square 1 & 2, Takashimaya Plaza, Saigon center. And for those who looking for luxury products, Diamond Plaza, Vincom center and Parkson are the best places.
What to eat?
Ho Chi Minh City is a living and working place of many people from different parts of Vietnam and other countries. Therefore, the cuisine in here is various with the typical dishes of the Southern region or from other regions of Vietnam and especially, foreign foods. But here is a list of some popular food that you should not forget to try when coming to this city:
Pho – Rice noodle soup with beef or sliced-chicken

Vermicelli with marinated char-grilled pork/beef/shrimp

Phnom-Penh clear rice noodle soup

Snail vermicelli/ noodle soup

Hue-Style Spicy Beef Noodle Soup

Noodles with wontons

Southern pancakes

Spring rolls

Snail dishes

…
What you can do at night time?
When you don't want to spend your night time in rooftops or local bars, here are some activities and places for you to enjoy the nightlife in this city.
Enjoy "Ca Phe Bet" near the Notre Dame Cathedral. This area is a place where many young people coming after dark to chat chit, enjoy street foods (usually snacks) with cheap soft drinks. There is no chair, table and a specific shop in this area, sellers will give you newspapers to sit on the ground then order foods and drink from them. It's nice place to meet young Vietnamese people or enjoy the fresh air of the park.
Discover the walking area in Bui Vien street. After around 20pm, this area becomes very crowded as many people coming here to enjoy cheap beers and local foods. The street is also fulled of vendors, some of the dishes you should try such as Hot Vit Lon, Bap Xao, fry squids…
Nguyen Hue walking area, this place is a great idea to get fresh air and watch some street performances.
Joining the Water Puppet or A O show then having dinner on the Saigon River cruise may be another idea for you to enjoy the nightlife in Ho Chi Minh.
Short day trips from Ho Chi Minh city.
Besides Ho Chi Minh city tours, Viet Dream Travel has designed some other different daily and private tours that allow you easily choose the best one matching your time, budget and your demand. Some of tourist attraction areas nearby Ho Chi Minh city are Tay Ninh, Can Gio Mangrove Biosphere Reserve, Ben Tre – My Tho – Can Tho in Mekong delta, Vung Tau…
And we're running:
You can contact Viet Dream Travel at:
Hotline: (+84) 28 3838 8322 or (+84)902 790 506 
Email: info@vietdreamtravel.co.uk – info@vietdreamtravel.vn.
Our enthusiastic and professional tourism consultants are always ready to answer all of your questions.
Best regards,
Vietdream team.
---