Ha Long Bay is a UNESCO World Heritage Site and one of the top tourist attractions, located in Quang Ninh Province, in the northeast of Viet Nam.
The Bay belongs to Ha Long city, Cam Pha city, and a part of the island district of Van Don. The Bay encompasses 1,969 islands, most of which are limestone and schist.
The name Ha Long means "descending dragon". According to local legend, the islands of Ha Long Bay were created by a great dragon from the mountains. When Vietnam had just started to establish, they had to fight against foreign invaders. the gods sent a family of dragons as protectors to assist the Vietnamese in defending their country. The Dragons immediately spewed fire to scorch the enemy, partly spitting out jewels and jade turned into a towering stone wall that made the enemy boat crashed and shattered, stoped the invaders. After the invasion, seeing the peaceful ground, lush trees, the dragons decided not to return to heaven but live in this bay. The position of the mother dragon landed was named Ha Long, the place where the dragon's children landed was called Bai Tu Long and the place where the dragon's children wriggled their tails violently was called Bach Long Vy island. However, the name Ha Long or Bai Tu Long only existed during the French colonial period.
WHAT TO SEE
Tuan Chau Island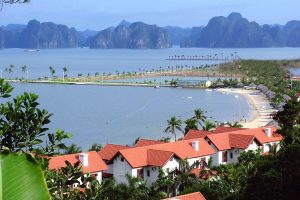 Located on the south-west of Ha Long Bay, Tuan Chau is schist island, an unspoiled island, very pretty with luxuriant forest. The island is regarded as one of the most popular destinations in Ha Long for domestic and international tourists and an indispensable destination of tours.
Coming here, travelers can visit and observe special works and services such as the dolphins, sea lion, and seal-performing club, animal circus club, golf court, cultural-sports center, artificial beach, rural market, ornamental fish lake, food court, complex of villas, hotels, amusement parks.
Nowadays, Tuan Chau Island is one of the most attractive destinations in Ha Long city. From the Bai Chay ferry, there are cars to take visitors to Tuan Chau Island every 15 minutes.
Dau Go Grotto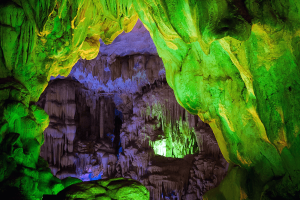 Another interesting place worth exploring in Halong Bay is Dau Go Grotto (Driftwood). The name of the island comes from the historical story of the resistance war against the Mongo aggressors. In a decisive battle, Tran Hung Dao was given an order to prepare many sharp bamboo stakes to be planted on the riverbed of the Bach Dang River. They were stored in the grotto where the remaining wooden pieces were found.
The cave is situated on Driftwood Island, next to Thien Cung cave. Dau Go cave is known as "Cave of Wonders". The cave has a large entrance, shape with a jellyfish, receives a lot of natural lights. This is the reason why stalactites and stalagmites are covered with a layer of green moss. Deep inside the cave, you can see numerous imagines in the rock formations carved by nature like an ancient, majestic, and unique architectural complex.
Thien Cung Grotto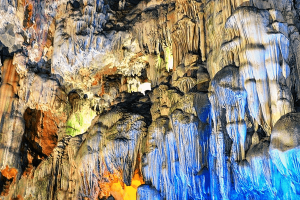 Thien Cung Grotto is one of the most beautiful grottos and a must-see place in Halong bay for all travelers who stop by even just for a few days. Thien Cung cave is located on a south-west island of the bay, 4km from the wharf outside of Ha Long city. While Dau Go Grotto (on the same island) brings a magnificent beauty and honorable history, travelers visiting Thien Cung Grotto will feel being in a heavenly world. After entering a narrow gate, covered by a thick forest outside, the magnificent grotto's 130-meter long girth opens up. From the base to the top of the cave, numerous strange images appear in the stone: birds, fish, blooms, and even scenes of human life. On the northern wall of the grotto, you can see many fairies dancing and singing in honor of the wedding. Under the tremendously high roof, stalactites form a natural stone curtain. And the wind blowing through the stones produces the sound of a beating drum.
To finish a voyage through Thien Cung Grotto, you have to pass a thin way with dazzling stalactites, and at the existing door, you'll be enchanted by the overview beauty of Ha Long Bay and Ha Long City.
Cua Van Fishing Village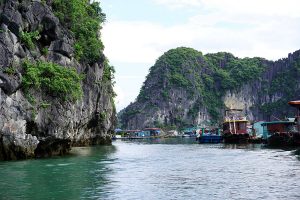 Cua Van fishing village is located in a calm sea on Ha Long Bay, surrounded by rocky mountains. This area is an ideal location for anchoring. The village is the home of many generations of fishing families living on small floating houses.
The village is only accessible via boat. Cua Van fishing village is a must-see attraction in Ha Long Bay and many travelers visit the village as part of their exploration of the bay.
Vung Vieng Fishing Village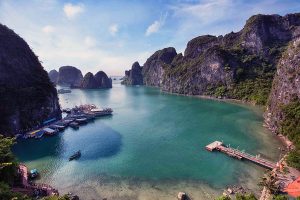 Vung Vieng Fishing Village located in the off the beaten track Bai Tu Long bay, about 20km from Tuan Chau Marina to the South-east. It's a floating village, very small as it is only inhabited by 50 families.  This area is assessed to remain its wild beauty. It has been attracting many visitors coming.
The daily activities of the local villagers are closely linked with water and fishing activities. Most of them work as fishermen or do aquaculture. But few of them sell souvenirs and snacks to tourists passing by.
Ti Top Island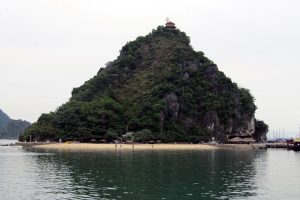 This beautiful island is located in the Cat Nang channel. The previous name of this island was Cat Nang. On January 22nd, 1962, President Ho Chi Minh along with the Russian astronaut Gherman Stepanovich Titov, visited Ha Long Bay and the island. To commemorate this special event, as well as to express the lasting friendship among Vietnamese and Russians, President Ho Chi Minh proposed to name the island as "Ti Top". It's a lovely rest stop for cruises in Ha Long Bay. The small island is well-known for the beautiful scene with calm air, white sand, and blue water. On the island, 170m-long stairways to the top of the mountain for sightseeing for a wide beach along with service shops were renovated to serve tourists in the most convenient way. It is definitely an interesting place for sightseeing and relaxation.
Virgin & Male Grottoes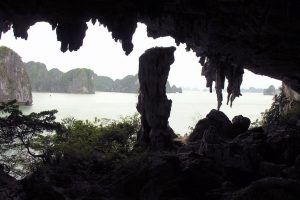 Virgin (Trinh Nu) Grotto is situated on Bo Hon Island, in the system comprised of the Sung Sot Grotto, Dong Tien Lake, and about 15 kilometers far from Bai Chay beach.
When visiting the island, you can see in the middle of grotto a stone statue of a lying-girl with long hair looking to the ocean. The second one is male (Trong) grotto, with his face turns into the Virgin grotto, with numerous stalagmites and stalactites creating many skillful carving shapes on the wall.
There was a love story about the girl statue in the grottos. It is said that the beautiful girl and a young fisherman in a village fell in love. While he was heading off far away to the ocean for fishing, she was compelled to get married to a rich administrator of the fishing zone. She had refused then got angry and exiled, by the administrator, to a wild island where she suffered from hunger and exhaustion. She turned to stone. Her lover rowed his boat in search of her. However, a tempest destroyed his boat and he floated to a nearby island. His final exhaustion and turned to stone. For local people, the Virgin & Male Grottoes represent romantic love.
Sung Sot Grotto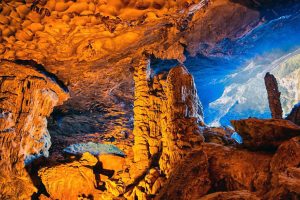 This is the widest and the most beautiful grotto in Ha Long Bay. The save as many rocky islands with unique shapes that is nowhere to be found. The road to Sung Sot grotto or the Cave of Surprises is hidden under the forest canopy. You have to climb up around a hundred stone steps to reach the entrance of the cave.
The cave is about 10,000 m2 wide with thousands of stalagmites and stalactites. In the cave, there is a system of paved walkways along the entrance to the exit which is longer than 500 m. The cave is divided into two main compartments, the first looks like a wide theater, with numerous stalactites dangling from the high roof. Entering the second one through a small trail, you will see a completely different space in comparison to the first one, which can accommodate thousands of people. Colorful spotlights are set in such an appropriately subtle way and add to the charm of the cave.
Coming here, you will have a great chance to witness the beautiful landscapes of clear water lakes, some types of trees, and birds living here.
Van Don Archipelago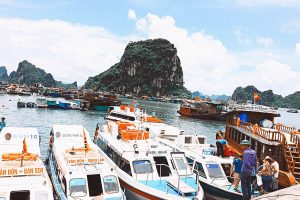 Van Don Archipelago spans around 50 kilometers of Ha Long bay and embraces over 600 islets spread out like a wall. This area was one of the first and most prosperous trading ports of Viet Nam under the Ly and Tran dynasties.
The diverse and abundant natural marine resources here are impressive.
Van Don is well-known with pristine beaches as Quan Lan, Minh Chau, and Co To which are the most magnificent beaches in the north of Viet Nam. In the near future, these natural beaches combine with Bai Tu Long Park will form a maritime tourism complex with many recreational activities such as trekking, beach games, relaxing, and exploring caves.
Bo Nau Grotto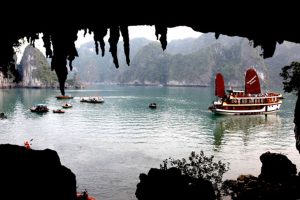 The name Bo Nau is associated with the fact that pelicans often take shelter here.According to some documents, Bo Nau cave is one of the earliest known in Ha Long bay and regarded as a place with beautiful landscapes and an attractive destination for tourists.
In front of the entrance are three stones, looking like three fairies with their head close to one another. Two men appear to be playing chess, with the third serving as a referee.
Standing there, one can see a green mountain range undulating on the pure and emerald water all year round.
Luon Grotto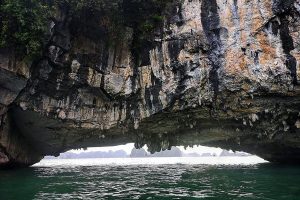 Luon Grotto belongs to Bo Hon Island, nearby Sung Sot (Surprise Grotto). Luon cave is a specially attractive destination as the shape of a tunnel with the submerged ground.
The only way to visit Luon Cave is by a small boat with oars. Luon cave is the connecting passage between the sea and the lake.
This grotto is considered as one of the most perfect ideal places for kayaking. It is also the home of golden monkeys that attract the attention and curiosity of tourists.
Useful post:
WHERE TO STAY
Flamingo Cruise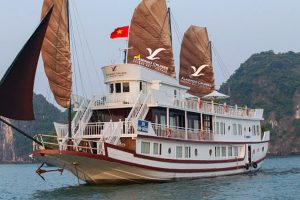 In general, the cruise features spacious, well-appointed cabins and suites with large en-suite bathrooms, large sun-deck with comfortable lounging furniture, and elegant dining rooms and bars. It has designed and fitted our boats to international standards while maintaining traditional style, creating the perfect balance of modern comforts and nostalgic ambiance.
All cabins are well-organized and sophisticatedly designed by equipping a plenty of modern facilities & technology which look like you are staying at 4-star luxury hotels on land rather than a cruise in the bay. Here is also our major difference from other cruise owners and make this cruise become one of the best Halong Bay cruises.
Maya Cruise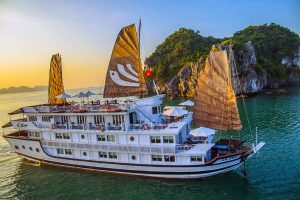 Maya was the first company to receive full permission to tour Lan ha bay, and now has years of experience to guarantee an enchanting trip to the less-visited areas. The whole area of Halong Bay UNESCO World Heritage site can be divided into central Halong bay, western Bai Tu Long Bay, and Lan Ha Bay near Cat Ba Island.
While central Halong Bay has long been a tourist area, Lan Ha Bay remains a rarely explored destination.
Novotel Ha Long Bay Hotel
Located in the heart of Bai Chay and overlooking Ha Long Bay, Novotel Ha Long Bay has been designed for family: 2 children under 16 can stay and have breakfast buffet for FREE with parents (staying same bed).
Wake up with remarkable view of Ha Long Bay from your window, or enjoy the garden walk, or soak up the poolside sun.
Whether you are here for working or exploring the bay, prepare to be amazed with our hospitality and international service standards of this hotel in Ha Long
Victory Halong Cruise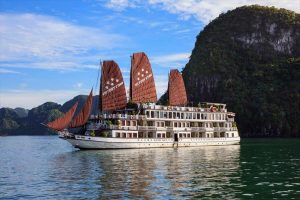 Inspired by traditional junk manufacturing, it is an iron cruise that has designed and built in the prestige factory.
It is mixture of fierce of iron cruise and elegant of wooden designs that create the unique value of Halong Victory Star Cruise..
The Au Co Cruise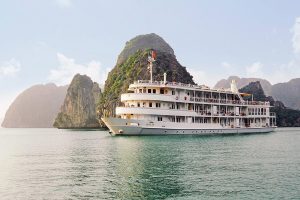 One of the prettiest ships in Halong, the steel-hulled Au Co is a Halong Bay luxury cruise that offers smooth sailing through Halong and Lan Ha bays.
Retrace the steps of colonial-era explorers in vintage style aboard this 32-cabin ship, visiting hidden beaches, forested islands, and gorgeous sea lakes.
Bhaya Classic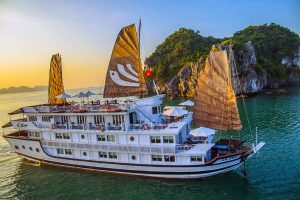 Ideal for the first-time visitor to Halong Bay, the Bhaya Classic is the best Halong Bay cruise which visits the Surprise Cave, the bay's largest and most impressive, as well as hidden gems away from the crowds, like Trinh Nu Beach, exclusively maintained by Bhaya Cruises, on 1 and 2-night itineraries.
Legend Halong Cruise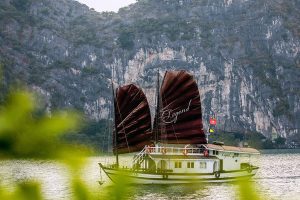 Travel to Halong Bay with Legend Halong, which has expanded its fleet to a total of 08 vessels to offer you more choices for dream charter cruises in Halong Bay. The Legend fleet includes 01 junk of one cabin, 02 junks of two cabins, 04 junks of three cabins, and 01 junk of four cabins.
Offering luxury junks cruises fit for Imperial Royalty, each cabin can accommodate 02 passengers with comfort and relaxation.
WHAT TO EAT
1. Cha Muc (Grilled Chopped Squid)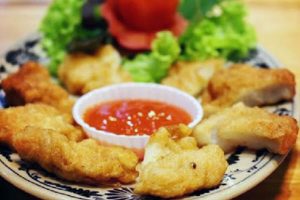 Cha Muc, known as squid sausage or squid cake, is famously from Quang Ninh province and considered one of the top regional specialties of Vietnam. The main ingredient is squid meat, patiently grinding up by hand then fried in medium heat until the meat turns golden brown. The crunchy and delicate texture of this dish makes it become one of the most delicious dishes in Ha long.
2. Oyster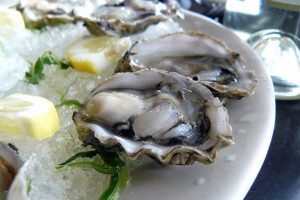 Oysters are famous world-over for being a luxurious treat; Halong Bay is a wonderful place to enjoy them fresh.
After being cleaned, the oysters will be grilled on a charcoal stove with salt, pepper, and grilled onions or served raw with a slice of lemon.
3. Sa Sung (Peanut Nudus)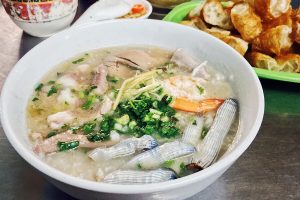 Sa Sung or peanut nudus is probably the most unusual food in this list. It's a type of sea worm found abundance in Ha Long. The worm lives in the sea, just under the top layer of sand, and lives in brackish waters. It can be fried with garlic or pineapple, grilled with chili salt, roasted and served with chili, lettuce, or eaten raw with mustard. Sa Sung is considered valuable food that rich protein.
4. Ngan (Austriella Corrugata)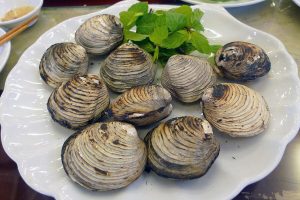 Ngan is a special type of bivalve mollusk living in the sea, bigger than the clam with a white shell and a big tentacle. It can be found only in the Bach Dang River (border between Quang Ninh and Hai Phong). Ngan can be processed in various ways: grilled, steamed, soup, or stir-fry with noodles or vegetables.
5. "Gat gu" cake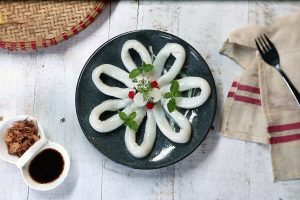 "Gat Gu" cake is made from rice powder similar to rice noodles and steamed rolled rice pancakes. The secret to making this delicious and unique cake is the sauce. The local people steam fish sauce with chicken fat, onion, and chili. This perfect combination creates a special dipping sauce and makes the dish even more exotic with a unique aroma.
6. Sam (Horseshoe crab)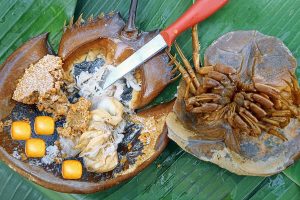 Another attractive specialty of Halong is Sam, known as the seafood with high nutritional value. From this crab, the local people can process a lot of delicious and unusual dishes such as Sam pudding, fried eggs, Sam salad, Sam sauté with peppers and lemongrass, steamed Sam, or stir-fried Sam with glass noodle.
---