The Hang Gon Ancient Tomb was discovered by Jean Bouehot (French engineer) in 1927 while presiding over the project to open road No. 2 from Long Khanh province (formerly) to Ba Ria-Vung Tau (now National Highway 56). Right after discovering the tomb, many researchers excavated and recovered many artifacts and stored them at the Mossee Blanchard de la Brosse Museum (currently is Vietnam History Museum – Ho Chi Minh City). Until these days, this ancient tomb is still attracting the attention of archaeologists. It also has been becoming an attractive tourist destination when traveling to Dong nai.
Hang Gon Ancient Tomb built for an authority figure?
Hang Gon Ancient Tomb is a type of tomb, made up of large marble slabs and long stone pillars, weighing about 30 – 40 tons. From the outside, the ancient tomb is 4.2m long, 2.7m wide, 1.6m high, rectangular in shape made up of 6 monolithic marble panels (like a stone coffin). Around the tomb, there are two large stone pillars, 7.2m long, 1.1m wide, 35cm thick and 10 sandstone pillars with lengths from 2.5m to 3m. Scientists evaluate this as a unique relic of the art and techniques of ancient South Asian peoples in general and ancient Vietnamese people in particular.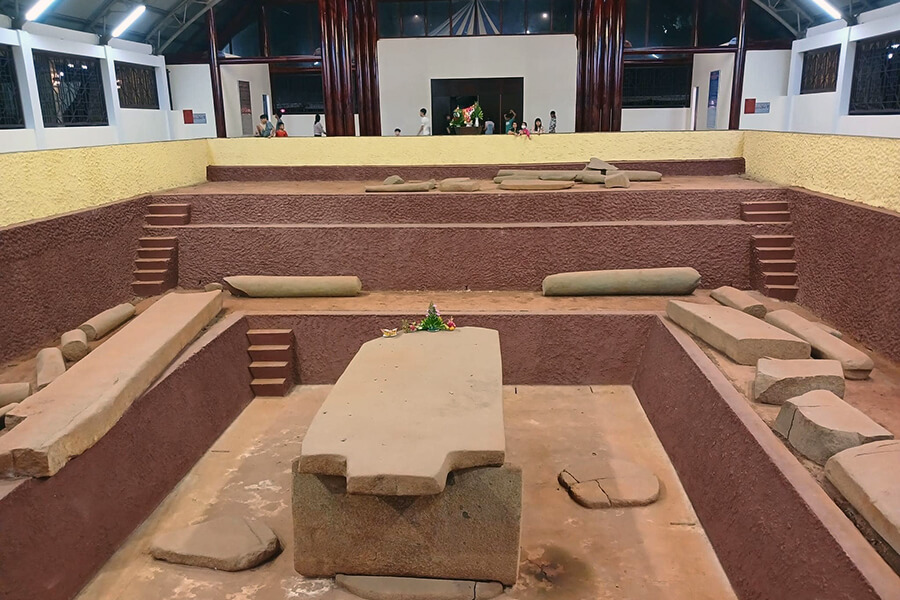 Through comparative analysis, researchers have concluded that the owner of the giant stone tomb is a powerful figure, the leader of an economically and militarily powerful tribe or confederation of tribes. The date of the monument is determined in the period 150 BC to 240 AD.
How are giant blocks of stone transported?
In 1982, 2006 and 2007, there were many large-scale investigations, surveys. During the reconnaissance digging process, traces of burnt soil were discovered with a lot of coal ash and metal slag; 2 bronze horns and 2 stone grinding tables & pillar, many ceramic, stone artifacts, grinding tools…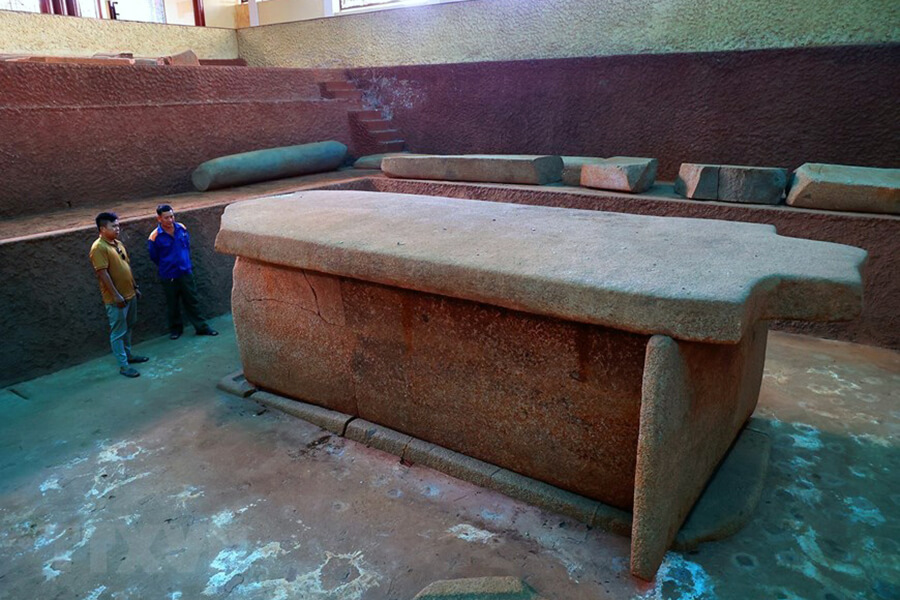 In particular, in the stone workshop previously found, the survey team also found stone slabs, stone columns, many scrap pieces of stone and many working tools. This shows that the ancients transported large blocks of stone to Hang Gon to process and create stone pillars used for tomb architecture, large marble panels which weighing about 30 – 40 tons as when discovered.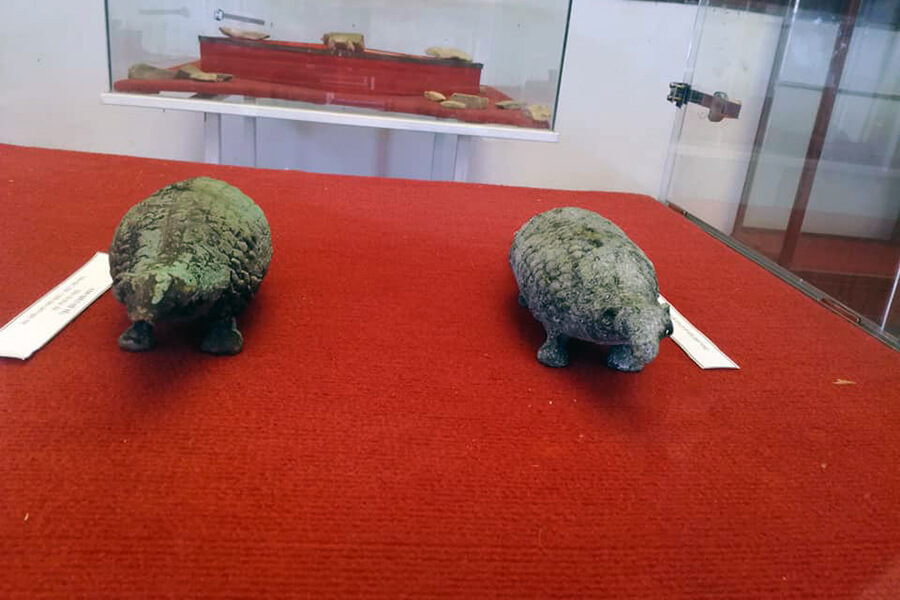 However, the question asked by many researchers is how the blocks of stone weighing tens of tons determined to originate from the Central Highlands and South Central provinces were transported to Dong Nai during wilderness and no waterway.
Hang Gon Ancient Tomb – An tourist attractions
In 2011, the project to restore and embellish the Hang Gon ancient tomb relic was started, including the following items: Tomb area, processing area, Ong Da temple, Tho Than temple, and other auxiliary works.
In particular, the covering house project is the largest in Hang Gon ancient tomb relics which covers the entire tomb. Inside the shelter there is a corridor leading to the crypt by a gradual slope from top to bottom.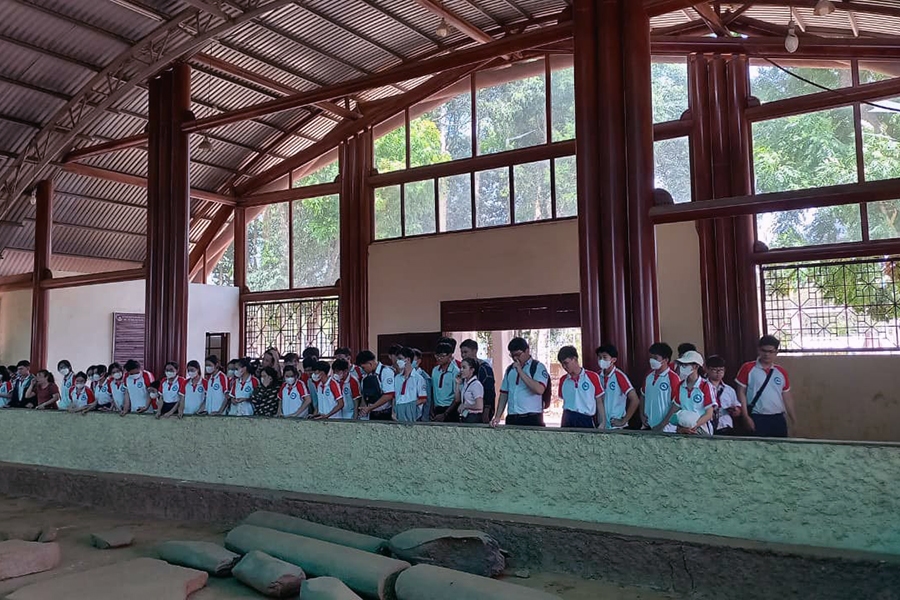 Specifically, every year, on the 13th day of the 9th lunar month at the Hang Gon Ancient Tomb relic, the Ong Stone Festival (the folk name for the ancient tomb) is held with the purpose of praying for favorable weather and peace for the country, lush crops, with the participation of thousands of people and tourists.
Among the province's 53 ranked relics, the Hang Gon Megalithic Tomb was one of the earliest nationally ranked relics in 1982. In 2015, it continued to be recognized as a special national relic.
---