Cu Chi tunnels area is one of the most famous historical vestiges of Vietnam's national liberation war from 1945 – 1975. It is located in Phu My Hung Commune, Cu Chi District, approximately 70 Km from Ho Chi Minh center.
Communist forces began digging a network of tunnels under the jungle terrain of South Vietnam in 1948. Tunnels were often dug by hand, only a short distance at a time. Then the system of the tunnels was expended as the United States increasingly escalated its military presence in Vietnam to support of a non-Communist regime in South Vietnam beginning in the early 1960s. Until now, the network consists of approximately 250km of tunnels connected with one another like a cobweb.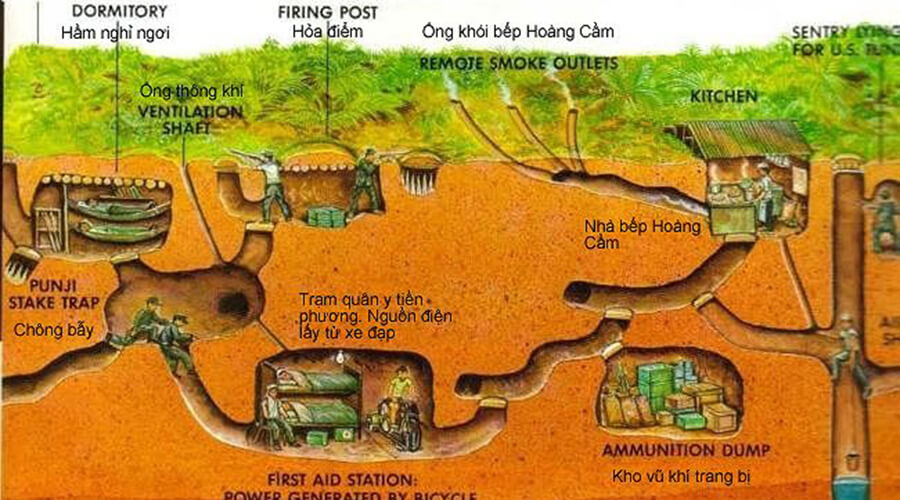 As the United States relied heavily on aerial bombing, North Vietnamese and Viet Cong (VC) troops went underground in order to survive and continue their guerrilla tactics against the much better-supplied enemy. In heavily bombed areas, people spent much of their life underground. Inside the tunnels are food and ammunition storage caches, medic care chambers, meeting & commanding chambers, kitchens, bedrooms, ect….From here, the revolutionary forces staged 1968 General Offensive and Ho Chi Minh Campaign in April 1975 to liberate South Viet Nam.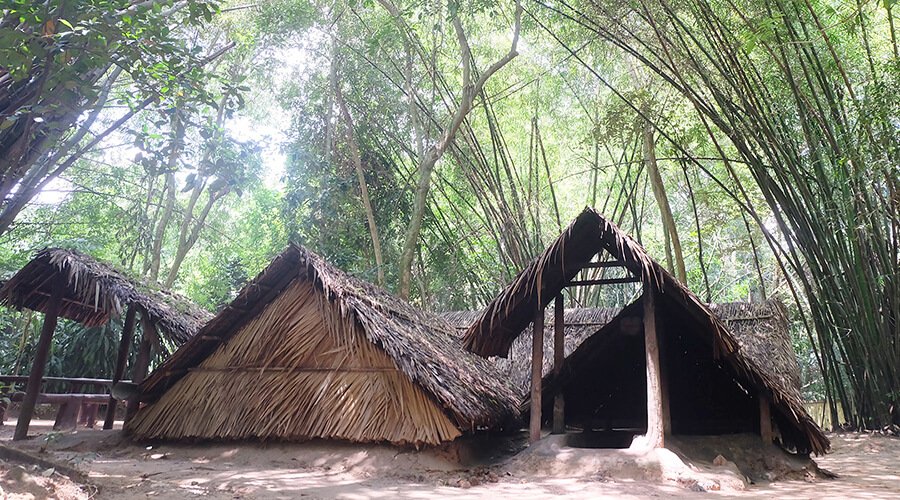 Those who set foot in the tunnels can not help admiring the talent, determination, and endurance of the communist guerrillas. They dug and removed then of thousands of tons of soil and stone with rudimentary tools so well that nobody could find them.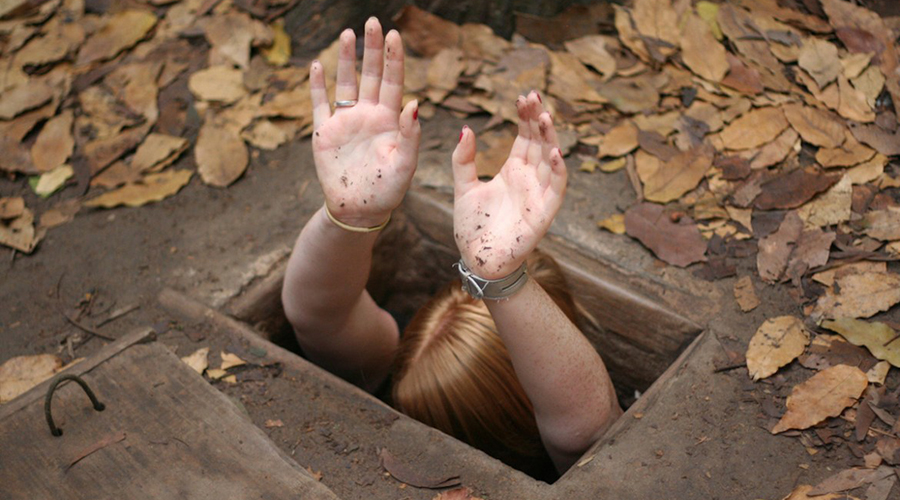 Underground conference rooms, visitors may enjoy a simple meal of food that Viet Cong fighters would have eaten.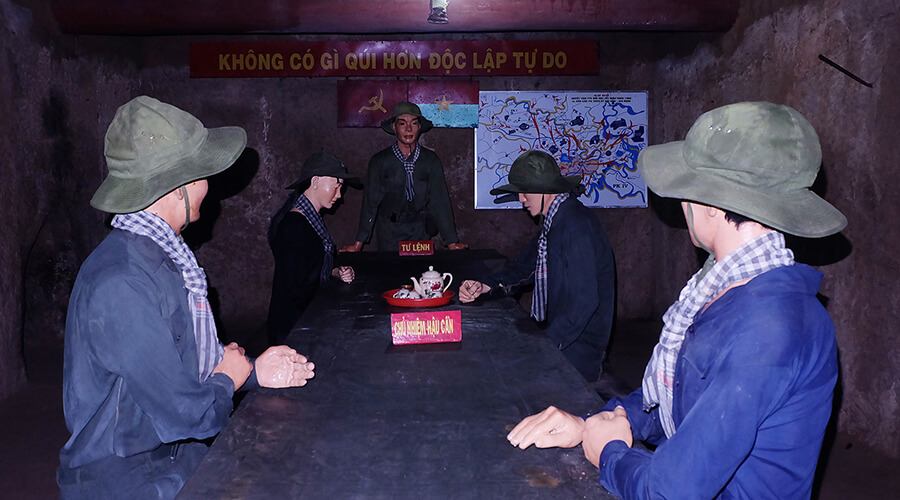 Above-ground attractions include caged monkeys, vendors selling souvenirs. Visitors can fire a number of assault rifles, such as the M16 rifle or AK-47, as well as a light machine gun like the M60 at shooting range.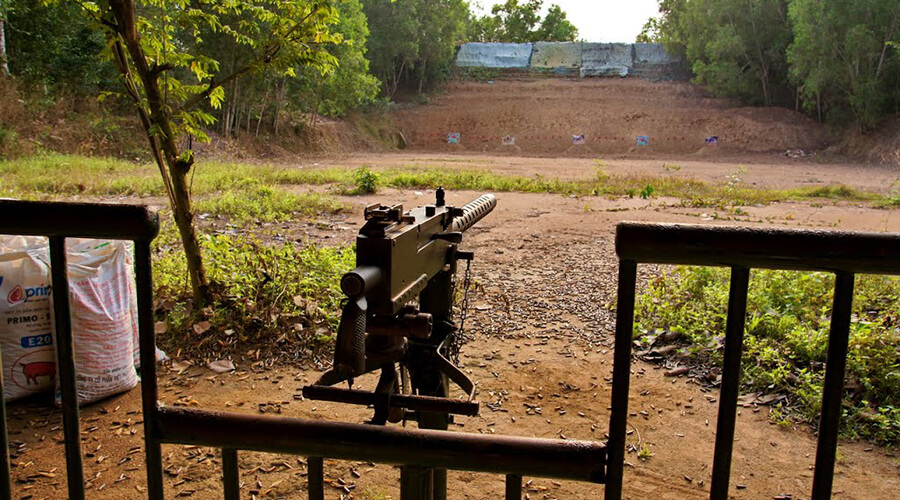 Cu Chi tunnel has been preserved as war memorial park. It's divided into two different tunnel display sites: Ben Dinh and Ben Duoc.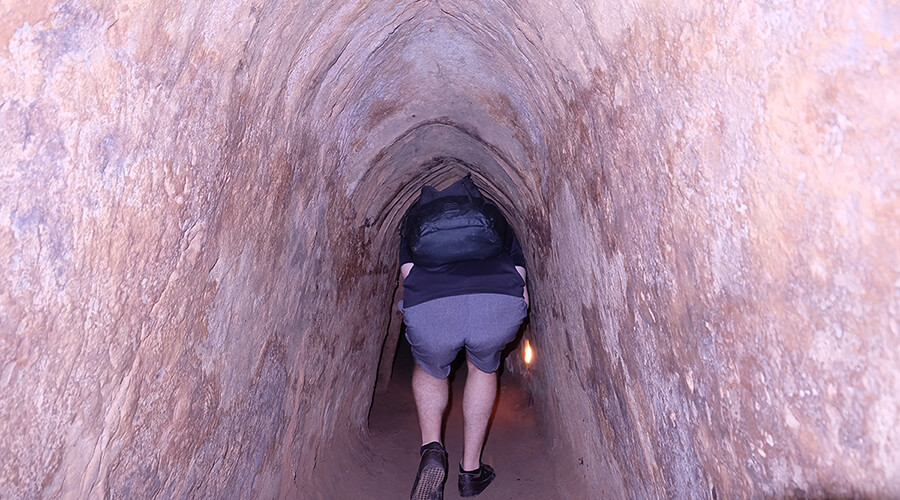 The Ben Duoc site contains part of the original tunnel system. Meanwhile the Ben Dinh site, closer to Saigon, has tunnel reconstructions and some tunnels have been made larger to accommodate tourists. In both sites low-power lights have been installed in the tunnels to make traveling through them easier. Also, both sites have displays of the different types of booby traps that were used. The tunnels are a popular tourist attraction, and visitors are invited to crawl around in the safer parts of the tunnel system.
How to Get to the Cu Chi Tunnels from Ho Chi Minh?
1. Visit the tunnels by motorbike or rental car.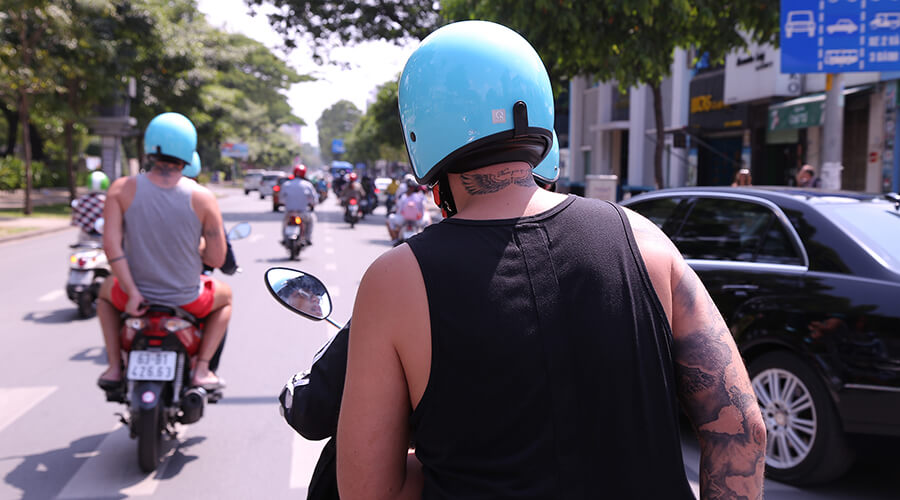 You can rent a motorcycle or hire a car with driver to the Cu Chi tunnels from Ho Chi Minh. It takes around one and a half hours to reach the tunnels at Ben Dinh and about 2 hours to Ben Duoc. By this way, you are not only visiting the tunnels but also enjoy authentic lifestyle and wonderful scenery along the way.
Do you want to visit Cu Chi for full day with motorbike and a tour guide? Click here to book it now.
2. Visit Cu Chi by bus.
Most the tours are offered by travel agents in Ho Chi Minh, they're running mainly half-day tours. You can choose to join with a big group (around 30 – 35 people in 1 gourp) or with smaller group (less than 15 people). Book it in here!!
3. Cu Chi Tunnels by speed boat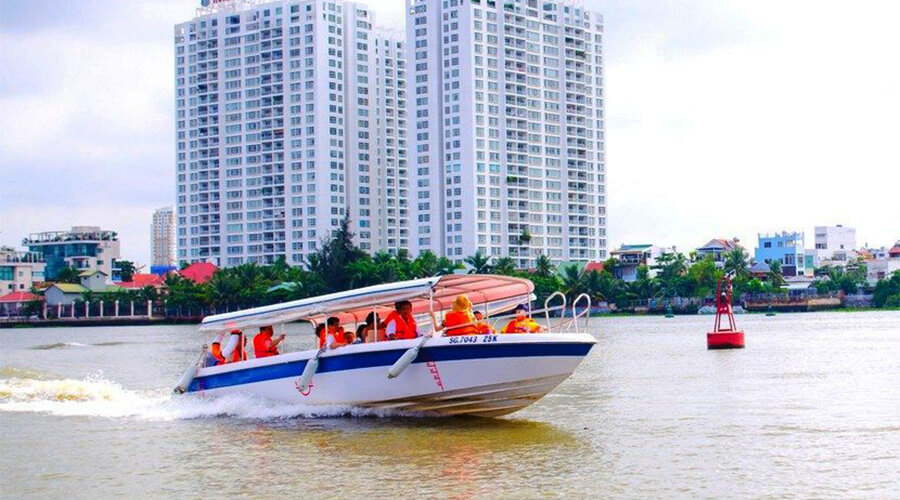 Cu Chi tunnels can be reached by waterway. Therefore, some companies are offering a trip to visit the tunnels by speedboat. And Les Rives is also another common name you hear that offer a full boat experience to the Cu Chi tunnels.
Open time and entrance fees:
Both Ben Dinh and Ben Duoc entrances have the same operating hours, however, they have different entrance fees.
Opening hours: 8 AM to 17 PM every day, including the weekend, Vietnam Public Holidays.
Entrance ticket:
Ben Dinh: 110,000 VND/person
Ben Duoc: 90,000 VND/person
After all, the Cu Chi tunnels is one of the most attractive tourist destination, especially during educational trip or family trip to Vietnam. If you have any questions about Vietnam tourism, do not hesitate to contact us at:
Office number: (028) 3838 8322
Hotline/SMS/Whatsapp/Viber/Zalo (+84) 902 795 056 – (+84) 918 709 338
Best regards,
---