The museum plays a major role in the preservation of art, artifacts, valuable objects of the country. It helps you learn about the history, culture and the wars of Vietnam.
Using these details, we've created a list of the most visited museums in Vietnam, counting down from ten until crowning a winner.
1. Ho Chi Minh Museum – Ha Noi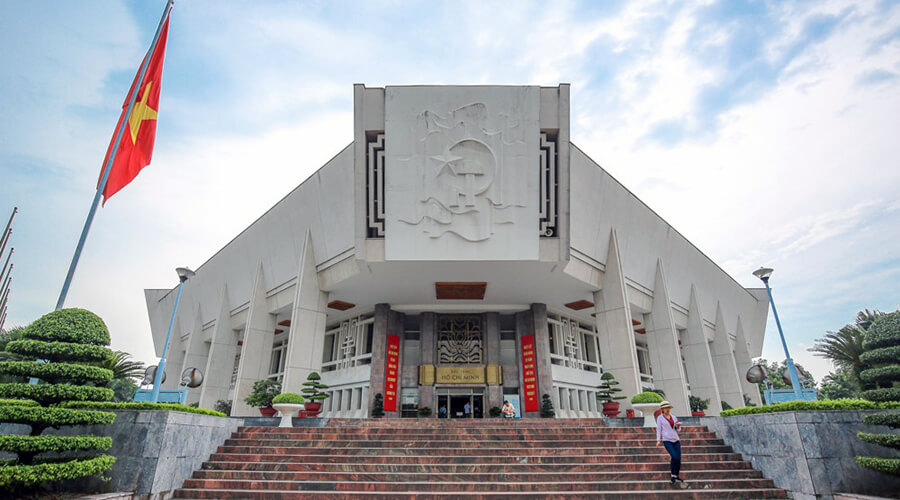 Ho Chi Minh Museum of Ha Noi is one of the most attractive museums in Vietnam. It's located near President Ho Chi Minh's Mausoleum. It was completed ion 19 May 1990 for the 100th anniversary of President Ho Chi Minh's birthday. The museum is a four-story building covering a total area of 11,000 m2 and designed in the shape of a lotus flower as a symbol of President Ho's noble character.
The main showroom displays nearly 12,000 documents, articles, pictures and exhibits illustrating the historical events that took place during President Ho Chi Minh's life, as well as important events that occurred in the rest of the world since the end of the 19th century. The museum has another rooms such as a library, a large hall, meeting rooms, and research rooms.
Address: 19 Ngoc Ha, Đoi Can, Ba Đinh, Ha Noi.
Opening time: 8:00 AM to 12:00 AM and 14:00 PM to 16:30 PM
2. Viet Nam National Museum of History
 – Ha Noi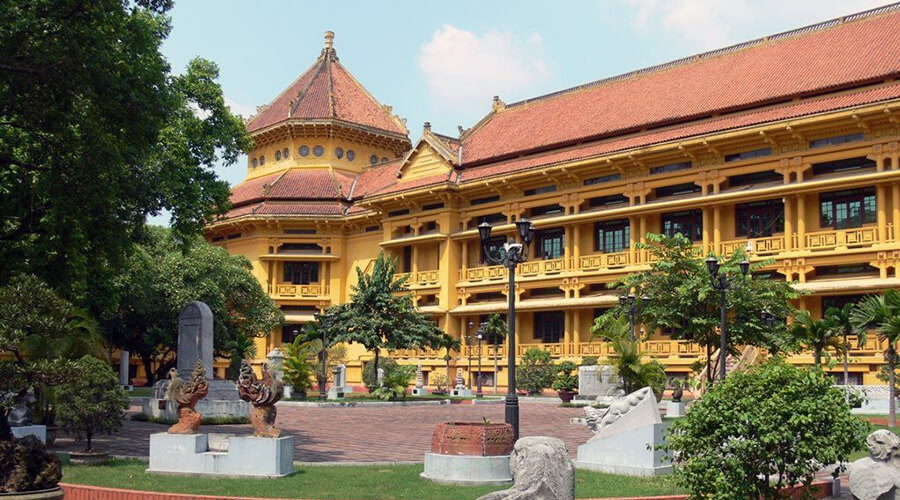 The national museum of history in Ha Noi was founded on 26 September 2011 on the basis of merging Viet Nam History Museum and Revolution Museum. The museum displays and introduces plenty of valuable objects, which reflect all the periods of Vietnamese history.
The museum consists 200.000 documents and artifacts displayed on an area of 4,000 m2. Also, it divided two main exhibitions: the exhibition about Vietnamese history from Prehistoric age to August Revolution 1945 at 01 Trang Tien Street and the exhibition about Vietnamese history from 19th century to present at 216 Tran Quang Khai street.
Address: 1 Trang Tien, Phan Chu Trinh, Hoan Kiem, Ha Noi.
Opening time: 8:00 AM to 12:00 AM and 14:00 PM to 16:30 PM
3. Viet Nam Women's Museum – Ha Noi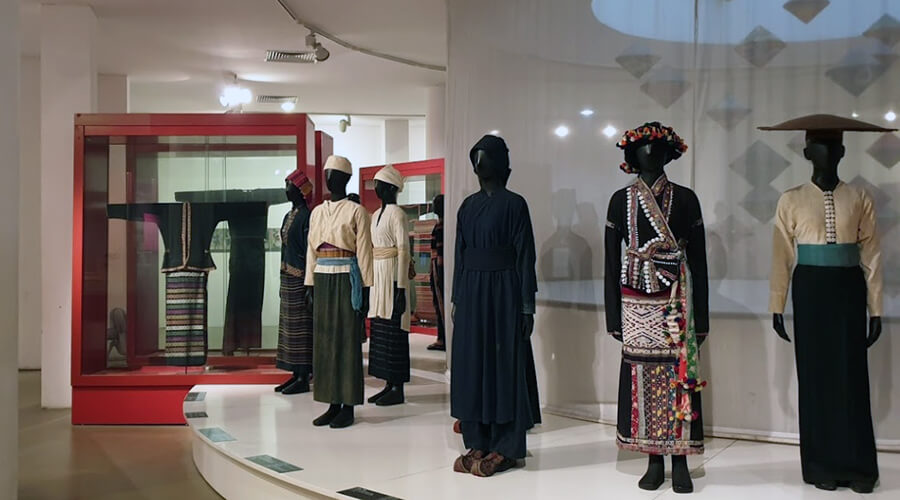 Viet Nam Women's Museum is located in the center of Ha Noi. Just 500m south of Hoan Kiem Lake. The museum is dedicated to researching, collecting and exhibiting the life stories and activities of Vietnamese women.
The museum contains three main thematic galleries:
Women in Family
Women in History
Women's Fashion
On display are more than 1,000 objects and photographs from the ceremonial items and exquisite clothing to personal keepsakes and documents of war. Through exhibitions and activities, visitors can explore the roles of Vietnamese women in contemporary society and their great contributions throughout the country's history.
The Women's museum also hosts a regular series of temporary and special exhibitions. Younger visitors can take part in activities in the Discovery Room, while everyone can browse unique handmade souvenirs in the Museum Shop.
Opening time: 8:00 Am – 17:00 Pm daily
Address: 36 Ly Thuong Kiet, Hang Bai, Hoan Kiem, Ha Noi
4. Viet Nam Museum of Ethnology – Ha Noi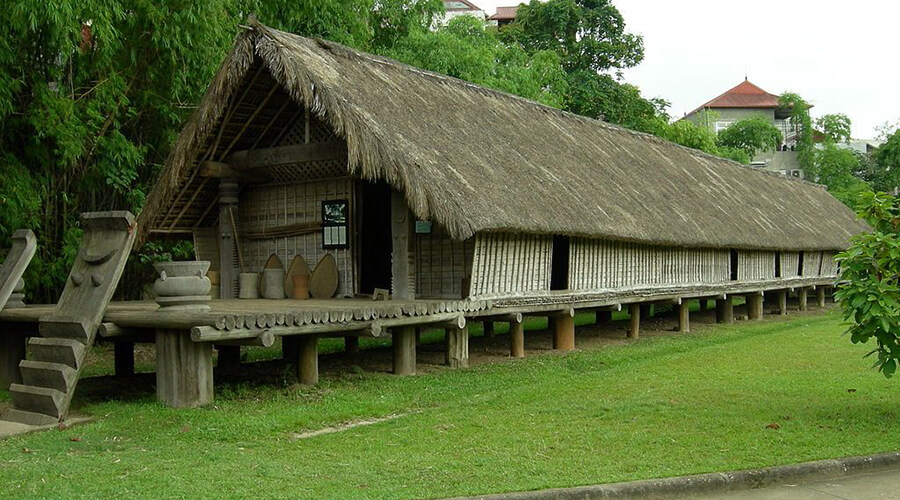 The museum of Ethnology in Ha Noi opened at the end of 1997. Since then, it has attracted the attention of visitors as well as ethnographers and researchers from all over the world.
It contains more than 15,000 objects, 42,000 black and white photos and hundreds of videotapes and cassettes which depict all aspects of life, activities, customs, and habits of the 54 ethnic groups of Viet Nam. Visitors have the opportunity to admire costumes, embroidery as well as outside stilt houses and habits from the different groups.
Besides, the museum often organizes the craft and folk culture performances of ethnic groups of Viet Nam.
Opening time: 8:30 Am – 17:30 Pm (except Mondays and Lunar New Year).
Address: Nguyen Van Huyen, Quan Hoa, Cau Giay, Ha Noi
5. Royal Fine Arts Museum – Hue city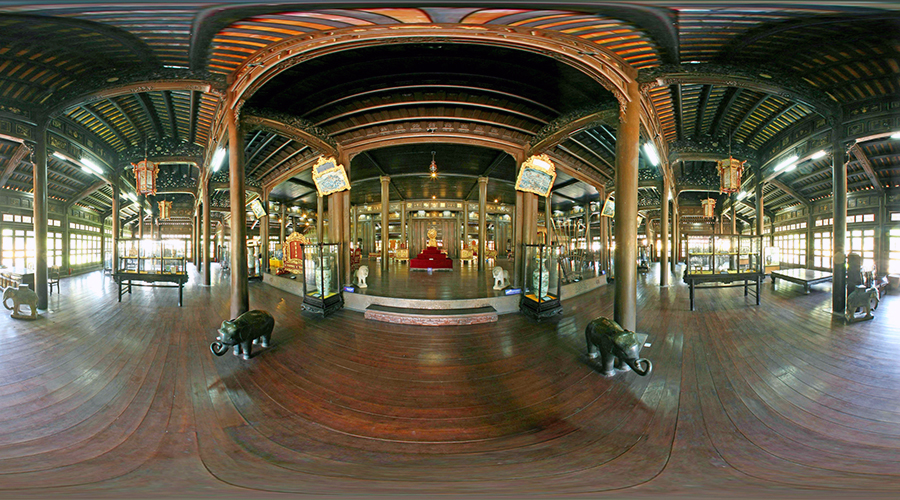 The Royal Fine Arts museum located in the former imperial capital of Hue – Long An palace. The palace includes 128 pillars. At this time, artifacts display up to 10.000 objects. It is made from all kinds of material such as gold, silver, stone, wood, leather, paper, royal clothes, poem, silver products as well as the Emperor's personal objects, and is entirely dedicated to the Nguyen Dynasty.
Opening time: 7:00 Am – 17:30 Pm
Address: 03 Le Truc, Phu Hau, Hue city.
6. Museum of Cham Sculpture – Da Nang city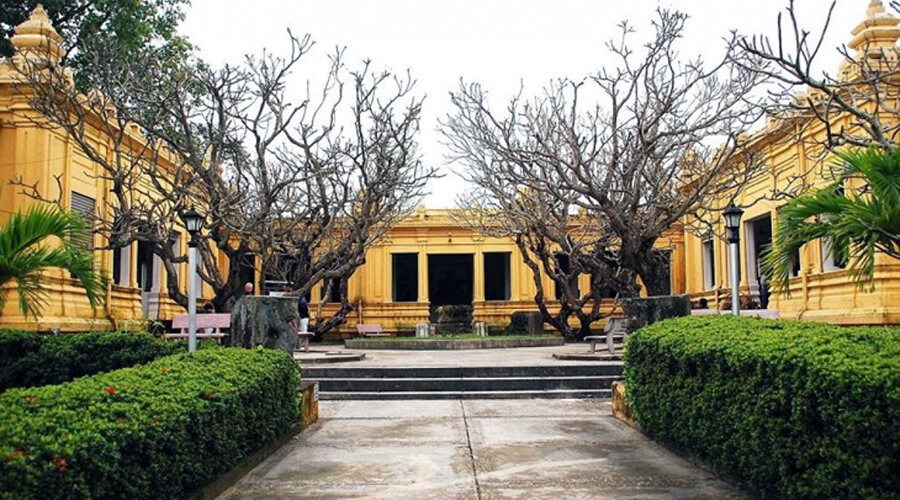 The museum built in 1915 under the sponsorship of the French School. It based in the Da Nang region which was the seat of the old Champa Kingdom. It conserves the last collection of Champa sculpture art in Vietnam. Its architecture bears the features of Cham architecture. It boasts a row of showrooms white in color with simple yet graceful decorations. The museum exhibits 300 original sandstone sculptures and some baked clay products collected from the temples and towers that lie scattered from Quang Binh to Binh Thuan in the Central.
The exhibits are statues, embossments, images, and patterns displayed in 10 rooms named after the places where they were found.
The compound of the museum blends harmoniously with the local landscape which gives visitors a chance to relax and feel immersed in the golden past of Cham civilization.
Opening time: 7:00 Am – 17:30 Pm daily
Address: 02 2 Thang 9, Binh Hien, Hai Chau, Đa Nang
7. Oceanographic Museum – Nha Trang city
The Oceanographic museum established in 1923, it was also the first center for scientific research in Viet Nam and is an important location for tropical oceanographic research. Visitors will have a chance to visit the Marin Creature Museum, which shows more than 80,000 sea and freshwater specimens, as well as living creatures that are kept in glass tanks.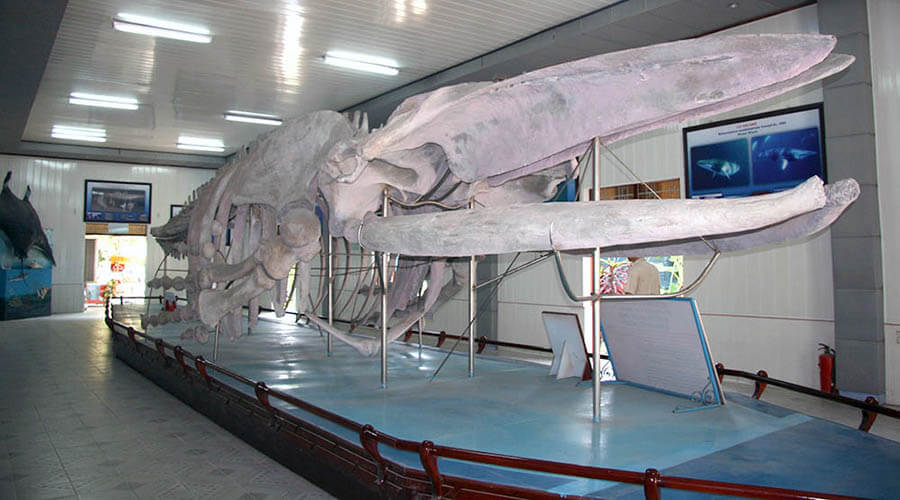 Address: 1 Cau Da St, Nha Trang city
Opening time: 6:00 Am – 18:00 Pm daily
8. War Remnants Museum – Ho Chi Minh city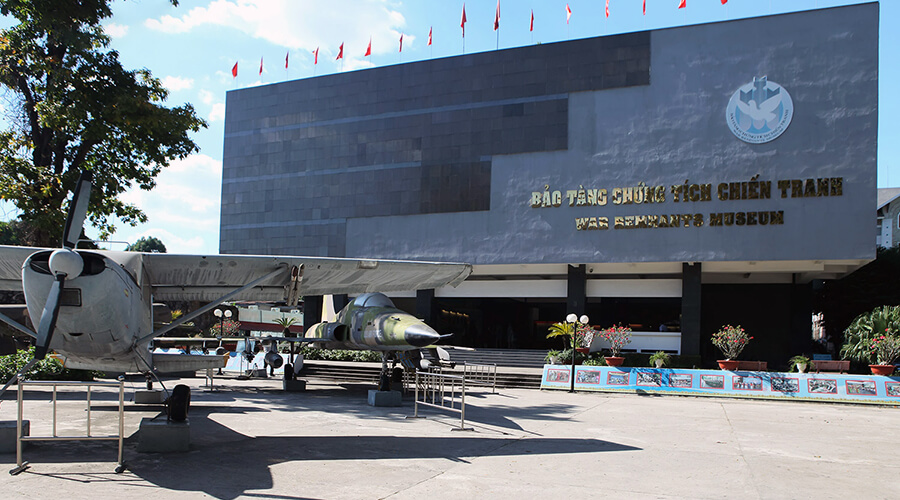 The museum displays shocking evidence of atrocity committed by the foreign aggressors during Viet Nam's two national liberation wars. There is a collection of American weapons and more impressive is a French guillotine sent to Viet Nam in the early 19th century, a model of the notorious tiger cages of keeping Vietnamese revolutionaries.
Opening time: 7:30 Am – 12:00 Pm and 13:30 Pm – 17:00 Pm daily
Address: 28 Vo Van Tan street, District 3, Ho Chi Minh city.
9. Viet Nam History Museum – Ho Chi Minh City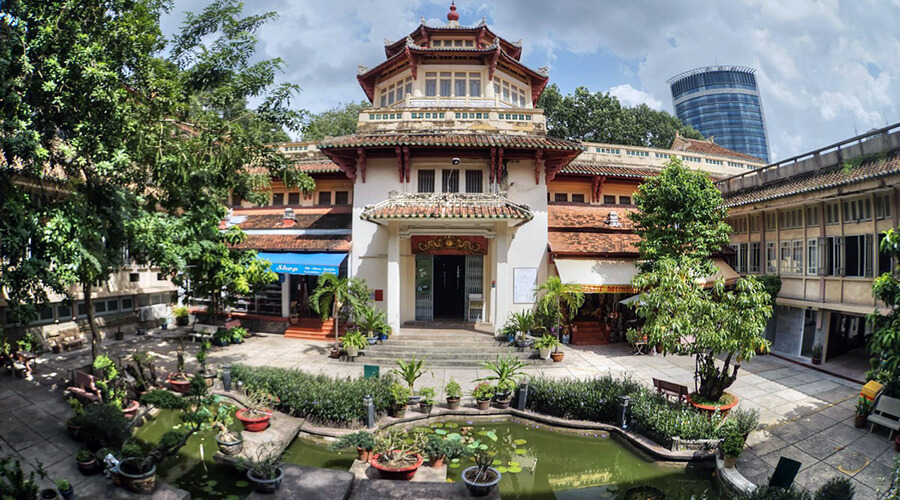 The museum was build in 1929 and was called Musee Blanchard de la Bosse until 1956. It was the first and the largest museum in this city. During that period, the museum had different exhibits on ancient Asian art. In 1956, the museum was renamed Sai Gon National Museum and finally, in 1979, it became Viet Nam History Museum.
Over 10 thousand objects and documents, 21 showrooms are presented in the museum. It's divided into 2 parts. Part 1 introduces Viet Nam history from ancient times (approximately 300,000 years ago) up to the 1930s. Part 2 is displaying characteristics of the Southern area of Vietnam. Besides, the museum also has a stores system to keep and preserve many artifacts.
Address: 2 Nguyen Binh Khiem Street, Ben Nghe Ward, District 1, Ho Chi Minh City
Opening time: 8:00 AM to 11:00 AM and 13:30 PM to 16:30 PM, daily except for Monday.
10. Ho Chi Minh Museum –
 

Dragon House Wharf (Ho Chi Minh city)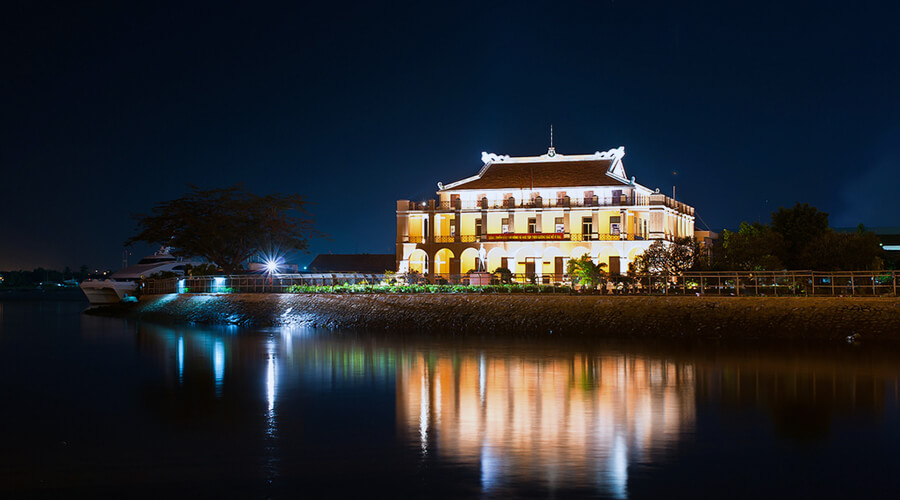 Dragon House Wharf, formerly know as Nha Rong, was build in 1863 by local material and European materials. It consists of 2 parts according to the European architectural style but the roof made by Orient style, head horse-shaped, anchor and two dragon-shaped symbols on the top of the building. Later, the name "Dragon House" was taken. The name Ho Chi Minh museum was changed in September 1979 branch in Ho Chi Minh.
From this area, the young man Nguyen Tat Thanh (later became President Ho Chi Minh) set sail on a French ship named Admiral Latouche Treville in June 1911 to serve the country.
The museum has a collection of 3,000 pictures, 700 artifacts, 11,600 documents, 3300 books relating to President Ho Chi Minh – a wondrous life that has inspired millions of people around the world.
Address: 1 Nguyen Tat Thanh Street, District 4.
Opening time: 8:00 AM to 11:00 AM and 13:30 PM to 16:30 PM, daily except for Monday
Warmest Greetings To All from Viet Dream Travel! We offer Vietnam tours (daily and package tours), visa services, and transfer services throughout the country. Let us have a chance to show you Vietnam to the fullest. If you have any questions about Vietnam tourism, do not hesitate to contact us.
Call/SMS/Whatsaap/Viber/Zalo (+84) 902 795 056 – 918 709 338
Or info@vietdreamtravel.vn – visa@vietdreamtravel.vn
Best regards,
---