Located in the southwestern of Vietnam, the Mekong delta region encompasses a large portion of over 40,500 square kilometres. The size of the area criss-crossed by a dense network of canals. The area is home to large numbers of rice fields, fruit orchards, wild animal species which create the most impressive views for those who interested in ecological tourism. The region comprises 13 provinces which a lot of tourist attractions. Therefore, on this post, Viet Dream Travel would like to show you some of the Mekong Delta tours and places that you should visit to this lovely land.
1. Floating markets.
Floating markets have existed in Vietnam for hundreds of years and have become crucial part of daily life in the Mekong Delta. Everyday, there are a hundred boats filled with fruits, vegetables, and other products are anchored along the banks of the river from 4am. Not only trading activities take place on boats but also there are some people the boats as their own house. Visitors can see the goods hang on the poles at the boat prow. Other food services also take place in boats.
Here are some of the most famous floating markets that you should visit:
Floating markets in Can Tho city: Cai Rang & Phong Dien market.
Cai Be floating market in Tien Giang
Phung Hiep (Nga Bay) floating market in Hau Giang
2. Tourist gardens
With a network of canals and rivers, a series of local orchards have appeared on every land and water route in the Mekong delta. Visiting the orchards, visitors have the opportunity to promenade of star apple, mango, purple mangosteen, durian, jackfruit, banana, longan, orange, tangerine ect., go fishing and taste Southern fresh fruits and specialties.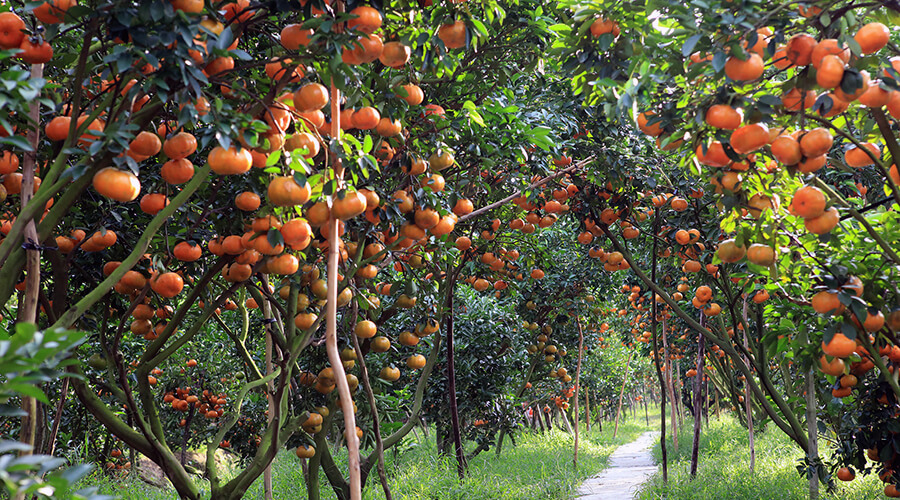 Some of the tourist gardens that you should not forget:
My Khanh garden in Can Tho
Cai Mon orchards in Ben Tre
Vinh Kim orchards in Tien Giang
Cai Be orchards in Tien Giang
An Binh islet in Vinh Long
…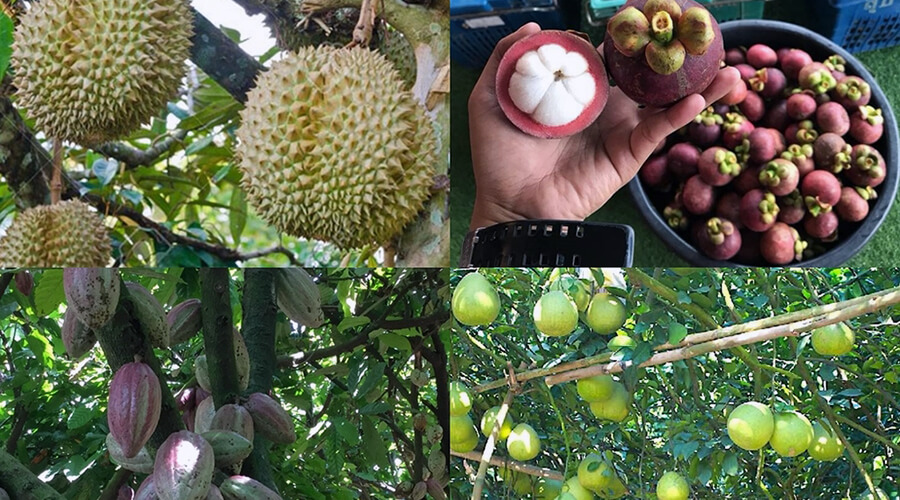 3. Tourist islands/islets and handicraft villages.
There are many islets and islets became tourist attraction in the delta. These areas feature traditional houses inhabited by many generations, gardens with fruit trees. By visiting these islands, visitors have many exciting experiences such as row in a sampan along small canals under the green canopy of water coconut trees, observing daily activities of local people, admiring facilities producing handicraft products or cycling around the islets/islands …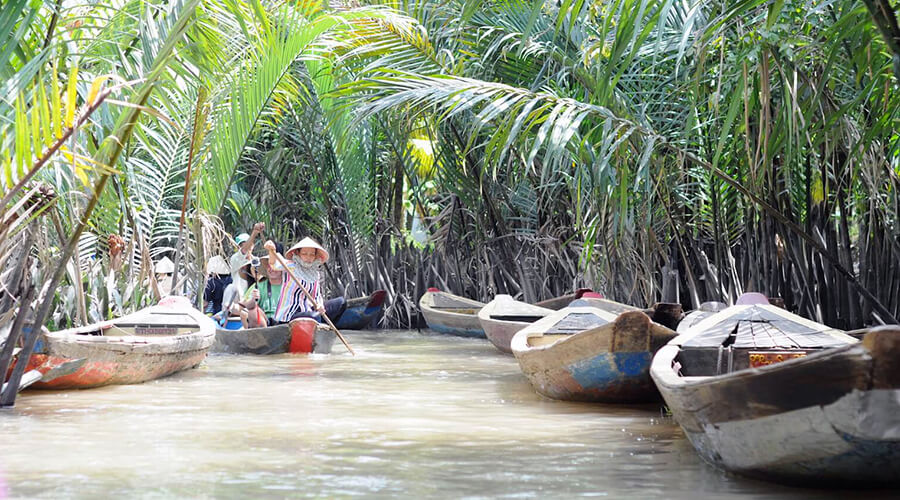 Here are some of the islands/islets that attracting many visitors: 
Thoi Son island in Tien Giang

 

Con Phung islet in Ben Tre
An Binh and Binh Hoa Phuoc islands in Vinh Long
Besides these islets/islands, there is another one located in the Gulf of Thai Lan, considered as a "Pearl of the Southern sea area". It is Phu Quoc island. This island is the largest one in Vietnam. It endowed with splendid landscapes and surrounded by the coastline. The island is a fantastic destination for tourists as it offers a wide range of activities such as relaxing, camping and trekking. 
4. Eco-tourism parks and tourist areas
Coming heres, visitors have opportunities to join many recreation and entertainment activities. Also most of them are decorated with charming scenery, luxuriant orchards, variety of bonsai and flowers, birds and animals, fresh lakes and diversifying entertainment services such as fishing, saunter, enjoy traditional southern music, bird watching 
Here are some of the most famous tourist areas in Mekong delta:
Gao Giong Eco-toirism site in Dong Thap
Binh An tourist area in Soc Trang
My Khanh tourist area in Can Tho
Xeo Quyt in Dong Thap
5. Sanctuaries and national parks
Mekong Delta Is a home to thousands of storks, herons, bats, many other types of birds, plant species,  reptiles, mammals ect. many of them are considered rare and endangered species. It would be wonderful to get a view of thousand bird flying off to the sky in search of food at dawn and their returning to the nests as the sun is descending behind the forest. you may find yourselves get lost in the world of birds with various shapes and sounds. Such an admiring visit could be combined with a trip by motorized boats to go through a network of canals to learn the customs and habit of local residents.
Some sanctuaries and national parks you should visit:
Vam Ho bird Sanctuary in Ben Tre
Tram Chim national park in Dong Thap
Tan Long Stork Sanctuary in Soc Trang
U Minh Thuong National park in Kien Giang
Bac Lieu bird Sanctuary in Bac Lieu
Ngoc Hien bird Sanctuary and Mui Ca Mau national park in Ca Mau
Tra Su cajuput forest
Mekong Delta specialties
Besides fruits,, it quite easy for you to try many specialties are provided, such as snakes, crocodiles, turtles, turtles, shrimp, fish, crabs, shackles … and all kinds of birds.
Mekong Delta tour is not only for discovering the beauty of nature and culture of local people, but also for enjoying the unique cuisine of this region. Some must-try dishes are:
Coconut worm
Grilled snakehead fish
Tortoise grilled on salt
Tortoise steam with citronella
Snakehead fish soup
Crab fried with tamarind
Hotpot sauce
Fish paste hotpot
Grilled rat
Pancake
Fish soup cooked with dien dien flower
Braise anabas
Crab rice noodles or soup
Fish cooked with fishsauce bowl
Shrimp cooked with caramel
Some daily Mekong Delta tours of Viet Dream Travel
Mekong Delta river has a lot of interesting things to do so if you have the opportunity, don't hesitate to visit this place once. Viet Dream Travel is organizing daily group tours, package tours…to visit this area. We have from 1 day to 4 days tour to explore the Mekong Delta that depart in everyday.
Click here to see our daily Mekong delta group tours
 You can book for scheduled tours or we will design them according to your needs and preferences. If you have any specific requirement on traveling tours to Mekong Delta or any other tourist destination in Vietnam, you can contact Viet Dream Travel Call Center at 00 (+84) 2838388322 or 0902 790 506 & email: info@vietdreamtravel.co.uk – info@vietdreamtravel.vn. Our enthusiastic and professional tourist consultants are always ready to answer all of your questions.
---