Tra Vinh is famous for the unique pagodas of the Khmer people here. Among them, Vam Ray Pagoda was rebuilt from the foundation of an old temple more than 600 years old that was destroyed during the war. Although newly rebuilt, it still carries the ancient and traditional features of Khmer Theravada Buddhism.
General information about Vam Ray Pagoda
Vam Ray Pagoda is built on a large area located in Vam Ray hamlet, Ham Tan commune, Tra Cu district, Tra Vinh province. The pagoda is located about 41km from Tra Vinh city center or around 170 km from Ho Chi Minh city, therefore, the best way to visit the pagoda is renting a private car with a driver to get here.
The pagoda possesses a majestic and splendid space, along with a long-standing ancient architecture, associated with the tradition of Southern Khmer Buddhism. Up to now, it is considered one of the largest pagoda and possesses the most beautiful architecture among the temples of the Khmer ethnic group.
Besides, Vam Ray Pagoda also owns a statue of Shakyamuni Buddha with a length of about 54m, a height of 20m, a width of 16m, and is covered with a layer of gold cardigan. Every year, the pagoda welcomes a large number of tourists from all over to pray as well as explore the beauty of this pagoda.
The most ideal time f to visit Vam Ray Pagoda is during the major festival seasons of the Khmer ethnic people. Typically, the New Year festival Chol Chnam Thmay (April every year), Dolta grandparents worshiping ceremony (September every year), and Ok Om Bok – full moon festival (full moon day of the 10th lunar month every year). Visiting the pagoda at these times will create favorable conditions for you to immerse yourself as well as discover the cultural festival of the Khmer people.
Vam Ray Pagoda is open to serve tourists for sightseeing and pilgrimage from 7:00 a.m. to 19:00 p.m. every day. In addition, when visiting the pagoda, you will not need to pay any entrance fee. Therefore, you can choose suitable time frames to visit Vam Ray Pagoda anytime you want.
What's special at Vam Ray Pagoda?
Vam Ray Pagoda is famous for inheriting the typical Angkor style architecture of Khmer Cambodia. Stepping from the outside to the inside, you will see the pagoda shaped like a magnificent, splendid, and extremely magnificent gilded palace, accompanied by a layer of brilliant gold paint, combined with the Tam Quan gate follows the Asian style.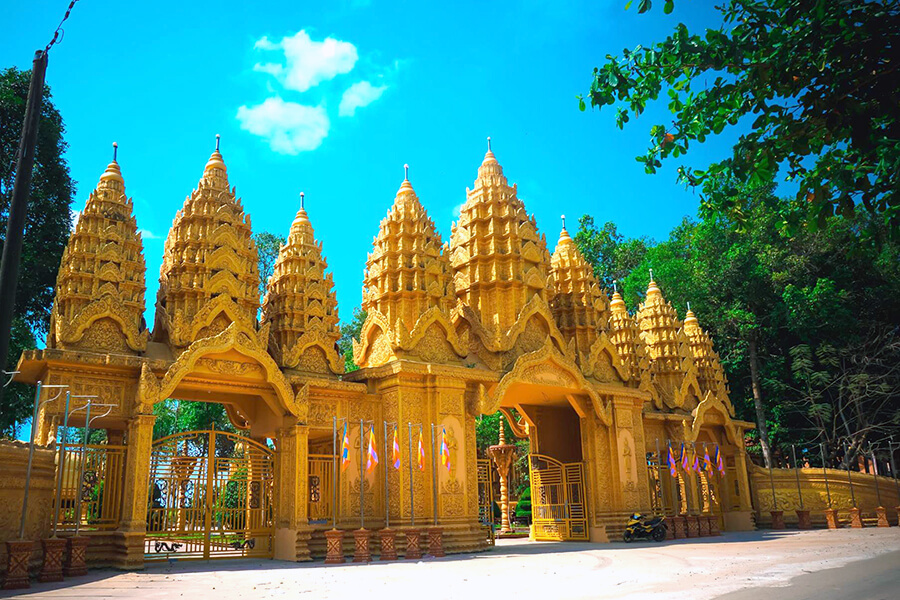 In addition, the grounds of Vam Ray Pagoda also possess a towering cylindrical column with the image of a 5-headed Naga snake, looking like bodyguards guarding and protecting the peace and purity of the pagoda. In addition, this pillar is also used to light candles on festivals, symbolizing that Buddhism enlightens humanity. This is a religious concept towards goodness of the Khmer people associated with the legend of snakes reforming evil.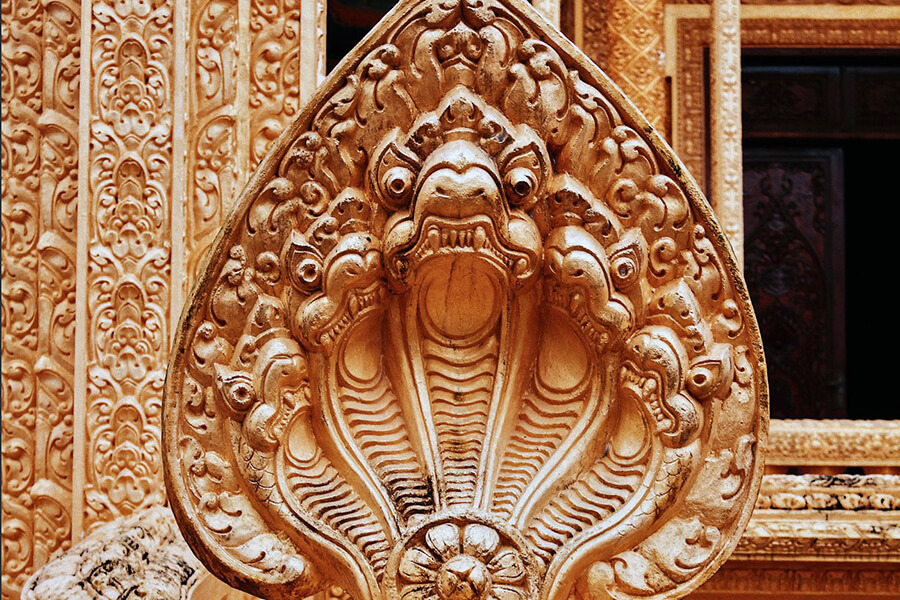 Not only that, coming to Vam Ray Pagoda, you will also have the opportunity to witness the statue of Shakyamuni Buddha in a lying position with a length of 54m and about 20m high. In addition, all Buddha statues are covered in a layer of golden ochre, creating grandeur for the entire illustrious pagoda.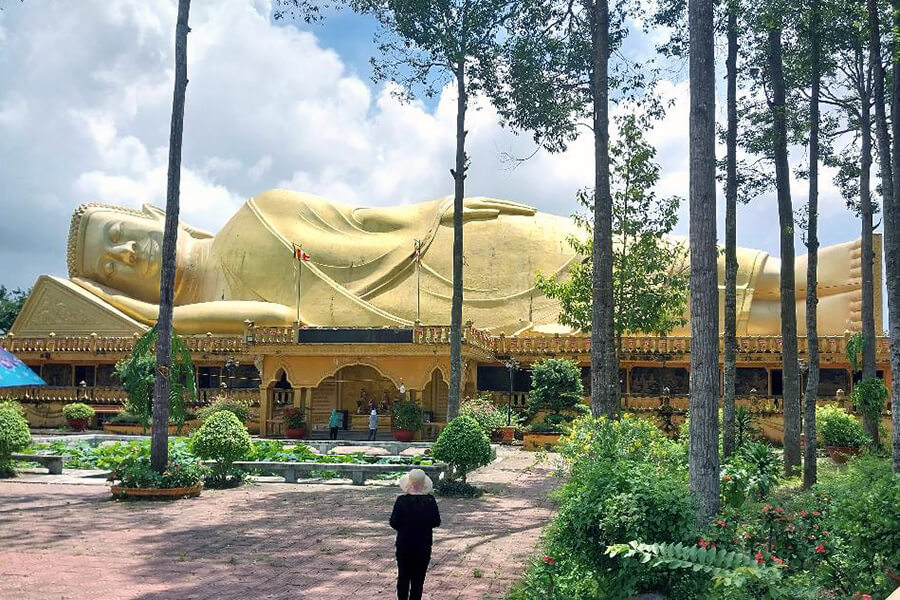 The most prominent thing at Vam Ray Pagoda is the main hall. This place is designed and carved with sophisticated patterns, bring a harmonious combination of outstanding pagoda architectural style and folk carving art, creating unique and ancient patterns.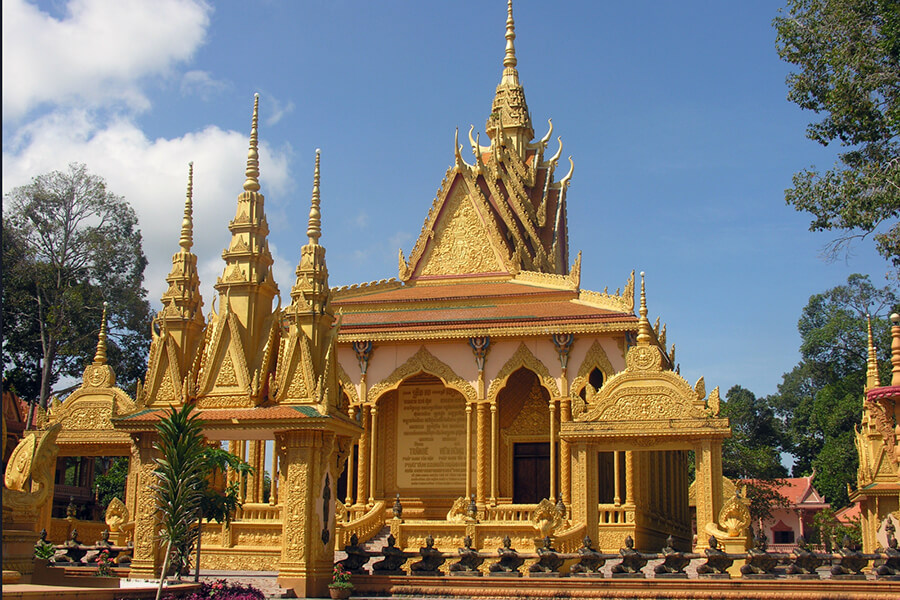 Besides, the area inside the main hall of Vam Ray Pagoda is also spacious and splendidly built with colorful reliefs in Khmer ethnic culture. These topics are mainly the process of going through the life of Buddha and Buddhist philosophies. In addition, the main hall space is quite large, designed with high ceilings, exuding elegant and cool beauty, bringing comfort to visitors as well as "believers" coming on pilgrimage, worship.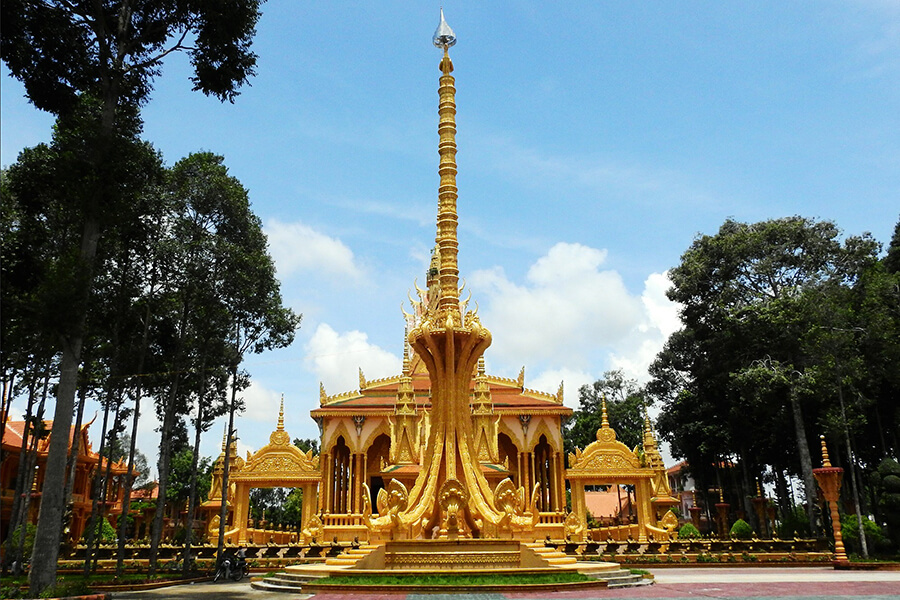 Useful information about Vam Ray Pagoda
---