Tan Thanh Beach is one of the favourite tourist destinations in Go Cong, Tien Giang province. With a long beach, fine white sand and clear blue sea water, Tan Thanh Beach has attracted many domestic and foreign tourists from all over to visit and enjoy the comfortable, colourful space of nature. If you are planning to visit Tan Thanh Beach, please join me in exploring this place through the information below.
Overview of Tan Thanh Beach 
Tan Thanh Beach, also known as Go Cong Beach, is located in Tan Thanh commune, Go Cong district, Tien Giang province, 50km from My Tho City, 70km from Ho Chi Minh City. It would be quite hard when you want to travel by motorbike or local bus, especially when you're going with a group or family members. Therefore, a private car with a driver to Tan Thanh Beach would be the best option. The beach stretches for 7 km along the Mekong Delta River, more than 300 meters here have been built with solid embankments to serve tourism. Although this place is not a very famous place and not many people choose to swim, it possesses its own special attraction.
The unique point is that the sand in Tan Thanh Beach Resort is not yellow like in other places but has a rare black colour. Besides, because it is located not too far from the centre of Ho Chi Minh City, this place is frequented by many tourists all year round, especially on weekends, holidays, and Tet to rest, enjoy, and relax. like enjoying seafood. It is most crowded during major seafood fishing seasons such as clam and crab season. In addition, what attracts tourists is the fresh seafood here is prepared very deliciously at affordable prices. 
What to do in Tan Thanh Beach?
If one day you feel bored or stuffy with city life, come to this tourist area to enjoy the peaceful space. A little sunshine, wind and interesting experiences will make you feel energized and forget your troubles.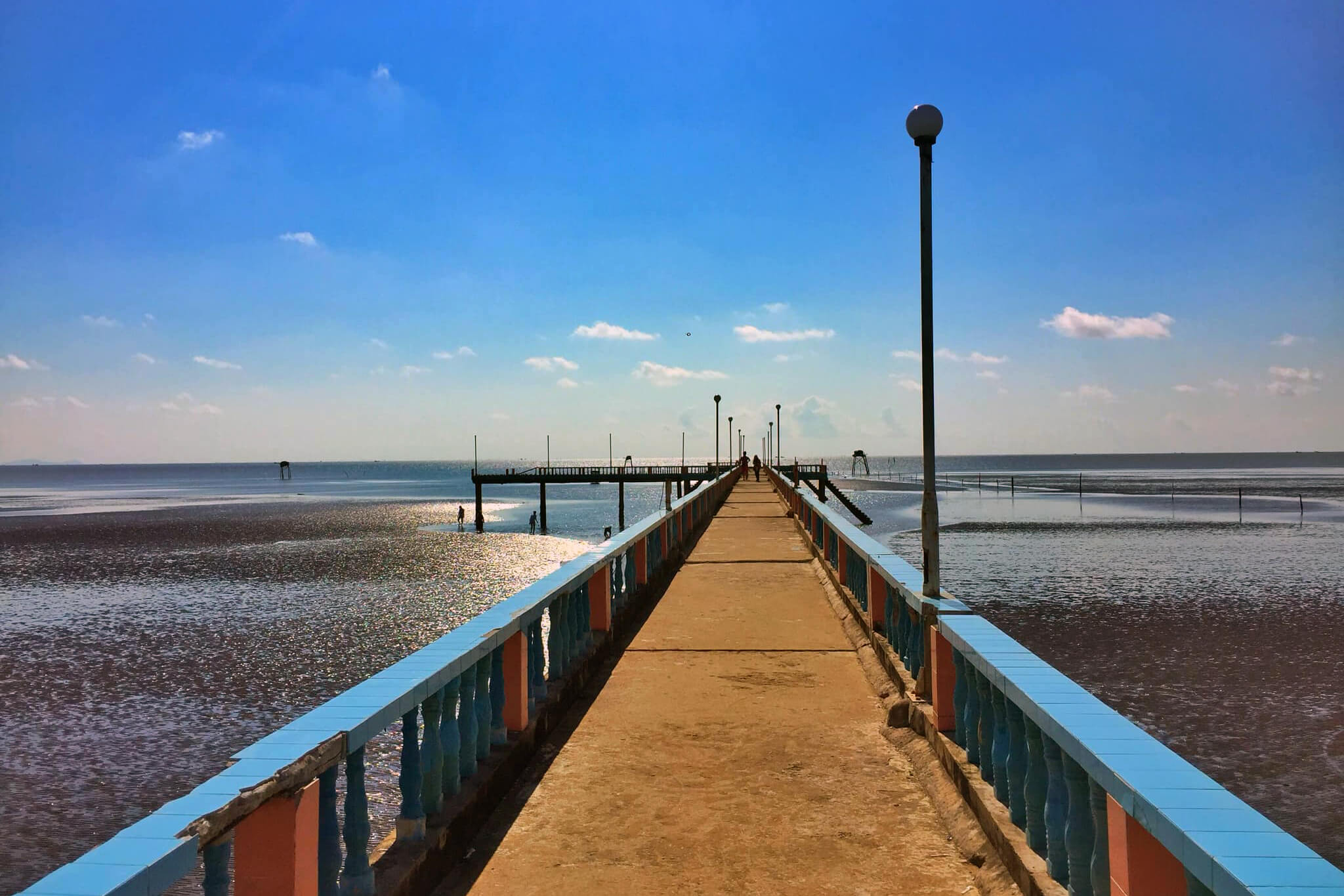 If you come to Tan Thanh Go Cong beach resort early in the morning, you will witness the enchanting moment of sunrise. The air is fresh and the sea breeze blows coolly. Let your bare feet walk on the sparkling silver-black sand to enjoy a moment of peace amidst the vast ocean.
If you take the time to linger until late afternoon, the sunset setting on the sea will give those who witness it a quiet moment, the beauty here truly makes you remember forever.
Due to the special water flow, clams in Tan Thanh Beach Resort have become extremely famous. Abundant in quantity, large and very sweet, the clams here are known to many people and they love to buy them to eat as fresh seafood. For tourists coming here, an interesting experience that many people love is participating in clam raking activities with local people. 
This job seems simple but it takes a lot of effort. With only simple rakes and the sand here is muddy, catching or raking clams for many first-timers will feel a bit difficult. However, when you bring home fresh finished products and enjoy your work, you will feel extremely worthy. And also an unforgettable memory that not everywhere can have.
Coming to Tan Thanh, you must definitely enjoy the calm specialities here. It is an extremely delicious and attractive dish. Not only famous for clams, coming to Tan Thanh Beach Resort you can also enjoy all kinds of fresh seafood. There are shrimp, crabs, fingernail snails, sweet snails, pineapple fish,… and especially the fatty, fragrant sea buckthorn dish famous in this sea. Just simply prepare it with salt, chilli and lemon or add a little spicy, sweet and spicy seasoning to create countless delicious dishes.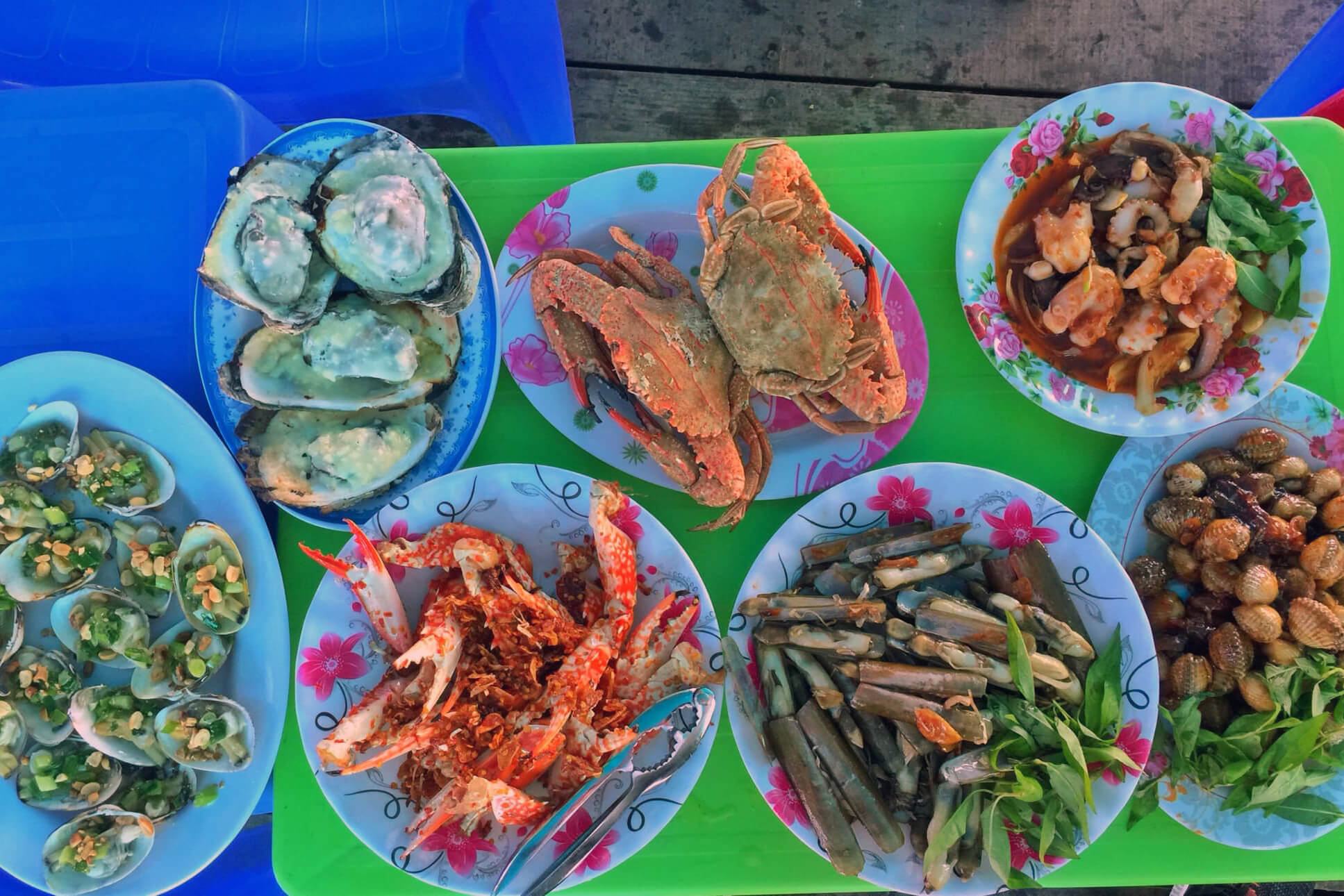 Viet Dream Travel specializes in operating Vietnam Beach tours, car rentals with drivers and Vietnam visa services. Please contact us if you need any of these services on your trip in this beautiful country.
---