That Phu Temple is one of the unique architectural works built by the Chinese in Vinh Long. The temple possesses ancient, sacred and extremely pure beauty. With its attractive beauty, That Phu temple deserves to be on the list of places to visit during your trip to Vinh Long.
General information of  That Phu Temple
That Phu Temple, also known as Phuc Kien Assembly Hall  or Vinh An Palace, is located at 22, Nguyen Chi Thanh Street, Ward 5, Vinh Long City. The name came from 7 region of China include Ningbo, Fuzhou, Zhangzhou, Quanzhou, Guangzhou, Chaozhou and Hainan Island. However, local people here often call it "Ong temple" as the main altar worship Mr. "Lord Guan", (Vietnamese language: Ong or "Ông" mean Mr, in respect).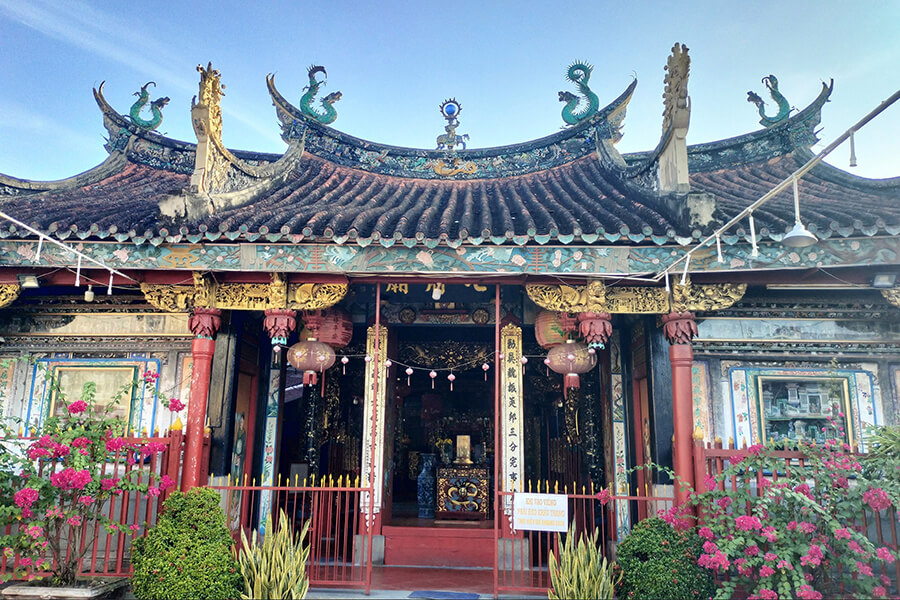 That Phu Temple – Ong temple is an architectural work in the style of the South China region, China, popular in the 19th century and before. The project was carried out by a group of talented workers from Fujian from 1892 to 1909, along with local workers in Tan Giai and Tan Nhon villages…
On January 25, 1994, That Phu Temple (Fujian Assembly Hall) in Vinh Long was recognized as a national historical and cultural relic of the architectural and artistic form. The temple has become a notable cultural, historical and artistic destination that tourists cannot help but visit when returning to Vinh Long.
Outstanding architectural of That Phu Temple in Vinh Long
That Phu Temple was built in the royal style, with five doors. The walls was painted of guarding gods. The entrance is three large doors, on either side perpendicularly are two narrower doors. Decorative images are ancient figures, statues, and scenes of folk activities; embossed with porcelain, pieces of cups, ceramics….Looking from the outside in, one can see the harmonious and balanced aesthetic.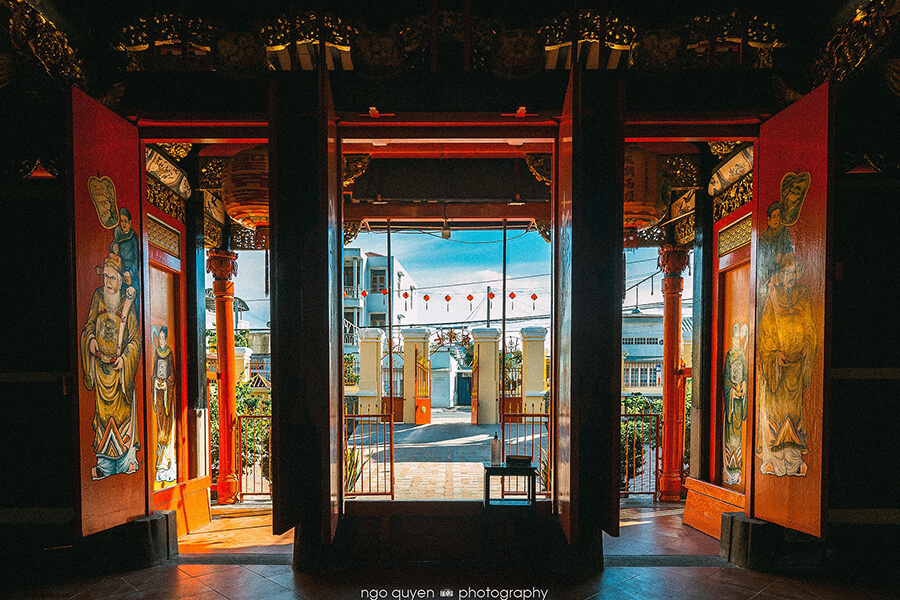 That Phu temple's roof is covered with yin and yang tiles. The base of the tiled roof is bordered with a special type of blue glazed tile. The curved tiled roof edges and the roof of the middle compartment are higher than the roofs of the two side compartments, all carved with dragons and phoenixes.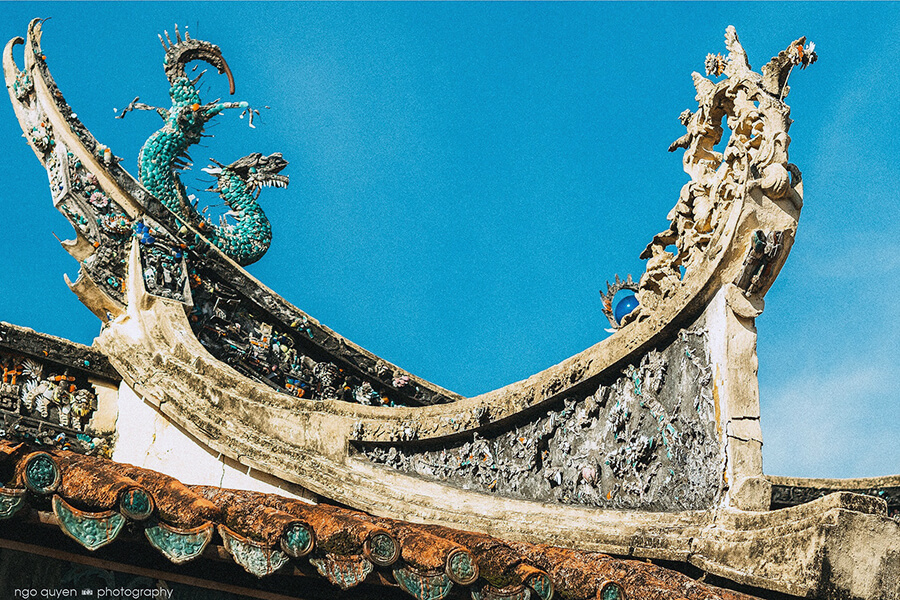 Inside That Phu Temple, there are three main altars, the middle altar is to worship Lord Guan, Guan Ping, Zhou Cang. The altar on the left worships Mazu – a Chinese sea goddess. On the right side worshiping Phuoc Duc Chanh Than – god of the earth and patron of the land… All the details inside That Phu temple from the columns, boards, brackets… are meticulously and elaborately made of good wood, beautifully carved and gilded follow style of Chinese.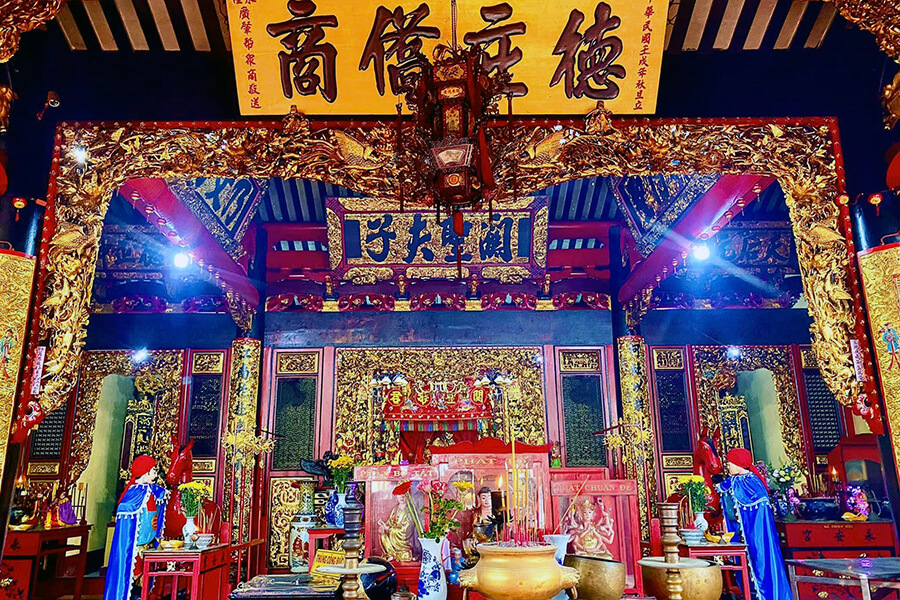 There are also altars of Avalokiteshvara Buddha, Shakyamuni Buddha,  Maitreya Buddha, Dharma Protector… they are of folk beliefs. The above mentioned worship statues are mostly made of wood, some are made of bronze and ceramic. Notably, among the preserved artifacts is a horizontal plaque which was exhibited at the fair of colonial countries in Marseille (France) in 1922, winning a Bronze Medal.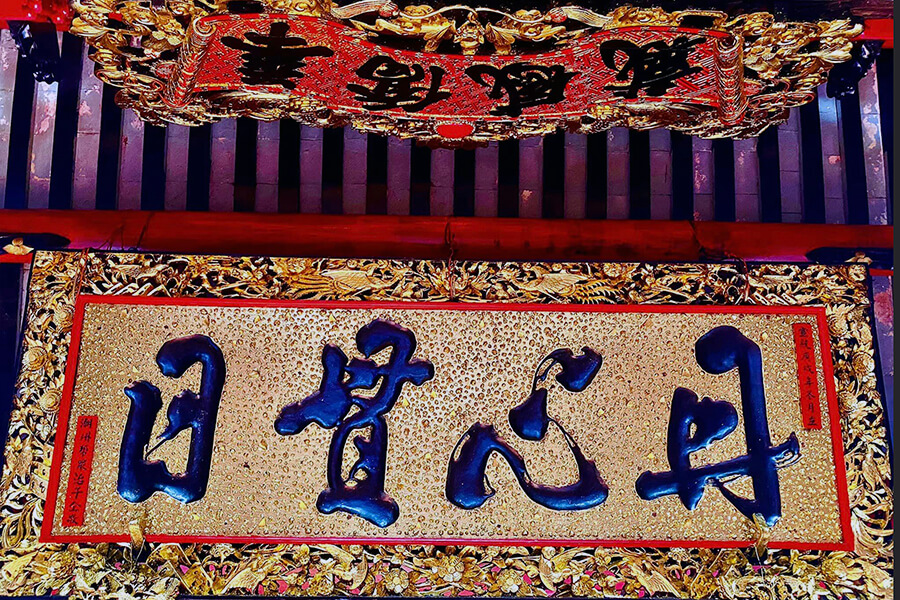 Every year, January 13 and May 13 (Lord Guan anniversary) and December 15, thousands of people, not only Chinese but also local Vietnamese, come to worship and take pictures with them. with works of Chinese-style art as souvenirs.
Useful information when visit That Phu Temple
Source: collect
---