There is an ancient Vietnamese Village located right next to Saigon called Phuoc Loc Tho Ancient Village. So what does Ancient Phuoc Loc Tho village have? How to get to Phuoc Loc Tho Ancient Village. Join us to explore this attractive Long An tourist destination.
Review of Phuoc Loc Tho ancient village
Phuoc Loc Tho ancient village is located at Hamlet 2, Huu Thanh Commune, Duc Hoa District, Long An Province with a total area of about 30,000m². There is a peaceful, quiet, poetic river flowing through here called Vam Co Dong, which has entered poetry, and history as it was a home to the Funan people of the ancient Oc Eo culture.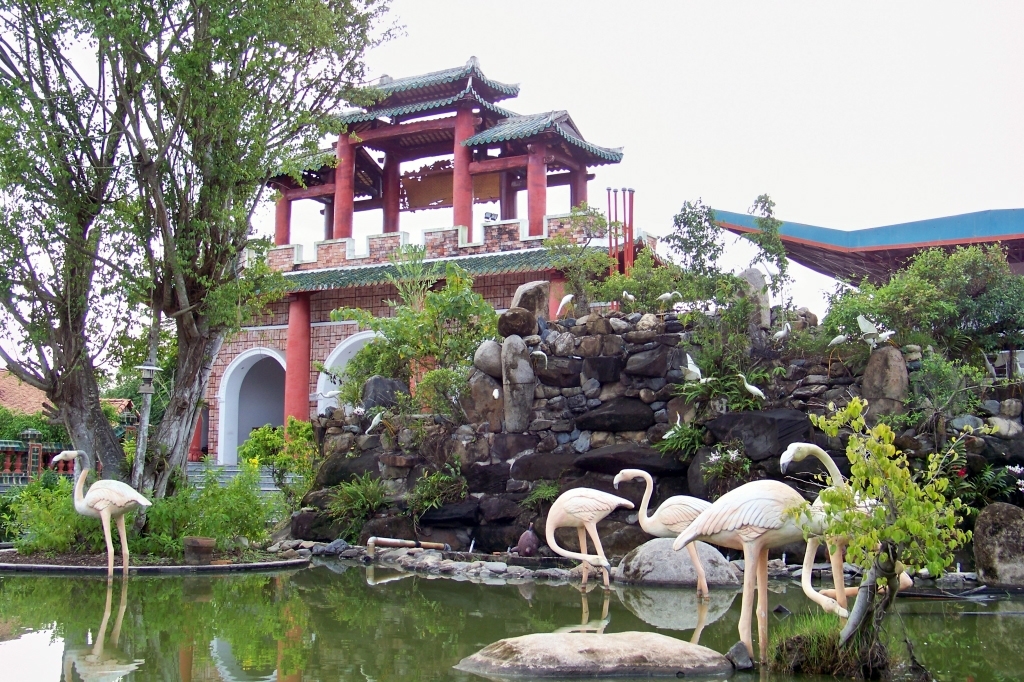 Coming to Phuoc Loc Tho ancient village, visitors not only have the opportunity to discover the hidden beauty of ancient houses but also have the opportunity to learn about Vietnamese culture in the Mekong Delta along the Vam Co river or the culture of the Vietnamese people. Ancient Oc Eo, enjoy the specialities of Long An and the river region, listen to folk songs, sweet and poignant folk songs… That's why, Phuoc Loc Tho ancient village always attracts visitors especially those who love ancient beauty, love Vietnamese folk architecture and are passionate about the art of photography.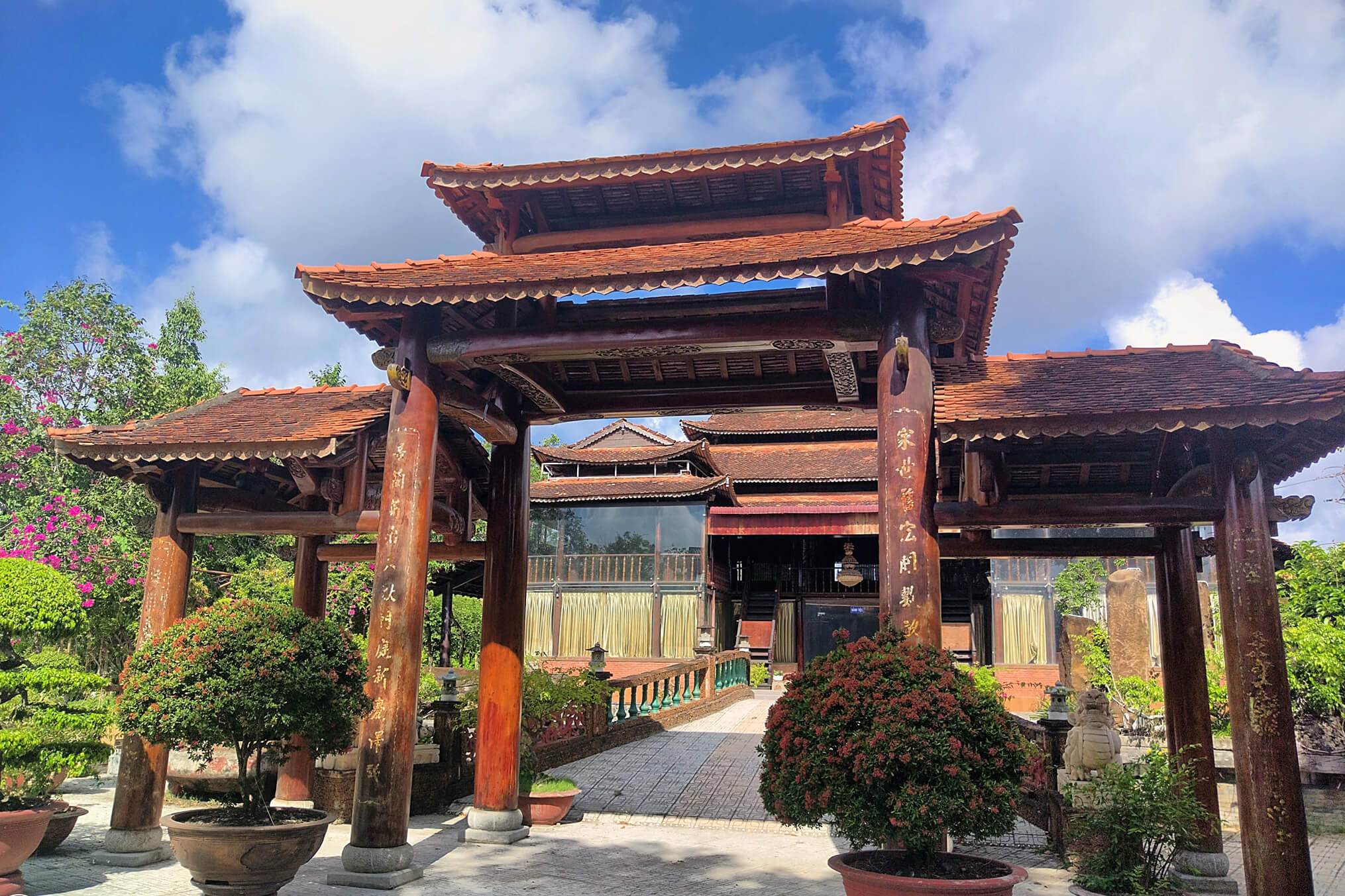 Currently, the ancient village of Phuoc Loc Tho has been preserved and restored almost intact, harmoniously arranged and methodically planned in a large space with landscaped hills, trees, and lakes. So when tourists come here, they always feel the fullness of the old soul. In 2012, Phuoc Loc Tho ancient village was recognized by the Vietnam Book of Records as the place that owns the most ancient wooden houses with the richest and most diverse patterns in Vietnam. The village has also been recognized by the Department of Culture, Sports and Tourism of Long An province as a tourist destination and is open to visitors, entertainment, picnics, wedding photography, wedding parties…
What does Phuoc Loc Tho ancient village have?
The sightseeing area has an area of about 5 hectares with 22 ancient houses whose architecture was referenced and restored from ancient houses of all 3 regions: North – Central – South. Houses with each region's characteristics are arranged in separate areas, creating the image of an ancient, peaceful and elegant Vietnamese village. It can be said that this place retains ancient traces of traditional Vietnamese culture quite uniquely. All structures of the ancient village, from houses to household items, were collected from all over the country and restored.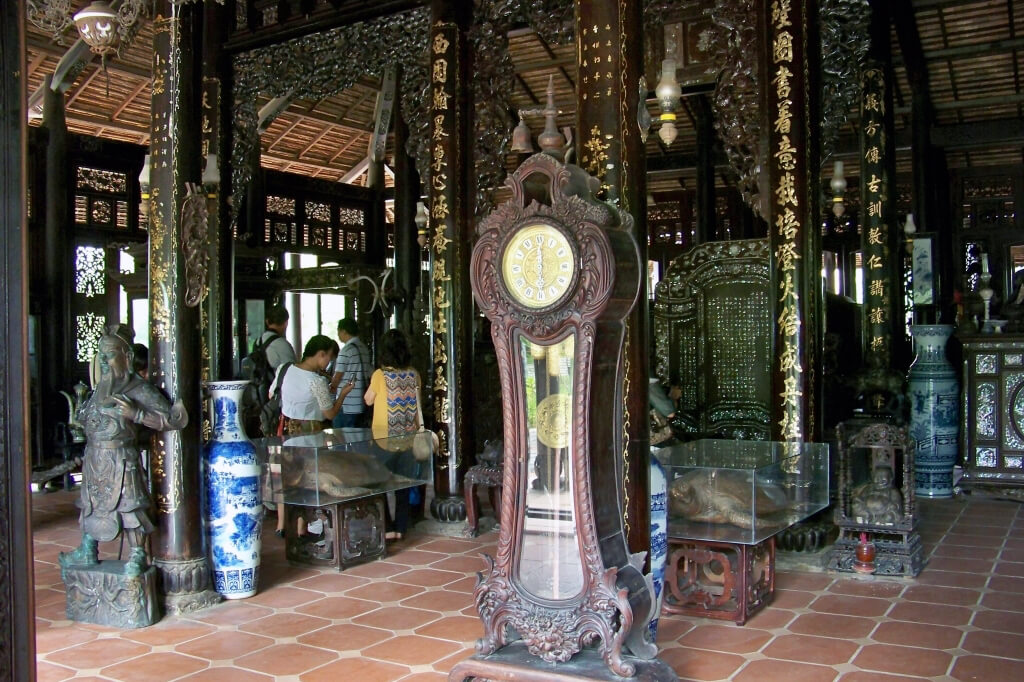 Most of the ancient houses were collected by owners from Hue, Quang Nam, the Central Highlands and the southwestern provinces. It was restored by the skilful and skilled hands of artisans. In each house, there are also many precious antiques displayed from daily life items of kings, military officers, and landowners such as: chairs, carriages, telephones, phonographs, cups, plates of bull horns, and ivory. … to spiritual objects of Vietnamese culture.
In addition, in the ancient village of Phuoc Loc Tho there is also a pagoda modeled after the One Pillar Pagoda in Hanoi.
Leaving the sightseeing area to the entertainment area of Phuoc Loc Tho ancient village, visitors will admire more than 250 thousand orchids of all kinds imported from Thailand, nearly 20 hundred-year-old trees and many rockeries placed there, between lakes with diverse and rich designs.
In addition, the ancient village is also divided into two separate areas: the sightseeing area and the dining and entertainment area. The sightseeing area has 22 ancient houses also divided into areas with distinct characteristics. The first area is 15 wooden houses, including 5 Western-style pillar houses with 5 rooms and 3 wings, all using bamboo wood. Each rafter, and column in the beam houses is elaborately carved with delicate carved lines. The wooden house with the highest number of columns in this area is 114 columns and at least 36 columns with an ancient architecture that is both strange and beautiful. The interior is decorated very diversely, including engravings: Four sacred animals, and Eight treasures following symbols often depicted in Vietnam and China. 
However, the dining area here will not be open on weekdays, so visitors should prepare food in advance if they go on this occasion. This place has many areas suitable for picnic parties, so visitors can prepare all kinds of food, drinks, and supplies to have a picnic with family and friends.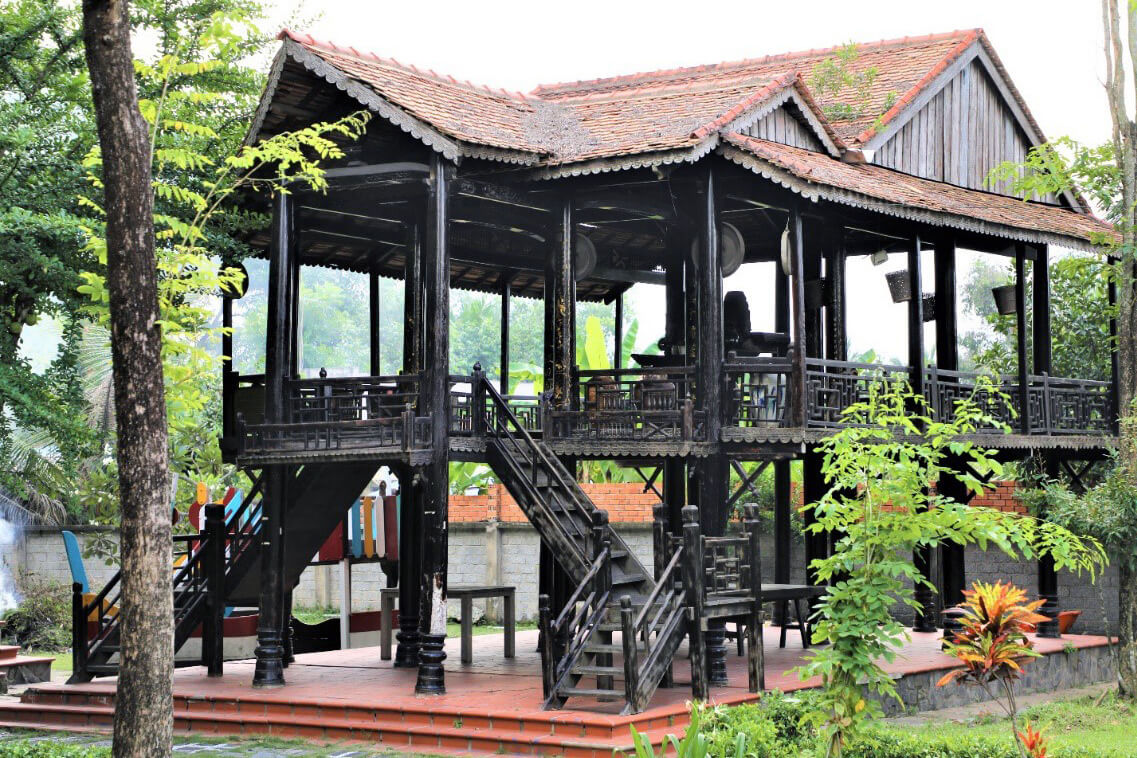 Construction of the ancient village began in 2006. The ancient house complex was meticulously designed and built, simulating the ancient house styles of many ethnic communities in the country such as: Khmer stilt houses, Stilt houses of the Thai ethnic group, and Western garden houses.
Among them, there are also houses that own and display hundreds of antiques and ancient utensils of high rarity, some of which were once used by kings and noble classes. All of these objects were given by Mr. Duong Van My – an antique collector enthusiast.
How to go to Phuoc Loc Tho Ancient Village?
To get to Phuoc Loc Tho Ancient Village you can choose the following means of transportation:
If travelling by motorbike or car: from Ho Chi Minh City, you can move in the direction of Ba Hom Street to Provincial Road 10, then go straight to the intersection of Duc Hoa, Long An and turn left onto Provincial Road 824, drive about another 10 minutes to arrive. It will take more than 1 hour by motorbike to reach Phuoc Loc Tho Ancient Village. Don't forget to follow Ms. Google's advice for your trip.
If traveling by car: booking a private car from Ho Chi Minh would be the most convenient way to visit this tourist spot, especially when you travel with a group.
Some notes when visiting Phuoc Loc Tho Ancient Village
When coming to Phuoc Loc Tho Ancient Village, you need to note a few things:
If you intend to organize a picnic, you should prepare food and drinks

Avoid touching antique objects without permission

If you visit at noon, you should wear clothes and sun protection.
Do not forget to contact Viet Dream Travel when you need us to arrange a package tour to visit Phuoc Loc Tho Ancient Village, and Vietnam visa services.
Best regards!
---