On each occasion of the Mid-Autumn Festival – the full moon of August, the lantern street in District 5, HCMC, attracts many young people come to take pictures and check-in. The stalls are close together from the main street to the alley, the jubilant red color seems to overwhelm the whole street, making anyone passing by have to look back. Walking on the street, you will be overwhelmed by the variety of designs, sizes and colors of different types of lanterns. Let's join VietDreamTravel to discover what's interesting in this lantern street area!
Where is Lantern Streets in Ho Chi Minh City?
Lantern streets are located on Tran Hung Dao – Luong Nhu Hoc – Phu Dinh – Nguyen Trai – Nguyen An streets, where a large number of Chinese people have lived and settled for a long time, developing lantern production. At first, only Luong Nhu Hoc Street was the most famous for selling all kinds of lanterns. However, it has been expanding to more routes, but the lantern street on Luong Nhu Hoc Street is still the busiest in Ho Chi Minh.
The area is an ideal tourist destination during the Mid-Autumn Festival, the atmosphere becomes even more bustling. Many families come here during the event, they have to move step by step on the roads. In order to visit this area, depending on the starting point of each person, you can choose the most convenient route. And most accurate way is that you can refer to suggestions from Ms. Google Map to determine the shortest way from your location to get to lantern street when traveling to Ho Chi Minh City.
Original of lantern streets in Ho Chi Minh City
This is an area where a lot of Chinese people have lived and settled for a long time. They have formed the craft of making lanterns. According to the Chinese concept, the lantern creates a festive atmosphere, a symbol of reunion, and uses in all most festivals. Besides being used to light up and create a joyful atmosphere of the festival at night, the Chinese lanterns also have symbolic meanings.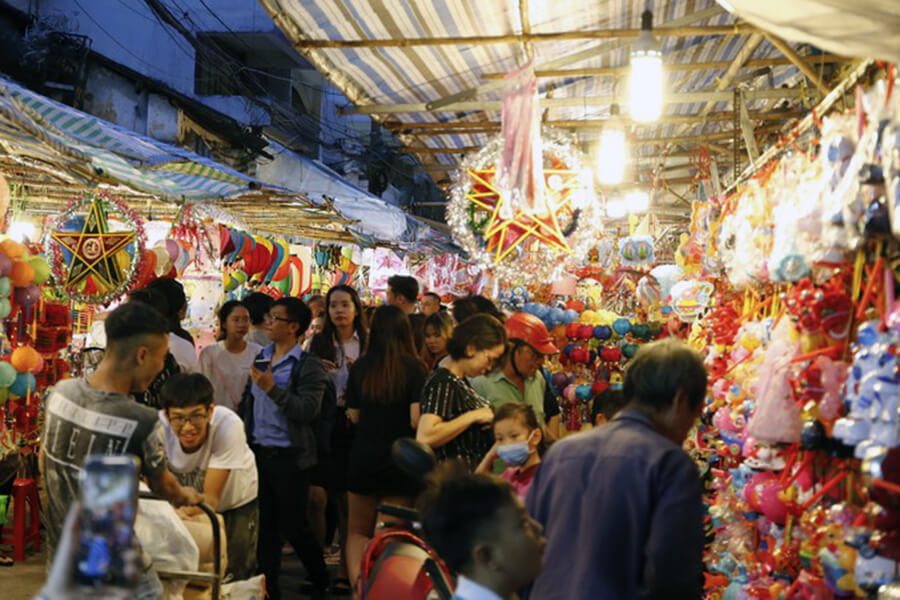 Vietnam's Mid-Autumn Festival also originates from China, so it is partly affected, so people always hang lanterns on this occasion. In particular, every mid-autumn festival comes, District 5 of Ho Chi Minh City becomes bustling again, crowded with people passing by, visitors to Saigon flock to visit and buy lanterns.
Types of lanterns at Lantern Streets
Lanterns in here are very diverse in terms of types, for example: royal lanterns, cloth lanterns, paper lanterns. About motifs and decorative patterns on lanterns are divided into: floral motifs, figurative motifs, landscape motifs, flowers and birds, dragon and phoenix patterns, fish or insects with painted and embroidered materials lace, calligraphy, collage motifs or also lanterns with shapes moving around continuously.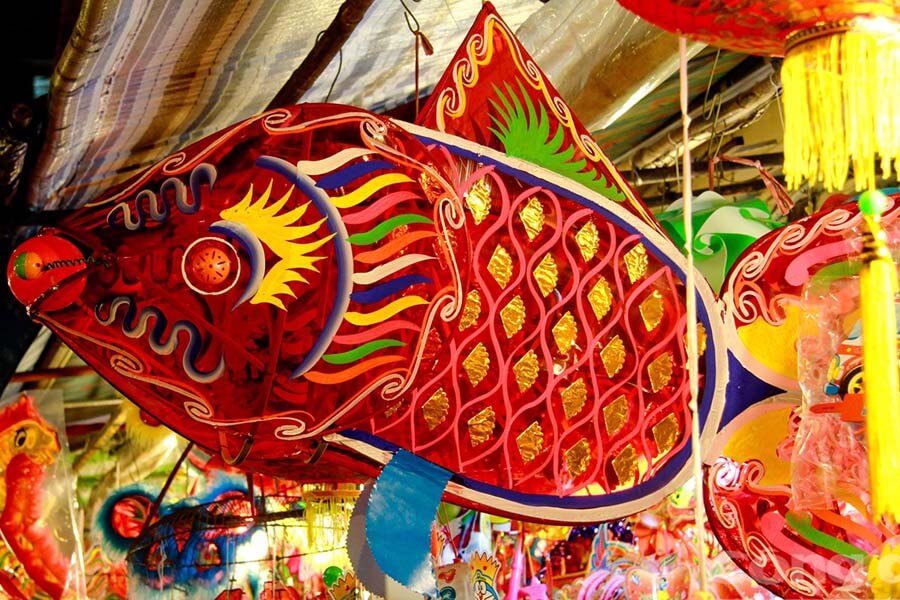 Usually, the most common shape of the lantern is a red pumpkin, with golden tassels, but sometimes it is square, diamond, round lantern, filling, parachute, flying saucer, diamond or garlic lanterns, animal shapes, star lights, … Lamp frames are made of bamboo, wood, steel fiber, cloth wrapped around the lamp is made of silk or paper. Red glass paper and modern light lanterns  that run on music are most popular and preferable by children.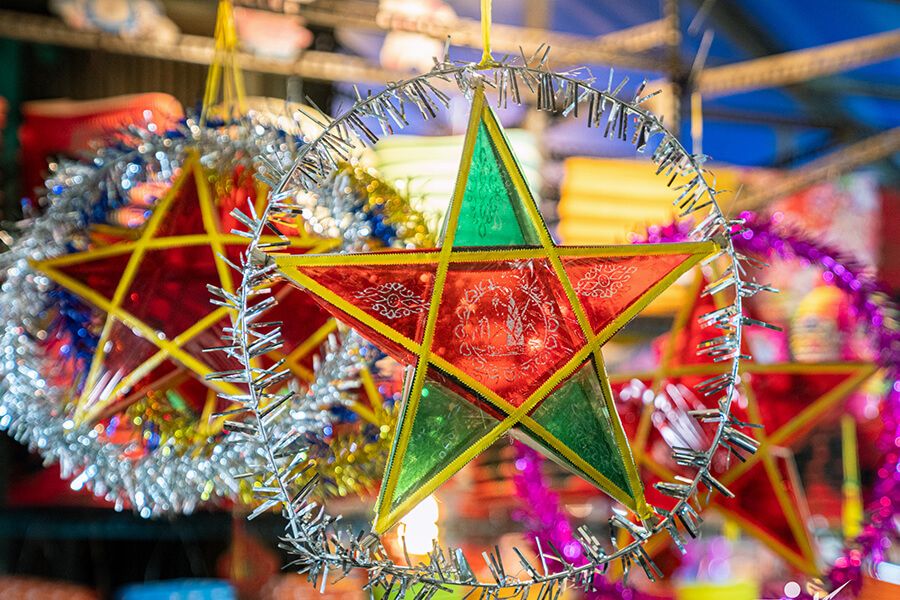 In addition to traditional or modern lanterns, the stalls here also sell a number of other items such as: unicorn heads, masks, lanterns with candles inside, crowns, angel wings…
Other activities
In addition to visiting the bustling lanterns of the streets, you can also enjoy the unique cuisine of the Chinese people. In addition, there are quite strange Chinese tea dishes that you can try such as tea chicken seeds, snow mushroom ginkgo tea, tonic ginseng …
There are often many special activities such as: flower kite, dragon and lion dance, fan dance, flag dance, ethnic music and dance, lamp match, ancient music, tranditional performance, etc… in order to promote, maintain, and preserve the beauty of traditional festivals, contributing to promoting cultural images to international tourists.
Tips to know when going to lantern street in Ho Chi Minh City
Some notes not to be missed for a memorable trip to the lantern street are:
The price of lanterns here ranges from 15,000 – 55,000 VND/piece depending on the type. You can bargain for the most reasonable.

This is a place where a lot of people gather, so all your valuables and personal belongings must be carefully preserved to avoid unfortunate loss.

You should wear backpacks, handbags in front of your chest, phones in your pocket, not in your hand.

If you come to visit by motorbike, you should choose a parking place nearby this area so that you can walk to enjoy the bustling atmosphere and take better pictures.

You should buy a lantern to be able to visit and take pictures in the most comfortable way.
---