Nature has favorably donated to Mekong Delta favorable conditions to develop ecological forests for birds to live, develop and reproduce. Located in the final terminal area of ​​Vietnam, Ca Mau province is a perfect destination, a wonderful habitat for species of birds. On this post, Vietdreamtravel will share with you some of the famous bird parks in this province.
Ngoc Hien bird sanctuary
Ngoc Hien is is the southernmost rural district belongs to the Mui Ca Mau Biosphere Reserve, which has been recognized by UNESCO as a World Biosphere Reserve. The bird sanctuary is an ecotourism site and researches birds in the well-protected natural ecological environment.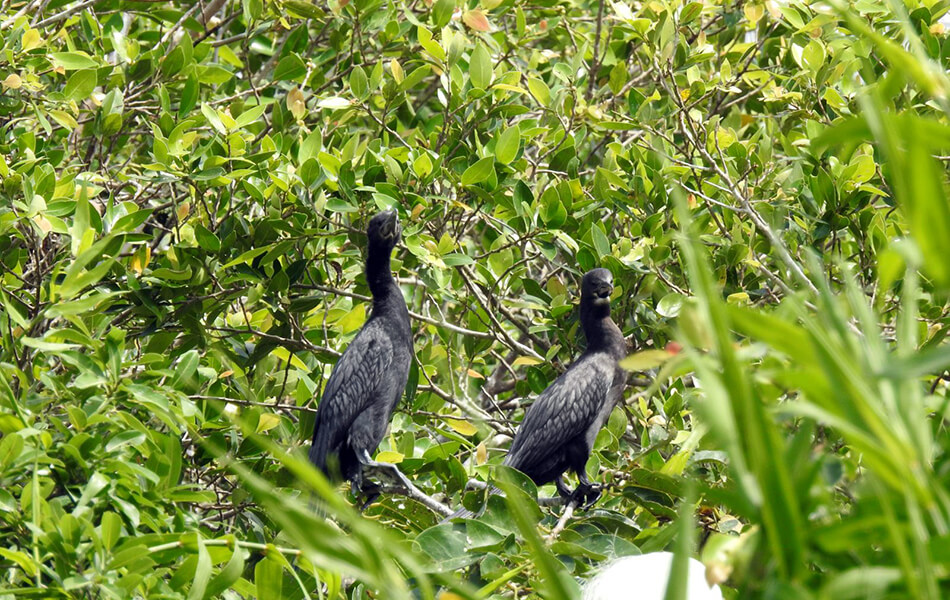 It is one of the largest natural bird sanctuaries in the country, has a natural area of ​​130ha. This bird sanctuary has the Bay Hap river and canal system run across this region surrounded by abundant green vegetation all year round creating a safe ecological shelter for the birds.
Lam Vien bird park
Lam Vien 19/5 is also know as cultural park is two km west of the city center. It covers an area of 18 hectares with entertainment and cultural structures such as statues, gardens, fishponds, and silt houses. Interestingly, the bird garden is located in the inner city, but it is separate from the noisy outside.
According to information from Bac Lieu Bird Park Management Board (a unit under the Department of Agriculture and Rural Development), this bird garden has existed for more than a century, which is a typical mangrove forest of the region. Due to the alluvial process of the East Sea, the ecosystem here is very diverse, creating favorable conditions for many species of flora and fauna, especially wild birds.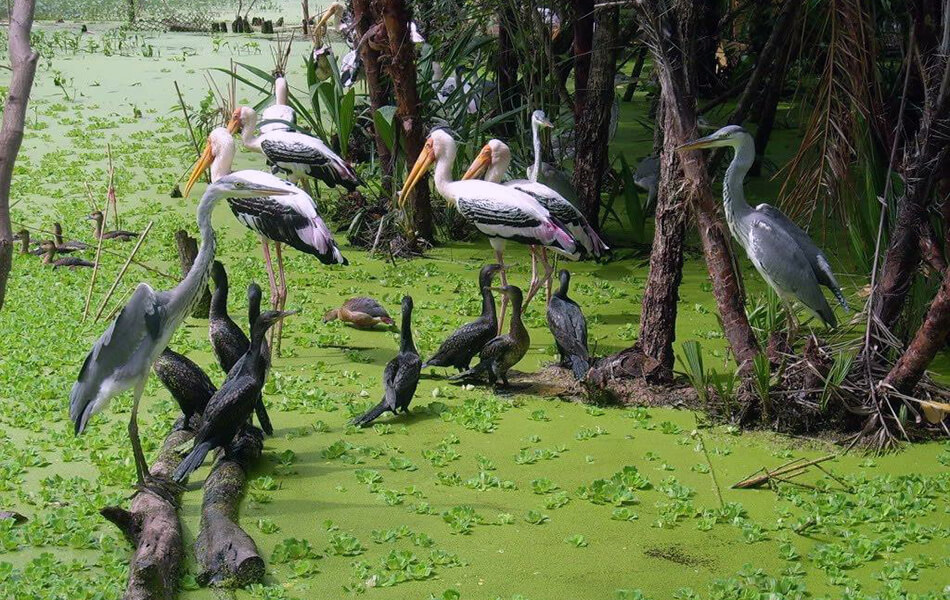 Lam Vien bird park has around 104 species of plants, 250 species of animals, including 109 species of wild birds. Also, there are 27 species of flora and fauna listed in the Red Book of Vietnam and the World.
Dominant in the upper layers of the forest is date palm trees (60%) and the lower vegetation cover is grass and the tangled vines.
In addition to the fun folk games such as: cycling over bridges, swinging rope, slapping fish ponds, canoe racing … visitors can also explore Bac Lieu Bird Park by electronic car, while sitting on the car, you can enjoy the beautiful view on the shore of the bird garden.
Tu Na b
ird park
Tu Na Bird Park is located in cluster 9 on an isle in the heart of Nam Can town. From Nam Can town, visitors can choose a motorbike or a motor-boat to reach the park.
Tourists traveling by motorbike can go in the direction of National Highway 1A to the center of Ca Mau city about 2 km to arrive at Cai Nai pier. Then, you will cross the boat and turn left, following a small road which takes around 2 – 3 km, you will reach Tu Na bird park.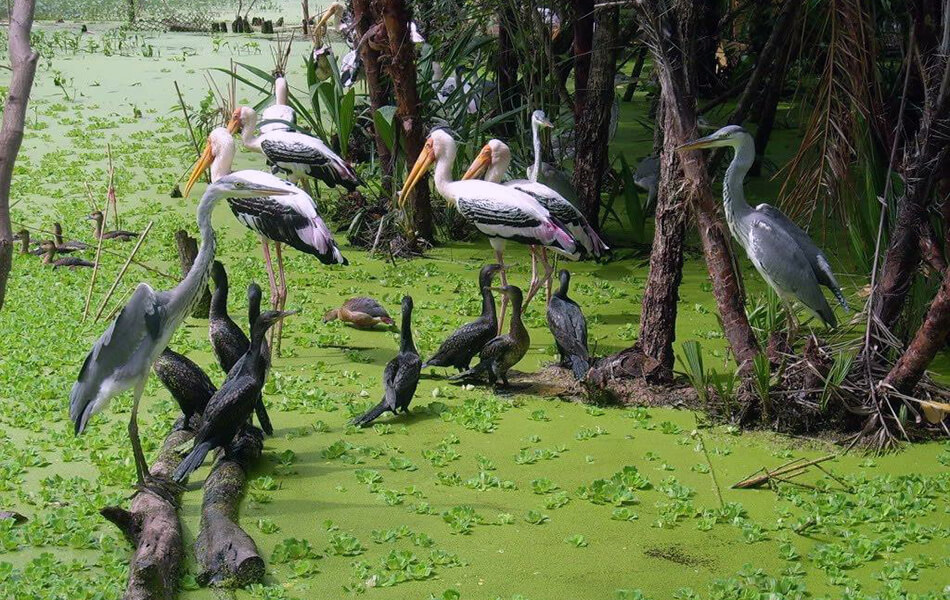 From here, you will be able to sit on boats, canoe to visit the green bird garden in the immense stream of water.
Tu Na Bird Park was formed for nearly 20 years on an area of ​​25 hectares and is expanding more and more, owned by Mr. Nguyen Hoang Na. Bird park has planted forests and developed forest areas to attract birds to come to live.
There is more than 120,000 types of birds belonging to many diverse and rich species such as Pelicans, Painted stork, Grey-headed swamphen, crow pheasant, Parrots … You also can see the nests of young birds on the tree trails, small birds timidly peek in the nest and wait for the mother bird to eat food. The journey to discover Tu Na Bird Park will bring visitors to many interesting experiences that modern cities do not have.
In addition, when traveling bird parks, visitors can also enjoy the bustling, joyful, and bustling sound of hundreds of birds singing together. The life here is both vibrant and peaceful, making visitors feel comfortable, relax, and enjoy peaceful moments.
---