Referring to Tra Vinh, people think of the land of ancient Khmer pagodas and historical relics carrying many legendary legends, associated with the journey of exploring and building the South of Vietnam. The thousand-year-old relic of Ba Om pond reflecting the ancient pagoda is one of the pride of the people here.
General information about Ba Om Pond
Ba Om pond is located in Cluster 3, Ward 8, Tra Vinh city, Tra Vinh province. Unlike other ponds and lakes, Ba Om pond has an extremely unique square shape with a width of about 300m and a length of about 5000m. Because of the special shape of Ba Om pond, local people also call this place "Ao Vuông" (Square pond).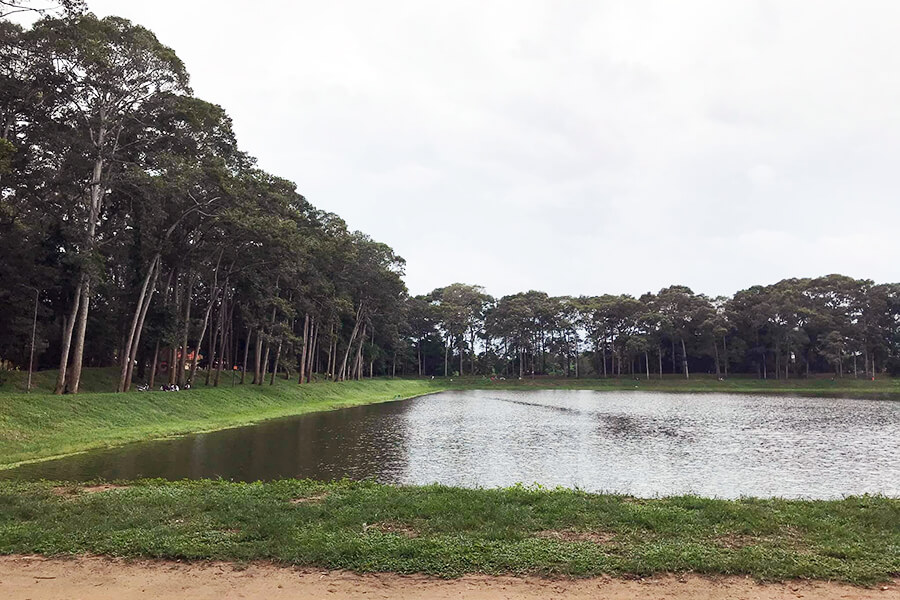 Ba Om Pond is about 5km southwest of Tra Vinh city center, or around 130km from Ho Chi Minh City. You can travel to this location by car or motorbike. However, if you rent a private car from Ho Chi Minh city to Tra Vinh with a driver, you will not be able to see the natural scenery, rice fields, and charming Mekong Delta river scenery.
Do you know where the name "Ba Om" comes from? According to legend, in order to have a freshwater lake for use in the dry season, Khmer villagers organized a pond-digging contest between two groups of men and women and also to decide which of the losing groups would have to marry the other. Men rely on their strength, both work and play. The female side, under the leadership of a woman named Om, used many tricks to delay the male group. When the digging was almost finished, they also let lanterns hang in the east, making the men think that the Venus had risen so they rest early. After the contest, the male group lost and their pond still has traces of it even though it has dried up. The girls' group's pond is named after Ba Om (Mrs. Om). Besides, in folklore there are many different legends, in addition to the function of explaining place names, the stories also reflect the function of explaining customs related to marriage of the Khmer people.
During the annual holidays and New Year of the Khmer people, Ba Om pond becomes a bustling community gathering place for the whole region, especially during the Ok Om Bok Festival held on the full moon day of the 10th lunar month, attracting thousands of people. People from all over come here to attend.
Things to do in Ba Om pond
The first impression when visiting Ba Om pond is the cool feeling of the blue sky and water, a very peaceful color. Not only that, if you visit Ba Om pond in the right season, you can also admire the scenery of lotus flowers and water lilies blooming all over the lake.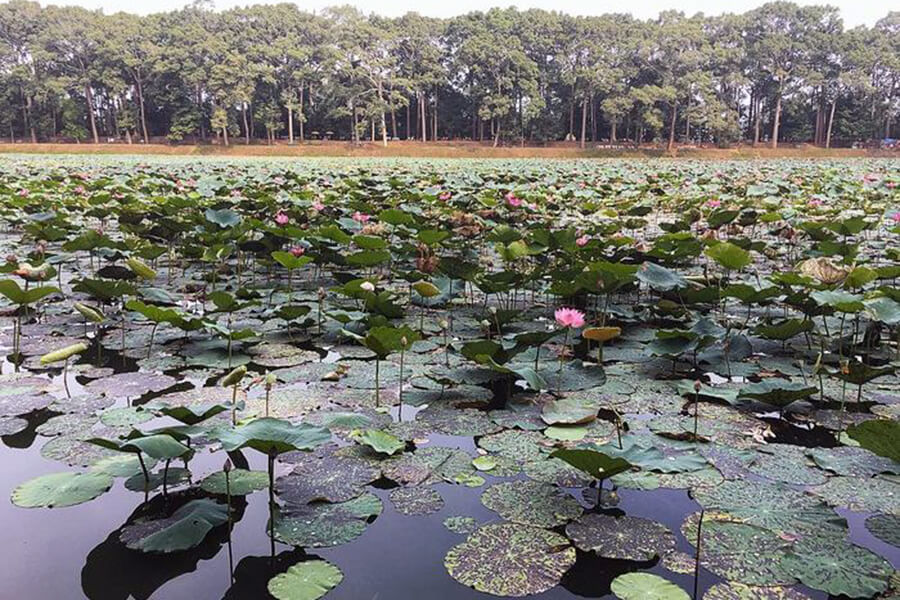 Surrounding the bank of the pond is a forest of ancient trees which have been living here for more than hundreds of years old, with rough roots that protrude meters above the ground into strange shapes throughout the four seasons, creating a dark and shady atmosphere. The ancient trees here have such large roots that they can form a unique cave that children can crawl into and play; some of them "become" seats for guests to rest.
Ba Om pond has become an ideal place for a walk in Tra Vinh city when sunset comes. On both sides of the main road leading to Ba Om is a very bustling and crowded culinary "open market". Visitors can stroll around to admire the scenery and when feeling "hungry", stop by a street vendor to enjoy Tra Vinh's famous culinary dishes such as vermicelli with fish sauce, soup cake, curry vermicelli, jaggery cake… every dish is very affordable.
Ba Om Pond was recognized by the Ministry of Culture and Information as a national historical and cultural relic in 1994. Along with the cultural museum and Ang Pagoda, these three scenic complexes are one of the must-see places in Tra Vinh. 
Useful information of Ba Om Pond
---