Tan Thong Hoi traditional craft village (Cu Chi, HCMC) is known as the leading producer of bamboo screens in the country. The village also attracts a lot of  tourists come to explore, admire brilliant bamboo curtains and experience the process of creating a delicate product.
History of Tan Thong Hoi traditional craft village
According to the elders at the bamboo curtain craft village, which was formed from the liberation day in 1975. The profession was started in Trung Chanh area and then came here and has developed up to now.
Previously, in Tan Thong Hoi commune, there was a large area of bare land, so people planted a lot of bamboo. From 1975 the bamboo screens workshop began to form, until about 1978 to 1988, this profession developed strongly, managed by local cooperatives, then dissolved. Since then, local people have made and managed themselves, self-sign contracts with customers.From small family businesses after a period of expansion into a large production base serving as the focal point for supplying raw materials and consuming products for small processing households.
How to make a bamboo screen?
The bamboo screens profession is not like other jobs with few stages. If the owners could not find enough staff, one people have to handles and completes a lot f work, follows many different stages such as threading, rigging, framing, painting scenes…Moreover it is not simple because even the smallest stages still require the meticulous attention of workers. A bamboo curtain is made that requires a very high level of art. Customers buy goods for the price of a curtain but expect on the curtain to be the texture of an art picture.
To get the bamboo screens to meet the requirements of the fastidious markets. At first, bamboo branches are selected and cut into small pieces about 6 cm long, mixed with sand and remove all the outer silk, then soaked in water to prevent termites, dried in the sun or dried at a temperature of 70 to 800 celsius degree.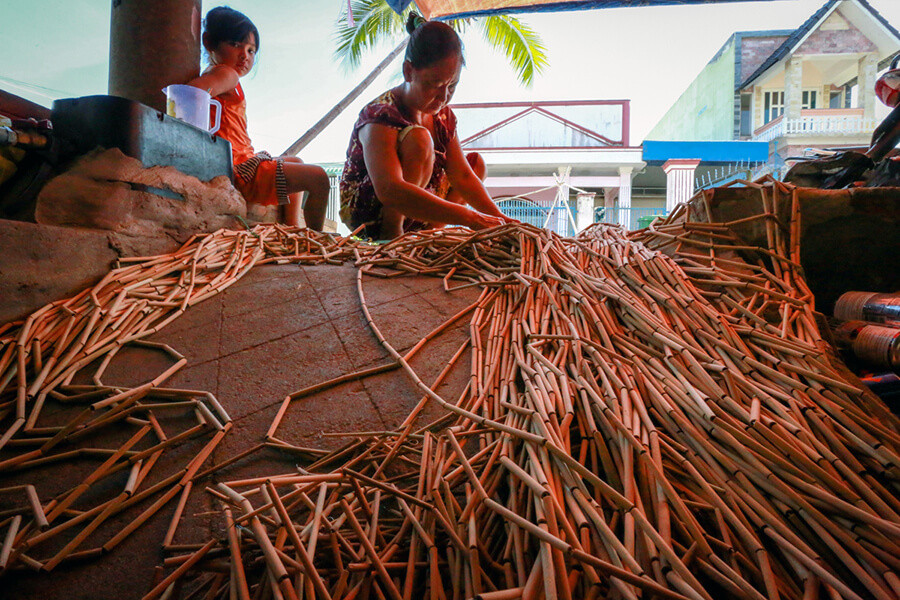 Dried bamboo will be strung together into wires with zinc wires and then hung into a curtain. This is a very important stage, requiring the worker to observe carefully so that the stitches are even. It's also requires both the health and ingenuity of the craftsman.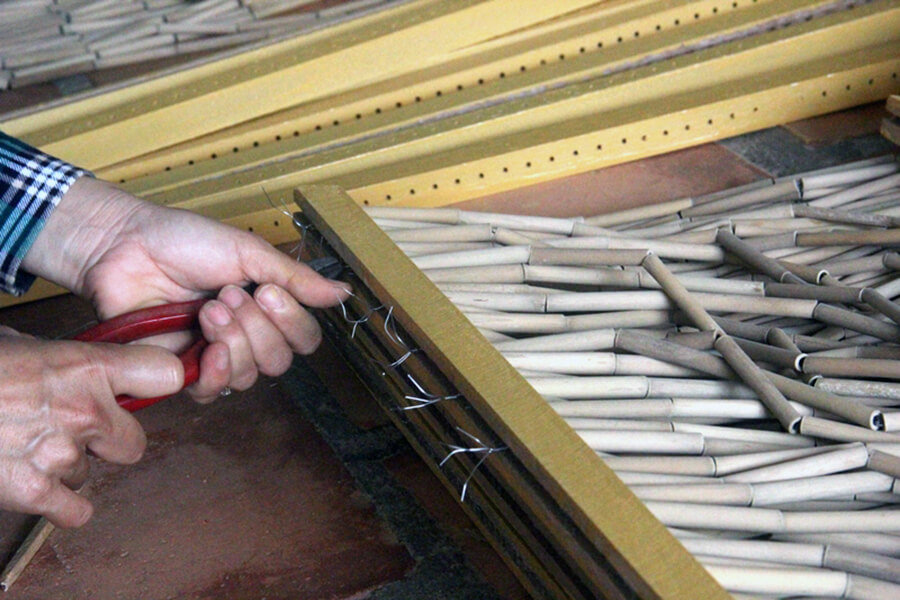 He inserts the woven bamboo blinds onto the shaft and then rotates the zinc threads with pliers to make sure. Must be a familiar hand, with experience to do it, because if you tighten the rope too much, it will be hard, and if it is too loose, the curtain will sag. In order to paint, the craftsman uses a sponge to absorb paint and show decorative details on the bamboo curtain. The paintings have many themes to express depending on customer requirements such as style and scenes, portraits… delicate and no less vivid.
After completing the coloring, these paintings will be taken through the inspection area again before being packed and shipped. In the profession of making bamboo blinds, each worker will undertake a different stage. Therefore, many of the workers are elderly women and housewives who also participate in the stages of making bamboo screens at home.
Currently, Tan Thong Hoi traditional craft village have about 7 large establishments specializing in produces bamboo screens. The activities of this area has created jobs for hundreds of local workers and in neighboring communes.
---