Rivers laden with alluvium and fruit-laden orchards are trademarks of the Mekong Delta. One of the provinces in the Southwest region that develops the type of eco-tourism to pick and enjoy fruits in the garden is Ben Tre. By visiting Cai Mon orchard, you will be really surprised at the greenness and abundance that nature has bestowed on this land. This fruit garden is known as the "fruit tree paradise" in the delta region. It has been attracting tourists with the beauty of pure Southern countryside and the poetic village roads winding around the green gardens, immense fruits…
General information about Cai Mon Orchard
Cai Mon Fruit Garden is located in Vinh Thanh Commune, Cho Lach District, Ben Tre Province. From Ho Chi Minh City, it takes around two and a half hours of driving to this area. 
According to the researchers, the name Cai Mon has existed since ancient times. At that time, this land had many kinds of luxuriant fruit trees, flowers blooming all year round, attracting many honey bees to come. Cai means big canals and Mon, in the Khmer language, means honey bee.
Best time to visit Cai Mon orchard
Visitors can explore Cai Mon fruit garden at any time of the year. Each season will offer different fruits. However, many tourists often like to travel this region every summer.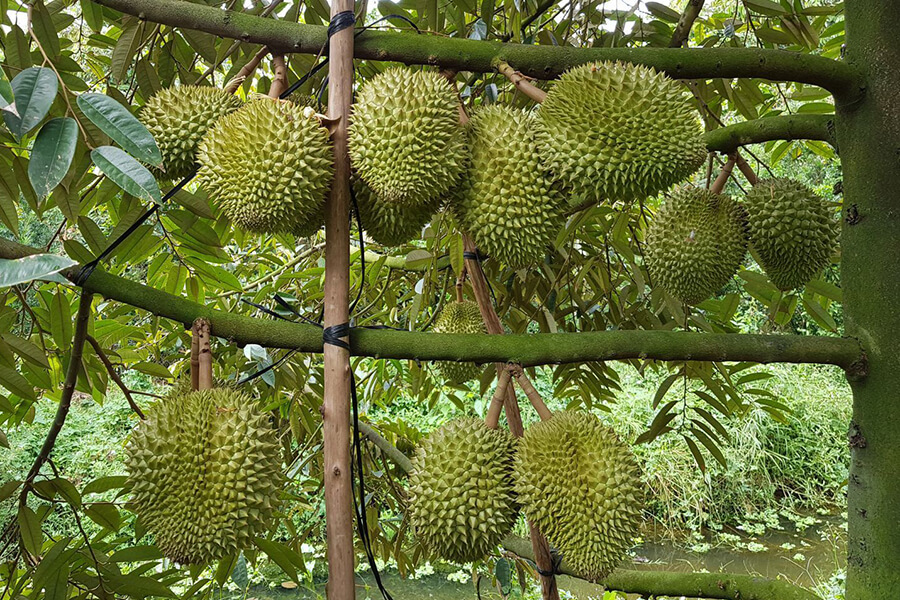 Usually, if you have the opportunity to come here around June – August, you can enjoy fruits such as durian, rambutan, longan, mango, grapefruit… etc.
What's special about Cai Mon orchard?
The best thing for most of visitors when coming to Cai Mon is that you will enjoy freshly picked fruits. Especially, if you go to the gardens such as longan, rambutan, guava, mango; cherry… then you just need to reach for the fruit. This will definitely be a great experience for your Cai Mon trip. In addition, you can also experience a day of farming or harvesting fruits right in the garden.
Not only famous for its multitude of fresh fruits, Cai Mon also attracts visitors with its colourful ornamental flower garden. Currently, this place grows a lot of different flowers such as carnations, marigolds, daisies, bougainvillaea, dahlias, raspberry chrysanthemums, etc. Every year, in the craft village Cai Mon supplies the national market with hundreds of varieties of ornamental flowers and ornamental plants of all kinds. Especially, it is exported to many countries around the world such as Korea, Singapore, and Japan…In particular, every spring, this place becomes colourful with countless different flowers. Therefore, you can record beautiful photos right in the gardens. And if you like, you can buy them to plant or as a gift.
Furthermore, when travelling to Ben Tre in general or Cai Mon orchard in particular, you can also buy coconuts and coconut products as gifts for relatives and friends such as coconut candy, milk rice paper, coconut soap, coconut wine…
Don't forget that we provide private car from Ho Chi Minh to Ben Tre, let us know if you need one.
Best regards!
---