Tan Lap floating village is a hot tourist destination which located close to Ho Chi Minh City. This tourist area is suitable for those who want to have fun and go back and forth during the day. The floating village is located in Long An province. In recently, it has been attracting many tourists inside and outside the province to visit, explore and experience the life of people in the Mekong delta river. With many interesting activities, beautiful landscapes and fascinating experiences, Tan Lap floating village is one of the ideal places for the whole family and friends to relax and enjoy the fresh air together of nature. Let's learn about this floating village tourist area with Viet Dream Travel in the following article.
General information about Tan Lap Floating Village
Address of Tan Lap Floating Village: Highway 62, Hamlet 3, Tan Lap Commune, Moc Hoa District, Long An Province.
Tan Lap floating village or Tan Lap floating forest is one of the attractive tourist destinations in Long An province, located only about 90km southwest of Ho Chi Minh City center. It would be better to follow Ms. Google's advice and don't forget to book a private car from Ho Chi Minh City to Tan Lap to be picked up and taken care of by drivers. This is also an economical transportation option for large groups of people.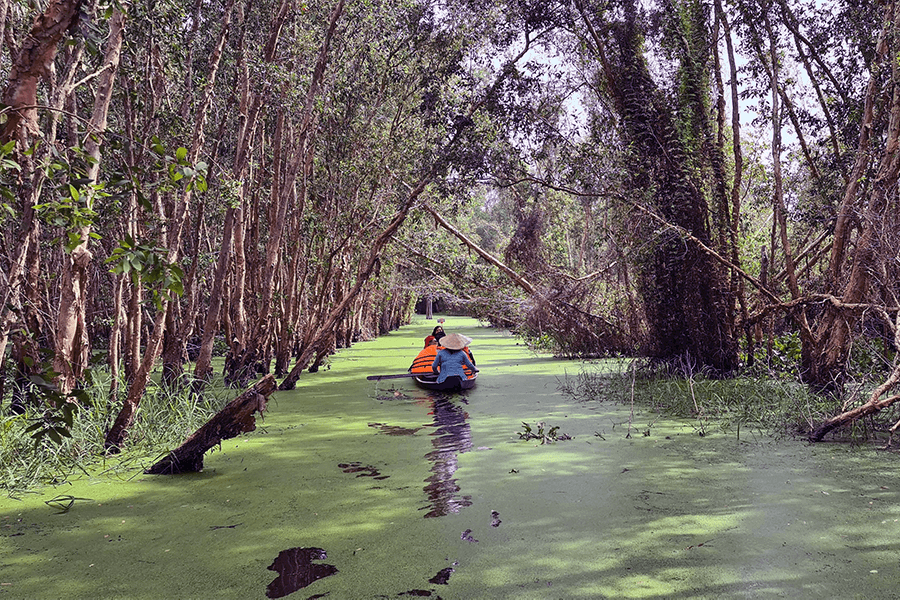 The best way to explore the floating village and melaleuca forest is on a rowing sampan. A 30 – 45 minutes for a boat trip would be funny and lovely scenery along with the white tree stumps and leafy foliage covering the area.
Currently, the ticket price to visit Tan Lap Floating Village eco-tourism area is 70,000 VND/person, including the scenery inside. In addition, a renting rowing sampan will be 80,000 VND / person; cable boat 90,000 VND / person and many other services.
What to do at Tan Lap Floating Village?
Tan Lap Floating Village possesses a quiet, cool and beautiful space, with rice fields, tree-lined canals, and traditional houses typical of the West. The most special is still the road through the cool forest, there are many species of wildlife such as birds, aquatic animals.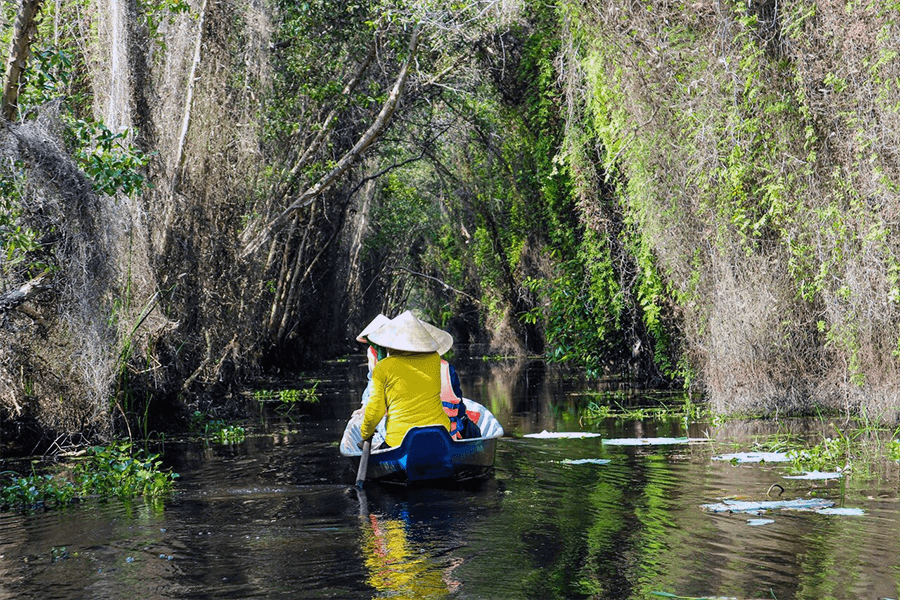 There is a small road through the Melaleuca forest in Tan Lap floating village, with 1m wide and has a total length of 5km including small branches. This path is located right in the middle of the cool green Melaleuca forest, surrounded by water channels creating a very unique beauty of the West. The road through the Melaleuca forest is famous for its beautiful natural scenery, especially in the floating season, when the Melaleuca forest covers the whole road, creating a poetic and romantic scene. Many young people in Ho Chi Minh City and other neighboring provinces have flocked here to check in and take unique photos that have stormed social networks.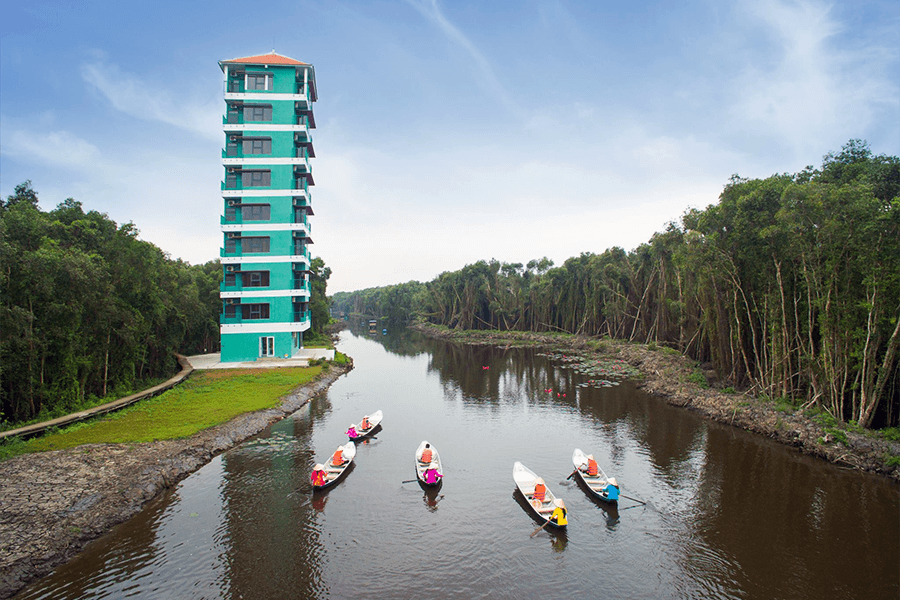 In order to get a great views, come to Observation Tower which has a height of up to 18m located right in the heart of the Melaleuca forest. From this position, you can freely enjoy the cool breeze, admire the panoramic view of the Melaleuca forest as well as the Tan Lap Floating Village tourist area. 
Tan Lap also has a bird taming area. To reach this area, staff will use motorboats or dinghys to take you through small canals, deep into the melaleuca forest. The scenery on both sides is covered with dense melaleuca, vines, are being successfully preserved here. Experts have cared for and preserved many wild bird species living in the natural environment on this area. 
Notes of traveling to Tan Lap Floating Village 
If you are planning to travel to Tan Lap Floating Village, here are some useful experiences to have a more enjoyable and economical trip:
Choose time: To avoid rainy weather, you should choose the time from November to April of the lunar calendar. In the remaining months, there may be rain or the water level of the Tan Lap floating forest may rise.
Plan a suitable itinerary to visit Tan Lap Floating Village: If you want to visit the entire floating village, you should depart early in the morning to have enough time to have fun. You can rent a boat to explore the entire tourist area or walk and bike through the dense forest path.
Food and drink: You should enjoy local dishes such as grilled snakehead fish, crispy fried snakehead fish, and fish porridge right inside the tourist area's rustic restaurant. You can also bring snacks to eat on the go. Don't forget to wear comfortable clothes, sports shoes for ease of movement, sunscreen, insect repellent, jacket and hat. You should bring enough drinking water, sunscreen, walking shoes, tissues, shampoo, and ear protection. If you intend to take a bath, bring a bathing suit.
Special note: When boating, you should wear a life jacket, especially when traveling with children. Children should not be allowed to run freely on the boat. You should keep the surrounding area clean and do not throw trash indiscriminately, affecting the natural ecology.
Along with advices on the experience of visiting Tan Lap floating village on: Travel and play what? You can also refer to: All things need to know before travel to Long An with us.
---