The South-Vietnamese Women Museum is reserved many documents and artefacts that honour the beauty of Vietnamese women through the ages. This place also becomes a destination that attracts many domestic and foreign tourists when travelling to Ho Chi Minh City. Coming here, you will learn interesting things about Vietnamese women in wartime and labour and daily life. Let's find out about the experience of visiting here!
General information about South-Vietnamese Women Museum
Address: 200 – 202 Vo Thi Sau, Ward 7, District 3, Ho Chi Minh City. The museum is located about 2 km from other tourist spots in the city centre such as Ben Thanh Market, Independence Palace or War Museum so visitors can reach the building easily by walking. 
Opening hours: 7:30 – 11:30, 13:30 – 17:00 from Sunday to Thursday.
Entrance fee: free
The establishment of the South-Vietnamese Women Museum
Established on April 29, 1985, the South-Vietnamese Women Museum has become a familiar address for domestic visitors and foreign visitors, especially women from the Mekong Delta River. At first, it was used as a Traditional House of South Vietnamese Women with the purpose to educate and nurture patriotism, to spread out the traditional beauty of Vietnamese women to the young generations.
The museum was initially 200 square meters, with 6 thematic rooms. However, it was expanded to 3000 square meters in 1986 thanks to the donation of money and materials from many organizations, unions, individuals, and overseas Vietnamese… from many areas to the building. And the lasted engagement process was launched in 1990 with 5,410 square meters in use, including a hall with a capacity of nearly 1,000 people, and a storehouse of over 700 m². Currently, the museum is welcoming 80.000 – 100.000 visitors per year, including international travellers, professors, and students… 
What to see at the Southern Vietnamese Women Museum?
Currently, the Museum manages 44,108 artefacts, scientific documents and 2/3 of the Southern women's life in war. They're exhibited occasionally, and below are 11 subjects that are showcased permanently: 
Southern women's traditions before the establishment of the Communist Party.

President Ho Chi Minh with Southern women and Southern women with the President. 

The formation and development of Vietnamese women's organizations.

Southern women after the unification of the country.

Southern women in politics.

Southern women in the military.

Southern women in foreign affairs.

Southern women in colonial prisons,

The religion which worships Bà "meaning Lady" – a sublime female character.

Cloths and jewellery of Vietnamese women

Traditional handmade textile
The artefacts kept at this museum are divided into 24 collections. Below is three collections that are more prominent in terms of information and larger in number of artifacts, among the rest.
Ao Dai collection at the Southern Women's Museum

 
The Ao Dai has become the national costume of Vietnam. Over time, through many improvements, the Vietnamese Ao Dai has increasingly higher aesthetic value. Ao Dai is really a traditional beauty, containing the soul of the nation, creating beautiful designs for Vietnamese women.
The collection is consisted of 65 items on the first floor. As soon as you enter the room, on the left is a large brown board describing the overview of the change of ao dai through historical upheavals in Vietnamese, English and as well as in French.
There are many Ao Dai in chronological order, stretching around the room. Therefore, more attention should be paid when comparing the refinement of Ao Dai between periods, from 1744 to recent times.
In the centre of the room are the portraits of famous women who have devoted their lives to the liberation and development of Vietnam.
Heritage collection of women's resistance against two wars
This collection is displayed on the second floor of the museum and is divided into four sub-themes: political prisoners, foreign affairs, images of women fighting when the enemy approaches, and long-haired armies.
It may sound surprising, but Southern Vietnamese women played a very important role in the victory of the wars in Vietnam. 
Shortly after the establishment of the Communist Party, there were many political struggles. In the South of Vietnam, hundreds of protests and strikes broke out. The demonstrations were attended by large numbers of women. In addition to the demands against beatings and wage compensation for workers, there are also separate claims against female workers. 
In addition, other forms of struggle such as demonstrations for people's life, democracy, tax resistance, and anti-fascists also took place very strongly during the August Revolution in 1945 and during the resistance against the French colonialists (1945-1954).
More than 1,000 photos and artefacts belonging to the collection "Southern Women in Political Struggle" are kept by the Southern Women's Museum in Ho Chi Minh City in various angles and genres, showing the contributions of Southern women in the struggle against French colonialism and American imperialism.
On the left is a statue of "Unfinished Breastfeeding" created by artist Vũ Ba, on the right is "Mother and Son on Reunion" by Lâm Hồng Long.
Work tools collection
The preservation and introduction of artefacts about working tools will help us to feel more deeply the role of women in the past and present life in Vietnam.
Currently, the Southern Women's Museum in Ho Chi Minh City has built a collection of 350 artefacts used in the productive work of women of the Truong Son ethnic groups – Central Highlands, as well as the Vietnamese, Chinese, Cham, and Khmer. The steaming technique in Tan Chau – An Giang province was very famous in the domestic and foreign markets in the 20th century.
What is inside the Southern Women's Museum?
The Ho Chi Minh City Southern Women's Museum building is designed and divided into a front yard area, three floors and 10 rooms. Each floor has its own theme and a map of each floor is displayed at the front door and explained in both Vietnamese and English.
Front yard area
Outdoors, there is a statue of the heroic Vietnamese Mother in traditional ao dai, 4.5m high, making a strong impression on visitors. At the foot of the statue are engraved 8 golden words: "Anh hùng – Bất khuất – Trung hậu – Đảm đang" (Hero – Unconquerable – Loyal – Capable) given by Uncle Ho to Vietnamese women during the Vietnam War.
The front yard is quite large and covered by a lot of green trees. There are 4 paintings depicting 4 Vietnamese women in traditional ao dai.
Ground floor
The museum has an 800-seat auditorium, a library containing 11,000 book titles with a special theme of women, and a cinema room on the ground floor of the new building.
The 1st floor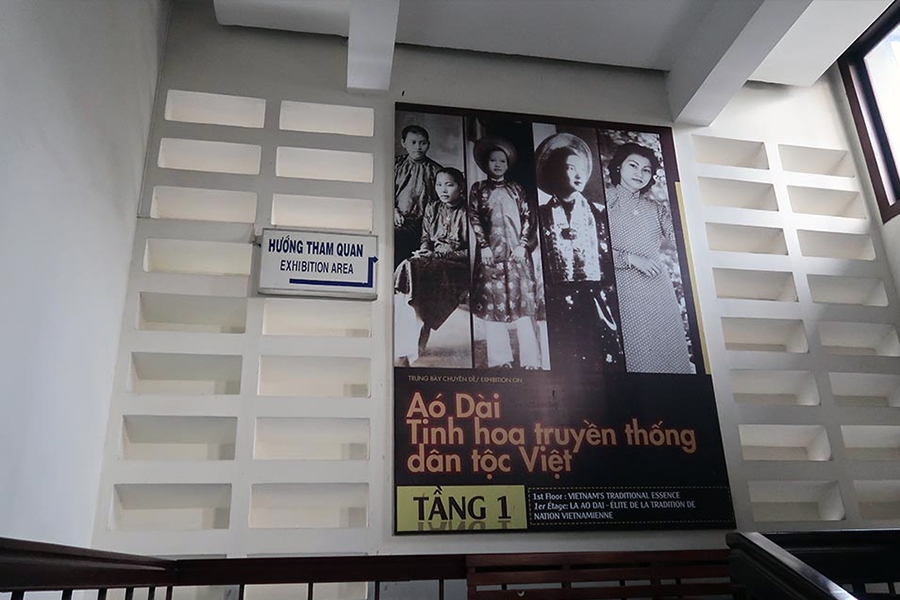 The first-floor area is a place to display women's costumes and accessories of Southern women including 20th-century Vietnamese women's accessories (bracelets, necklaces, rings, earrings, etc.), decorations with embroidery and beading of Vietnamese women in the 20th century (shoes), Ao dai of ethnic women,…
Traditional craft villages of Southern ethnic women: The loom is used by South Vietnamese ethnic women to make cloth, the scene simulates the South Vietnamese ethnic women soaking cloth in dyed wooden buckets…
Ao Dai – Vietnam's quintessence: Costumes of court ladies in the Nguyen Dynasty in the 1920s, innovative wedding dresses, traditional wedding dresses of Vietnamese women in the early 20th century; Vietnamese women's traditional wedding dress in 1960; Traditional wedding dress of Vietnamese women in 1970.
The 2nd floor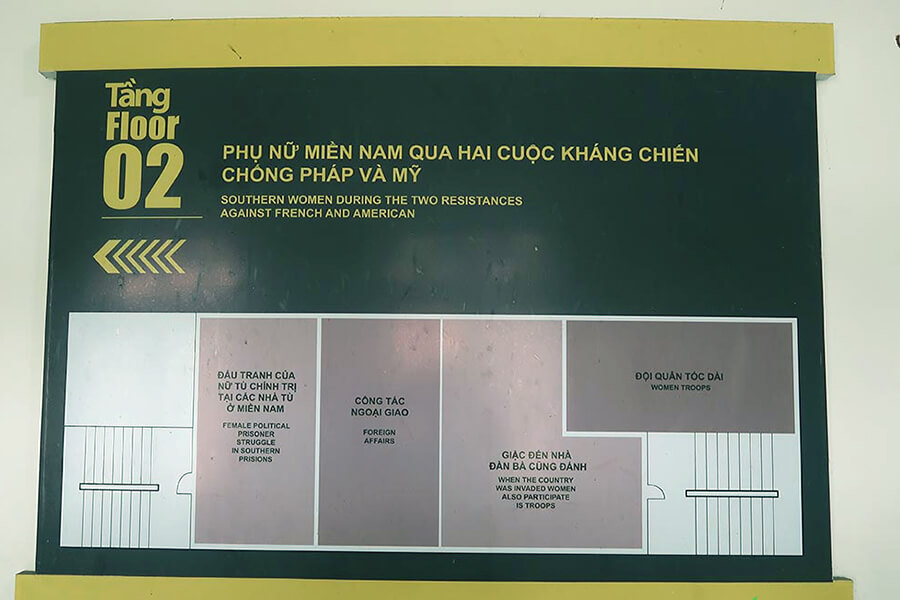 Sections on the 2nd floor include: Female political prisoners fighting in Southern prisons, foreign affairs, when the country was invaded, and women in the military.
The 3rd Floor
Displaying artefacts and images of Vietnamese Heroic Mothers: Vietnamese Heroic Mothers, heroines of the People's Armed Forces: Ms Bùi Thị Thêm, Ms Đỗ Thị Phúc, Ms Đoàn Thị Nghiệp, … Most impressive is the statue of Heroic Mother Nguyễn Thị Rành whose 8 sons and 2 grandchildren died in the Vietnam War; diary and echoes of Heroic Mother Trần Quang Mẫn, brooch of Heroic Mother Nguyễn Thanh Tùng,…
President Ho Chi Minh with Southern women: Statue of President Ho Chi Minh and children, large paintings of Vietnamese women, South Vietnam mourning Uncle Ho in 1969, books about women, Mrs Nguyễn Thị Huyền's Ao Dai, Nguyễn Thị Định's scarf – the first Vietnamese female general of the People's Army.
Southern women in the cause of nation building: Table of the percentage of female National Assembly deputies, female artists, athletes, famous singers and poets in Vietnam.
Some notes when visiting the South Vietnamese Women's Museum
When visiting this museum, visitors should note:
Find out about opening hours in advance so you don't have to wait too long;

Dress neatly and politely; speak softly to avoid affecting others;

Photography is possible at the museum, but should be avoided in areas with prohibited signs;

Do not directly touch the exhibits;

You can hire a guide if you want to better understand the museum.
After more than 30 years of operation, the South-Vietnamese Women Museum has become a destination to welcome millions of visitors every year. Above all, the precious and beautiful traditional qualities of Vietnamese women have been and continue to be preserved and honoured here. Do not hesitate to contact us when you want to rent a car in Ho Chi Minh with a driver to visit the museum or book a private tour to explore many tourist attractions in the city as well.
---