Ho Chi Minh (also known as Saigon) is one of the major cities in Vietnam, always attracts a large number of domestic and foreign tourists to visit and explore. And as usual, to get a good feeling about your trip, whether it's a short trip for 1- 2 days or 3 – 5 days and more, exploring the land with an understanding about culture, history, people, and life… is indispensable. Hope this article will bring you a lot of useful things when visiting this city.
Explore the history and culture of the city
Ho Chi Minh City mostly interests tourists in its vibrant, colourful appearance, with crazy motorbike traffic, and thousands of street food stalls. However, with more than 300 years of age, the city also has another corner, containing historical values with timestamps.
Independence Palace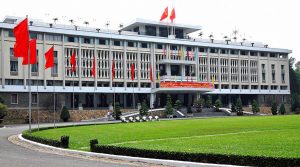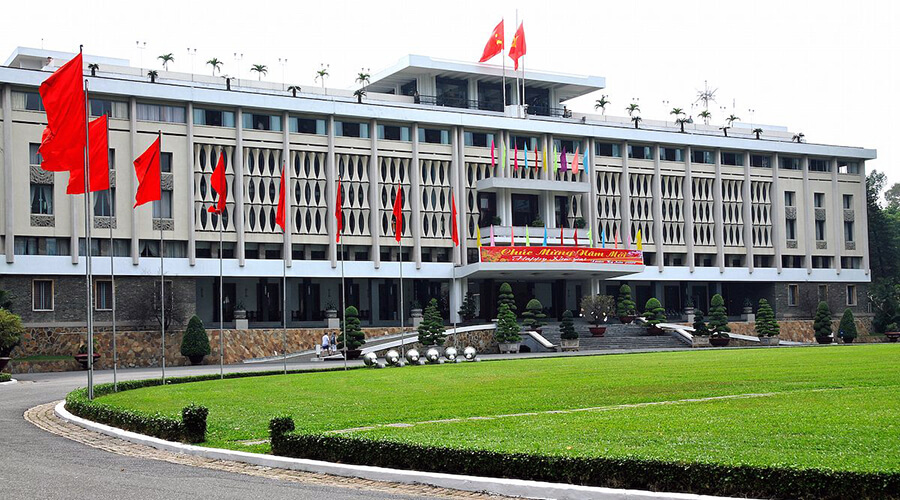 If you are looking for a day trip to Saigon associated with the culture and history of the nation, the Independence Palace will be a great suggestion for you. This is a famous building in Saigon, which has survived the nation's resistance war against the US to save the country. Independence Palace is also one of the tourist attractions in Saigon classified as a special national monument. If you have the opportunity to visit the city, you should stop here to experience and explore this unique work.
War Remnants Museum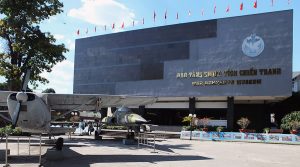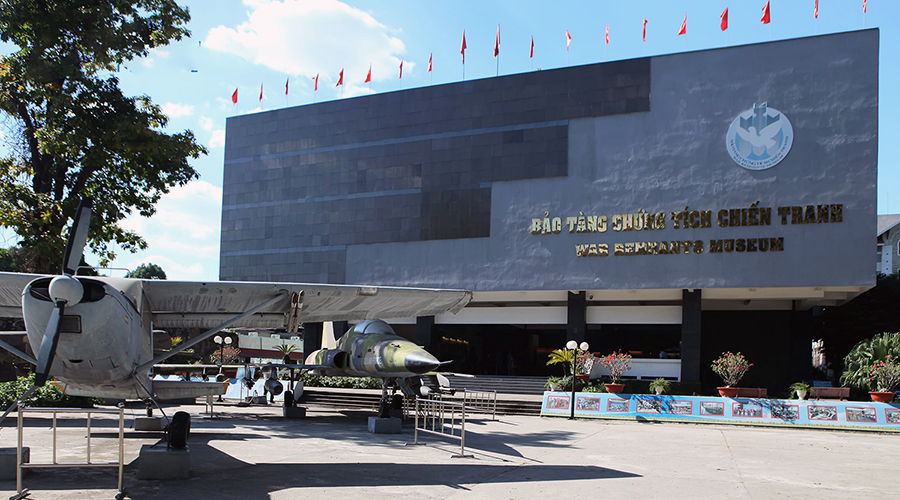 Currently, the War Remnants Museum is displaying a lot of documents, artefacts as well as real and vivid images about the period of the war against aggression and the consequences it left on the country and Vietnamese. It can be said the War Remnants Museum is the historical museum that leaves the most emotions for visitors. What is displayed in the museum reflects too faithfully the image of Vietnam during the colonial period. With more than 20,000 photos, artefacts and films are kept, in which artefacts such as the "tiger cage", and the Viet Minh guillotine killing machine show the cruelty of war. There are also many other impressive artefacts such as Agent Orange. 
On the yard outside of the building, there are tanks, planes, helicopters, cannons, etc., which were once fought in the air to repel the US.
Vietnam History Museum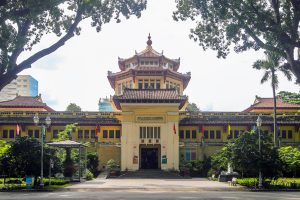 Vietnam History Museum was established on January 1, 1929, with the name Blanchard de la Brosse Museum. At the time of opening, the museum only had 2,893 antiques, but over time, until now, the museum has more than 30,000 valuable artefacts and 25,000 books and documents. The function of the museum is to preserve and promote the cultural heritage of the nation through research, collection, assessment, restoration, etc.
The museum is open to visitors those who wish to learn about documents and artefacts related to the history of Vietnam, especially the southern provinces.
Furthermore,, the Ho Chi Minh Museum also keeps a lot of memorabilia from the Stone Age, Bronze Age, etc. Many ancient works of art are on display and are in quite an intact condition helping visitors understand the ancient culture of the ancient Vietnamese. If this is your first time coming to the Ho Chi Minh City Museum of History, you will surely be captivated by these ancient works of art.
Museum of Ho Chi Minh City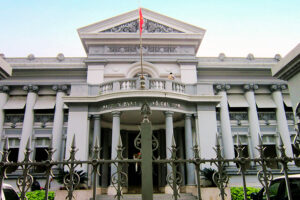 With an area of 1,700 m², the Ho Chi Minh City Museum is a large building displaying and storing antiquities, artefacts, historical and cultural evidence, etc. of the city as well as of Vietnam. The museum has 10 rooms, each displaying different artefacts, including rooms "Nature – archaeology", "Geography – administration Saigon – Ho Chi Minh City", "Trading port, Trade" – services", "Industry and handicrafts", "Saigon culture – Ho Chi Minh City", "Revolutionary struggle 1930 – 1954", "Revolutionary struggle 1954 – 1975″, " Resistance material" and "Vietnamese money".
Not only is it a place to store antiquities, but the Ho Chi Minh City Museum also leaves an impression on visitors through its unique architecture, designed in the style of the classical – renaissance, combining Europe – Asia. Therefore, when visiting the museum, in addition to learning about culture and history, you can also keep beautiful pictures right outside the museum.
Dragon Wharf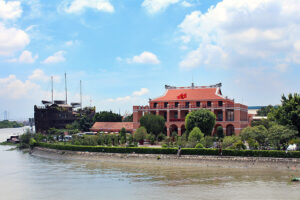 Dragon Wharf was formerly the headquarters of the Transport Corporation (Messageries Impériales) – one of the first works built by the French colonialists after capturing Saigon. The wharf was built in the middle of 1862 and completed in 1863 with Western architecture. However, on the roof, two dragons are attached to the moon according to the motif of "Two dragons adoring the moon" – a familiar decoration of Vietnamese temples. With this unique architecture, the wharf is also known as "Nhà Rồng" – (Nhà means house, Rồng means Dragon). A particularly significant event related to the port of Saigon on June 5, 1911, Uncle Ho (later known by his famous name – Ho Chi Minh) got off the Amiral Latouche Tréville ship from this wharf, to go abroad to find a way to save the country. He travelled through France and many countries with many different continents. And after 30 years, he returned to the country, leading the Vietnamese people to stand up to liberate the nation and reunification of the country.
To remember the above event, after the unification of the country, the Dragon Wharf was rebuilt into a memorial park of President Ho Chi Minh, with the task of collecting, preserving, displaying and propagating transmitting about the life and career of the President the basis of documents and artefacts of the Museum.
South-Vietnamese Women Museum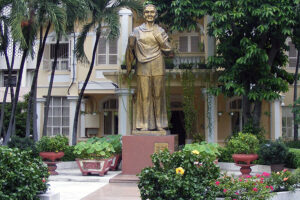 The Southern Women's Museum, established on April 29, 1985, is one of the museums that preserve photos and artefacts showing the lives of Southern women during the war to protect the country. Currently, the museum is storing and managing 31,360 artefacts, but only displays 929 of the most typical artefacts due to the limited space. Also, 2/3 are artefacts of the type of revolutionary war, and the remaining 1/3 show the culture of Southern women. These artefacts are divided into several collections according to a certain theme or material. In addition, in the library room of the museum, over 11,000 books about women's topics are kept. This would be a favourite destination for those who want to study Vietnamese females when travelling to Ho Chi Minh City.
Museum of Traditional Medicine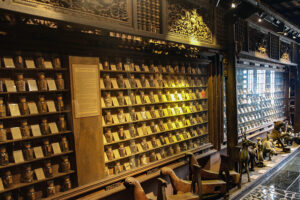 The Museum of Traditional Medicine is one of the first private museums in Vietnam, with an architectural style from the North but located in the centre of Ho Chi Minh City, helping to leave a new impression on visitors. The museum was put into use in 2007, with 18 galleries in a modest area of 600 m2. Although it is a private museum, the number of artefacts still can make you feel surprised with more than 4,000 artefacts related to Vietnamese traditional medicine and 1112 names of medicines. Some artefacts have been existing for a long time, or precious tools that the great physician Hai Thuong Lan Ong – Le Huu Trac had used.
Not only seeing artefacts and unique architecture, coming to the Museum of Traditional Medicine, visitors can also participate directly in the preparation process of the ancients including stages such as cutting medicine, spreading, or even tasting medicine. And if you're "sick" and need some advice with medicine, yeah, you can get it directly from reception.
Notre Dame Cathedral

Located in the heart of Saigon, the majesty and magnificence of Notre Dame Cathedral make everyone burst into wonder at its beauty. It was built in an extremely unique European-Romanesque style. All of the bricks and tiles are brought from France. And on each brick, there are also the names of the units that have been produced. Thanks to the high-quality construction materials, after hundreds of years, this historical monument in Ho Chi Minh City still retains its integrity. Currently, Notre Dame Cathedral is in the process of being remodelled, visitors can only take pictures, visit the outside and not enter the church.
Address: 01 Cong Xa Paris, Ben Nghe, District 1. 
Cu Chi Tunnels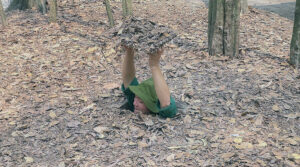 Referring to historical sites in Ho Chi Minh City, it is impossible not to miss the Cu Chi tunnels. Currently, the tunnel is one of the most tourist attractions in Saigon associated with history attracting a large number of visitors coming every day. This tourist spot was formerly a defence system, a resistance base of the Vietnamese army. About the structure, Cu Chi tunnels are a unique and incomparable underground city used as food and ammunition storage caches, medical care chambers, commanding chambers, meeting chambers, bedrooms, and cooking by Hoàng Cầm stoves…. The Vietnamese army and local people had dug and removed tens of thousands of tons of soil and stone with rudimentary tools and then camouflaged the openings so well that nobody could find them. Those who set foot in the tunnels cannot help admiring the talent, determination and endurance of the communist guerrillas.
Currently, there are 2 different sites to visit the tunnels: Ben Dinh and Ben Duoc.
Address:
Ao Dai Museum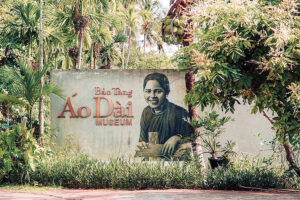 Ao Dai is the traditional dress of the Vietnamese people, but have you really seen the Ao Dai a few centuries ago? Fortunately, Ao Dai Museum had built by a painter and designer – Sĩ Hoàng, inaugurated on January 22, 2014. The main purpose of the museum is to display artefacts, conduct research, and collect and store documents, and images about Ao Dai that are associated with Vietnamese women from the past to the present. Currently, the museum has more than 1,000 sets of Ao Dai, but only about 100 are displayed with diverse designs and materials. The remaining them will be given out according to each specific exhibition with a certain theme.
Most of the Ao Dai sets, in the museum, are associated with famous Vietnamese women in many fields such as Armed Forces Hero Nguyen Thi Dinh, Vice President Nguyen Thi Binh, and People's Artist Bay Nam,… Besides, the museum also displays about 3,000 images of Vietnamese women in traditional costumes throughout the development periods of the country.
The museum is designed in ancient architecture with a wooden frame and yin & yang tile roof. The interior space is divided into two parts: the right side of the entrance displays the Ao Dai dresses from each period and the left side is the real dresses that have been associated with Vietnamese women who have made great contributions in the main fields.
Learn about religion in Ho Chi Minh
Not only is it the most dynamic city in the country, Ho Chi Minh City is also a cultural and spiritual place that gathers many beautiful and sacred temples. Visiting a pagoda or temple would help you relax, get some peaceful moments and also a great chance to admire in the unique architecture of the building. Let's explore some of the famous temples, and pagodas in Ho Chi Minh City!
Vinh Nghiem Pagoda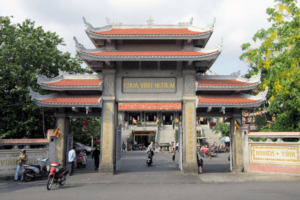 The Vinh Nghiem Pagoda has a distinct architecture with spacious and airy space. The pagoda is noteworthy for its ancient Asian architecture and seven-story tower. The corners of the pagoda roof are curved in the Northern style, in the middle of the roof, there is a Falcon and the corners of the pagoda are carved with the shape of a phoenix head. The pagoda also has a community Xa Loi tower to keep the ashes of the deceased that were sent at the temple.
Just stepping through the Tam Quan gate, visitors can witness firsthand the magnificence of the largest stone tower in Vietnam with a height of up to 14m. Not stopping there, Vinh Nghiem Pagoda also has a community Xa Loi tower to store the ashes of the deceased sent at the temple. It is also for this reason that every year many people come to remember their loved ones. 
Address: 339 Nam Ky Khoi Nghia, Ward 14, District 3, HCMC.
Thien Hau Temple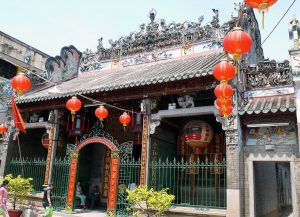 This is a Chinese temple with the longest history among the temples in Ho Chi Minh City. The temple has bold Asian architecture, including 4 buildings arranged in the shape of the word "Quốc"(meaning: National). This place keeps embossed paintings of the four spirits – "Dragon, Unicorn, Turtle, Phoenix" and more than 400 other rare antiques. The eaves, roofs and walls are decorated with reliefs made of baked ceramics, exuding the majesty and grandeur of the temple. Another special feature that few people know about is that all the materials use to build Thien Hau Temple were transported from China. Therefore, the temple has great artistic and technical value. It's also a place of spiritual and cultural activities of the Hoa people in Ho Chi Minh City.
Ba Thien Hau Pagoda is located at 710 Nguyen Trai, Ward 11, District 5, HCMC.
Vietnam Quoc Tu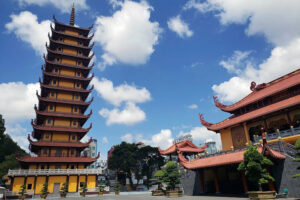 Vietnam Quoc Tu is famous for its pure; peaceful space with unique and outstanding architecture. Covering the pagoda are the shadows of large old trees, shady and green all year round. At the corner of the pagoda, there is the tallest tower in the country with 13 floors and a height of up to 63m. The pagoda has historical and spiritual significance for the Vietnamese. The 7-floor tower displays Buddha statues for Buddhist monks and nuns, tourists come to offer incense and worship. Currently, Vietnam Quoc Tu is chosen as the new headquarters of the Vietnam Buddhist Association, attracting many tourists who come to visit and pray for peace.
Address: No 244 Road 3/2, Ward 12, District 10, HCM,
Mariamman Hindu Temple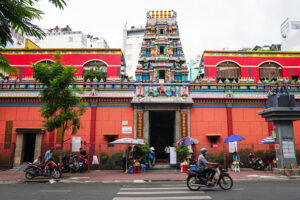 The Mariamman Temple, located near Ben Thanh market, is also one of the oldest and most famous Indian temples in Ho Chi Minh City. It was designed and built with a strong influence of Hindu, worshipping the Rain God – Mariamman. This is not only the legacy of the Indians who used to live in this land, but also a community area of Indians who live and work far from their homeland. It was really a spiritual place during their time living in Saigon. Coming inside the temple, along the stone wall are statues of 18 gods – symbolizing the wishes of the people. Therefore, whatever the problem, especially about illness, children, and safety….they will come here, put their heads down to confide in the stone wall and receive the sounds of peace and serenity for themselves.
Address: 45 Truong Dinh, Ben Thanh, District 1, Ho Chi Minh City.
Xa Loi Pagoda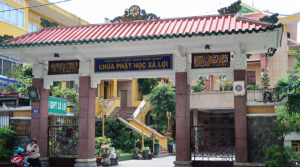 Xa Loi Pagoda was built according to the new architecture in Vietnam with the upper part being the worshipping hall and the lower part being the lecture hall. The pagoda owns a bell tower with a height of 32 meters – the tallest bell tower in Vietnam, with a big bell that weighs up to 2 tons. Along with the 7-storey bell tower, the main hall is the area with the most characteristic architecture of Xa Loi Pagoda.
The main hall has an area of ​​more than 400 square meters, spacious, airy and "catching" all the light from nature. The pagoda was built to worship the relics of the Buddha, including the main hall to worship Shakyamuni Buddha and many different areas such as the library, the lecture hall…
Address: 89 Ba Huyen Thanh Quan, District 3, Ho Chi Minh City.
Taste local food
When it comes to places with rich cuisine perhaps Saigon is the best. The city gathers almost of delicious dishes, sold in different forms, from big markets to small alleys. Now, you can find a bowl of "bun bo Hue" with the original taste without going to Hue, or a bowl of ramen noodles without having to fly to Japan. Here are the most popular places where you can get a great experience with local food.
Ho Thi Ky food street – District 10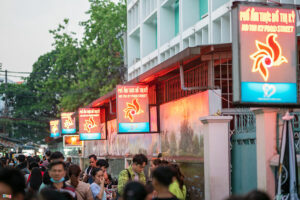 Not only famous as a flower market, Ho Thi Ky is also well known for its street food for a long time. This is the convergence of attractive dishes from many regions of Vietnam, Cambodia, and China…some of them from Korea and Japan as well. Although the market is only encapsulated in a section of less than 200m, there are countless shops, from appetizers, main meals, desserts, from soups to dried or grilled food….all of them look so attractive but very cheap. 
Food stalls at Ho Thi Ky market are usually open from 15:00 – 23:00, so you can arrange to have a "full" experience here.
Address: Alley of Ho Thi Ky Street, Ward 1, District 10, Ho Chi Minh City.
Vinh Khanh snail street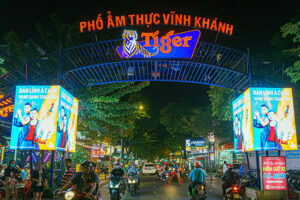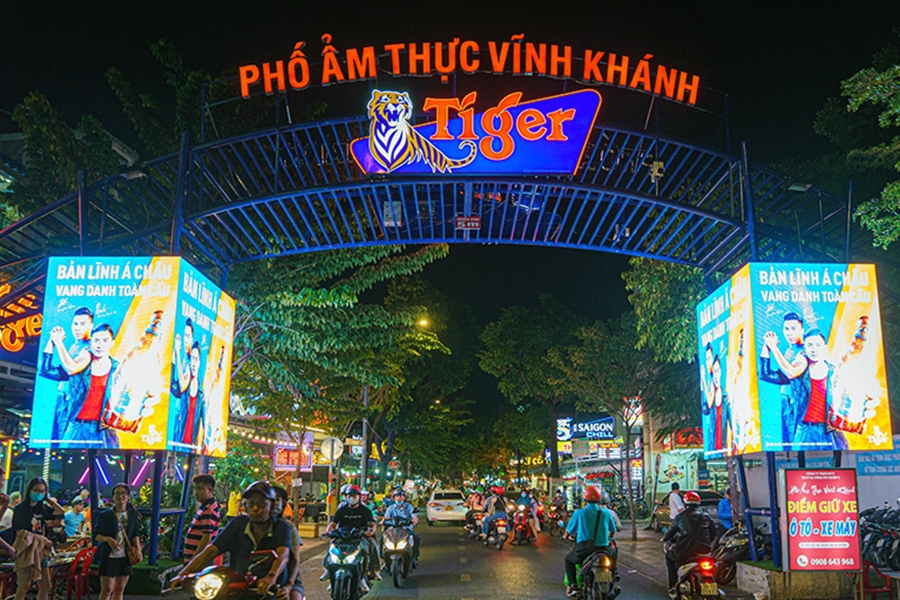 If you're a "fanatic" of snail dishes, Vinh Khanh would be the best area to come and experience. The buzzing street of local seafood and freshwater snails is located in District 4 – close to District 1. While other snail shops only open at night, these snail shops on this street start operating in the early afternoon.
You might be surprised at the range of snail options available from these shops. Most of the foods were topped with herbs and served with sauces which enhanced the taste of snail and seafood and made the dishes more smelling.
Address: Vinh Khanh Street, Ward 8, District 4, Ho Chi Minh City.
Cholon – Saigon Grand Food Court
Cholon is one of the oldest marketplaces in the city. The area also known as China Town in Ho Chi Minh City, consists of several joining wards from District 5 and District 6. The dishes are inclined towards Chinese dishes, and menus are presented in Chinese and Vietnamese. If you love Chinese cuisine, don't forget to note this food court! 
Not only have extremely diverse menus that attract the expat Chinese community but also the locals in Ho Chi Minh City. In addition, to visit and enjoy the cuisine, you can also witness a very vibrant Chinese life right in this city.
Turtle Lake – District 3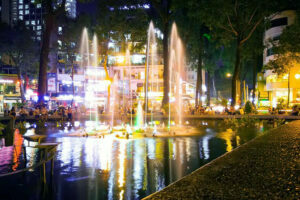 Turtle Lake is the name of the fountain located right in the middle of the roundabout, District 3. The area is famous for snacks, at affordable prices such as rice paper, spring rolls, sweet cakes, and soft drinks.… mainly attracts young locals. Most of the vendors sell rice paper mixed with all kinds of processing such as mixing, rolling or baking… which is very strange.
Coming to this area, you also have a great chance to see the bustling Saigon streets with shimmering and brilliant street lights at night.
Location: The intersection of Vo Van Tan, Pham Ngoc Thach, Tran Cao Van streets, Vo Thi Sau ward, District 3, Ho Chi Minh City.
Ha Ton Quyen Jiaozi Area 
Located near the Cholon area, Ha Ton Quyen Street has been famous for selling the best jiaozi in Saigon for decades. In the early afternoon, this street becomes bustling, crowded with people coming to enjoy the famous bowls of delicious jiaozi. The menus have a variety of shrimp, vegetarian, mixed, and fried… served with bar broth and vegetables. Each line has its own highlight depending on the taste and choice of each person. The jiaozi here made with authentic Chinese recipes will help warm your stomach at night or satisfy the curiosity of first-time eaters.
Location: Ha Ton Quyen Market, District 5 and District 11, Ho Chi Minh City. 
Besides this street food, there are still other famous areas that you should not miss such as Tan Dinh & Co Giang Market in District 1, Alley 200 Xom Chieu – District 4…where you can easily find a good meal at a "surprise price".
What to do at night in Ho Chi Minh City?
Saigon is a city that never sleeps. When the sun sets, it boasts some of the greatest nightlife. Saigon may seem magnificent and crowded during the day, but at night, it reaches a whole other level. There are nocturnal activities to keep you busy in this city. 
Nguyen Hue Walking Street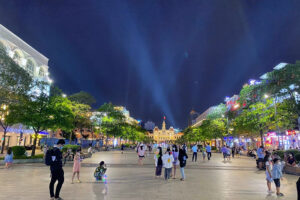 This pedestrian street is decorated with modern art lighting and water music systems. Numerous individuals come here after dark for a stroll or to visit one of the stores or coffee shops lining the roadways. There are some landmarks along the strip worth noting such as the historic Rex Hotel and the Ho Chi Minh City People's Committee. In front of the City Hall, there is a set of Uncle Ho's copper alloy statue with a height of 7.2m, facing Sai Gon River. Tree lines and flower beds also make the pedestrian more vibrant. On the weekends, there are often art performances, culture & sports activities, and singing and dance groups, which make the evenings on Nguyen Hue Street even more entertaining.
Have fun on Bui Vien Street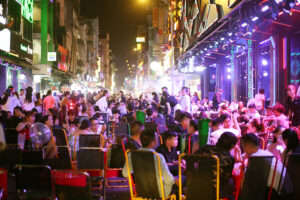 Bui Vien Walking Street – District 1, is the heart of Saigon's entertainment after dark. This street is known as the "backpacker area" due to the affordable restaurants, and cheap beer hostels but never sleep.
Both sides of the street are lined up with bars packed tightly, each offering fresh beer, delicious food, and loud music. Therefore, it attracts lots of travellers from around the world. All gather here for a busy, fun, and exciting nightlife.
Romantic dinner on a cruise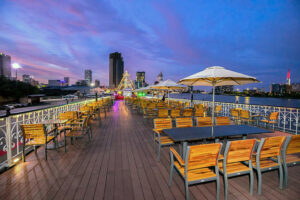 This a great way to get away from the crowded streets of the city and a wonderful way to enjoy the romantic view along the riverside. Take a leisurely evening dinner cruise down the Saigon River, there will be a sumptuous feast, live jazz performances, fire dance, and stunning night views that the night become unforgettable.
There are numerous floating restaurants to choose from such as Ben Nghe Floating Restaurant, Saigon Restaurant Cruise Ship, Elisa Floating Restaurant, Bonsai Legacy Cruise Ship, King Yacht Cruise Ship, Indochina Junk…
Chill at the rooftop bar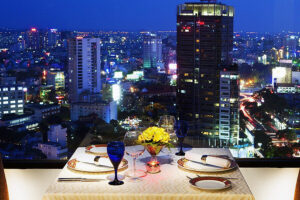 Spending your night time at a rooftop bar is definitely the top thing to do in Saigon at night. Witness a panoramic view of Saigon while enjoying exciting dance music and beer, you will feel extremely comfortable and relaxed.
Each bar or club has different styles and decorations, so break your night into chapters and make it fun by visiting different bars on your trip.
Enjoy traditional show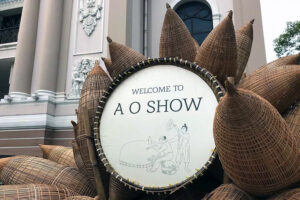 Shopping in Ho Chi Minh
Shopping when traveling to Saigon you have a lot of different choices depending on your pocket and what you want to buy. If you have a lot of money, you can choose large commercial centres, combine eating and participating in many attractive entertainment activities. Another option is visiting the markets with reasonable prices but still selling all kinds of specialities. Below are some of the most popular destinations for "shopaholics".
Ben Thanh Market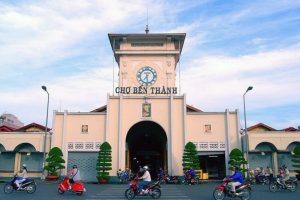 Ben Thanh is a famous market in Saigon and has a long history associated with the typical culture of local people. Ben Thanh Market has a total area of ​​about 13,000m2, selling all kinds of items from shoes, clothes, cosmetics, handicrafts, fruits, fresh foods, and specialities as gifts… Ben Thanh Market is considered a symbol of Saigon tourism, attracting a large number of tourists to visit and shop. Not only that, when coming to this famous market in Saigon, you can also take pictures as a souvenir at the market gate with the image of a clock like living virtual at Big Ben in England.
Location: Ben Thanh, District 1, Ho Chi Minh City.
Binh Tay Market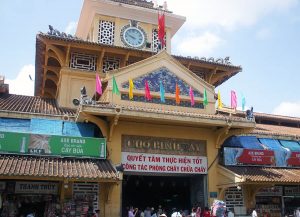 The market is located in the Cholon area. It was built in the 20s of twentieth century, on an area of more than 17,000 m² in the style of ancient Asian-style architecture. Binh Tay Market currently has more than 2,300 stalls and business stalls with more than 30 groups of products. Every year, over 120,000 foreign tourists come to visit and shop at the market brought by travel companies across the country. Coming to Binh Tay market, visitors can just admire the ancient architecture, learn the history of the market and shop at reasonable prices.
The main gate locates at 57 Thap Muoi, District 6, Ho Chi Minh City.
Saigon Square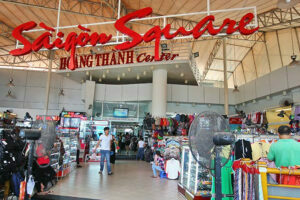 With a variety of items, and especially affordable prices, Saigon Square is known as the "Shopping Paradise in the heart of the city"…  It's hard to find a place in Saigon to buy yourself outfits that are both beautiful and unique but affordable when coming here. Furthermore, products are constantly updated according to the latest fashion trends in many sizes, especially clothes, and shoes. Spacious, airy, air-conditioner works during opening time, the quality of goods here is relatively good, the customers are mainly local young people and foreigners who like to shop when travelling. And people often compare Saigon Square as a market but it is a high-class market.
Address: 77 – 89 Nam Ky Khoi Nghia Street, District 1, HCMC.
Vincom Center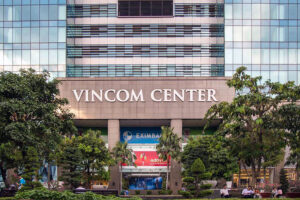 This is a large commercial centre in Saigon, where you can find many shopping, dining or office rentals. Vincom Center is divided into 2 buildings Vincom A (address 72 Le Thanh Ton) and Vincom B (address 45A Ly Tu Trong). The building was designed in French architecture, where international products with big and prestigious brands are displayed. In addition, coming to Vincom, you will enjoy delicious and attractive dishes, dishes with the quintessence of countries prepared by skilled chefs.
SC VivoCity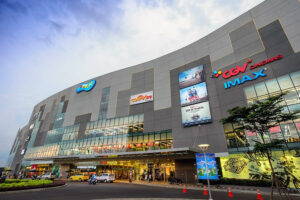 SC VivoCity inherits the success of Singapore's largest shopping mall – VivoCity – which was voted as one of the "top 10 shopping destinations of the world" in 2011. SC VivoCity has located in the busiest South Saigon urban area in Ho Chi Minh City and is only about 5 km from the city centre.
With a total booth area of 41,000 m², a scale of 5 floors and 1 basement, SC VivoCity Vietnam will be a space that integrates all shopping, dining, and entertainment facilities, ensuring the satisfaction of all needs of your family members.
Address: 1058 Nguyen Van Linh Street, District 7, HCMC.
Saigon Center Shopping Center (Takashimaya)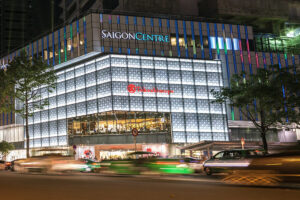 Shopping in Ho Chi Minh City cannot be missed Saigon Center Shopping Center also known as Takashimaya – is a luxury shopping paradise with all kinds of expensive services. Takashimaya's location on Nam Ky Khoi Nghia Street is considered a "golden" location in Saigon, decorated with impressive architecture. This is the largest and most modern commercial centre in Saigon integrated between many different services.
The booths at Saigon Center Shopping Center are divided into separate zones and beautifully decorated for virtual living. In particular, it must be mentioned that Runam cafe is famous for delicious drinks, a beautiful space for super quality pictures to live virtual. Takashimaya is an ideal destination in Saigon for both shopping and check-in.
Address: 92 – 94 Nam Ky Khoi Nghia, Ben Nghe Ward, District 1, City. Ho Chi Minh City.
Aeon Mall Shopping Center Tan Phu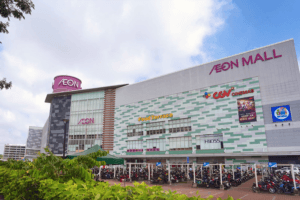 Aeon Mall Shopping Center Tan Phu is a shopping destination in Saigon that is loved by many tourists with its spacious space and sale of all kinds of items. This commercial centre was built in early 2011 and has an address in Tan Phu District. Aeon Mall Shopping Center Tan Phu is impressive with shopping architecture like in Japan, along with professional and enthusiastic staff that will bring memorable experiences for your trip.
Shopping at Aeon Mall Shopping Center Tan Phu, visitors will be able to choose from a wide range of items, categories and extremely convenient services. With cosmetic stalls from famous brands, fashion stalls, food courts, and amusement parks… Especially, at this mall you can take beautiful pictures of the cherry blossom garden. It's like being in Japan.
Address: 30 Bo Bao Tan Thang, Son Ky Ward, Tan Phu District, Ho Chi Minh City.
So what to do in Ho Chi Minh? We hope this article will bring a lot of useful information for your excursion to Ho Chi Minh City. And please don't hesitate to share your journey experiences. It's our pleasure to receive it and wish you a good trip to Vietnam.
---