Besides Vinh Trang Pagoda and Thoi Son Islet, Cai Be floating market is another tourist attraction in Tien Giang Province. The floating market is held on the Tien River, adjacent to three provinces of Tien Giang, Vinh Long, and Ben Tre. The floating market not only has many typical cultural features of the Mekong River region, but it is also an attractive tourist destination to help visitors admire the beauty of the floating market as well as the traditional trading culture of the local region.
What is the right time to visit Cai Be floating market?
To best feel the excitement and bustling boats of the market, you should come here early in the morning, just before dawn around 4 – 4:30 am. Fruits have just been transported from the gardeners, combined with newly caught seafood, creating an extremely bustling market scene.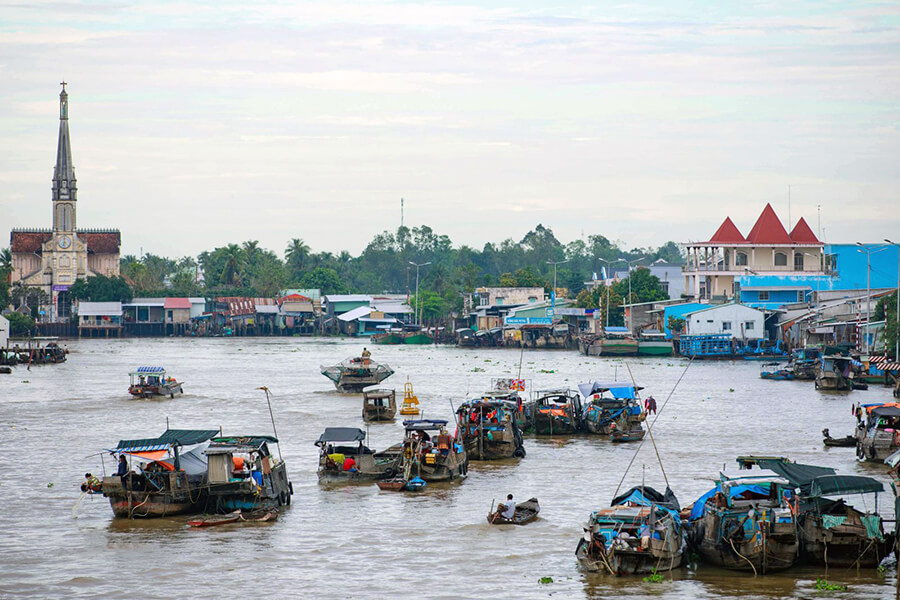 Between 5 – 7, the market is most crowded and busiest, with many types of goods and fresh agricultural products.
Tourists definitely will not want to miss this scene, when in the dawning sky is a colorful picture of all kinds of boats bustling up and down the river. Furthermore, temperature during time is really cool and fresh. It should be note the market finished will finish around 8am, a lot of boats will move to another area, so don't come late.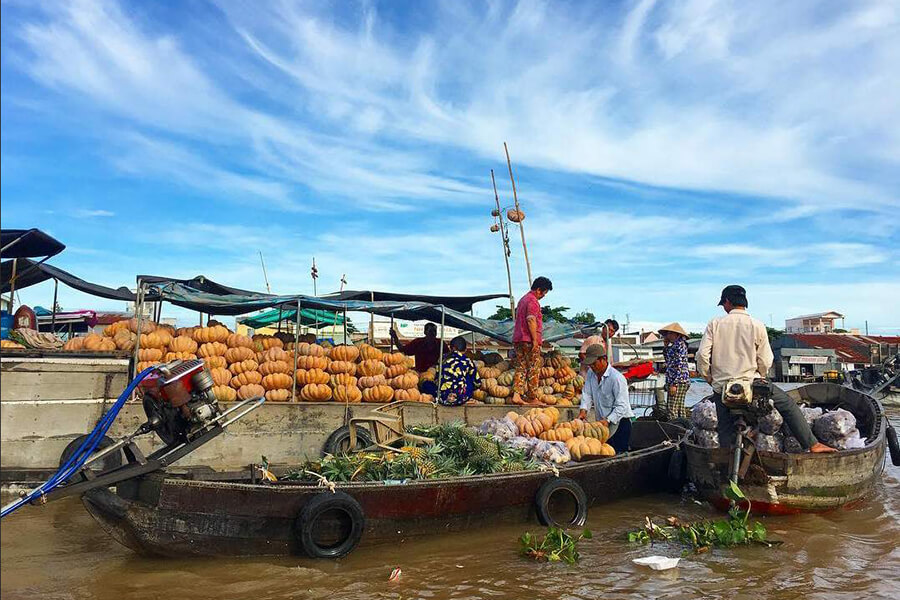 For those who love silence and peace, you should visit the floating market in the afternoon to see the activities of people on boats, feel more clearly the daily life on boats of the residents her, one of the characteristics of the Southwest.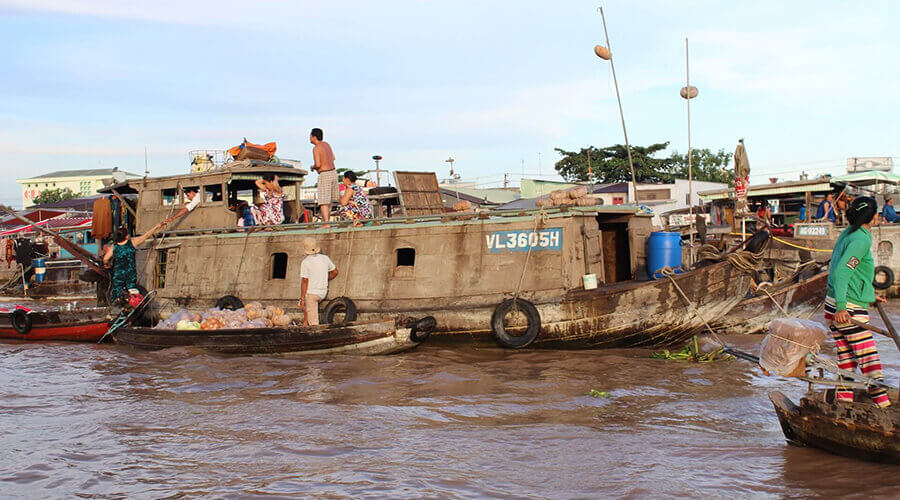 In the afternoon, you should go around 16:00 p.m when it's less sunny. You will have moments watching the sunset on the river – most beautiful and sparkling time of this floating market area.
What's special about Cai Be floating market?
It takes about 2 hours to reach the market from Ho Chi Minh city. Coming here, visitors will not only have a chance to witness the bustling vibe and chaotic atmosphere of the market in the morning but also explore one of the biggest fruit-producing areas throughout Vietnam.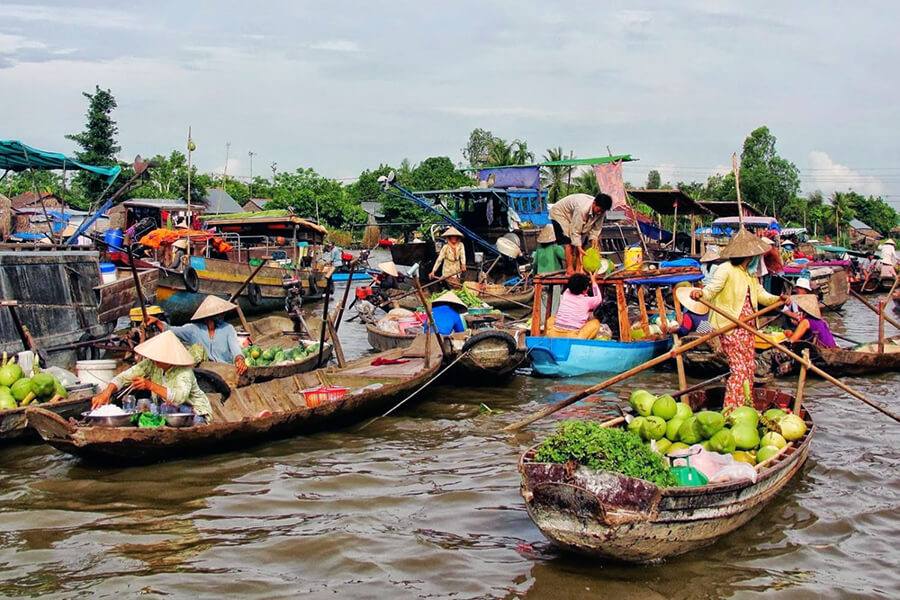 The market was formed by local people who cultivated and settled down the delta during the XVII – XVIII centuries. During its heyday, Cai Be floating market known as the unsleeping market. Every day, lots of boats and rafts gathered here. They have been sold from fabrics, seafood to appliances, drinks…but the most outstanding was fruits. Currently, agricultural products and foods are being offered for tourists and local people in this market.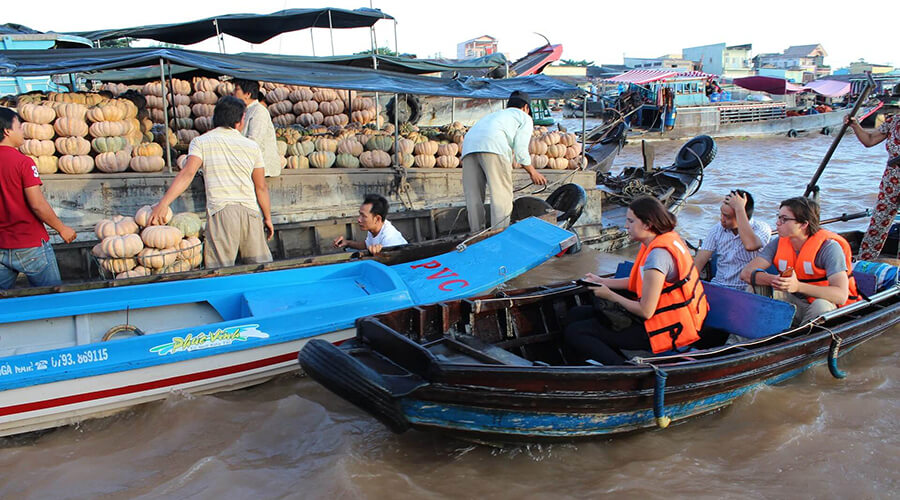 Retailers in the market have a unique way to sell their products. They hang on merchandise on a pole in front of the boat to attract customers.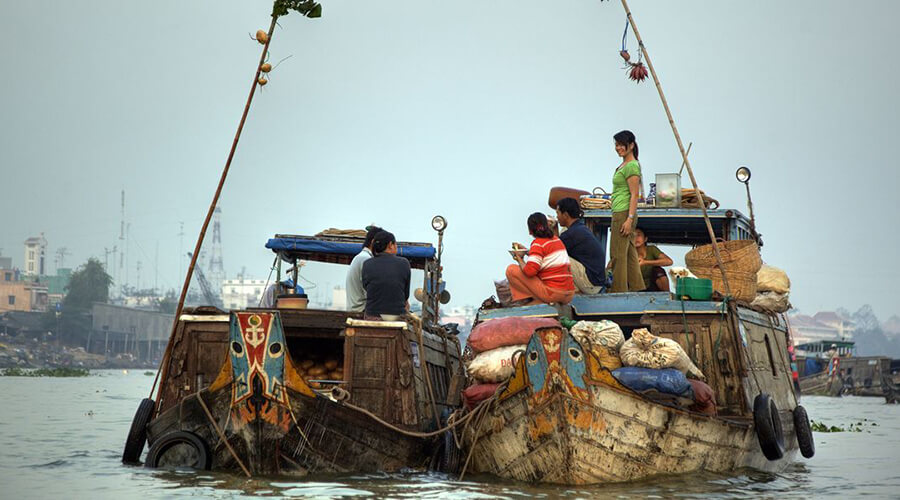 Besides paddle boats, there are many big ferries that piled up a lot of fruits or vegetables. Some retailers usually come to these ferries to purchase products from the merchant then bring it to land markets to re-sale. From generation to generation, they have been using their boats as a "mobile house".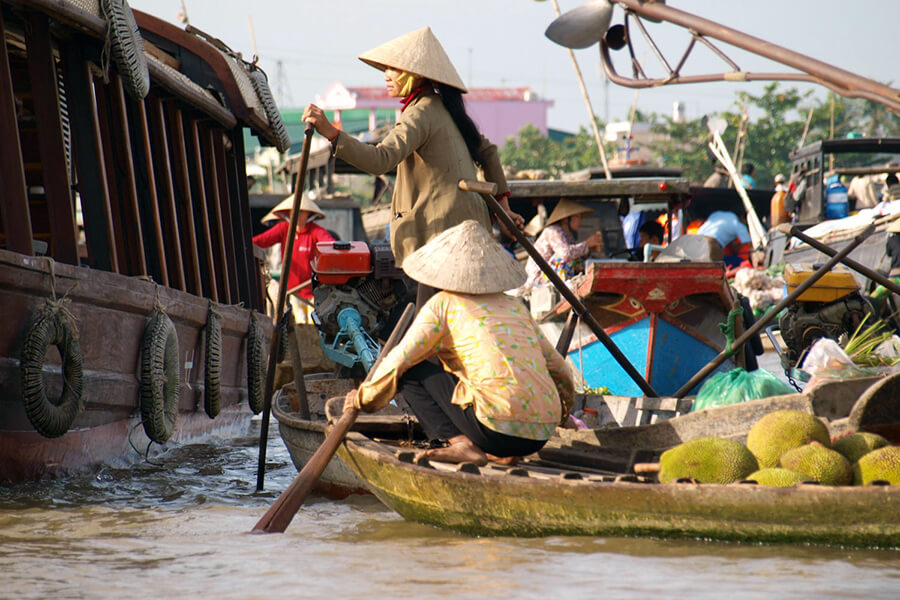 Most of their daily activities would not separate from the boat and water. Unfortunately, the Cai Be floating market is getting smaller every year since trade is shifting more and more into modern central markets. Another reason is the development of infrastructure which benefits the local traders more than using boat to transport and retail their goods on the river. Up until now, the number of boats working at Cai Be floating market decease seriously to only about 100 – 150 boats available in early morning.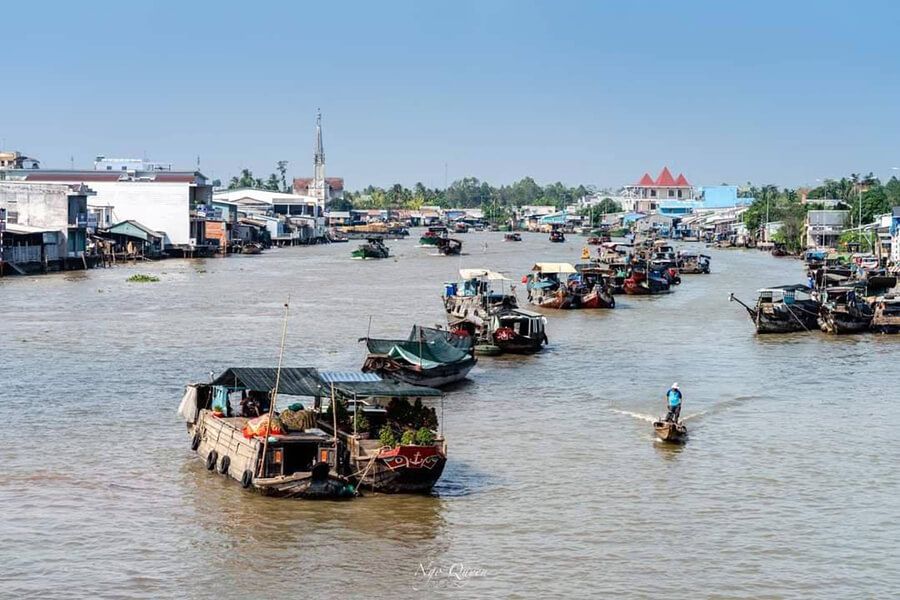 However, fewer boats do not mean Cai Be lost its attractiveness for tourists. Besides the floating markets, visitors should come to Tan Phong islet which is famous for growing large and succulent rambutans and longans. Wandering orchards and enjoy fresh fruits or cycling around the local village is another thing that you should not miss.
Furthermore, there are numerous small canals in Cai Be, which invite to a discovery tour by sampan. And if you want to stay overnight in Cai Be, homestay is indeed a memorable experience.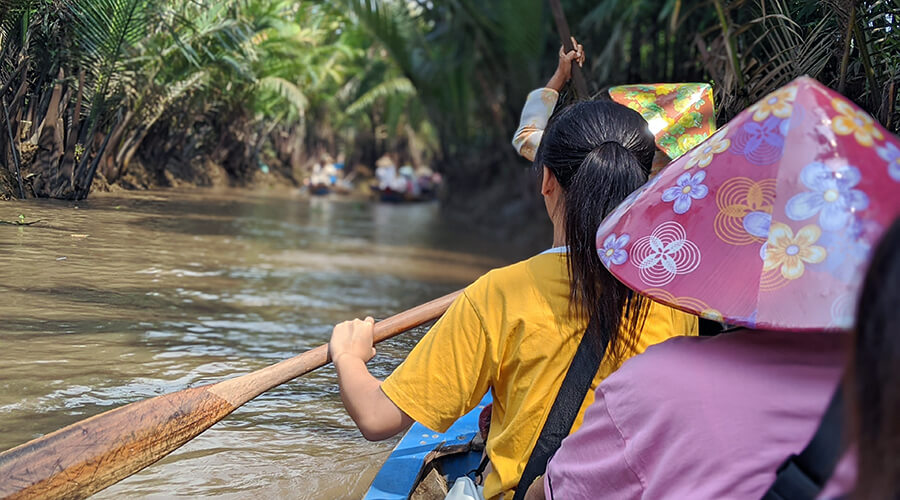 Enjoy riverside countryside cuisine
Today, due to increased tourism demand and the needs of indigenous people, Cai Be floating market not only sells fruits and agricultural products but also has small boats selling wet cake, noodles soup, porridge, vermicelli, coffee…but instead of enjoying it on the shore, in a restaurant, visitors experience enjoy it "floating boat" in the middle of the delta river.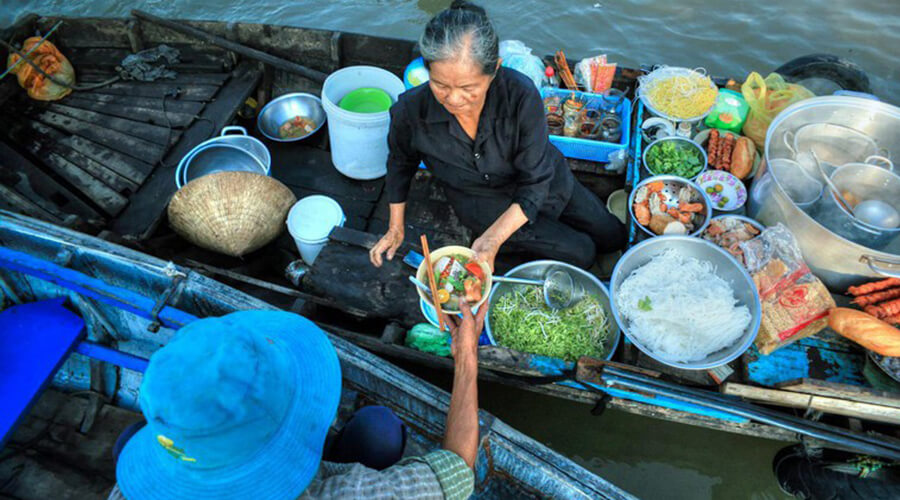 Each boat is a mobile restaurant, so you can enjoy rustic rural dishes and feel the relaxing rhythm of life of the river. Hundreds of boats running up and down a bustling stretch of river create a realistic picture of the simple, simple life of the countryside.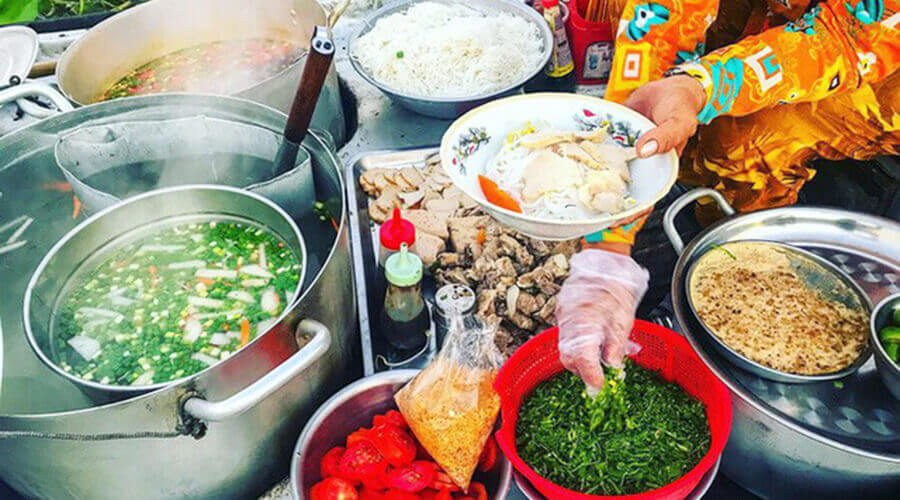 Some notes when traveling to Cai Be floating market
Clothing: You should choose lightweight, easy-to-move clothes to avoid getting in the way if you want to sit on a canoe or boat.

Shoes: You should wear sneakers or sandals with straps or flat shoes to comfortably get on and off the boat.

You should bring a hat and umbrella to protect yourself from the sun and rain to prevent sudden rains.

You should also bring medicine for motion sickness, stomachache, sunscreen, and insect bite medicine to prevent it.
Vietdreamtravel has just taken you to visit special activities at Cai Be Floating Market. If you have the opportunity to visit this place, don't miss the opportunity to experience all the cool things we has just suggested. We're also offering daily tour; package tour and private car to Cai Be, so don't forget to contact us and wishing you a happy trip & many memories with friends and family.
Best regards,
Viet Dream team
---