Tien Chau Pagoda is one of the ancient pagodas in Vinh Long province, with a history of about 250 years. This pagoda is not only famous for its sacredness but also a unique ancient architectural work for visitors to admire. During trips to explore An Binh islet, many tourists spend time worshiping and sightseeing at Tien Chau pagoda. Join Viet Dream Travel to learn about Tien Chau Pagoda through the article shared below.
History and origin of the name of Tien Chau Pagoda
Tien Chau Pagoda is also called Di Da Pagoda. The pagoda was built around 1750. Also this year, monk Giac Nguyen from Thua Thien Hue came here and saw the elegant and magical landscape, so he built a small bamboo hermitage with leaf walls to worship Amitabha Buddha and named Bai Tien. In 1801, after Venerable Giac Nguyen passed away, nun Dieu Thien came to take care of Bai Tien hermitage. Coming here, the nun encouraged followers and visitors to donate money, rebuilt the pagoda, and changed its name to Bai Tien.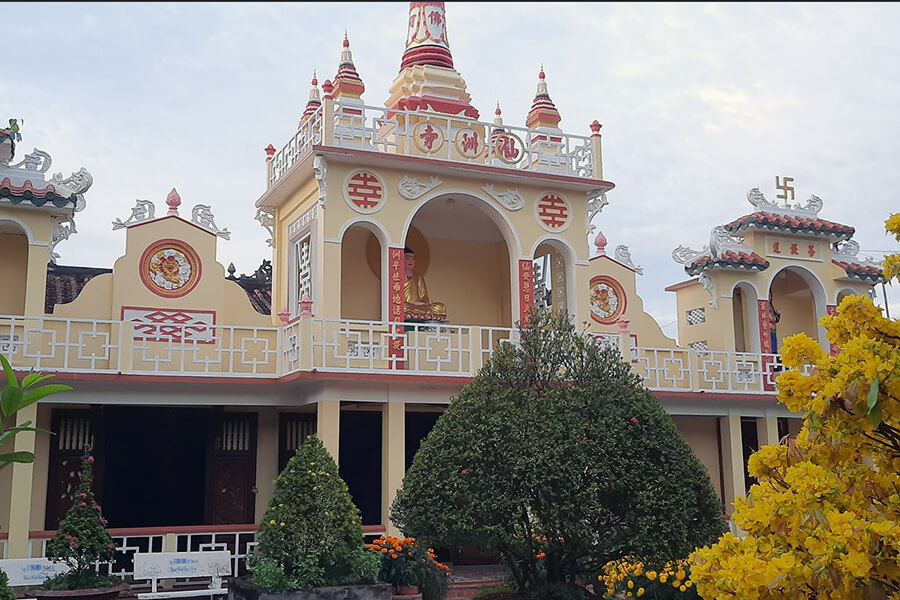 Later, the pagoda was rebuilt with wood (thanks to wood merchants from Cambodia to sell at Vinh Long market), then renamed Tien Chau Di Da Pagoda.
In 1899, the monks of Vinh Trang Pagoda (My Tho, Tien Giang) went to Tien Chau Di Da Pagoda to practice Buddhism on their own. At that time, the temple was in decline, so believers gathered money to restore it again. From then on, this ancient pagoda was called Tien Chau pagoda, and the name Tien Chau Di Da has went into the past.
Architectural style of Tien Chau Pagoda
In the year of 1968, the pagoda was rebuilt, but still kept the scale that built in 1899. Tien Chau Pagoda has the shape of "triangle", consisting of three interconnected spaces: the main hall, the middle hall and the rear hall. These areas are made in a four-pillar style, expanded horizontally, made of precious wood, and cover by the yin and yang tiled roof…
The pagoda is 20 meters wide, 46 meters long, on the roof of the main hall there are 5 towers, the middle tower is the tallest, as we see today. The five towers on the roof of the pagoda are also an architectural style similar to Vinh Trang pagoda (My Tho, Tien Giang).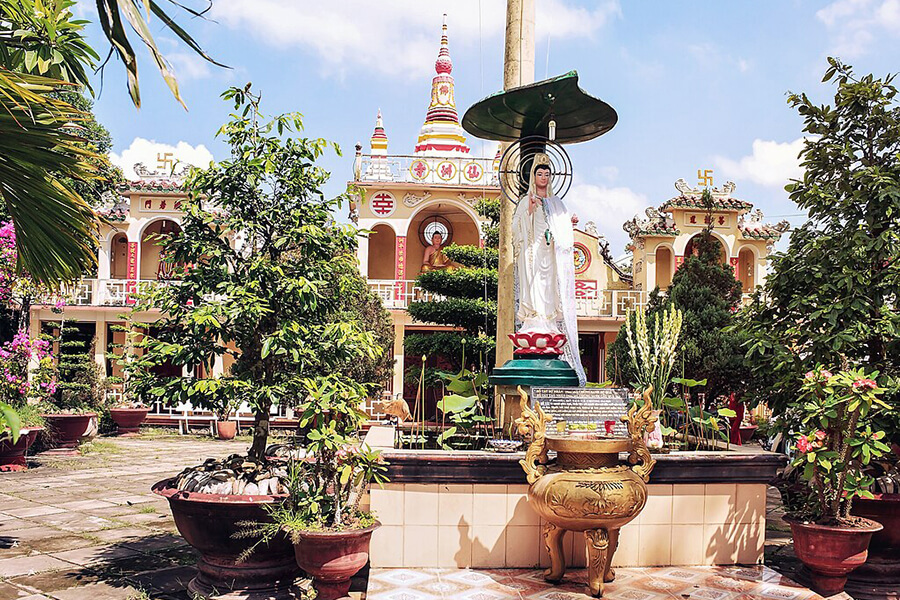 The pagoda has a total of 96 round wooden columns, the rafters, cross sections, and trims are skillfully carved by the sophisticated hands of local artisans, especially talented workers from the capital Hue. All construction wood is made from famous wood rafted here from Phnom Penh, Cambodia.
The main hall has an ancient space with sophisticated architecture along with many artifacts and antiques such as sofas, ancient vases, horizontal plates, statues of Bodhisattvas, Arhats, tables, chairs, porcelain teapots… Currently, the pagoda still preserves many artifacts of high cultural and artistic value such as the statue of Maitreya Buddha, a set of bamboo panels carved with Eighteen Arhats, along with many delicately carved paintings dating from the 19th century such as the "Four sacred animals"…
After hundreds of years of formation and development, Tien Chau Pagoda was recognized as a national historical-cultural relic in December 12, 1994.
Useful information about Tien Chau Pagoda
---