Shopping is one of the hobbies of many people especially while traveling or visiting another place. Vietnam is a beautiful country and a rich culture. There is one thing that you can't resist in Vietnam – shopping. Not only many things you can explore but also you can learn about Vietnamese culture in the local markets.
Where is best shopping places in Vietnam?
In Ho Chi Minh City
Ho Chi Minh is a shopping paradise for foreign travelers. Here are some popular markets in this city where you can shop.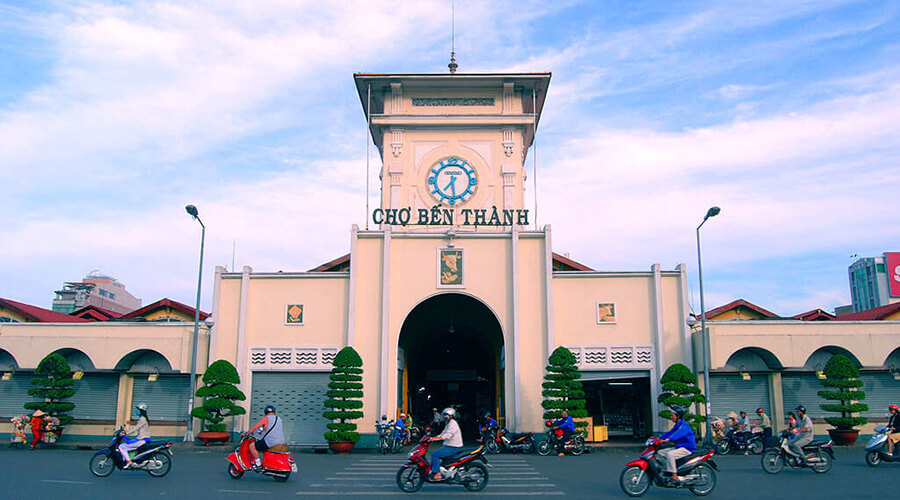 Ben Thanh market is located at the intersection of Le Loi, Ham Nghi, Tran Hung Dao and Le Lai street, near The Rex hotel. As it stands in the very center of the city where consumers can conveniently find all sorts of products imaginable. The goods in Ben Thanh Market are abundant, including almost all domestic products, especially those from the Mekong River Delta and modern products from other countries.
Furthermore, nowadays, the market is becoming popular with its local foods at night time. However, you also should bargain when shopping here.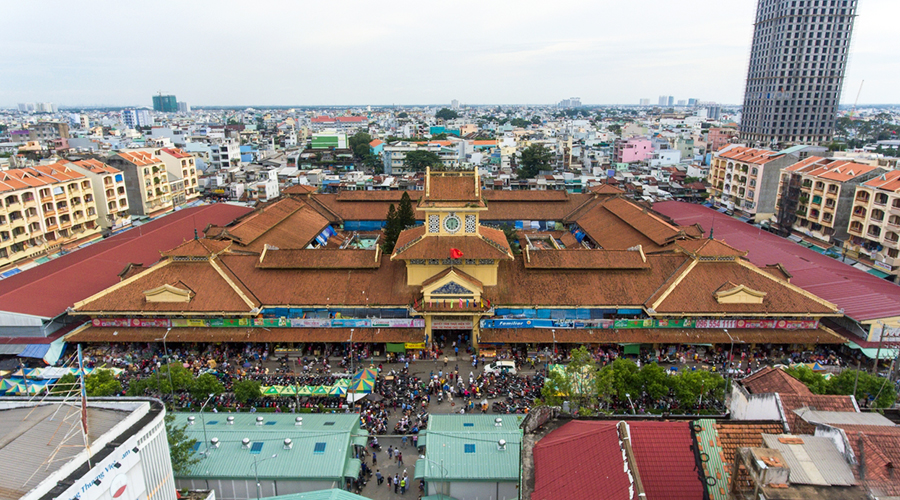 Cho Lon covers a vast area from the residential quarters in District 5 and 10 to the vicinity of District 6 and 11. It has become part and parcel of every itinerary to Ho Chi Minh city. During a day, Cho Lon is bustling with sellers and buyers doing their business.
Binh Tay market, one of the most important markets of Ho Chi Minh city, is located inside Cho Lon. You can buy almost everything there. When the night falls, Cho Lon seems to rejuvenate. Visitors come here at this time not only for purchasing goods but also for tasting the gastronomy of the local people (Hoa people).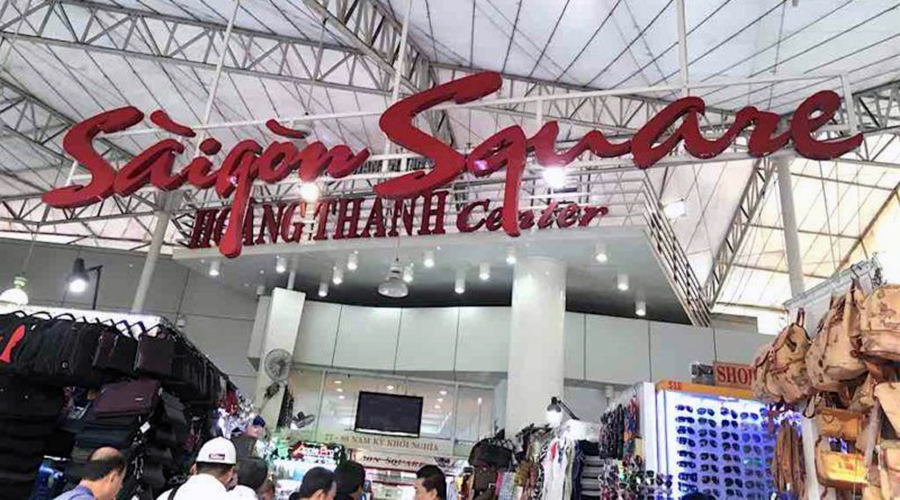 Sai Gon Square is also known as "shopping paradise" in Ho Chi Minh. At the moment, there are 02 branches, one located at the corner of Nam Ky Khoi Nghia and Le Loi in District 1 and another one located at 179E-181-183-185 Hai Ba Trung street. Compare to Cho Lon or Ben Thanh market, this building is considered more pleasant as the air-conditioners working 24/7. At these places, a hundred shops are selling clothes, shoes, bags, jewelry, watches, eyeglasses fashion…of all types for all ages at reasonable prices.
In Hanoi
The capital of Vietnam is also a perfect destination for tourists to visit and do shopping. You should not skip: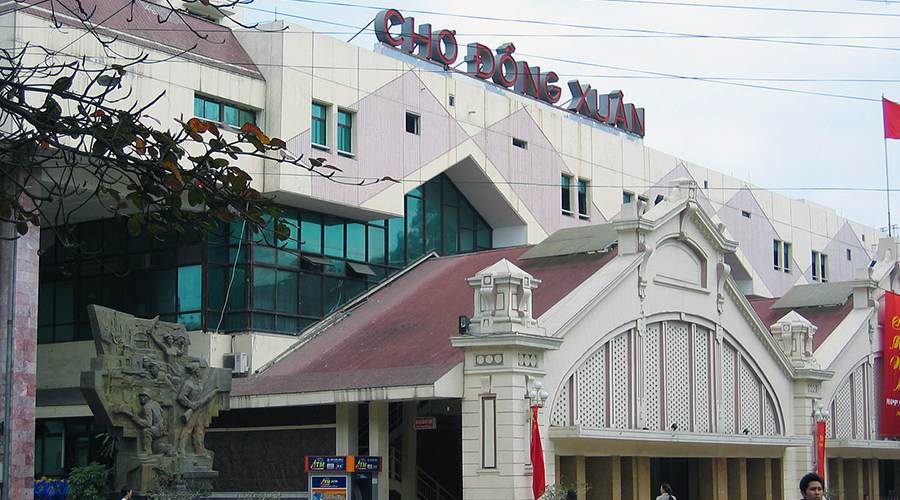 Dong Xuan market is the largest covered market of Hanoi where the wholesale traders sell everything from clothes, household goods to foodstuffs of every kind from fresh vegetables to Vietnamese dishes.
On the weekends, visitors have the opportunity to walk and discover the night market. From 18 – 23:00 pm, many people come here to stroll or go shopping. The area creates a busy and crowded walking street. Coming to the night market, you can buy souvenirs, handicrafts and also try traditional foods.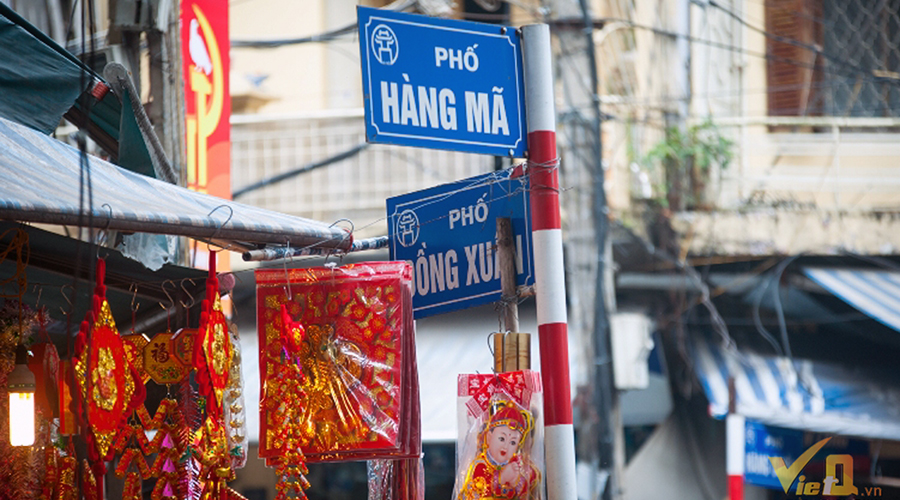 This area was founded from the 11th century as a crowded trade area where traders and artisans concentrated to work and set up specific trade streets. The street names were begun with "Hang" and originated from the names of the type of merchandise produced and traded such as Hang Duong "Sugar", Hang Gai "Silk", Hang Bac "Silver"…Nowadays, the Old Quarter includes 76 streets. Every street was noisy is noisy, animating in trade.
In Mekong Delta River
Mekong Delta River isn't only a famous destination but it also is a great place for shopping unique local things. Here are some famous markets you should visit.
Nga Bay floating market in Hau Giang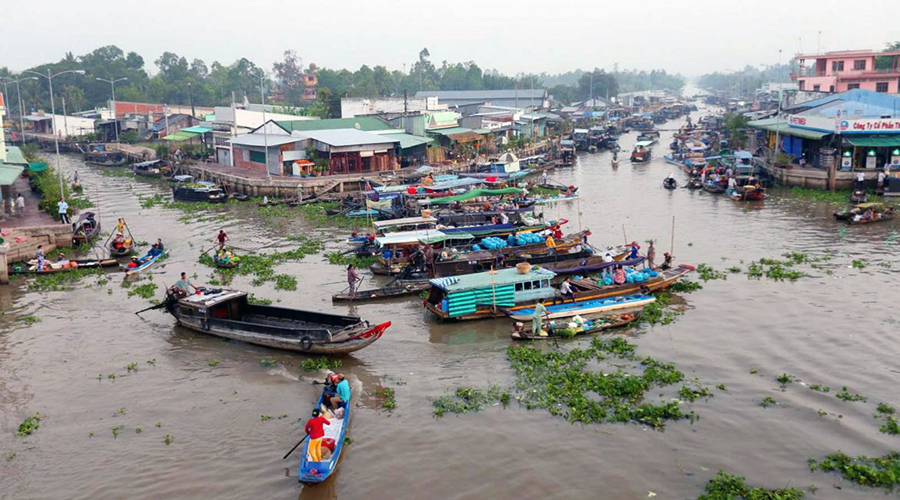 It's located in Nga Bay town, another name is Phung Hiep floating market. The market has a variety of goods, especially fruits, agricultural products, housewares, poultry, handicraft products, etc.
Cai Rang market in Can Tho
Cai Rang market is located just 5 km from the city. The local fruits and products are displayed in boats on the market. The goods are hung on a pole in front of the boat to attract customers. To visit this market, it's better to wake up earlier to catch a boat that you take you all the way to the market and back.
In Nha Trang 
Dam Market is the largest market and trading symbol of Nha Trang city. Located in the center, the market sells fashion items such as clothing, shoes, handbags, watches, many kinds of souvenirs, handicrafts, paintings, seashells… the market attracts not only domestic but also foreign tourists to visit and shopping. This market also is known as the best place to look for dried seafood or spring rolls as their gifts. dried seafood is diverse ranging from dried shrimps, soaked squid, and seaweed to dried seahorses, nudibranchs and shark fin.
In Hue
Dong Ba Market is the oldest market in Hue, with hundreds of stalls selling household items, handicrafts, clothing, fruits, seafood, clothing, meat…at affordable prices. The best time to visit this market is between 6 Am until 11 Am as you can also enjoy traditional Vietnamese dishes such as Pho, Bun Bo Hue, Banh Khoai, and fresh spring rolls for breakfast. Visit this market, you not only shop for souvenirs but also experience the local lifestyle with street food.
What to buy when shopping in Vietnam?
Worry no longer about what to buy in Vietnam. In this article, you'll see all the things you can buy in Vietnam for your shopping experience!
Starting from Hue, the Ao Dai became a common dress for women throughout the country. The features or lines of Ao Dai changed a little, depending on personal style. The actual Ao Dai fits tight against the body, showing a supple curved line that is appropriate for the tiny stature of Vietnamese women. The dress drops down to the shin and the body has a fairly high cut slit. All the features of the Ao Dai attempt to reveal the secretive and gentle beauty of Vietnamese women.
The Non La does not differentiate between sex, age or social standing, the Non La is worn by all Vietnamese. The hat is made from materials deadly available in Viet Nam: palm leaves for the cone, bamboo for the frame, fiber from Moc trees for thread, and colored material for the chin strap. As the Non La is closely associated with the Vietnamese costume it has been reflected in literature, poetry, and music.
Vietnam is one of the world's largest exporter of coffee but the one thing that makes Vietnamese coffee stand out from the rest of its counterparts is its strong, concentrated flavor. Making a traditional coffee, known as "ca phe phin", is fairly easy but take time.
The coffee is loaded into the filter, without the use of machines or electric filters, and allowed to remain there for a while until all the flavors are dripped into the coffee.
Currently, there are 5 famous types of coffee in Vietnam: Arabica, Robusta, Chery, Moka, Kopi Luwak. Buy a pack of Vietnamese coffee and a coffee filter then you can enjoy Vietnamese coffee back home.
Besides coffee, tea drinking has been a tradition of the Vietnamese people for over a thousand years and is an integral part of Vietnamese culture. Location and geography allow many types of teas to grown in the sub-tropical north as well as the tropical south. It quite easy to make "tra nong" (hot tea) or "tra da" (iced tea) therefore, with a back of teas, it would be a nice gift or enjoy when you have a few moments to yourself.
Silk products are available across the country and you can find the best quality products in any major city like Hanoi, Ho Chi Minh city, Quang Nam, Da Lat, An Giang. Clothing, made from silk, are very comfortable to wear in warm weather and while active. Its low conductivity keeps warm air close to the skin during cold weather. It is often used for clothing such as shirts, ties, blouses, formal dresses, high fashion clothes, lining, lingerie, pajamas, robes, dress suits, sundresses, and Eastern folk costumes. For practical use, silk is excellent as clothing that protects from many biting insects that would ordinarily pierce clothing, such as mosquitoes and horseflies.After buying silk, you can ask local tailors to make and at a reasonable price.
Vietnamese handicrafts can make a much more formal gift, as in gifts for business partners or seniors.
The best handicraft products come from traditional villages across the country in all three regions. Each of them bears a significant contrast in terms of techniques and artistic decoration.
It's quite easy to purchase a beautiful work of art at a reasonable price.
Besides the stuff we have mentioned above, there are still many things you can buy as souvenirs and gifts such as dried fruits, paintings, etc.
Tips for shopping in Vietnam
Don't hesitate to ask for the price of products that you're interested in, you can bargain for a better deal. The sellers always expect the buyer to bargain and often start off at a much higher price.
Buyers also can get a cheaper price if you buy in bulk.
Check the quality of the products carefully before leaving the shop.
Should not ask a lot then leave the shop without buying anything. Remember we have a language barrier and difference culture, it better to keep the atmosphere in respectful for both sides.
---