For who has been to Saigon (Ho Chi Minh city) for the first time, when talking about the center, what people think of right in their mind will be District 1 with Ben Thanh Market, Notre Dame Cathedral, War Museum, Independence Palace, Bitexco Tower or streets with sparkling lights at night.
But for those who have lived a lifetime in Saigon, besides District 1 – a magnificence city center, there is another center, which is busy, prosperous but friendly and close, containing a huge heritage for everyone named Cho Lon – the place has been keeping Saigon's soul for over 300 years.
About the market
Cho Lon is the name of the area with a large population of Hoa people living along the Tau Hu canal stretching in District 5 and District 6, south to District 8 and north to District 10 and District 11 in Ho Chi Minh City. The Vietnamese name Chợ Lớn literally means "big" (lớn) "market" (chợ) and usually anglicized as "Cholon" in English sources. This area was formerly a separate city from Saigon, in the years 1930-1950 due to urbanization, Saigon and Cholon gradually merged with each other.
Cho Lon was established by Chinese in 1778, lying neatly in the area from Tan Da to Kim Bien and from Nguyen Trai down to Tau Hu canal. In 1782, ending the fighting between Nguyen Anh and Tay Son, this area was destroyed. The idea of ​​Cholon would go into the past, but shortly after, the Chinese people from Cu Lao (Bien Hoa) had migrated down to rebuild a more prosperous and bustling Cholon. When Cholon was born, the side of District 1 (Saigon city, belonging to Gia Dinh citadel was not yet formed).
When the French occupied the South of Vietnam, on 6/6/1865 Admiral Roze signed the decision to establish Cholon city. The noun Cholon is used as the City. On July 1, 1882, the first tram line in Vietnam was 5 kilometers long, 1 meter wide, connecting Saigon and Cholon.
By 1930, the two cities of Saigon and Cholon were bordered on what is now Nguyen Van Cu and Nguyen Thien Thuat Street. On April 27, 1931, the French government signed a decree unifying Saigon city and Cholon city into a new administrative unit called Saigon – Cholon Area.
In 1951, the Saigon – Cholon Area changed to Saigon – Cholon city and in 1956 it changed to Saigon City. Since then, the name "Cho Lon" is only used to refer to the entire area of ​​District 5, District 6, and a part of District 11 of Saigon. In which District 5 and District 6 are the main living areas of the Vietnamese-Chinese community in Ho Chi Minh City today.
The large market with massive legacies
Cholon is the only place in Saigon that still preserves the intact cultural, architectural, and religious values ​​of hundreds of years ago. If cultural values, history, and time would be lost more or less, but with this place, it seems that the destructive power of time has slowed down a lot? The tube-roofed roofs in here along with the typical architecture stand out a very classic beauty. Visitors feel like they are present in some old Chinese quarter of centuries ago.
When hearing the name of Cholon, people will think of the image of bustling handicraft factories, to a place that has many restaurants, local food shops. 
During the day, Cholon is noisy and bustling with buyers and sellers. There is almost no item that Cholon does not have. 
Cholon is unique, in addition to sightseeing, shopping, tourists can also witness the vibrant life of the Hoa, immigrated to here for decades, and those who were born and grown up right on this land.
Some interesting activities at Cholon
1. Visit Binh Tay Market
Binh Tay Market was built in 1928, located at the front of Thap Muoi street in ward 2, district 6, with an area of ​​about 26,000 square meters, with more than 2,500 stalls, provides mainly wholesale goods, foodstuffs, handcrafted goods and textiles. It also attract visitors with its special structure but also its exciting and lively atmosphere.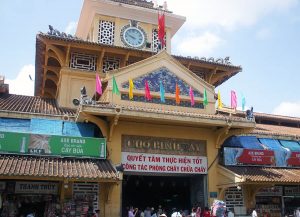 2. Explore Thien Hau pagoda
Located at 710 Nguyen Trai, District 5, the temple was built in the 18th century by the Hoa group. This is the most sacred place you should not miss when coming to Saigon. It has existed for over 250 years but it still retains the characteristics of Chinese architecture. Many engraved lines, sculptures, and artifacts still retain historical and artistic values that has made this place more and more attractive to domestic and foreign tourists.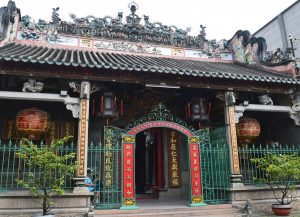 Although there are many other temples and pagodas around, this place always attracts a large number of people and visitors from all over the country to do charity work. In addition, Thien Hau pagoda is also a favorite place for photographers to make photos during the tranditional holidays such as Tet holidays or March 23rd (lunar calendar).
3. Tasting Cholon unique specialties
Cholon is home to a wide array of traditional Vietnamese and Chinese restaurants, especially near Binh Tay market, the Hoa eateries are still busy, attracting a lot of visitors to enjoy the Chinese taste in Saigon.
Cholon is really an attractive place for those who would love to find somewhere to admire the Chinese architectural sculptures in Vietnam. Visitors can take our Saigon city tour or package tour to explore Saigon attractions like Opera House Saigon, War Museum, Ben Thanh Market, Independent Palace…Dont hesitage to contact with Vietdreamtravel if you need any tourist infomation in Vietnam.  
---