Referring to the very unique culture of the Mekong Delta, it is impossible not to mention the floating market, a unique type of market that perhaps no other region has. And Cái Răng floating market is the busiest, most typical and most interesting market. On March 10, 2016, Cái Răng floating market was officially recognized as a national intangible cultural heritage.
How to get to Cái Răng Floating Market?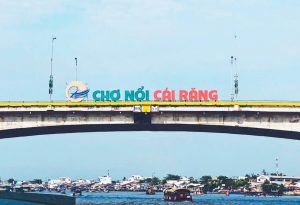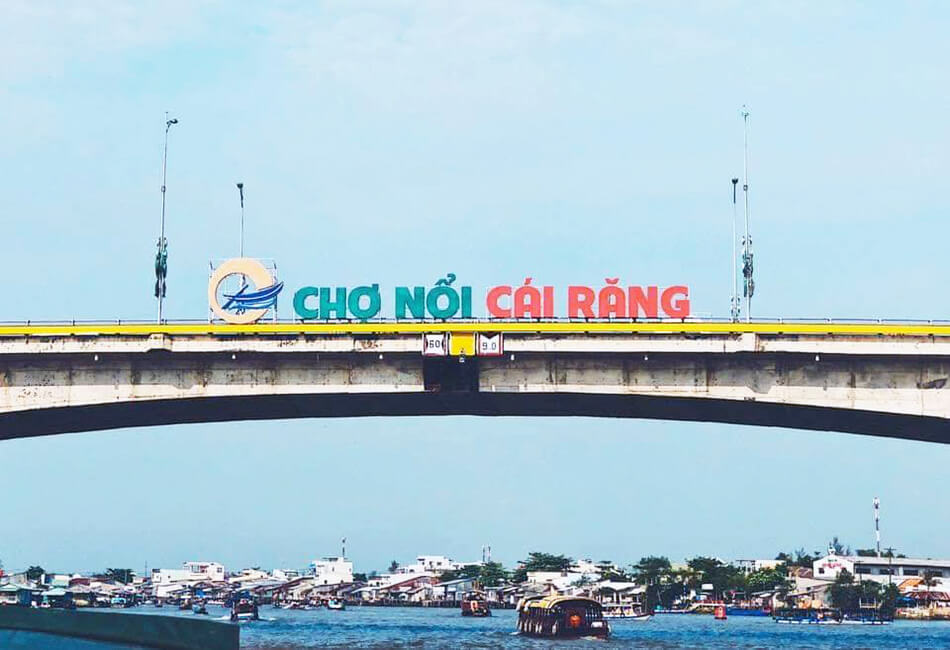 Cái Răng Floating Market is located on a branch of the Hậu River that runs through Cái Răng district, Cần Thơ city, about 6 km from the city centre. It takes around 15 minutes of driving or 30 minutes by boat from Ninh Kiều Pier. But most tourists choose to travel by boat as they will have the opportunity to admire the charming landscape on both sides of the river. The scene of people's activities on both sides of the river taking place creates a very peaceful feeling.
The best time to explore Cái Răng floating market
Activities in Cái Răng Floating Market start very early, when it's still misty, hundreds of boats from all sides of the river gather at the floating market. Therefore, the ideal time to travel to Cái Răng Floating Market is from 5:00 am to 8:00 am, this is the busiest time.

The market is almost inactive on Lunar New Year (1st and 2nd of Tết holiday), and Mid-year Festival – May 5th (lunar calendar).
How Cái Răng floating market is unique?
You will be overwhelmed by the scene of dozens of boats parked close to each other, along with the busy trading activities, and the extremely bustling, cheerful atmosphere in the delta river style. Especially in the last days of the year, Cái Răng floating market is even more prominent with many boats loaded with full blossoming flowers.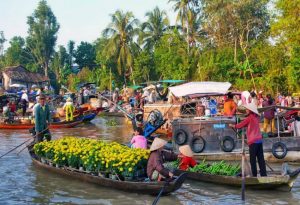 In the market, each boat will sell a different item, from fresh and delicious fruits to the household appliances needed for daily life. The owners of the boats will hang the items they sell on a pole so that the buyers can easily recognize them from far away. This form of "selling goods" is a unique trade culture that only floating markets have – a way of advertising products that are not noisy, and hasty but bring exciting things to tourists as well as customers.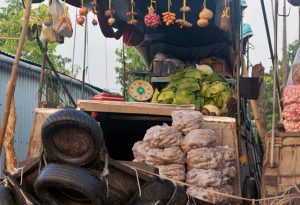 Coming to the market, you can enjoy the cool breeze while enjoying a variety of fruits, traditional Southern dishes such as Bánh tét, bánh canh (rice noodle soup), bún riêu (Vietnamese soup of clear stock and rice vermicelli), bún mắm (fermented thick Vietnamese vermicelli soup).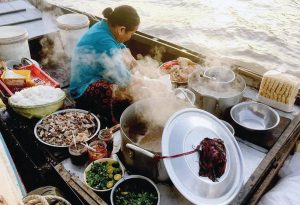 And although it is a river trade but the ingredients are still diverse same as on land. The menu of drinks is also very various such as soymilk, black coffee, milk coffee, coconut water, and teas … at very affordable prices. The dishes on Cái Răng floating market are simple and rustic retaining the soul of the delta river.
Eating here, you won't be given a chair or a table, just simply sit down a long wooden bar across the two sides of the boat. It's the local way to enjoy the food – unforgettable experiences, is that right?
Sailing around the market, you will see many boats filled with attractive fruits such as mango, durian, watermelon, pineapple, and mangosteen … up and down the river.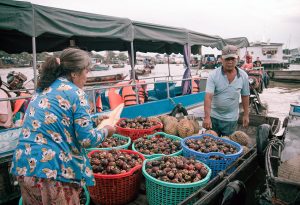 Cái Răng Floating Market is also a wholesale market, especially for fruits and agricultural products of the region. The local people and the surrounding areas often use medium or small boats to carry agricultural products from here for consumption. The large boats are from the fruit dealers who buy the fruits everywhere. Immersed in the bustling atmosphere of the market, you can observe and learn about the activities of many commercial families with many generations living on boats. There are boats like "mobile apartments" on the river with decorative flower pots, pets, full amenities such as colour TV, disc player, sound system … even motorbikes parked on boats.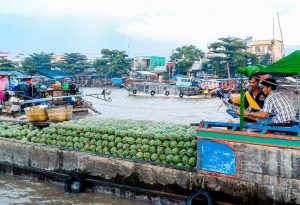 Forming more than 100 years, and facing the appearance of countless on-land markets as well as commercial centres, Cái Răng floating market still retains its inherent features. Therefore, this place is definitely an interesting destination for those who love discovering, new and want to learn about the culture of the Southern region. Vietdreamtravel is running daily tours and package tours to Cái Răng floating market. Don't hesitate to contact us at (+84) 028 3838 8322 for any booking or requirements.
Useful information
---