Perhaps, the Mekong Delta is no longer a strange name for many tourists, famous for its endless fields, wild natural landscapes and friendly local people. But on this vast land, have you planned your best trip in what to see or things to do in Mekong Delta? Therefore, in this article, we would like to share the most attractive destinations, the things you should not miss when coming to this region, and we will update regularly, so let's start with Vietdreamtravel now: 
Visit floating markets

 
Coming to the delta river, you definitely cannot ignore the "floating market" – a unique cultural feature of this region. Floating markets are trading areas where sellers and buyers use boats as means of transportation. Normally, the markets will be held in the early morning at the intersection of canals and rivers. Currently, floating markets are not only trading fresh fruits, agricultural products, household items, fabrics,…but also breakfast. Having a hot bowl of noodles soup early while watching the bustling atmosphere of a floating market would be an amazing thing to do. Below are some of the most famous floating markets in the Mekong Delta:
Cai Rang Floating Market – Can Tho
Cai Rang Floating Market is a familiar place, known by many tourists when it comes to Can Tho and is also the largest floating market in the Mekong Delta. The market is 6km from the city centre, it will take visitors about 30 minutes if travelling by boat from Ninh Kieu Wharf.
The market specializes in buying and selling famous agricultural products and fruits of the region such as Vinh Long pomelo, Tra Vinh waxy coconut, Lai Vung mandarin or Cai Mon durian… And according to the needs of market-goers, there are also many other essential products and services such as cafes, floating pubs, etc. Visitors can come to shop, have breakfast and enjoy specialities right on the boats. This is a typical culture in the Mekong Delta, attracting many foreign tourists to visit.
Get a 10% discount with our Mekong delta 2 day tour from now!!
Phong Dien Floating Market – Can Tho
Besides Cai Rang floating market, Phong Dien floating market is also a destination that attracts many tourists to Can Tho.
The market is located in Phong Dien district, about 17km from Can Tho city centre. The items sold at the market are mainly canoes, boats, fishing boats, nets, baskets, knives, etc.
Tra On floating market – Vinh Long
Tra On floating market is located at the end of the Hau River with a length of over 300m, right between the confluence of the Hau and Mang Thit rivers. This market can be considered a wholesale market because it trades a large number of items such as yams, sweet potatoes, cucumbers, grapefruits, Tan Thanh oranges, and Luc Si Thanh durian…
A popular dish considered a speciality at this market is a beef noodle soup with banana vegetables. Do not forget to enjoy this dish when you have the opportunity to come to Tra On floating market.
Nga Bay Floating Market – Hau Giang
Nga Bay floating market, also known as Phung Hiep floating market, is located about 75km from Hau Giang centre or about 35km from Can Tho city centre. The special thing about this market is located at the crossroads – where seven rivers intersect.
This place often sells vegetables, household items, handicrafts and a wide range of fruits such as rambutan, mangosteen, durian… And especially here there are also unique "items" such as snakes, geckos, birds, squirrels, toads… Throughout the market are small boats selling Pho, hot rolls, pancakes… Southern dishes.
Long Xuyen Floating Market – An Giang
Long Xuyen Floating Market is located on the Hau River, in the territory of My Phuoc Ward, Long Xuyen City, An Giang Province. This market was created by the needs of the people of An Giang, not affected by commercialization, so it is not as busy as other floating markets.
People here live and trade on boats every day, they consider boats as their home. Long Xuyen Floating Market is most crowded in the morning, the goods are mainly crops: vegetables, melons, squash, cabbage … and famous dishes in An Giang such as fish noodles, and sweet cakes …
Nga Nam Floating Market – Soc Trang
Nga Nam – an ancient canal divides the river into five streams: Ca Mau, Vinh Quoi, Long My, Thanh Tri, and Phung Hiep. Not just an important traffic route; this is also a wholesale market for agricultural products of local residents.
Nga Nam Floating Market is a bustling trading market on the five-way river; is one of the most beautiful and famous floating markets in the delta river. And if Cai Rang floating market is operating as a specific tourism product; Nga Nam floating market is a wholesale market for important agricultural products, distributes goods to other areas in the region. 
Experience a hand rowing sampan 
Recently, ecotourism in the Mekong Delta has been quite developing. In particular, with the advantage of many rivers and canals, localities have put rowing sampan into tours in Mekong Delta. The mode of transportation is very simple with rudimentary vehicles but brings many new emotions. A sampan can carry a maximum of four guests with a rider.
The characteristic of rowing sampan is the rower is also the one who holds the helm to keep the boat going in the right direction.
The sampan moves slowly, step by step to the rhythm of the rowing, bringing tourists to enjoy the beautiful scenery slowly appearing. So where you can experience boating:
Thoi Son islet – Tien Giang
The peaceful and quiet beauty of Thoi Son Islet is always attractive to visitors, helping people enjoy forgetting the noise and bustle of the city. Coming to Con Thoi Son, try the experience of rowing a dinghy down the zigzag canals between two rows of dense coconut palms.
Relaxing on the small sampans crossing the Tien River will surely become relaxed and light. Here, you can explore the luxuriant orchards and breathe the fresh air of the river gardens.
Do you want to get 10% off with our Mekong Delta tour 1 day to experience a boat trip?
Tra Su forest
Located in the tourist route of Cam Mountain, Sam Mountain of An Giang, the forest is home to hundreds of species of flora and fauna, many of which are classified as rare, attracting many Mekong Delta tours to this area. In particular, the entire water surface area of Tra Su Melaleuca forest is covered with the green color of tiny duckweed, bringing a rare peaceful landscape.
To enjoy the beauty of this wonderful delta river, you should try once to experience a rowing sampan journey to explore Tra Su forest, immerse yourself in the fresh nature with the shaded trees on both sides, reflecting the rays of the sun through the leaves.
Visit the Temples in Mekong Delta Vietnam  
The Mekong Delta region not only has immense rice fields, rich fruit gardens, and bustling floating markets…, but also has many ancient and sacred temples. The temples in the delta have long been a spiritual tourist destination attracting a large number of followers and tourists to visit and worship. If you are planning to travel to Mekong Delta, don't forget to save the famous temples below:
Temple of Lady Chua Xu – Chau Doc – An Giang
Referring to the temples in the Mekong region, one cannot fail to mention the Lady Chua Xu, commonly known as Lady Temple, located at the foot of Sam Mountain, Chau Doc City, An Giang Province. Known for the sacred "you get what you ask for", along with unique architecture, Lady Temple has become the most famous spiritual tourist attraction in An Giang in the Southwest region.
The Ba Chua Xu Festival in Sam Mountain is imbued with the national cultural identity of the inhabitants of the southern river region. The festival takes place from the 22nd to the 27th of the fourth lunar month, attracting million visitors a year to pilgrimage, worship as well as admire the natural scenery of An Giang province.
Vinh Trang Pagoda – My Tho – Tien Giang
Located in a beautiful campus, full of majesty, contemplation and sacredness on Nguyen Trung Truc Street, My Phong Commune, My Tho City, Vinh Trang Pagoda is considered the most beautiful temple in Tien Giang.
The pagoda was built in the form of the Chinese character "Nation", like the pagodas of the Chinese, but Vinh Trang Pagoda has Renaissance-style patterns, Roman-style arches, and Japanese ceramic tile floors. Overall, the temple's architecture is the interference between Asia and Europe in a strange but harmonious way. The unique feature of the pagoda is the combination of porcelain pieces to create a harmonious art picture, illustrating the story of the Buddha at the Tam Quan gates.
Mekong delta day trip cost from 25USD 
Hang Pagoda – Tra Vinh
Hang Pagoda, known in Khmer as Kompong Chray, is located in cluster 3, Chau Thanh town, more than 5 km south of Tra Vinh city centre, along Highway 54. The name of the pagoda came from the side gate of the pagoda is built in the style of a dome that looks like a cave.
Hang Pagoda not only attracts visitors by its ancient beauty but also by the uniqueness of the bird yard and fine art sculptures created by the skilful and talented hands of the artisan monks of the temple.
Bat Pagoda – Soc Trang
Bat Pagoda (or Ma Toc Pagoda, Mahatup Pagoda) located in Ward 3, Soc Trang City, is associated with a typical architectural complex of Khmer beliefs.
Coming here, visitors not only admire the unique and magnificent beauty of the 400-year-old pagoda but also immerse in the mysterious nature with flocks of bats hanging from the trees in the temple grounds.
Truc Lam Phuong Nam Zen Monastery – Can Tho
Phuong Nam Truc Lam Zen Monastery is located in Nhon My Hamlet, My Khanh Commune, Phong Dien District, about 15 km from the centre of Can Tho City. The architecture of Truc Lam Phuong Nam Zen Monastery has the main hall and the Ancestral Church built according to the Ly – Tran cultural architecture.
The Zen Monastery's campus is balanced and harmoniously arranged creating a quiet and relaxing scene for those who want to walk around.
Explore the famous bird gardens
Mekong delta river has fertile land, with a cool and fresh climate, which attracts many species of birds and storks come to live. If visitors want to have the opportunity to explore the wild nature, observe the beautiful images and understand more about the way of life of birds, do not ignore these areas as below.
Vam Ho Bird Sanctuary in Ben Tre
Vam Ho bird sanctuary is located on La Islet in Ben Tre, this is a typical ecosystem of mangroves. Every year, from October to April of the lunar calendar, Vam Ho becomes vibrant when birds come from the north fly come here to find food and avoid the cold.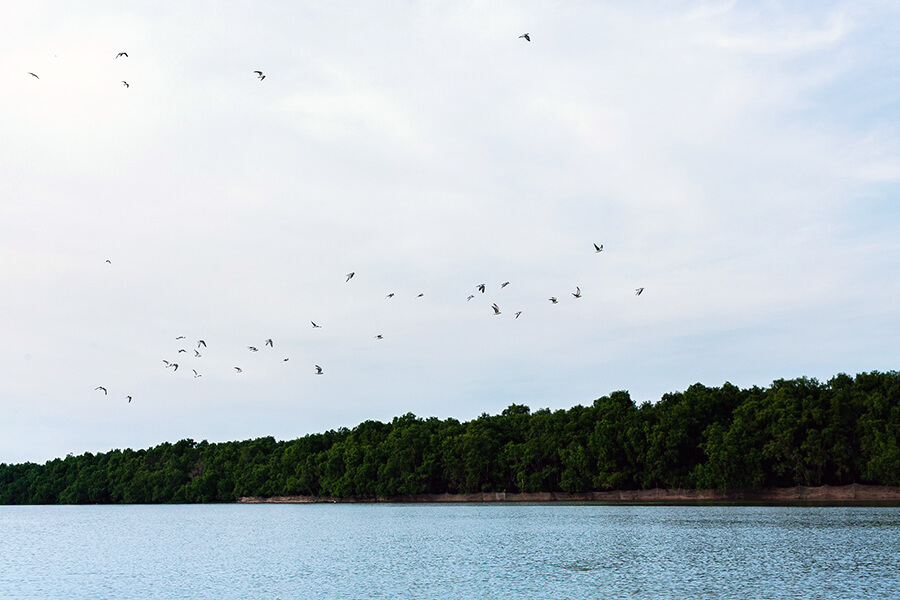 Seen from afar, each flock has a picturesque white flying, creating an extremely peaceful scene. 
Tram Chim – Dong Thap
Dong Thap melaleuca is famous for being the residence and habitat of many rare bird species, many of which have extremely diverse and rich lives.
The most famous of which is the extremely rare Red-crowned Crane which is listed in the Red Book of Vietnam. The natural scenery in Tram Chim also makes many people fall in love with the vast landscape of rivers, immense green melaleuca forests and rich vegetation.
Mekong Delta 2 day tour: HCMC – Tieng Giang Province – Sa Dec City – Gieng Islet – Tram Chim Park 
Bang Lang Stork Garden – Can Tho
Visiting the western capital of Can Tho, visitors should not miss the Bang Lang stork garden, which is one of the largest stork gardens in the Mekong Delta River.
Visitors can rent a boat to travel along the river and admire the herds of white storks feeding and resting, this is an opportunity for you to explore the wildlife.
Bac Lieu Bird Park
Bac Lieu Bird Park is one of the famous bird gardens, with an area of up to 285 hectares. This is a coastal mangrove forest with a rich and diverse ecosystem.
The most beautiful moment in the bird garden is at sunset when flocks of birds fly, swooping down to the surface of the water, and then flying up again. 
Visit And Taste Fresh Fruits In Local Gardens  
The Southwest region is not only famous for its vast fields but also for orchards. Thanks to the pleasant climate and fruit seasons that seem to be all year round, making Mekong Delta becomes the ideal destination for tourists. You can pick and enjoy ripe fruits in the garden or bring them back as gifts for relatives and friends. Introducing the most attractive Western fruit gardens that attract tourists.
Some of the most famous fruit orchards in the Mekong Delta include Cai Be Fruit Garden and Vinh Kim Fruit Garden in Tien Giang, Cai Mon Fruit Garden in Ben Tre, Phong Dien Fruit Garden in Can Tho, Tan Phu Fruit Garden – Ben Tre…
Traditional craft villages
When you have the opportunity to travel to the Western region,, in addition to visiting the beautiful scenery, you will regret you miss the opportunity to explore traditional craft villages such as Thuan Hung rice paper village, Thom Rom net weaving village, Thoi Nhut flower village, Thoi Long woven village, noodle making, conical hat craft village…all of them in Can Tho, Ben Tre coconut candy and coconut production village, brickyard village in Ben Tre, Tan Quy Dong flower village in Dong Thap, Long Dinh mat weaving village in Tien Giang…
Try local delicacies
When travelling, in addition to sightseeing, enjoying delicious food is also one of the important things that tourists pay attention to. In particular, when coming to the Mekong Delta, you absolutely must not ignore these delicious Western specialities.
However, in addition to these features, the Land of "nine dragons" also has a lot of unique, strange, and even "horror" dishes, but those are Western specialities with extremely addictive potential such as Vietnamese sour soup with Snakehead fish or mud carp, hot pot sauce, rice noodles served in a flavorful broth, caramelized fish in a clay pot, crispy rice pancakes, field-mouse barbecue, coconut worm…
So we hope the article about things to do in Mekong Delta will bring a lot of useful information for your excursion to this region. And don't hesitate to share your journey experiences with us. We also provide Mekong Delta package tours, private car for rent and visa services. It's our pleasure to serve your trip to Vietnam.
---