The hot season in Central Vietnam starts from April until the end of September. It really a good time for you to explore untouched beaches with crystal clear waters. The sea waves, in the Central, can be perfectly calm in the mornings, but occasionally gets very rough later in the day creating good time for many water sports. Besides some famous beaches in Ha Long Bay in the North or Phu Quoc Island in the South, let us now explore the best beaches in Central Vietnam.
1. Mui Ne, Phan Thiet
Mui Ne Beach is one of the top tourist destinations in Vietnam, located in the south of Binh Thuan province, about 4 hours by car from Ho Chi Minh City. For foreign tourists, it's quite easy to get here by renting a private car with a driver to enjoy the views along the way. With a white sand beach nearly 15km long, Mui Ne beach is considered one of the attractive destinations for tourists who love swimming and participating in recreational activities.
Mui Ne beach has warm weather all year round, with dry winters and light rainy summers, the heat is not too intense, very suitable for participating in swimming activities such as scuba diving, surfing, and sailing. .. In particular, Mui Ne is considered a paradise for surfing lovers, because the geographical location of this beach creates huge waves that are perfect for surfing.
In this beach area, visitors can find luxurious and stylish resorts while still ensuring reasonable prices. There are also many bars, restaurants and local eateries, giving you truly unique experiences when learning about the typical culture and cuisine of Vietnam.
If you love exploring nature, the area around Mui Ne also has many interesting destinations such as Poshanu Tower, horse-shaped sand dunes, red sand dunes, Suoi Tien, Ta Cu mountain… In particular, When visiting Mui Ne Beach from November to February, you can admire the peach blossoms blooming on the sand dunes, very beautiful and romantic.
=>See more things to do in Mui Ne.
In short, Mui Ne Beach is not only one of the famous tourist destinations in Vietnam, but also one of the ideal destinations for those who want to get away from the noisy urban life and seek a peaceful space. Peaceful, relaxing amidst nature.
2. Ca Na beach
Ca Na Beach is one of Vietnam's famous tourist destinations. Located in Thanh Hai commune, Thuan Nam district, Ninh Thuan province, Ca Na Beach is conveniently located between two big cities, Nha Trang and Phan Thiet. The beach still remains primitive in nature and landscape. Same as Mui Ne – Phan Thiet, it is quite hard for you to see the rainy day here and visitors can enjoy swimming in clean and clear water. Ca Na Beach carries with it the wild and quiet beauty of nature. Not as crowded as the beaches in big cities, Ca Na still ensures all the necessary amenities to serve tourists.
With a distance of only about 5km from the highway and 30km from Dieu Tri station, travelling to Ca Na Beach is very convenient. Travelers from Ho Chi Minh can also book a private car to Ca Na which takes less than 4 hours to drive. 
Ca Na beach is very long, stretching more than 10km. The whole beach is covered with fine white sand and desert-like sand dunes. The coast here is quite remote, but the sea water is clear and clean. From above, you can see the entire beauty of the beach with long stretches of white sand, clear blue sea water and blue sky.
The peaceful landscape, fresh air and noise make visitors feel comfortable when coming to Ca Na beach. This is also a suitable destination for those who want to find an ideal getaway to relax and regenerate energy.
In addition, Ca Na Beach also has convenient services such as restaurants, eateries and rooms to meet the needs of tourists. You can enjoy local dishes such as grilled fish, and spring rolls… or simply drink a cup of coffee and enjoy the comfortable sea air.
In Ninh Thuan province, Ca Na Beach is considered an important tourist center attracting many tourists, making it convenient to explore other exciting tourist destinations in the area.
In summary, Ca Na Beach is one of Vietnam's attractive tourist destinations with a peaceful landscape, fresh air, and full amenities to serve tourists. If you want to find a comfortable place to relax, Ca Na will be a great choice.
3. City Beach, Nha Trang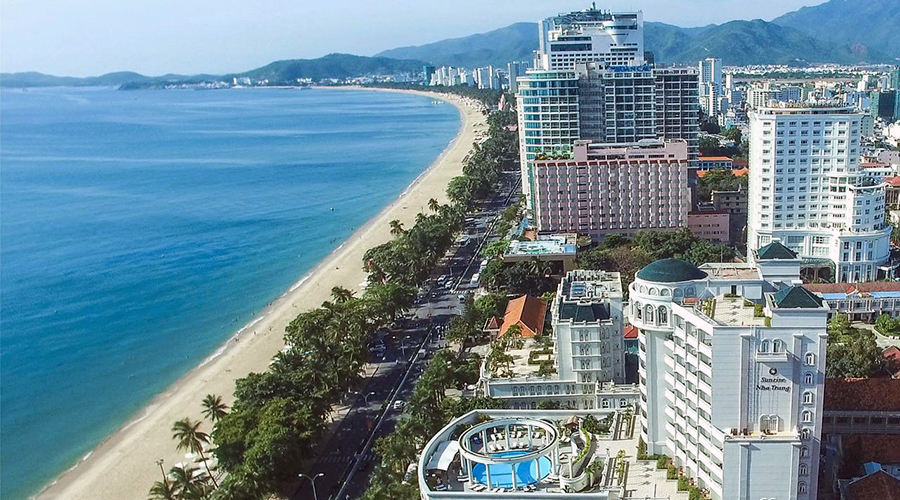 Nha Trang is one of the most famous tourist destinations in Vietnam. With a 7km long beach, and contains many valuable religious constructions. The city is also well-known for mineral hot springs and mud baths. Despite being visited by thousands of tourists around the year, City Beach maintains its natural beauty and remains unaffected by the rate of tourism in the area.
The beach is best visited during summer when you can actually put yourself on an "eat, swim, sleep, repeat" mode.
At Nha Trang beach, visitors can also swim, surf, visit coastal islands or scuba dive to see colourful coral. In addition, this area also has many hotels, resorts, restaurants, bars, department stores and outdoor sports equipment rental locations, serving international and domestic tourists.
In addition, Nha Trang Beach also has many attractions, such as Ponagar Tower, Chanh Tinh Hill, Hon Chong or Nha Trang Institute of Oceanography. These spots are not only a place for tourists to learn about local culture and history but also give them memorable experiences during their travels.
However, because it is one of the famous tourist destinations in Vietnam, Nha Trang Beach is also crowded with tourists during the peak tourist season from May to August every year. This can make it difficult to travel as well as find accommodation, so tourists should plan and book hotel or transportation tickets.
4. Doc Let Beach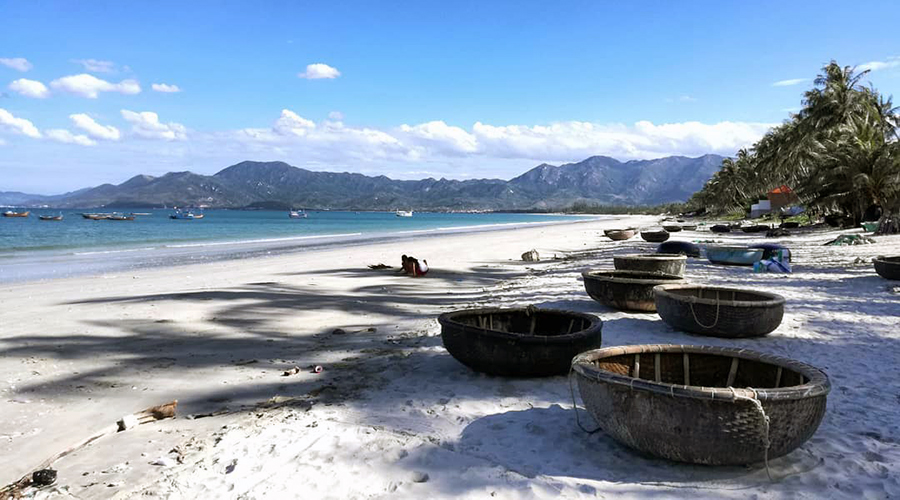 Just take over 1 hour of drive to Nha Trang, Doc Lech is another famous beach with blue and pure seawater, smooth waves, find and white sand. The natural landscape on the coast and sea of Doc Lech also attracts visitors. There are many islets that protect the shore from waves, creating magnificent views. Unlike other beaches in the area, Doc Let is a considerably quiet place, it's also home to many salt fields.
A sloping beach is a type of beach with uneven terrain, especially in coastal areas with significant elevation changes. Such sites frequently appear on mountainous coastal areas or on southern coasts. Usually, the sloping beach is an ideal destination for tourists who love sports and entertainment activities. Here, you can participate in swimming, diving, fishing or simply sightseeing and enjoying the fresh air of the sea.
5. Dai Lanh Beach
Dai Lanh Beach is one of the beautiful and famous beaches located next to the border between Phu Yen and Khanh Hoa Provinces, about 50km northeast of Tuy Hoa City. This beach has an area of about 2km long and is surrounded by green hills, coconut groves and fine white sand strips. The freshwater source runs from the bottom of a mountain through the beach. With a tropical monsoon climate, Dai Lanh Beach attracts tourists from all over to enjoy and enjoy the fresh air of the sea. With bright sunshine, clear blue sea water and gentle waves, Dai Lanh Beach is an ideal destination for swimming, walking on the sand and relaxing with family and friends.
In addition to swimming and relaxing activities, Dai Lanh Beach also has many different attractions and entertainment activities. Visitors can choose to participate in activities such as surfing, walking on the beach, fishing, kayaking or enjoying the beautiful landscape and immerse themselves in the joyful atmosphere of marine sports competitions. 
If you want to discover more about the culture and life of local people, you can visit the nearby Dai Lanh fishing village. Here, visitors will learn about seafood fishing and enjoy local specialities such as braised fish or fish cakes.
The area around Dai Lanh Beach also has many other attractions such as Hon Yen Island, Silver Waterfall, Mo stream. Dam Mon,… allowing visitors to explore and relax in the natural space.
6. Tuy Hoa beach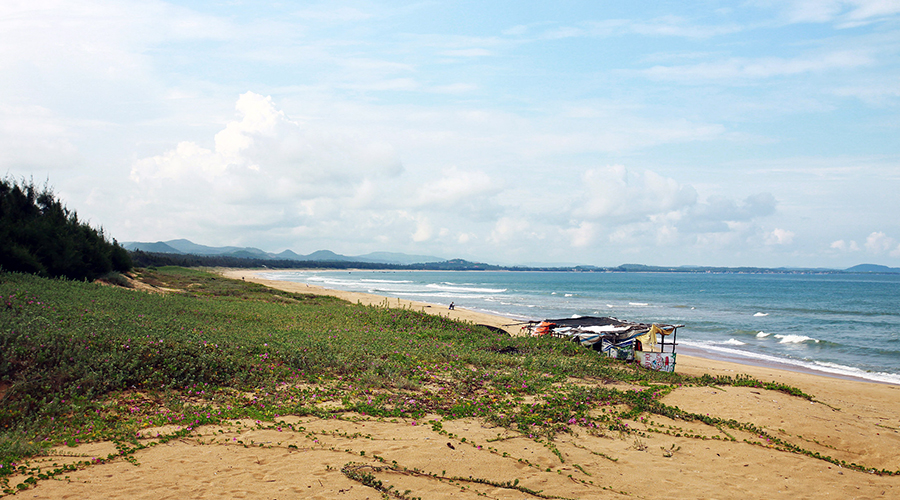 Tuy Hoa is a small city belonging to Phu Yen Province which is less picturesque than others along the coast. But for this reason, almost free of foreigners. This beach has an area of about 10km, quite wide and beautiful, with fine white sand, clear sea water and long sandy shore. Tuy Hoa Beach is located in the Central Coast, so the weather here is quite mild and stable all year round. The main tourist season for this location is from April to September every year, when the weather is dry and hot, you can enjoy the beach and participate in recreational activities on the beach such as surfing and swimming. 
For more adventurous travellers, this is a good place to get away from tourists, relax and enjoy a sunbath. It makes up for it being a fun, lively local beach town where you can hang around with the locals, and get to know the life of local fishermen. Cheap and fresh seafood is the usual view here. Also, if you don't want to spend a "lazy day" in here, visiting Nhan Tower or Ganh Da Dia – Plate Stone seems to be the best option.
7. Non Nuoc Beach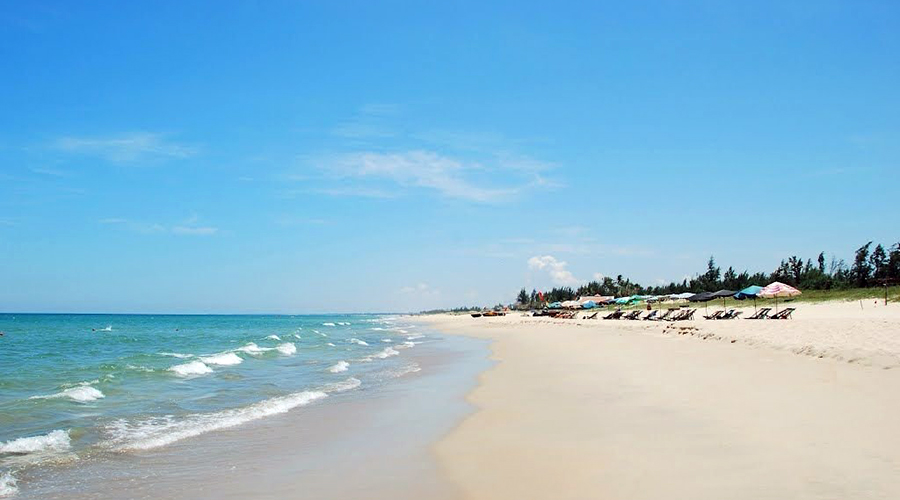 Non Nuoc Beach is a green bow embracing the food of Ngu Hanh Son – Da Nang city, in the area near Hai Van Pass. The white sand beach stretches 5 km long, bordering Dien Ngoc sea in the south and Bac My An Sea in the north. This site is very suitable to sea sports, especially surfing. At Non Nuoc beach, one can relax and also have opportunities to visit Ngu Hanh Son scenic spots, ancient pagodas, old grottos, fine art stone carving village, visit Cu Lao Cham island or take a boat trip along romantic Co Co River.
Not only has fine white sand beaches, Non Nuoc Beach is also a place to exploit and develop a series of modern tourism services such as resorts, high-class hotels, restaurants and bars. After participating in exciting activities during the day, you can relax at bars and restaurants, enjoy Da Nang's speciality dishes and enjoy the gentle, romantic entertainment atmosphere at night. 
8. Thuan An Beach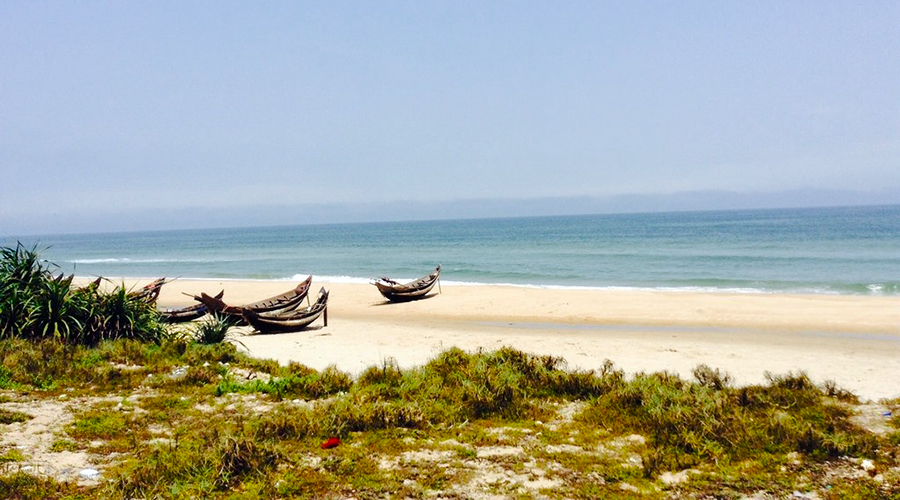 Thuan An Beach is one of the top tourist destinations of Hue city, Vietnam. Located about 15 km southeast of the city centre, this beach has an area of more than 20 hectares and is located between two coastal strips of land more than 10 km wide. With a quite convenient location, from Thuan An, it only takes about 30 minutes to go to Hue's scenic spots such as Hue Imperial City, Thien Mu Pagoda or Tu Duc Tomb.
Thuan An Beach has full amenities for visitors such as restaurants, bars, entertainment areas and water sports activities such as windsurfing, and diving to see coral. The beach has white sand and clear blue sea water, no big waves and is especially safe for children to swim.
In addition, Thuan An Beach also has a wild and quiet natural beauty. Along with being preserved and sustainably developed, this place has become a favorite destination for those who want to rediscover their beauty. peace in the midst of nature. The beach also has a long and cool pine forest path so you can walk or jog by the beach.
If you want to avoid the noise of crowded tourist areas, Thuan An Beach is a great choice. This place is considered one of the most beautiful beaches in Hue and is also one of the few places that still retains a quiet atmosphere with only the sound of ocean waves and wind blowing.
9. Ninh Chu Beach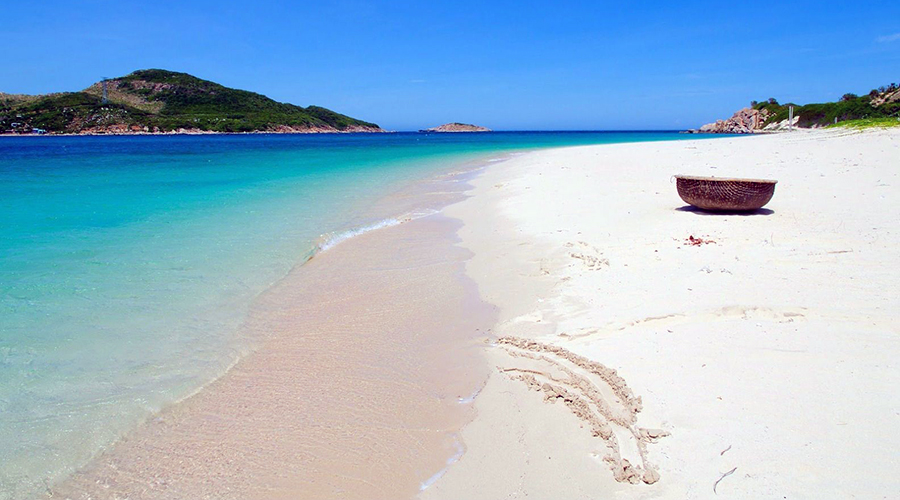 Ninh Chu Beach is located 5km east of Phan Rang – Thap Cham, in Ninh Hai District. It is famous for its 10km of white sand shaped like a crescent moon, turquoise water, and green pine trees. The atmosphere is refreshing, the water is crystal clear and waves crash onto the seashore all the year-round. Tourists can participate in a number of recreational activities at sea such as kayaking, windsurfing, sailing, or participating in beach games such as volleyball, soccer, water polo, and fishing. fish… With a team of experienced guides, tourists will be guided and fully equipped with safety equipment to experience these activities in a wonderful way.
Near the beach is also Nai Pond full of fish, shrimp, prawns, lobster, crawfish…Ca Du Mountain, Da Chong Mountain with different different-sized rocks pilling up, which creates a harmonious nature.
10. Cua Dai Beach, Hoi An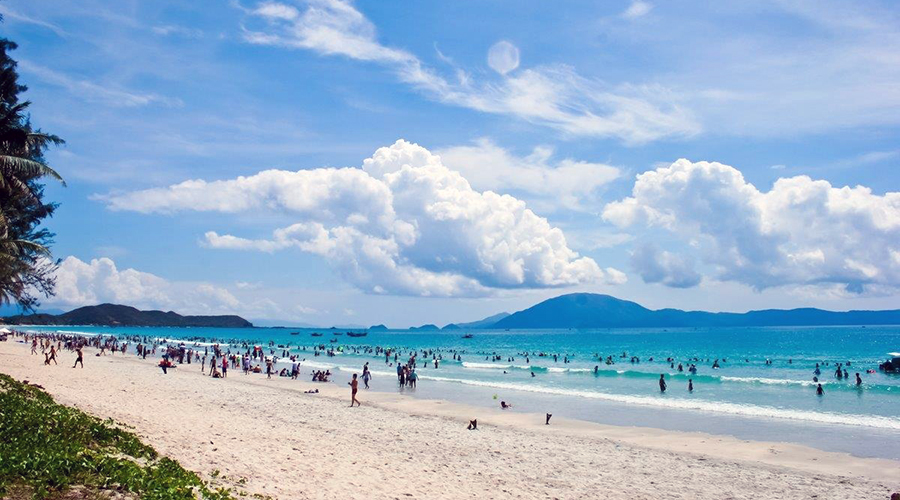 Formerly, Cua Dai was the top busy trading port in South Vietnam. At present, Cua Dai is the largest sea tourism zone in Hoi An, with fine white sand dunes, crystal blue water, small waves, sunlight and a windy beach. You can soak yourself in the healthy water, play with waves, have a sunbath or take a poll along the beach. Cua Dai also has plenty of water activities to offer those looking to spend their vacation indulging in an adventure. In addition to swimming and windsurfing, you can also enjoy local specialities at the beach restaurants. If you want to discover more about the lives of local people, you can rent a bicycle to explore nearby craft villages such as Thanh Ha Pottery Village, Tan Hien Silk Village, Hoi An Ancient City, Japanese Covered Bridge and My Son Relics.
Warmest Greetings To All from Viet Dream Travel! We offer daily tours and package tours, Vietnam visa services, and car/bus rental services throughout the country. Let us have a chance to show you Vietnam to the fullest. If you have any questions about Vietnam tourism, do not hesitate to contact us.
Call/SMS/Whatsaap/Viber/Zalo (+84) 28 8383 8322 – (+84) 918 709 338
Best regards,
Vietdream team.
---