Mũi Né is a fishing village as well as a popular tourist destination in Bình Thuận province. The town is surrounded by unique natural formations, sweeping sand dunes, and verdant mountains. There are two main beaches in Mũi Né; Gành Beach and Suối Nước Beach, both with an increasing number of resorts, shops, and restaurants. Strong sea breezes make it very popular for kitesurfing and windsurfing. With unspoiled and pristine beaches, this is also an ideal place for a day of swimming, surfing, or just relaxing.
What is the best time to visit Mũi Né?
Less affected by the northeast monsoon, Mũi Né has been relatively dry and hot throughout the year. For this reason, you can travel to Mui Ne at any time of the year. However, you should also know some weather rules which are:
January to June is the most ideal time to travel to Mũi Né. During this time, the waters are clear and clean. However, April and May are the hottest times of the year. The sun is relatively strong, so you need to prepare a hat and sunscreen to avoid sunstroke.

The rainy season takes place from July to October, but usually, it rains only one or two hours a day. The seawater does not clear, alluvial colour due to the red sand flooding, affecting participation in water activities and taking photos.

Between the months of November and March, Mũi Né effects by the strong, but it's the ideal time for kitesurfing and surfing.
How to get there?
By train:
A train runs daily from HCMC to Phan Thiết, departing at 6:00 AM and arriving at around 09:40 AM. The return trip leaves Phan Thiết at 15:20 PM. The train station in HCMC (Saigon Railway Station) is in District 3, about 3 km from the centre. The railway station in Phan Thiết is about five km from the beginning of the Hàm Tiến resort strip and is about 25 km from the train station to the centre of Mũi Né. A ticket fare cost around $ 10 USD/ ticket/1 way. 
By tourist buses:
The most popular choice for those who travel to Mũi Né from Ho Chi Minh, Đà Lạt, or Nha Trang…is direct buses, available at multiple travel agencies and nearly at any time in the year. Although it takes around 4.5 hours from Ho Chi Minh City to Mũi Né, most of the bus companies offer a soft seat or soft bed with an air-conditioner. However, travellers need to go to the Eastern Bus Station or Backpacker area in District 1 to depart. But the buses stop in front of most resorts or hotels in Phú Hài and Hàm Tiến, so there is no need to take a taxi.
By private car/bus:
This is the best way to Mũi né when you're travelling with a big group or with your family members. Most of travel agencies provide these private transfers to Mũi Né and return with clean, comfortable, well-maintained vehicles driven by experienced drivers. Arrangements need to be made in advance if you wish to take a private car from the city centre. They can come and pick you up as well as drop you off at any point in both HCM and Mũi Né.
Places to visit around Mũi Né
Suối Tiên (Fairy stream)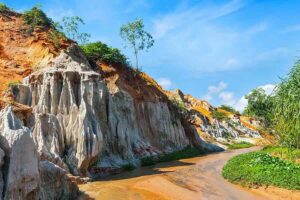 This is a small stream next to Hòn Rơm because it's hidden behind a sand dune, so not everyone knows it. So, to get to Suối Tiên, you have to find the way to Huỳnh Thúc Kháng (Mũi né ward, Phan Thiết), then ask the people here the way to the stream. For the most part, the water does not flow fast, about ankle-deep, and no more than the knee even at its deepest. Therefore, visitors come here often carrying shoes, walking barefoot to enjoy the coolness of the steam. Along the stream, there are many paths leading up to the sand dunes. You can follow them to see the whole view of the stream from above. On one side is a row of immense green coconuts, on the other side is a wall of sand with two colours. Coming here, visitors seem to be immersed in the pure wild beauty. Although it only takes about an hour for the journey to discover Suối Tiên, many people still spend a whole day having fun in the fairyland.
Mũi Né fishing village
The village is located on Huỳnh Thúc Kháng Street, about 7kms from the centre of the town. The fishing village lies along the coast, overlooking a splendid view of hundreds of colourful fishing boats moored in here. The best time to visit the village is in the early morning when hundreds of fishing boats come back from the sea after their catching time. There is also a harbour where you can purchase fresh seafood or enjoy steamed crabs, shellfish…on the spot from local vendors.
Sand dunes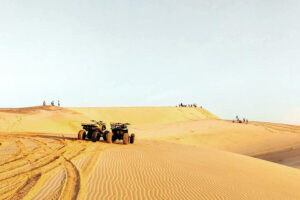 The beautiful sand dunes in Mũi Né have been a creative subject of photographs and paintings. There are 3 famous sand dunes: yellow sand dune, red sand dune, and white sand dune which is the largest one as well.
Visitors can rent plastic sleds or enjoy a beautiful sunset by kite flying. These sand dunes are a popular picnic place for locals too. The best time to visit the dunes is early in the morning or late afternoon as the sand can get very hot during the day.
Po Sah Inư Tower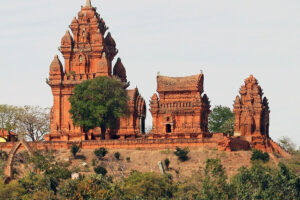 Also known as the Poshanu Tower, (or more accurately Poshanu Tower complex) was built around the end of the 8th century and completed at the beginning of the 9th century with the original purpose of worshipping Shiva – one of the supreme deities of Hinduism. These towers are the remains of the ancient Champa Kingdom, located on Bà Nài hill overlooking the bay, approximately 7 km northeast of Phan Thiết city. Three towers are still nearly intact and it's still a place of Shiva worship in use by the local Chăm people who also use it for their religious festivals and other celebrations.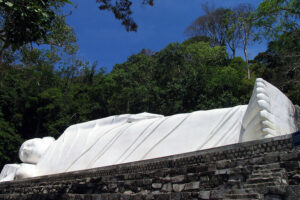 Located about 30km south of Phan Thiết City, Bình Thuận Province. This is an ideal place for mountain climbing and hiking if you have good health. There is also a cable car which can bring you up to the middle of the mountain and enjoy the beauties of this area on the way. There are 02 pagodas, Long Đoàn and Linh Sơn Trường Thọ that attract thousand of pilgrims coming every year. The mountain is most famous as the site of the statue of the reclining Gautama Buddha and panoramic views of the farms below the mountain.
Warmest Greetings To All from Viet Dream Travel! We offer Vietnam tours (daily and package tours), visa services, and transfer services not only to Mũi Né but also throughout the country. Let us have a chance to show you Vietnam to the fullest. If you have any questions about Vietnam tourism, do not hesitate to contact us at:
Office number: (028) 3838 8322 – Hotline/SMS/Whatsapp/Viber/Zalo – (+84) 918 709 338 or info@vietdreamtravel.vn
---