Can Tho is prioritized by nature with a favorable climate, suitable and fertile soil suitable for growing fruits. Among the tourist attractions of Can Tho, Phong Dien district is the most prominent with its famous eco-tourism and countless fruit gardens. Coming here, everyone feels extremely comfortable and relaxing in the romantic scenery of the orchard.
How to come to Phong Dien gardens?
Phong Dien fruit gardens are located in the Mekong Delta with an interlaced canal system that why so many travelers prefer to come here by boat, or canoe. It is the best way to get a full feeling the beauty of the delta river. You can rent a boat from Ninh Kieu wharf to visit Phong Dien orchards.
If you ride a motorbike, from the center of Can Tho city, you follow Highway 1A towards Soc Trang, cross Dau Sau Bridge, turn right to Cai Bridge to Phong Dien district, and advertise on the road about 16km.
What is the best time to travel to the Phong Dien garden?
In early spring, from January to March, is the time when the breasts are full and ripe in the garden. Spring is also the time when An Phuoc produces delicious plums, the garden stands out with bunches of bright red ripe plums in green foliage.
From March to June, it is the harvest season of Strawberry Ha Chau. In the ripening season, Ha Chau strawberry gardens bring a splendid beauty with many bunches of berries, growing from the root to each branch. Besides strawberry, other fruits such as rambutan, mangosteen, durian, jackfruit, … ripe in also in the summer.
In the last months of the year, Can Tho is again adorned with longan gardens and green apple orchards.
Some famous fruit gardens in Phong Dien
Currently, there are many famous local gardens and eco-tourist sites with fares from 20,000 to 80,000 VND. Visitors can come here to enjoy special fruits and the countryside where you can take part in exotic activities. Vietdreamtravel would like to introduce to you some typical ecotourism areas and local fruit gardens in Phong Dien, Can Tho:
1, My Khanh tourist village
Address: 335 Lo Vong Cung, Nhon My hamlet, My Khanh commune, Phong Dien district.
My Khanh tourist village has a large space, with an area of ​​more than 50,000 m2 and more than 20 kinds of fruits such as mango, rambutan, jackfruit, durian… There are also ancient Southern houses, next to the fish ponds, canals, and attractive entertainment games.
My Khanh tourist area is a familiar place for many groups of young people and families who want to enjoy the fresh air. Tourists traveling to Can Tho should not miss the opportunity to experience here.
2, Chin Hong fruit garden
Address: 398/31 My Nhon Hamlet, My Khanh Commune, Phong Dien District.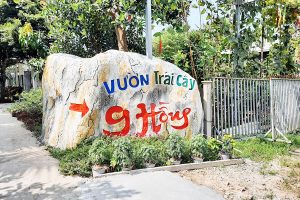 Chin Hong fruit garden with an area of ​​13,000 m2 is planted with a variety of fruit trees such as Strawberry Ha Chau, chrysophyllum cainito, rambutan, Taiwanese mango, etc. Not only diverse in types but also there is fresh air that helps you forget the stress and fatigue of life.
3, Vam Xang fruit garden
Address: Lo Vong Cung, 002 Nhon Loc hamlet, My Khanh commune, Phong Dien district.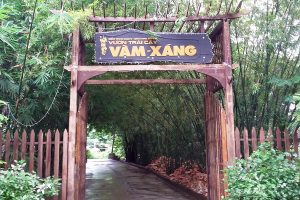 The fruit garden is diligently cared for by the owner which has typical features of Southern rural areas: a wooden gate, a bucolic path, and a guest house. Abundant varieties of fruits such as mango, mangosteen, grapefruit, jackfruit make the Vam Xang garden constantly changing throughout the seasons. Each season Vam Xang wears a new color like the dreaming red of the rambutan season, bright yellow with Ha Chau strawberry specialties, and many other types such as mango, mangosteen, grapefruit, jackfruit, …
4, Giao Duong ecotourism garden
Address: 159 DT923, Hamlet Nhon Loc 1, Phong Dien District.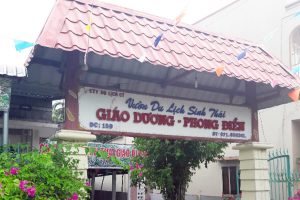 Giao Duong ecotourism garden is located in the shade of perennial fruit trees such as grapefruit, jackfruit, mango, durian, but the most attractive is mangosteen and strawberry Ha Chau. Strawberry Ha Chau in Giao Duong garden during the ripening season is very popular with customers. Walking along with the garden, picking one by yourself and putting it in your mouth, enjoy the sweet and sour taste, the feeling is great!.
5, Vu Binh fruit garden
Address: Crossroads of Muong Dieu, Nhon Ai Commune, Phong Dien District.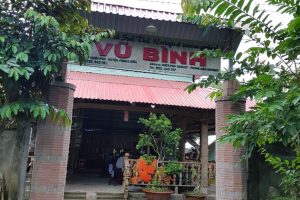 Coming here, you can visit and enjoy the mangosteen in the garden during the mangosteen season from April to July of the year. You can freely visit, pick fruit, and enjoy in the garden.
In addition, Mr. Vu Binh, the owner of the garden, also associates with the surrounding guava, apple, breast milk, and longan gardens to allow visitors to visit the gardens by boat, bringing an interesting experience.
6, Ong De ecotourism village
Address: Group 23 My Ai Hamlet, Phong Dien District.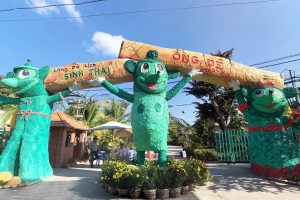 With an area of ​​about 2.5 hectares covered with many types of fruits, you will have the opportunity to mingle in the rustic countryside, with the famous and honest hospitable people of the West. Coming to Ong De, visitors can also experience interesting games, watch rare animals, enjoy delicious Western dishes.
7, Ba Hiep Fruit Garden
Address: Kenh Thuy Loi Street, Nhon Nghia commune, Phong Dien district.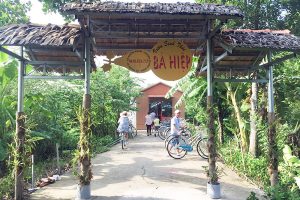 Located deep in the fruit gardens area of ​​Phong Dien, the road to Ba Hiep fruit garden is winding with many bushes on both sides. Ba Hiep Fruit Garden has nearly a dozen kinds of fruit trees: strawberries, oranges, tangerines, guava … depending on the season, you can pick and enjoy on the spot. The garden here is still intact with dirt roads, ponds, and ditches, you can row a boat to pick fruit. Occasionally there are some monkey bridges, lotus pond for visitors to freely take photos to celebrate the trip.
8, Lung Tram ecotourism area
Address: Highway 61C, Hamlet Nhon Khanh, Nhon Nghia Commune, Phong Dien District.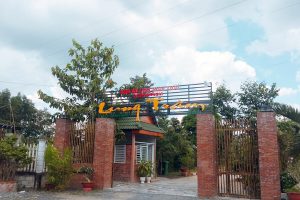 Lung Tram ecotourism area is a new tourist spot but has quickly become a favorite destination. With an area of ​​more than 31,000 square meters, there are hundreds of green trees, this area is decorated to follow the real style of the Southern river garden. In this area, you can relax by rowing boat along canals, learn about the unique culture of the southwestern river region. Lung Tram currently has a variety of fruits: oranges, coconut, tangerines, longan, rambutan…
9, Lung Cot Cau eco-tourism area
Address: in Nhon Nghia commune, Phong Dien district.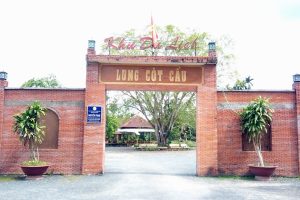 The eco-tourism area is about 5 hectares wide with many kinds of fruit trees, ornamental plants, ponds, and canals with many lotus flowers, water lilies, and melaleuca trees that create harmonious scenery. The most famous fruit in here is the durian, which is delicious, sweet taste and aroma. There is also a fun folk game. Coming here, you not only feel the peaceful life of the countryside but also the idyllic nature of local people in the South of Vietnam.
10, Muoi Cuong cocoa garden
Address: No. 275 My Ai Hamlet, My Khanh Commune, Phong Dien District.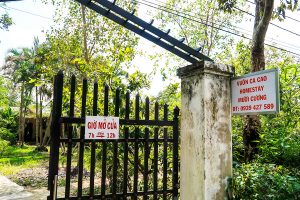 Muoi Cuong cocoa garden currently has 1ha, with more than 2,000 trees, including over 15 varieties of cocoa. In the garden, there are fruit trees such as June plum, mangoes, and mangosteen, creating shade for cocoa trees to grow up. In addition to enjoying cocoa products, you also have the opportunity to experience the process of making cocoa beans.
In addition, there are some activities such as paddling on canals, slapping ditches, catching fish by hand, especially making folk cakes such as pancakes, Vietnamese mini savory pancakes, Vietnamese steamed layer cake…with local people.
After visiting Phong Dien garden, explore a floating market is also an experience that should not be missed when traveling to Can Tho. Coming to Phong Dien floating market, you can freely enjoy all kinds of fresh and delicious fruits sold on busy boats along the river. What is more interesting than a day away from the noisy city and with family and relatives enjoying the fresh air here.
---