Don't you know with only 500,000 VND, you can still join a tour to visit Ho Chi Minh or surrounding areas, including travel costs, sightseeing fees, and meals for 1 person? Below are some tourist spots but not least attractive that you should not miss when coming to this city.
Explore historical relics and architectural works
Not only is it a young and dynamic city, Ho Chi Minh City is also a place that preserves many cultural and historical values. There are many monuments and museums in the city that are known to domestic and foreign tourists.
Independence Palace
Independence Palace or Reunification Palace is one of the attractions not to be missed when visiting Ho Chi Minh City. Located in the center of District 1, the Independence Palace is both ancient and modern, and has long become one of the symbols of the city.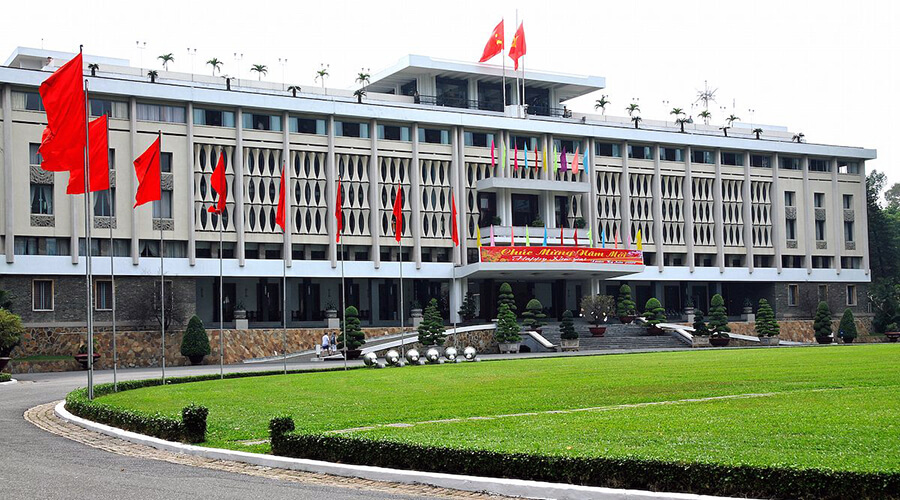 On weekends or major holidays like April 30, the Independence Palace is often full of visitors.
Tickets to visit the Main Building and Gallery "From Norodom Palace to Independence Palace 1868 – 1966" cost from 65,000 VND.
War Remnants Museum
The War Remnants Museum ranks 61st and is the only representative of Vietnam in the list of 99 most popular destinations in the world. The museum is located on Vo Van Tan Street, District 3, established in 1975, specializing in researching, collecting, preserving and displaying evidence of crimes and consequences of wars of invasion in Vietnam.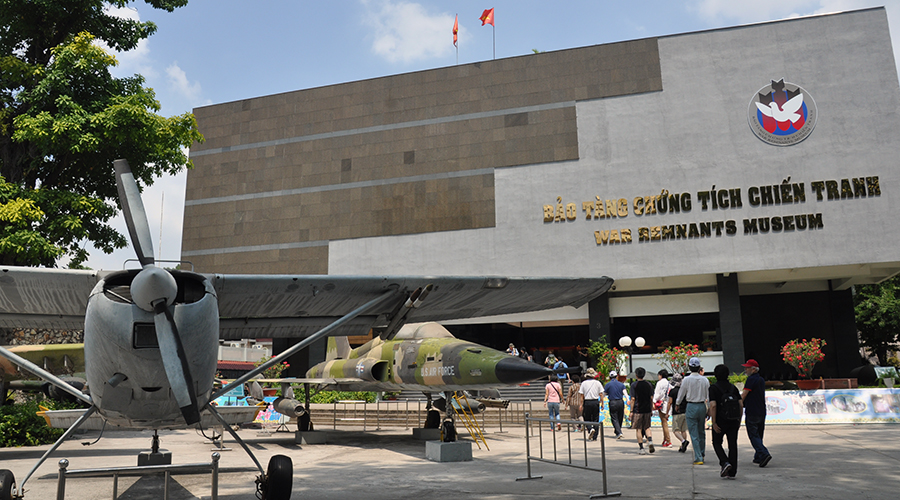 The museum holds more than 20,000 documents, artifacts and films. Topics include Weapons displayed outdoors, Prison regime, Agent Orange, Historical facts, War crimes.
Saigon post office
Located at Paris Square, District 1, the Saigon Post Office was built from 1886 to 1891. The project was designed by two French architects Alfred Foulhoux and Henri Auguste Vildieu. After more than 100 years of existence, this is currently the largest post office in Vietnam that still retains its original design.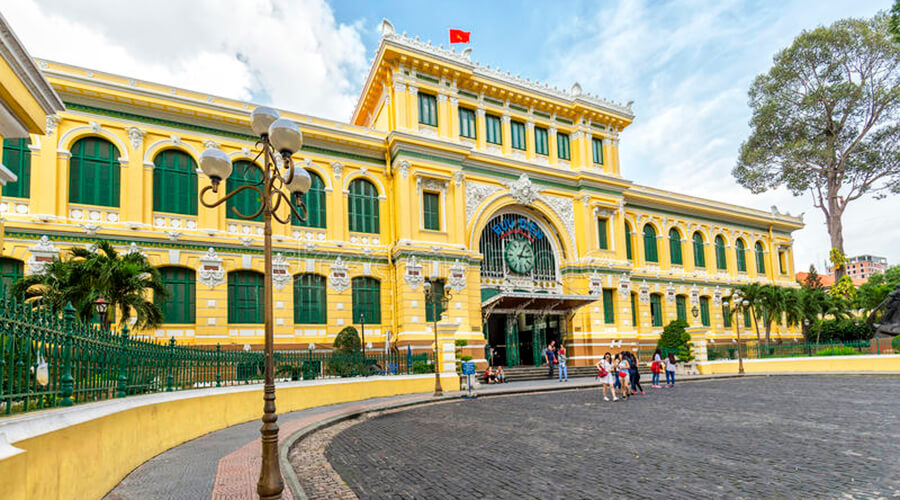 The domed ceiling has a portrait of Mercury surrounded by a laurel wreath in the middle, the god symbolizing human communication. The post office is reminiscent of the image of Orsay train station in Paris, located alongside the Notre Dame Cathedral to form a special architectural cluster of the city.
Notre Dame Cathedral
Notre Dame Cathedral is located in the center of District 1, is one of the symbols of the city. The project was started in 1877 and completed in 1880, designed by French architect J. Bourad, with Roman and Gothic styles. The interior of the cathedral is designed into one main heart, two side hearts, and two rows of chapels.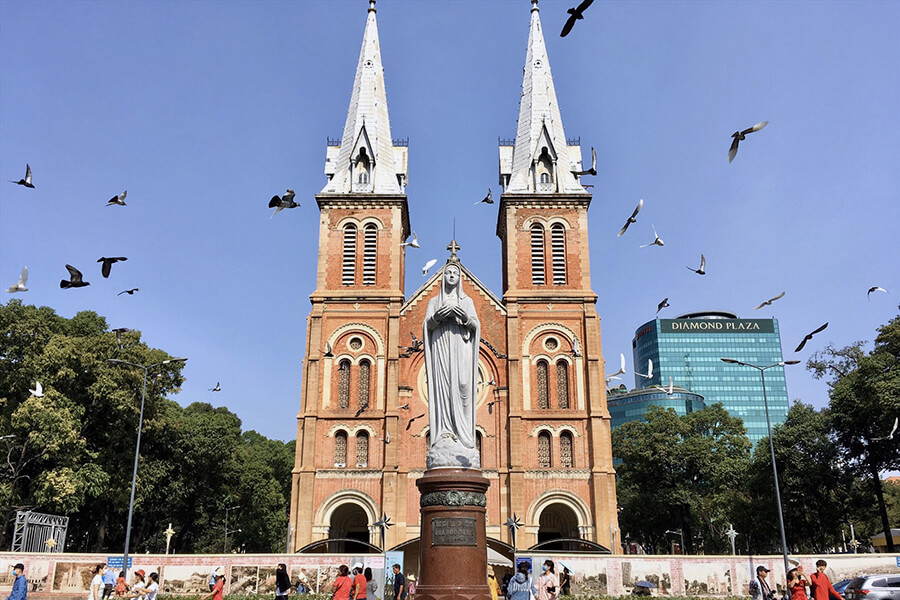 The length of the cathedral is 93 m, the widest width is 35 m, and can accommodate 1,200 people. In front of the cathedral is a park with four intersecting roads forming a cross.
Visiting time: from 8:00 a.m. to 11:00 a.m. and from 2:00 p.m. to 4:00 p.m. However, since 2017, the church has been repaired. Expected completion time is 2027.
Take the river bus
River experiences are a characteristic of Ho Chi Minh City tourism. Tourists can see the city from a different perspective, through many famous landmarks such as Nha Rong wharf, Ben Nghe port, Phu My bridge, Den Do cape, Binh Khanh ferry wharf.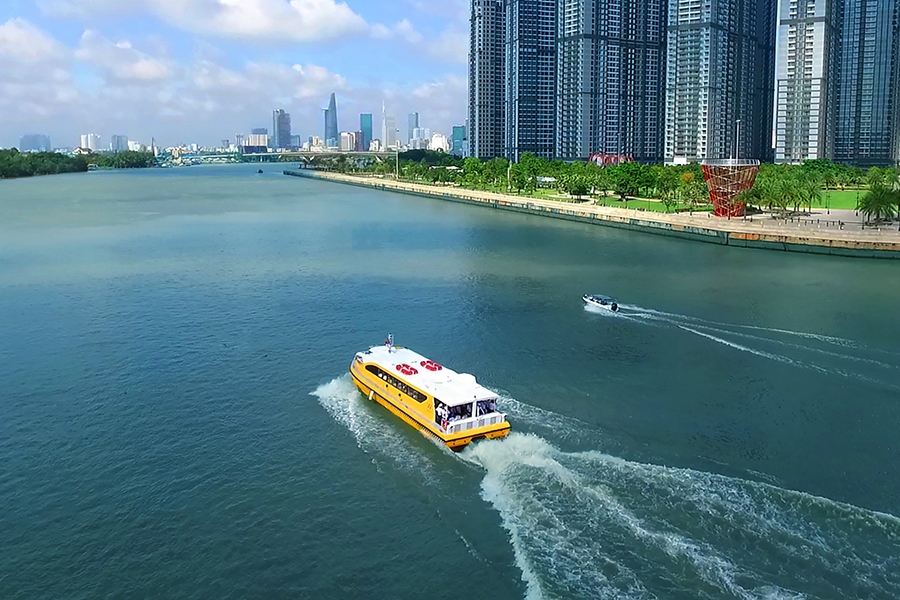 River buses depart daily from 8:30 a.m. at Bach Dang, Binh An, Linh Dong, Thanh Da, Hiep Binh Chanh wharves. The latest night bus route departs at 10:00 p.m. Tickets can be booked online or purchased directly at the station for 15,000 VND per trip.
You can also join a Ho Chi Minh city sightseeing group tour with cost less than 500.000VND for a half day trip.
Enjoy the local cuisine
Ho Chi Minh City is a convergence of cuisines from many regions and countries. Visitors can find dishes across the three regions, including typical Chinese dishes, Indian, Japanese, Korean, Thai… or vegetarian dishes at countless large and small restaurants in the city. Typical dishes that tourists should try include: broken rice, noodles, bread, grilled snakehead fish, pancakes…
The food streets below are suggestions for those coming to Ho Chi Minh City for the first time.
Phan Xich Long Street
Phan Xich Long Street, Phu Nhuan District is home to many famous restaurants, eateries, and culinary brands. Here, visitors can find hot pot, barbecue, European-style restaurants, Japanese, Thai, Korean restaurants, and Vietnamese restaurants. 13 streets named after flowers surround Phan Xich Long main street such as Hoa Phuong, Hoa Lan, Hoa Hue, Hoa Mai… and also have many cafes and rooftop bars, open until midnight.
Vinh Khanh snail street
Snail dishes are a specialty of Ho Chi Minh City. Along Vinh Khanh street, District 4, there are many of the most famous snail and seafood rows in the city. Local stores or restaurants often open until midnight, crowded with customers. Snail dishes cost from 80,000 to 150,000 VND per portion depending on the type of snail.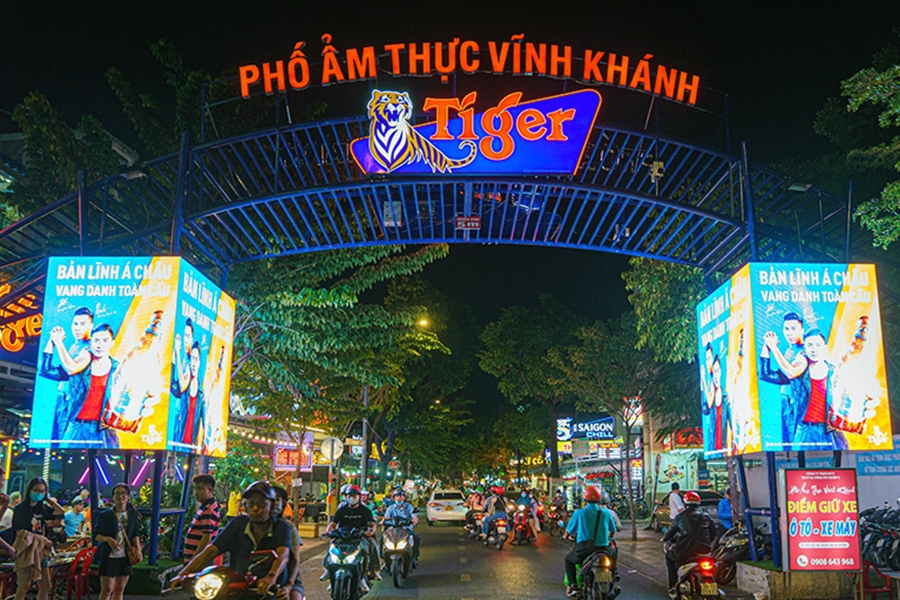 Unlike Hanoi snails, which often have a typical cooking style of steaming lemongrass and dipping in chili fish sauce, snails in Ho Chi Minh City are prepared in a variety of ways, from salted egg sauce, to stir-frying tamarind, grilled with chili salt, and stir-fried with satay.
Ho Thi Ky Food Street
Food street on Ho Thi Ky street, District 10 is one of the destinations that attracts both tourists and locals. Open from 3pm every day, more than 100 restaurants sell a variety of European, Asian and other regional dishes in Vietnam.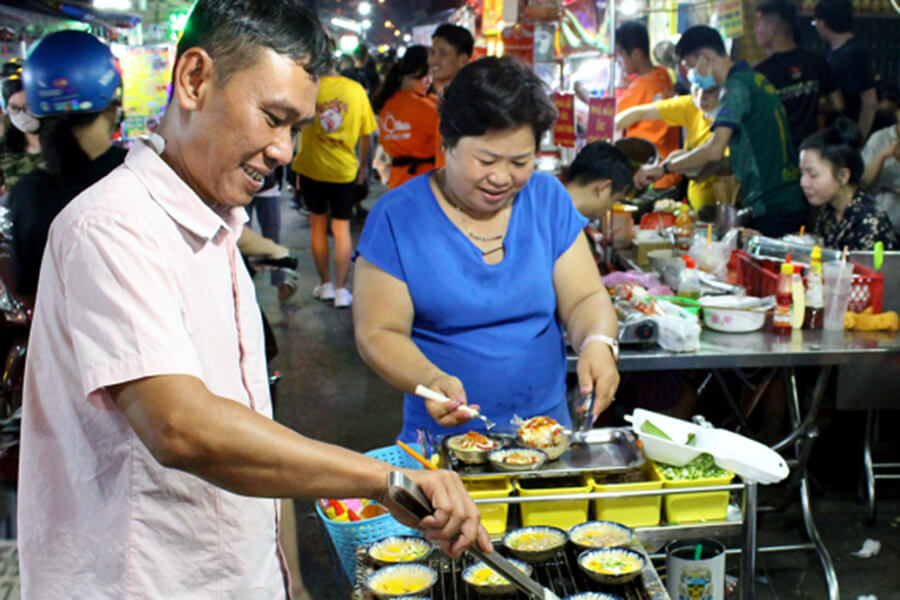 The neighborhood attracts diners thanks to grilled skewers and processed seafood such as grilled lobster with cheese and grilled squid teeth with salt and chili. Dishes range in price from 7,000 to 100,000 VND.
Nguyen Thuong Hien food street
Nguyen Thuong Hien Food Street (from Dien Bien Phu Street to Nguyen Dinh Chieu, District 3) operates from 7:00 p.m. to 11:00 p.m. every day. On the route there are more than 90 food and beverage businesses and more than 50 clothing, shoe and beauty stores.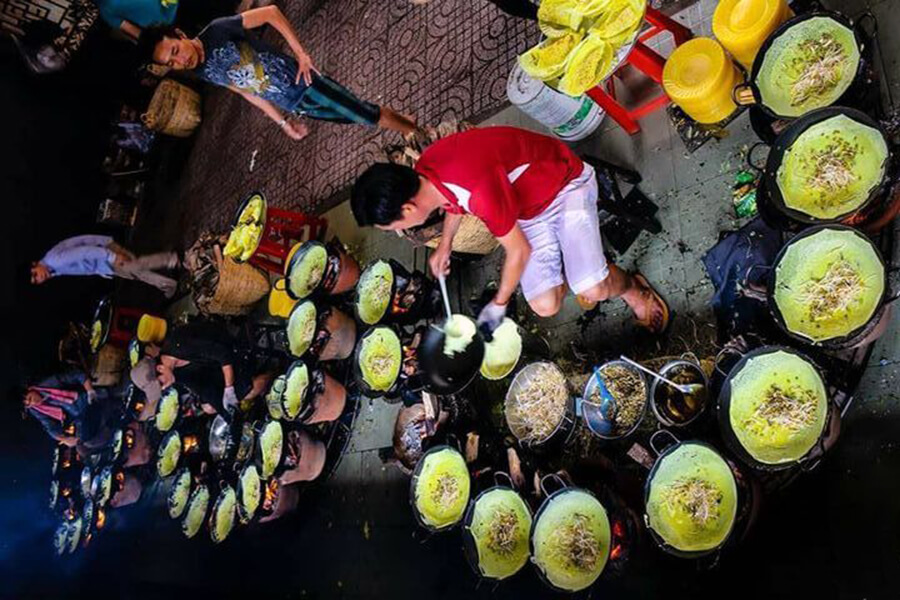 The street is famous for dishes such as mixed rice paper, mixed tea, and grapefruit juice. Some shops also serve Cambodian-style dishes.
Sparkling puller area in Ha Ton Quyen 
Ha Ton Quyen Street, District 11, is a famous address selling Chinese sparkling puller, with shops along both sides of the street. The whole neighborhood is always bustling with people coming in and out, especially in the afternoon and evening. The dishes here are diverse such as fried, dried (oyster sauce), sparkling puller noodles, shrimp and squid, mixed, fish balls, pulled noodles with an average price of 50,000 VND per portion. Customers often drive along the street, there will be people from the shops offering offers, showing them where to park for free and then going inside to order food.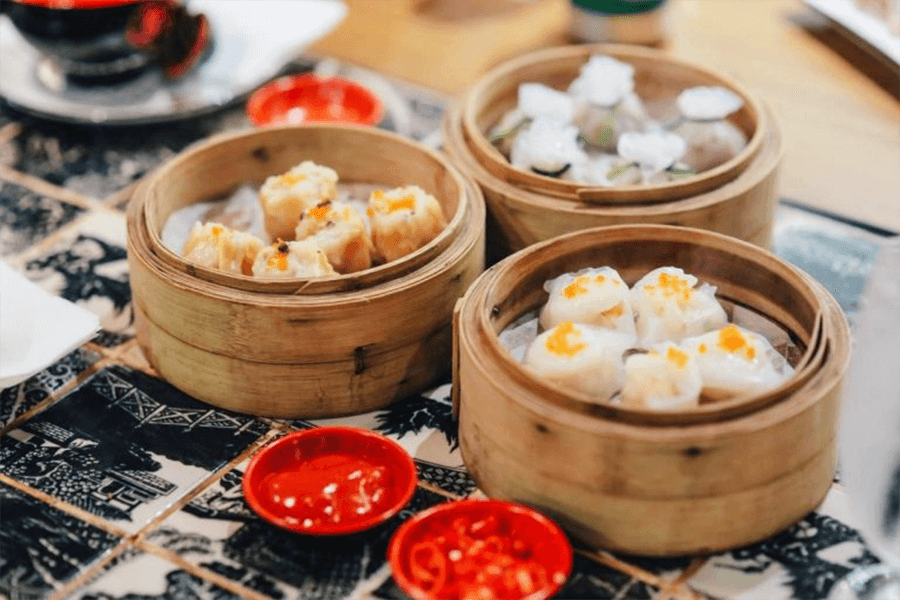 The food street tour also cost from 450.000VND which can help you get a full-fill with a guide.
Suburban destination
Beside tourist spots located inside the city, you can also find another destination just outside the city where you can visit with only 500.000VND.
Cu Chi Tunnels
Cu Chi Tunnels is located about 50 km from the center of Ho Chi Minh City. The tunnels are preserved in two locations: Ben Duoc tunnels (Phu Hiep hamlet, Phu My Hung commune, Cu Chi district) and Ben Dinh tunnels (Ben Dinh hamlet, Nhuan Duc commune, Cu Chi district).
If you visit Cu Chi tunnels, it only costs 125,000 VND/person for entrance fee. The tunnel's opening hours are from 7:00 a.m. to 17:00 p.m.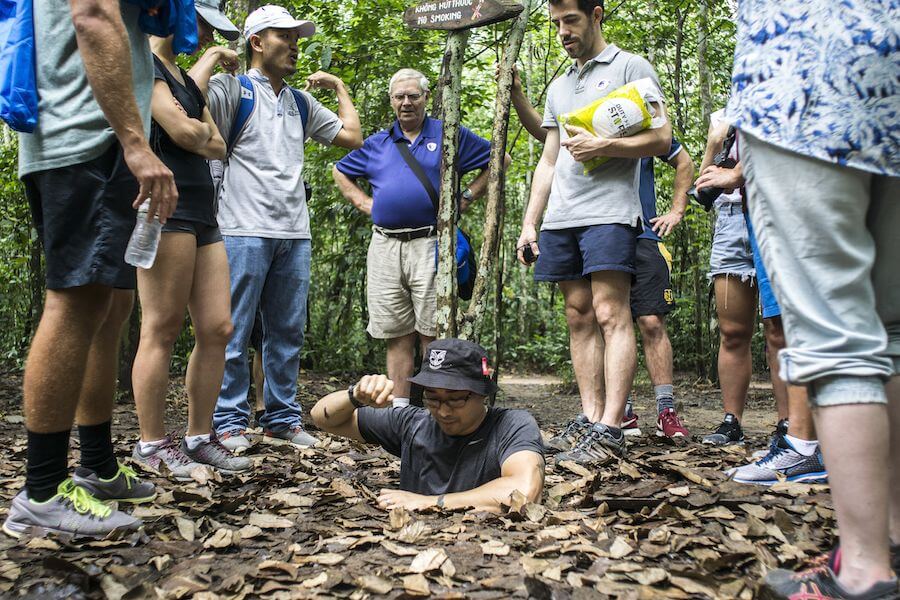 Cu Chi Tunnels is a unique "underground city" with 250 km of tunnels spreading like a spider web in the ground, including: trenches, fighting nests, sleeping bunkers, and meeting areas, living area, military medical, food storage, water well, Hoang Cam stove….
The tunnels are the main attraction of this relic. Here you will have war-like experiences and explore every corner of the 120 m long tunnel system with 2 floors. Coming to Cu Chi tunnels, you can enjoy the dishes that people used to eat in the tunnels, especially cassava dipped in sesame salt…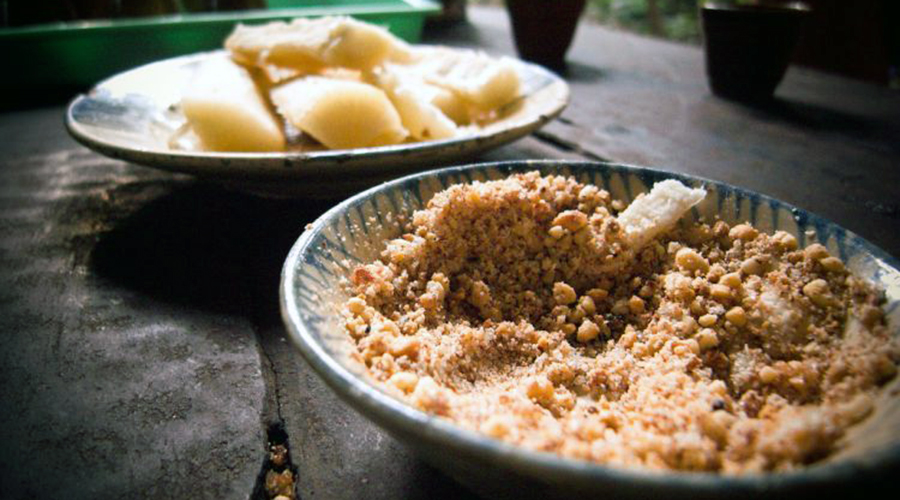 After visiting Cu Chi tunnels, visitors can visit famous Cu Chi beef restaurants such as Hong Dao, Xuan Dao, Vinh Xuan located on Highway 22, Cu Chi district to enjoy beef specialties. These are long-standing restaurants in Cu Chi that specialize in this dish, and it cost from 100,000 – 200,000VND/per person to freely enjoy them. 
Also, it cost around 70,000VND for a bus ticket to get here and incase you want to join a Cu Chi group tour, it cost from 15 – 20 USD/1person, include transportation, tour guide, entrance fee for you to visit this area.
Mekong Delta 
My Tho – Ben Tre is always the top priority destination for tourists departing from Ho Chi Minh City to Mekong Delta. Coming here, visitors can visit Vinh Trang Pagoda, explore the lives of local people at islets… experience rowing a sampan and enjoy local specialties as well ripe fruits.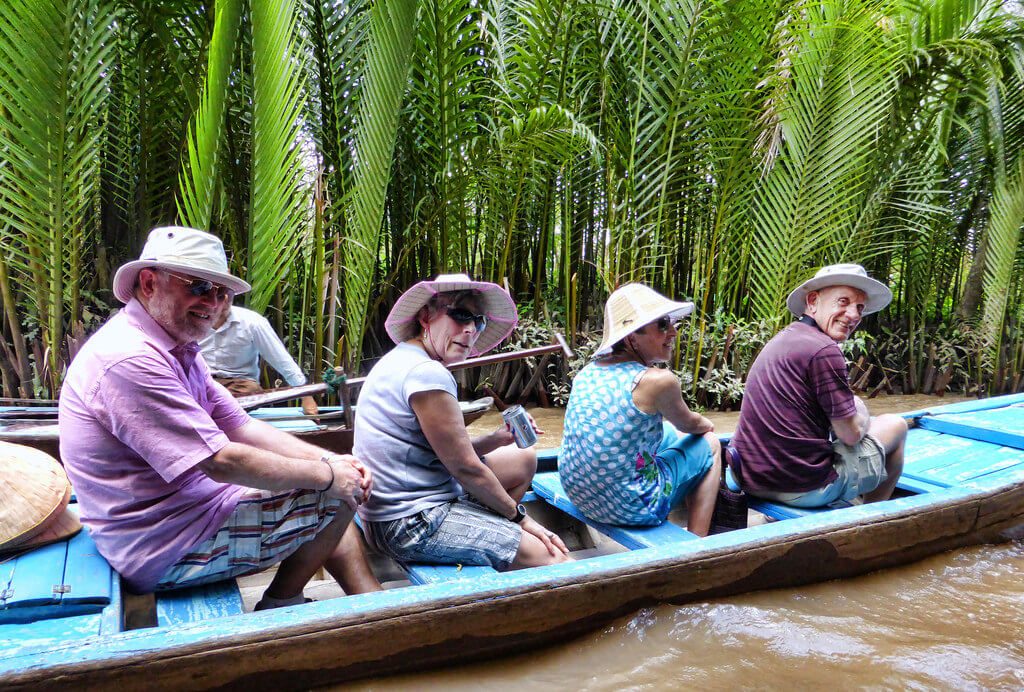 Tour prices for the Mekong 1 day tour only start at 400,000 VND/person including bus, tour guide, entrance fee, boat trips.
Can Gio
Can Gio is located about 50 km from the city center, has a diverse terrain including forests, and sea, an area approximately equal to Singapore, and many ecotourism activities that can be experienced during the day. Can Gio is the only district in Ho Chi Minh City bordering the sea and is also the first mangrove forest in Vietnam recognized as a world biosphere reserve.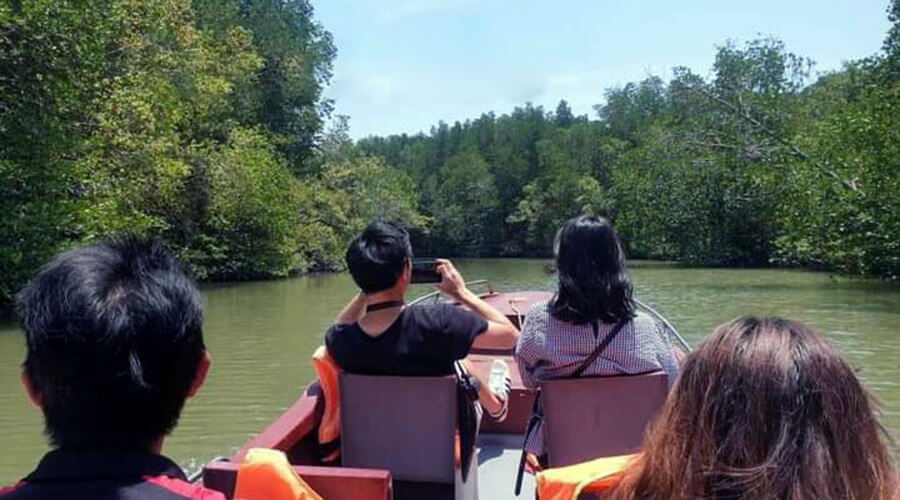 Here, visitors will go to Can Gio Forest Park, canoe in the mangrove forest to visit the Rung Sac revolutionary base; relics and learn about the lives, battles and achievements of special forces soldiers during the war; admire the natural monkey population; canoe on the river to Vam Sat eco-tourism area, row a boat to visit the art bat conservation area, go crab fishing; Visit the bird sanctuary, crocodile…
In Can Gio, there is Hang Duong market, considered a "seafood paradise" with many types of fresh shrimp, crabs, snails, and squid at affordable prices. You can choose fresh oysters, snails, crabs, crabs, shrimp, and squid and have the seller directly process it on the spot at a cost of several tens of thousands of VND per dish.
Vietdreamtravel is running Vietnam daily tours where you can visit with only 500.000VND. Don't hesitate to contact us for more advice.  
---