After more than 300 years of establishment and development, old Saigon and Ho Chi Minh City today have become a bustling commercial centre, the largest in the country. Experiencing many ups and downs in history, but somewhere, many streets, markets, and buildings… still keep the beautiful image of the old days. Both domestic and foreign tourists want to once come to see and learn about the development history of the place that was once known as the "Pearl of the Far East" of Asia.
Ben Thanh Market
Ben Thanh Market in the past was famous for its red and green billboards. The market existed very early (1922) before the French invaded Gia Dinh (one of the old names of Ho Chi Minh City). Over the decades, this place has always been a bustling shopping centre in the heart of Saigon.

Maybe many people do not know, the first location of Ben Thanh market is located near the Saigon River. During the anti-French period, the market was located on the banks of the Ben Nghe River to serve visitors and soldiers. Therefore, the market is called Ben Thanh Market and is an indispensable symbol of Saigon's past and present.
Notre Dame Cathedral Basilica of Saigon
Notre Dame Cathedral Saigon is located at 01 Paris Commune, Ben Nghe, District 1, Ho Chi Minh City. Construction started in 1877 and was completed in 1880 by the French. The whole building possesses ancient features and bold French architecture.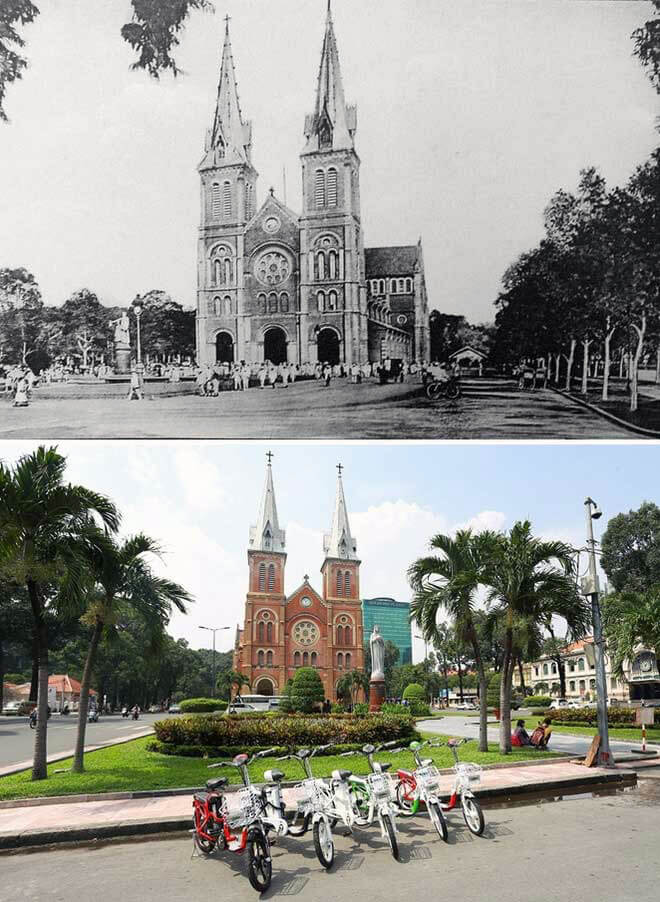 During the construction process, all building materials from cement, screws, iron and steel are brought directly from France. In front of Notre Dame Cathedral, is a statue of Our Lady of Peace 4.6 m high, weighing 8 tons, of Italian white marble. In 1895, the church was built with two more bell towers, each tower 57.6m high, including six bronze bells weighing 25,850 tons. This is also the largest set of bells in Vietnam up to now.
Independence Palace
Another equally famous building in Saigon is the Independence Palace, also known as the Reunification Palace. This used to be the residence and working place of the President of the Republic of Vietnam. Currently, it has been classified as a special national monument by the Vietnamese government.


Built on a large land with an area of ​​12 hectares, including an architectural building over 80m wide, a living room with a capacity of more than 800 people. The palace was designed and built by architect Ngô Viết Thụ on an area of 4,500 m², a usable area of 20,000 m², including 3 main floors, 2 mezzanines, a ground floor, 2 basements and a terrace for helicopters to land. More than 100 rooms of the Palace are decorated in different styles depending on the purpose of use, including staterooms, cabinet meeting rooms, and offices of the President and Vice President…
In the mid-1960s, it can be said that this is the largest-scale project in South Vietnam. Today, the building still retains its characteristic architecture and is a famous tourist attraction of tourists when visiting Saigon.
Central Post Office
Saigon Central Post Office is located at No.125 Hai Ba Trung, Ben Nghe Ward, District 1. The French built by this building between 1886-1891 according to the design project of architect Villedieu and his assistant Foulhoux. This is a European-style architecture combined with Asian decoration.
After more than 100 years of existence, Saigon Central Post Office together with Notre Dame Cathedral has become a beautiful symbol of unique architecture, a place to store lasting values ​​for Saigon – Ho Chi Minh City.
Saigon Opera House
This is also one of the oldest architectural works of Saigon with the ancient Western European architectural style. The Opera House, also known as Municipal Theatre, is a facade facing Lam Son Square and Dong Khoi Street, District 1, Ho Chi Minh City.

Completed on January 1, 1900, the theatre was originally built by the French with the intention that this place would become an entertainment centre dedicated to luxurious characters. It is an ideal discovery place for visitors. The theatre is not only an architectural–cultural work, but it is also associated with the city's history, contributing to the charm and elegance of Ho Chi Minh City.
People's Committee
The People's Committee of Ho Chi Minh City, formerly known as the City Hall, was built in 1898-1909. The photo was taken in 1960 showing that most of the building's architecture is still intact. Only restored to be suitable for current use. However, anyone who visits Saigon, past or present, will still not be able to forget the impressive image of the building right behind the great statue of President Ho Chi Minh.
Dragon Wharf
Dragon Wharf is located on 01 Nguyen Tat Thanh Street, District 4, Ho Chi Minh City. Here, on June 5, 1911, a young man named Nguyen Tat Thanh, with the name Van Ba, stepped on the ship Admiral Latouche Tréville, and began his journey to find a way to save the country.

The wharf used to be the headquarters of the Unified Transport Company built in the late 19th century. After the liberation of the South, it became a memorial place for President Ho Chi Minh. Currently Ho Chi Minh Museum – a branch of Ho Chi Minh City. Every day, the museum welcomes thousands of visitors to visit, study and learn about the life and career of President Ho Chi Minh.
Turtle Lake
Beginning as a water tower located at Maréchal Joffre Square to provide drinking water for residents in the area, Turtle Lake (District 3) is now a tourist attraction for many young people, domestic and foreign tourists.

In the years 1965-1967, the government of the Republic of Vietnam built a traffic roundabout, decorated with trees and octagonal fountains with 4 spiral walkways leading to the central area is the monument and the image of an alloy tortoise supported on the back of a large stone stele. Hence, the folk name is Turtle Lake. In 1976, the stele and the turtle were destroyed in an explosion, but people still know the name. 
Grand Hotel
Located on Dong Khoi Street in District 1, Grand-Hotel Saigon was built in 1929 during the Indochina period, with 68 rooms. Two years later, it was sold to French merchant Patrice Luciani and renamed Saigon Palace.


Regularly hosting entertainment events for the elite, Saigon Palace quickly became one of the busiest hotels in the city and was frequented by some of Indochina's most high-profile figures during the 1930s.
Continental Hotel
Continental Hotel is Saigon's oldest hotel, built in 1880, and more than 140 years old now. This is also one of the rare old buildings that still exist on Dong Khoi Street.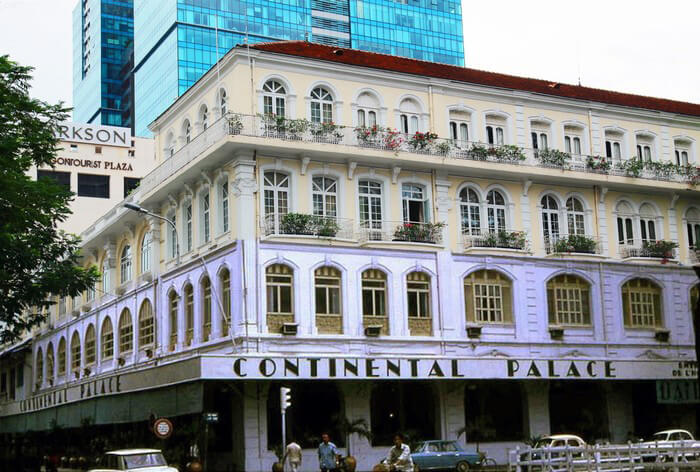 Despite its modest height with only three floors, Continental Saigon Hotel still stands out in the city centre with its tiled roof, thick brick walls and graceful windows. The bas-relief columns are boldly French architectural style.
Binh Tay Market
Binh Tay Market was built by a Chinese businessman – Quach Dam then donated to the city government in 1928. The market was built with an Asian architectural style but followed modern Western techniques and is considered one of the most beautiful markets in Saigon.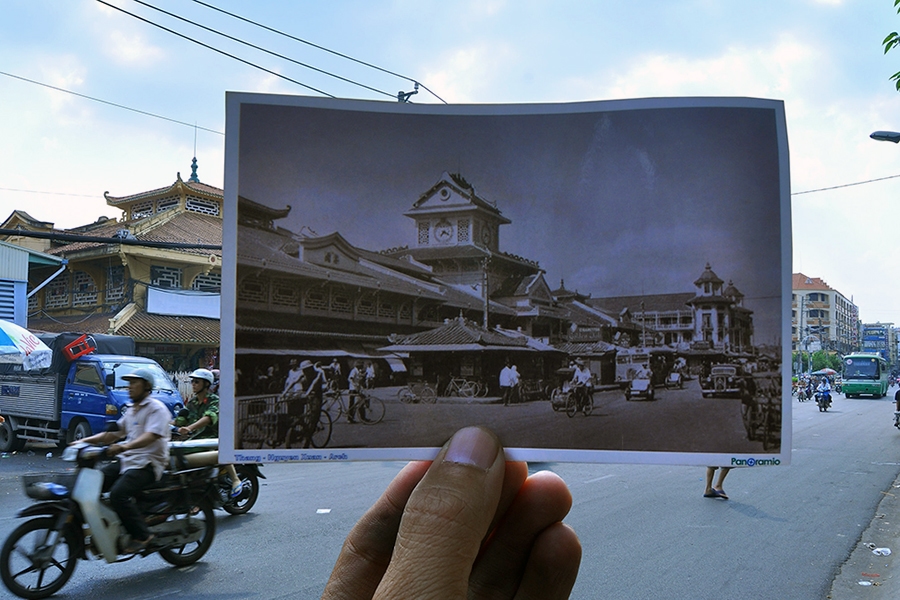 Over 80 years of establishment and development, the Binh Tay market today still retains the position of a large wholesale market of the city and District 6 despite the fierce competition of supermarket chains. a modern commercial centre in recent years. However, with the ancient architecture of China and its long history, the market is opening a new development direction, which is a potential shopping destination for domestic and foreign tourists.
Warmest Greetings To All from Viet Dream Travel! If you have any questions about Vietnam tours including Cu Chi tunnels tours, Mekong Delta tours, package tours, visa services or car/bus rental services do not hesitate to contact us.
---