Mekong Delta River is not only famous for its charming scenery but also loved by many specialties. If you are wondering what to choose as a gift when traveling to this area, please refer to the specialties below!
Coconut candy
It can be affirmed that coconut candy is one of the typical symbols of the Mekong Delta. Whenever mentioning this specialty, many people immediately thinks of Ben Tre – a famous place for making coconut candy in the South. Coconut candy has a sweet, fragrant taste that makes anyone who enjoys it for the first time remember it forever.
If you have the opportunity to travel to the Southwest region, you should not miss the opportunity to buy coconut candy as a gift. To buy this specialty, you can conveniently visit tourist areas such as Lan Vuong, Phoenix Islet…!
Get 10% off with our daily tour to My Tho – Ben Tre from today!!!
Pia Cake
The cake originated from Soc Trang and well known throughout the country for its delicious taste. This specialty consists of many layers of cake stacked on top of each other, in the middle is a layer of sweet durian and a delicious piece of salted egg.
If you have the opportunity to come to Soc Trang while experiencing the trip to the Mekong Delta, don't forget to enjoy at least one pia cake to make the trip more complete! In addition, this is also an affordable but meaningful gift!
Sour Sausage
The most famous sour sausage is Lai Vung in Dong Thap which defeats the taste buds of many diners by its excellent taste, a little sour, sweet, and spicy. You just need to bite a little bit, you can feel the delicious taste spreading all over the tip of your tongue. The red mixing with pink color of this specialty is also attractive to many diners. 
Not only is it a favorite dish of women, sour sausage are also extremely popular with men. Therefore, Lai Vung sour sausage are often chosen by many tourists as gifts for relatives and friends after every trip to the delta river.
Dry Fish
Dried fish is a specialty of Mekong Delta in general and An Giang in particular. The most famous dried fish is in Cho Moi, Thoai Son. You can prepare dried fish dishes in many ways such as baking, frying, steaming, … The sweet and aromatic taste of dried fish is extremely stimulating to the taste buds, no matter how much you eat, you will not feel bored.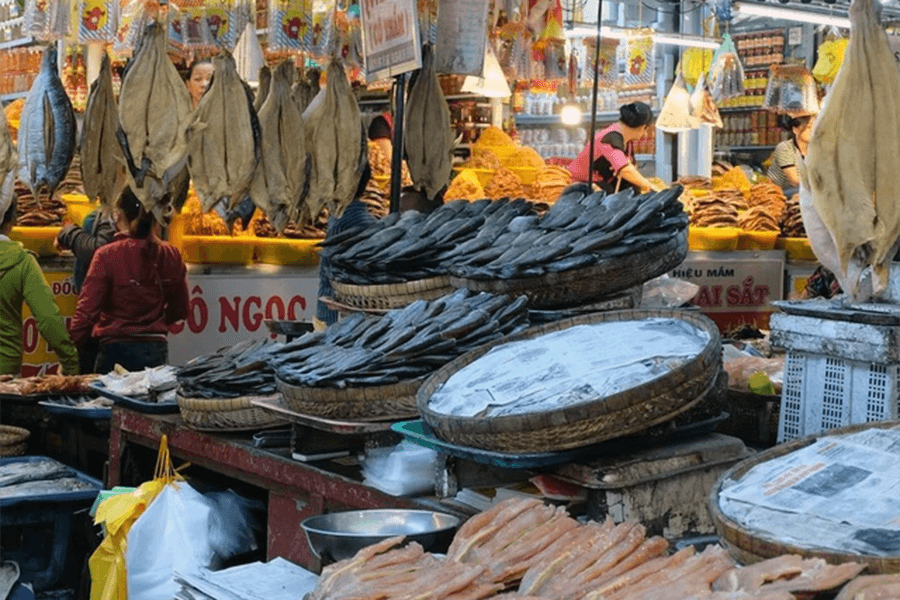 The best dried fish can be mentioned are dried goby fish and snakehead fish. Therefore, whenever traveling to the Mekong Delta, try to buy this gift, especially from Moi market, An Giang, back to your friends, guests or as a gift.
Rice wine
Talking about specialties of Mekong Delta, there is no way that should not mention about Go Den wine in Long An. The outstanding feature of this specially wine is made from 100% glutinous rice and heirloom yeast. 
Appearing nearly a hundred years ago, Go Den wine is known as the "first wine" in the Mekong river. My Yen, Long Hiep and Phuoc Loi are the localities where the best wine is brewed in.
Fish Sauce
Phu Quoc is not only famous with it's island but also their fish sauce throughout the country – a specialty of the delta river as a gift of immortality. Fish sauce here is produced according to the traditional process and completely handmade, with the main ingredients being the freshest anchovies caught.
Phu Quoc fish sauce has a light aromatic flavor, not fishy, and the color of cockroach wings is dark and clear. Dot a piece and the taste of the sea melts right into your mouth.
Fresh Fruits
Referring to the Mekong Delta, many people can immediately think of a series of famous fruits such as Pomelo Nam Roi – Vinh Long, Hau Giang; Lo Ren breast milk – Tien Giang; Cau Ke waxed coconut – Tra Vinh, Hoa Loc sand mango – Tien Giang; Red-flesh jackfruit – Can Tho, Cai Mon durian… In addition, the delta is also the convergence of all the typical fruits of the country such as longan, bonbon, oranges, coconut, .. in any season.
Whatever you eat, the fruits of the river are always colorful and full of flavor. Traveling to the Mekong Delta, you can not only enjoy eating at the garden but also can bring the freshest fruits as gifts at extremely cheap prices compared to the markets in the city.
Some notes when buying specialties as gifts:
Find out in advance how to choose the specialty that you intend to buy so that you can evaluate the quality of the product.

Most of the dried fish products are handmade. Therefore, you should find and choose to buy dry products from establishments with clear certification registration.

Gifts as fruits can buy directly from many orchards to ensure freshness and the price is also cheaper than buying at the market.

Check expiration date of sour sausage, candies, and cakes.
Through the above information about the article about what to buy in Mekong Delta Tour for family members and friends, hope you have a good choice with the most meaningful gifts.
---