Đồng Tháp Province is an ideal destination for you and your family to take a weekend break or long holiday. Visitors not only have the opportunity to admire the beauty of the nature with immense rice fields and fragrant lotus lakes, but also enjoy countless delicious dishes of the Mekong Delta River from this province. And let us some very useful travel experiences, to make your trip more interesting.
What is the best time to travel Đồng Tháp?
Đồng Tháp is located in a tropical climate, warm and sunny all year round, mild temperate climate with no cold or stormy season, so you can travel to Dong Thap in any season. The climate is divided into two distinct seasons, the rainy season and the dry season. The rainy season lasts from May to November, during which time you will enjoy the fruit and admire the lotus in full bloom. The dry season starts from December to April, after this season is close to Tet. The area is brilliantly beautiful by the favorite spring-blooming flowers when the new year coming. This is also the harvest season of Lai Vung tangerine – the most popular fruite in this province.
But if you want to enjoy all the beauty and specialties of Đồng Tháp, you should go in the floating water season. The floating water season is from August to November of the lunar calendar.
Tourist attractions in Đồng Tháp Province
Dong Thap does not have majestic mountains and clear blue beaches, but those who have once set foot here must be attached and passionate. Dong Thap has the dear rustic beauty of the lush Southern river region, immense lotus fields, fertile rice fields, canoes and birds chirping on rivers and canals …And here are some famous tourist destinations you should not miss in Dong Thap:
1. Xẻo Quýt relic area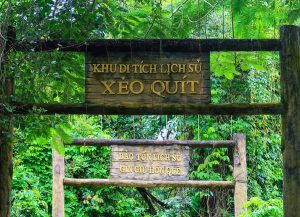 Xẻo Quýt relic area is located in the two communes of Mỹ Long and Mỹ Hiệp, Cao Lãnh district, Đồng Tháp province, more than 30 km from Cao Lãnh city. The green forest with cool fresh air nestled in the middle of a low-lying area with many cajuput trees, reeds, rush, water lily, lotus, and liana characteristic of Plain of Reeds. It would be greate chance to enjoy sailing on small creeks to explore this area. Futhermore, Xẻo Quýt is not only an ideal tourist attraction but also a historical and cultural relic. It used to a base (from 1960-1975) of Đồng Tháp Provincial Party Committee leading the people to fight against America. Xẻo Quýt has a system of relics preserved and restored such as: fortifications, fence, secret tunnels, the clerical area, the radio zone of the province…
2. The tomb of Nguyễn Sinh Sắc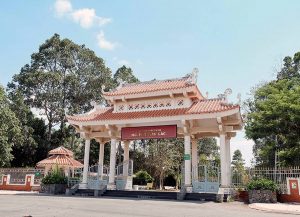 Junior Doctoral Laureate of Court exams Nguyễn Sinh Sắc was the father of the President Hồ Chí Minh. Mr. Nguyễn Sinh Sắc was born and raised in Nam Đàn, Nghệ An province. In 1901, he gained a second-rank (pho bang) position was a magistrate in the Bình Khê district (Qui Nhơn), until he was demoted. Then he moved to Mekong Delta and lived in Hòa An village in Đồng Tháp province to teach and help the poor until his death.
To commemorate her merits, Đồng Tháp authorities and local people have built Nguyễn Sinh Sắc's mausoleum for people come to visit and commemorate him at No. 123/1, Phạm Hữu Lầu street, ward 4, Cao Lãnh City, Đồng Tháp Province.
I wast completed in 1977 covering an area of about 3,6 hectares. There are many ethnic and modern projects have been built on this campus such as Nguyễn Sinh Sắc temple and his statue, gallery about his's life, Hồ Chí Minh's house beside fish pond (restored according to the prototype in Hanoi) …
3. Gáo Giồng eco-tourism area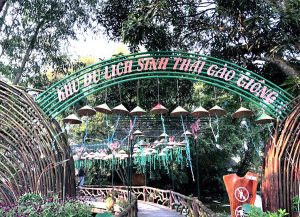 Gáo Giồng eco-tourism area is located in Hamlet 6, Gáo Giồng commune, Cao Lãnh district, Đồng Tháp province; about 15 km from Cao Lãnh city center. There are nearly 2,000 hectares of melaleuca forest and a population of 40 hectares, concentrating more than 15 species of rare and precious birds living, nesting and laying eggs, along with very rich and diverse aquatic resources. Visitors can go by land or by boat.
Gáo Giồng is divided into four zones with more than 70 km of canals and 20 km of embankments. To get to Gáo Giồng, you have to go through a 2 km long canal through the green cajuput forest on a three-leaf boat – one of the specialties of the people in Mekong Delta. By climbing up to the observatory with 18 meter-high, visitors can admire the entire bird sanctuary, especially at dawn or sunset time, when flocks of white storks flying to search for their food or return to their nests. Also during the dry season, this is an ideal place for camping under the foliage of cajuput forest, you can enjoy specialities of the Plain of Reeds, such as grilled snakehead or fish soup with Sesbania sesban flower.
4. Sa Đéc ornamental flower village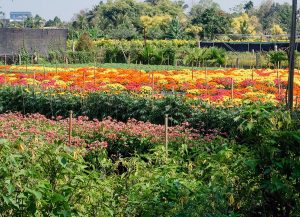 Located on the south bank of Tiền river next to the belt of provincial road in Sa Đéc city – Đồng Tháp province, Tân Quý Đông Commue, also known as Sa Đéc ornamental flower village is a traditional craft village with its history ups and downs for a hundred years. This is a fatherland of hundreds "uncanny flowers and strange herbs". The current flower village still preserves over 50 varieties of roses such as: veivety rose; lotus violet grada roses; pink cleopatre roses; bridibat roses roses of bark brick color; fortini rose; orange maccras roses, metsai roses…
Futhermore, Sa Đéc flower village is also the land of many scarce and priceless bonsai with a life expectancy of hundreds of years. There are very simple trees close to life of farmers such as: areca, fig, thistle, ocha atropurpurea but through skillfull, industrious, talent hands of artisan-artists, it becomes high valuable products.
Sa Đéc flowers and ornamental products are supplied to provinces in the Mekong Delta, Ho Chi Minh City, the central provinces and others international market like Cambodia, Thailand, China…
5. Kiến An Cung temple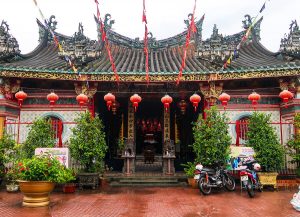 Kiến An Cung temple also known as Ông Quách Pagoda, is one of the architectural works with typical Chinese cultural features. The temple construction was started in 1924 and completed in 1927 by Chinese people from Fujian Province with the purpose of worshiping ancestors, teaching children, building strong community relations, organizing meetings, discussing trading, exchanging information. Like many other Chinese pagodas, Kiến An Cung has bold unique architecture, splendid and solemn. In 1990, the pagoda was recognized by the Ministry of Culture, Sports and Tourism as a national-level historical and cultural monument. The temple has two major festivals on February 22 and August 22 (lunar calendar), welcoming many visitors coming.
Location: 39 Phan Bội Châu Street, Ward 1, Sa Đéc City, Đồng Tháp Province.
6. Huỳnh Thủy Lê ancient house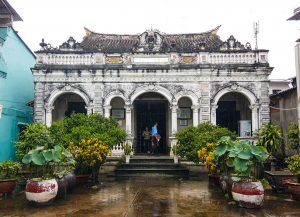 The ancient house is not only beautiful because of the unique mixture of East-West architecture, but also famous for being related to a lovestory without borders between its owner Huỳnh Thủy Lê and Marguerite Duras – a well-known French writer who penned the famous novel L'Amant (The Lover).
The house was built by Mr. Huỳnh Cẩm Thuận (Hùynh Thủy Lê's father), a well-known Chinese businessman in Sa Đéc, built in 1895 in the bustling shopping town of Sa Đéc riverfront. When Mr. Thuận died, Mr. Lê inherited the house and renovated it in 1917. After Lê's death in 1972, his wife and children moved overseas, leaving the house unused. Later, the house became an administrative building in 1975 and a tourist destination in 2007. In 2009, it was recognized as a national relic site.
The Huỳnh Thủy Lê ancient house is associated with the famous novel L'Amant. Later, it was transformed into a movie and shot in Vietnam in 1990.
Address: 255A, Nguyễn Huệ Street, Ward 2, Sa Đéc City.
7. Phước Kiển Pagoda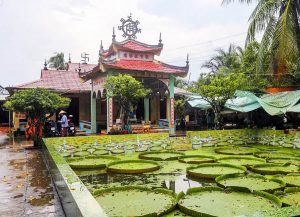 Phước Kiển Pagoda is also know as Lotus Leaf Pagoda because it possesses a very special lotus leaf – the Victoria amazonica which imported from Amazon with extremely large sizes. This type of lotus has very large leaves, up 3 to 4 m in diameter, 7–8 m in length. This giant lotus leaf alone has made a significant tourist attraction for Đồng Tháp tourism.
The leaf edge is about 3 to 5cm higher than the water surface, their shape resembles the traditional Vietnamese flat palm hat "Nón quai thao" which is made from leaves or flat basket. The lotus is able to carry a person weigh from 70kg – 80kg .
Even though the lotus leafs are so large but their flowers are very small. Furthermore, the flowers take up to 48 hours to fully open and changes its color continuously. It has white color the first night and become pink the second night.
In addition, the pagoda is also a home of hundred-year-old turtles (total 6 elderly). Especially, these turtles love a vegetarian food and "addicted" to listening to Buddhist scriptures.
Location: Hòa Tân commune, Châu Thành district.
8. Tràm Chim National Park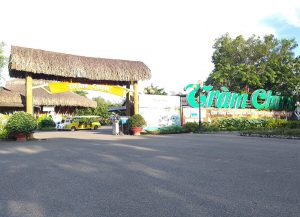 With a natural area of ​​more than 7,000 hectares, this is home to a rich and diverse fauna and flora and considered a "miniature Plain of Reeds" because it fully covers the ecosystem of the wetland.
About flora, there are more than 130 species have been found in here. Some of the prominent species are lotus, water lily, oryza rufipogon, panicum repens etc. At the same time, this place is also the residence of hundreds of over 100 species of vertebrates, 40 species of fish and 147 species of waterbirds. In which, there are 13 rare bird species of the world such as: the white-winged duck, grey-headed lapwing, pelicans, lesser adjutant. Especially red-headed crane and crested crane are listed in the world red book in need of protection.
Every year, from December to the end of April, coming to Tràm Chim National Park you will be admired many flock of cranes flying in the sky in early morning or late afternoon , bird's nests hovering on cajuput branches and so on. And the best way to explore the nature, learn about the customs and habits of local resident is traveling by a motorized boat to go through a net work of canals.
Address: Tràm Chim town, Tam Nông district.
9. Gò Tháp national relic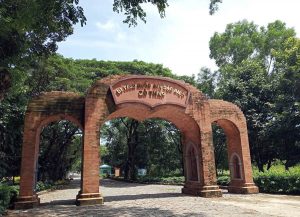 Gò Tháp relic site is known from the late nineteenth century when a number of French researchers came here to survey and publish important findings about ancient architecturals, worshiping statues, stelae and ancient script. There are still relic populations of Funan Kingdom, relics from the war bettwen Vietnam – French and Vietnam – the US. Gò Tháp is well known for 5 main highlights: Tháp Mười Hill, Cổ Tự Tower, Thiên Hộ Dương and Binh Kiều Temple, Bà Chúa Xứ Temple.
You also can learn about mystery of the Óc Eo civilization as well as historical vestiges and folk beliefs make this relic unique. With unique historical values, the Gò Tháp has been nationally recognized as Heritage Site by the Ministry of Culture and Information in 1998.
Gò Tháp relic area is located in Mỹ Hoa and Tân Kiều communes, Tháp Mười district, Đồng Tháp province, 43 km northeast of Cao Lãnh city.
10. Phương Nam Cultural Tourist Area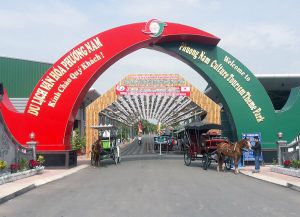 Phương Nam Cultural Tourist Area is started construction on October 30, 2009 and officially opened to welcome visitors on December 24, 2017 on an area of up to 17 hectares, with many works. However, the highlight is Nam Phương Linh Tự temple, built according to the ancient wooden architecture – new wood with traditional Huế style house. The temple is a place to honor and commemorate 125 historical figures who have publicly reclaimed, preserved and glorified the southern land and 21 bronze statues of the public who open the door.
Phương Nam Cultural Tourist Area is located in Long Hung A Commune, Lap Vo District, Dong Thap Province.
Specialties of Đồng Tháp
Đồng Tháp is not only famous for its attractive tourist destinations, but also by its delicious Mekong Delta dishes.
Sa Giang glutinous rice chupatty mixed with powdered shrimp

Lai Vung fermented pork roll

Sa Dec clear rice noodle soup

Cao Lãnh pancakes

Grilled snakehead fish rolled with lotus leaves

Fish sauce hotpot

Hot pot with Siamese mud carp and Sesbania sesban flower

Lai Vung tangerines

Banana jam puff

Hong Sen rice wine
Vietdreamtravel also provides package tours and car/bus rental services to visit tourist attractions in Đồng Tháp Province. Do not hesitage to contact us for any requirements.
---