The Hung King Temple in District 9, HCMC, is the largest unique architectural work in the South region, attracting many tourists every day, and especially on the occasion of the 10th of the Third lunar month every year.
What's unique in Hung King Temple
The construction work is located on a hill more than 20 m high, at the National Historical and Cultural Park over 400 hectares. This is a unique complex of works with high value in terms of landscape, architecture and social significance with 4 main parts: square, bamboo road, temple and yard.
The starting point of the work is a 4,000 m2 square, the ground is shaped like the sun with rays of light radiating around, according to the simulation of the Dong Son bronze drum.
On each side, there are 9 stone pillars 6 m high representing the 18 Hung Kings and a row of palm trees from Phu Tho province.
The entrance to the Memorial Temple is made of superficial stone, 8 m high, with modern architecture combined with tradition.
Leading up to the Hung King temple is a 360 m long and 10 m wide bamboo road designed with a total of 107 stone steps embracing the slope of the hill. The highlight of the road to the temple is the two rows of luxuriant green bamboo that shine on both sides, reminds the image of a Vietnamese village.
In the middle of the bamboo road is a memorial stele house, inside is a stone stele engraved with a summary of the history of Vietnam through the periods. At the end of the road is the temple of the Hung Kings, located on the top of the hill.
What's inside the Hung King Temple in District 9?
On the top floor of the temple is a yard, which is arranged like a garden with 54 stone columns representing 54 ethnic groups in Vietnam. In the middle of the yard is a small house with two layers of roof. In addition, in the communal house, there is a version of Hoang Ha bronze drum (Hoa Binh), dating from about 2,000-2,500 years.
The main altar of the temple is the place to worship Hung Kings; Lac Long Quan King & Au Co, a mountain goddess – the two main figure in the Vietnamese creation myth with the same name; Land and Water.
On both sides are 8 altars to worship other kings, landlord…who had a great contributed to the construction and defense of Vietnam.
The two sides of the temple are corridors displaying 33 stone blocks of sovereignty, taken from the Paracel and Spratly Islands. On the wall of the temple are paintings depicting the lives of the inhabitants in the early days of building the country.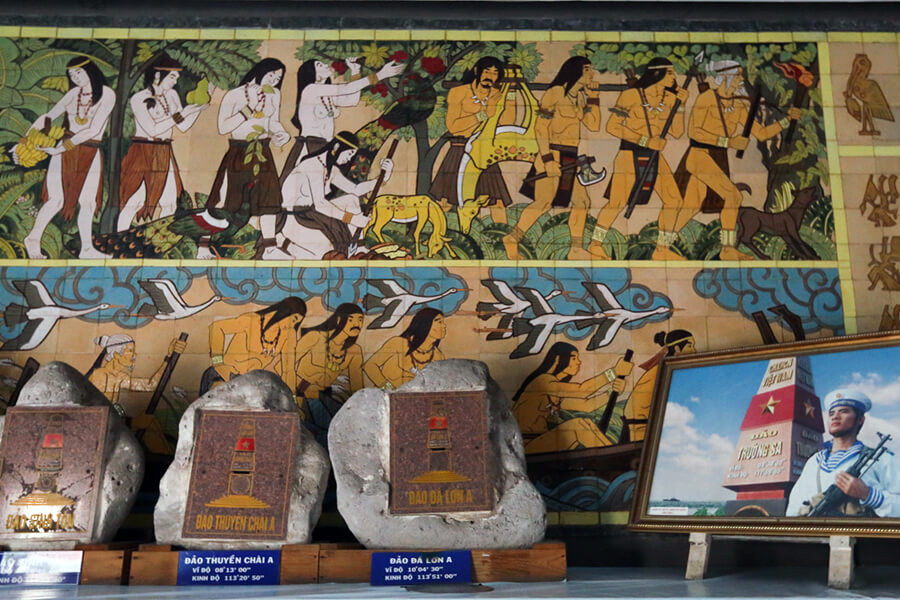 Useful information of the Hung King Temple
Address: Binh An Ward, District 9, HCMC.

Opening hours: 08:00 – 16:00 (Hung King's death anniversary may change the opening time)

These Bus lines stop near Hung King temple in District 9: 60-1, 60-2, 60-3, 60-7
---